Bible Fellowship Center
Bible Fellowship Website


1136 Baseline Road, Grand Island NY

Pastor: Calvin VanderMey
Ph: 773-3748

Sunday Services at 8:30 and 10:15
Come Worship! Come to be Blessed! Bring Some Friends!

---


Bible Fellowship Holiday Season - December 2016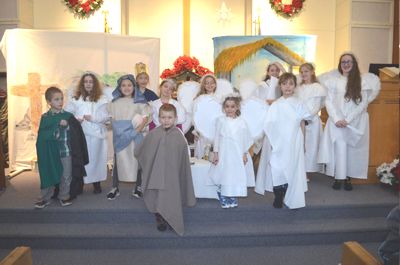 Christmas Play.
Caroling.
Candlelight Service.
Photos by Mary Stewart. Christmas time is a busy one at Bible Fellowship Center. Children presented their Christmas play depicting the birth of our Lord and Saviour, Jesus Christ. There was a wonderful turnout, as 58 people of the church, both adults and chlldren, visited Elderwood nursing home, plus a couple senior apartment buildings to sing carols. After the caroling it was back to church for hot chocolate plus sandwiches and cookies all prepared by Elaine Cook who did a great job.






Bible Fellowship Honors Members - August 2014 From left: Jean and Doug Smith, Roland and Claire Card. Kneeling with the cake is Pastor Cal Vandermey. Bible Fellowship Center honored two Grand Island couples at their August 18th service. Celebrating their 45th anniversary on August 23rd are Doug and Jean Smith, married at St. Stephens Church in 1969. Celebrating their 65th anniversary on August 20th are Roland and Clair Card, married at St. Georges Church in St. Catherines, Ontario in 1949.