Grand Island Business News 2016
Become An Advertiser!
Previous Business Pages


Silk Florals Ribbon Cutting - December 2016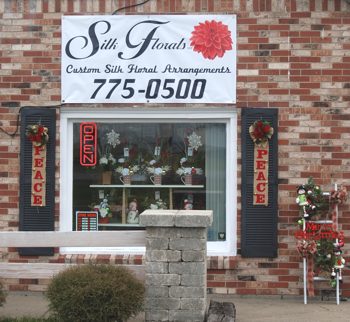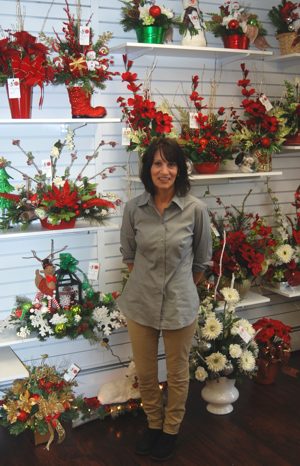 Owner Andie LaMar with wall of arrangements.
Ribbon cutting with from left: Nancy Gorrell, Pastor Cal VanderMey, Dawn Fick, Maria Beck, Andie LaMar and Chamber President Eric Fiebelkorn. A new shop for custom silk floral arrangements had a ribbon cutting on Tuesday, December 6th. Silk Florals is owned by Island resident Andi LaMar and located at 1733 Baseline Road, between Staley and Alvin. The store is full of beautiful holiday wreaths, centerpieces and arrangements, priced right. Andi worked for many years as a floral designer at Michael's and also at Flowers by Johnny. She can also do corporate, weddings, cemetary wreaths & cones. If you have an old arrangement that needs refreshing or a vase that needs filling, she can do that too.Silk Florals is open Tuesday-Saturday, most days 10-6. Check out her holiday selection to get yourself in the Christmas spirit.




Aceti's Wine & Spirits 10th Anniversary - December 2016 Kim, Marissa, Sam & Melina Aceti Kim and Sam Aceti had a super 10th anniversary party on Friday, December 2nd at their store in Top's Plaza, with help from their girls, Melina 15 and Marissa 8. Aceti's Wine & Spirits was packed with happy customers trying different spirits from half a dozen wineries and liquor companies. Sam and Kim opened their first store at the Grand Island Plaza in 2006 and moved over to the Top's Plaza location in October of 2010. Not only did you get to try delicious drinks, there was a basket raffle with over $1000 in prizes and gift bags.




Grand Island Waste Management Featured - December 2016
Recently, Island resident Jim Ehde and his Grand Island Waste Management company was featured as a success story on the website of SCORE. This is an organization that helps small businesses achieve their goals through mentoring and training. Jim started with a 1500 gallon septic and portable toilet truck along with 5 portable toilets in January of 2013. Within 3 months of opening the business he needed to upgrade his septic truck to meet demand. As of today Grand Island Waste Management has won the contract to remove all the sewer sludge for the Town of Grand Island. The Company now owns one 2500 gallon and one 5000 gallon septic truck, along with 65 portable and flushable toilets. See complete story here.

Aceti's Wine & Spirits 10th Anniversary - November 2016 Store clerk Richard Andrade and owner Sam Aceti. A big celebration is planned in honor of the 10th anniversary of Aceti's Wine & Spirits, 2156 Grand Island Blvd. The event will take place on Friday, December 2nd during regular store hours from 9:00 a.m. - 10:00 p.m. There will be gift basket raffles throughout the day; with over $1000 in prizes including Sabres Tickets w/parking and a Jim Kelly autographed football. A wine tasting will take place between 4:00 p.m. - 8:00 p.m. with a suggested $10 donation to benefit Team Luke - Ride for Roswell. Everything in the store will be on sale including over 200 wines at 20% off.
Sam & Kim Aceti opened their liquor store at the Grand Island Plaza in December of 2006. Prior to that Sam had been in the sports and entertainment industry for 15 years, including working at the Marine Midland Arena (now KeyBank Center) in Buffalo as Director of Operations. After input from their customers, Sam and Kim decided to move over to the Top's Plaza in October of 2010, increasing their square footage from 1800 to over 4000 sq. ft. Over the years, this community minded couple has donated over $15,000 to community organizations. They are the major sponsors of the Grand Island Alumni Association, through which over $12,000 in college scholarships have been awarded to Grand Island High School seniors over the last ten years. Sam has also served on the Board of Directors of the GI Chamber of Commerce.
The Aceti's and their friendly staff offer the community exceptional customer service and competitive pricing with the big box stores over the bridge, stocking over 3,000 different wines and spirits. If they don't have it, they will get it for you, usually within 2-3 days. They also offer to mail in your rebates for you! Stop in on December 2nd; enjoy the wine tasting, great prices and a visit with Kim and Sam. They thank you for the continued support for years to come.




Miss Cathy's Dance Academy Theatre Classes - October 2016 Sarah is pictured center with pink dress. Miss Sarah Blewett will be teaching Musical Theatre classes for ages first grade and up at Miss Cathy's Dance Studio. Sarah has a Bachelor of Fine Arts degree in musical theatre from U.B. and has had lots of professional time on stage. Recently, she was seen at the Theater of Youth as Fancy Nancy in "Fancy Nancy th musical". Other on-stage credits include: Wendy in "Peter Pan" (Artpark), "The Who's Tommy", "La Cage Aux Folles", Chrissy in "Hair" at MusicalFare, Julia in "The True Story of the Three Little Pigs" (TOY), Sarah brown in "Guys and Dolls" (NRTG), Mable in "Pirates of Penzance" - Actress of the Season award (Aurora Players), and Hope in "Urinetown" (UB). Said Sarah, "I am so inspired when I get to experience art. Especially performance art - I want to share that inspiration and excitement for theater and dance with students through teaching musical theater dance!".
The class will be divided into three sessions. The first six week session starts Wednesday, November 2nd, and will continue on Wednesdays through December 16th. Times are: 1st grade-4th grade from 5:30 p.m. - 6:15 p.m., 5th grade-7th grade from 6:15 p.m. - 7:15 p.m., 8th grade-12th grade from 7:15 p.m. - 8:15 p.m. The other sessions will be announced at a later date. Please contact Miss Cathy by November 2nd at 773-4753 or 864-2499.




Newest Advertiser Island Mowing - September 2016 From left: Anne and Gerald Bennett Welcome to Gerald and Anne Bennett, newest Isledegrande advertisers. The Bennetts recently started Island Mowing, a lawn service specializing in residential and small commercial properties. The services they offer include mowing, Spring/Fall cleanup, aeration, over seeding, dethatching and edging. The October special will get you a free 2017 Fall cleanup with contract for 2017 mowing service. See website for details.



Island Lanes Hosts Beat the Champ - October 2016
The next Beat the Champ Qualifier will be at Mallwitz's Island Lanes starting September 28th. It will continue October 1st and 2nd, with a Top 24 Roll-Off on Sunday, October 2nd. The show will be taped on Wednesday, October 5th. Registration is required. See flyer for details. By the way...they serve the best wings in town!!!




Certified AutoBrokers Ribbon Cutting - July 2016 Center: owners Chris Taylor and Travis Smith cutting the ribbon.

View of lot and new addition. Certified AutoBrokers, 1693 Grand Island Blvd., celebrated its 6th year in business with a Grand Reopening and ribbon cutting on Wednesday, July 6th. Members of the Town Board, Chamber of Commerce and plenty of family and friends were on hand to congratulate owners Travis Smith and Chris Taylor, along with their team. A promotion this month will donate $100 for every car sold to the Charles N. DeGlopper Memorial Park expansion project. The business sells fabulous used cars and also offers detailing services.




Certified AutoBrokers Celebrates 6th Anniversary - June 2016 New addition.

New Look! Certified AutoBrokers, 1693 Grand Island Blvd., next to Tim Horton's, is celebrating 6 years in business with a Grand Reopening on Wednesday, July 6th. Owners Chris Taylor and Travis Smith have recently expanded their space and everyone is welcome to stop in to check out the new facility, anytime. They would like to thank GI residents for their tremendous support over the last six years. For the month of July they will be donating $100 per vehicle sold, to the Charles N. DeGlopper Memorial Park expansion project. The goal is to sell 50 cars and to hand over a check for $5000 to the project at months end. There will be a display in the office showing the memorial and you can drop off a donation anytime at their office. Chris stated, "We are very proud and thankful of what we have been able to do with the property and I think a lot of Islanders would get a kick out of checking it out up close. Also we believe that the Charles DeGlopper Memorial is an awesome project, I myself am a life long Islander, veteran and nephew of a soldier currently memorialized at the current park. Our donation will be a small token of our appreciation to all Islanders for their continued support of our business, but also hopefully show our appreciation for those Islanders that have made the ultimate sacrifice and their families."




Adrian's Named to Hole In the Wall List - May 2016 That's a good thing! Adrian's Custard & Beef was recently named in an article, "15 'Hole In The Wall' Restaurants In New York That Will Blow Your Taste Buds Away". The list is located here. The only other WNY spot was Grover's in East Amherst. You can see the new menu on their webpage.




Island Ship Center Gifts Galore! - May 2016

Island Ship Center, 1879 Whitehaven Road has many lovely gifts for mom's, graduates and birthdays. Choose from purses, wallets, scarves, homemade candles, soaps and body creams, jewelry, Bills & Sabres items and more. The store also has etched glasses with Grand Island and Buffalo motifs, made by Grand Island High School tech students. Stop in Monday-Saturday to see all they have to offer.
Join Island Ship Center for a fun event as they launch their private mailboxes with 24 hour access.This service provides you with a suite, package delivery options, and a physical, street address. The store will also be offering digital mailboxes and secure shredding service. The purse party will be held after hours to commemorate this new service with refreshments as well, on Wednesday, June 1st from 6:00 p.m. - 8:30 p.m. . More than 125 styles to choose from so please be early. West coast purses here on the East Coast!




Island Ship Center Celebrates 10 Years - April 2016 Fahim Mojawalla and family cut ribbon.

Fahim stands in new addition, thanks family, friends for support. Island Ship Center, 1879 Whitehaven Road celebrated 10 years of business on Grand Island by hosting a ribbon cutting in their new addition on Tuesday, April 5, 2016. Owners Fahim & Seema Mojawalla are so popular on Grand Island, that when you mention their names, everyone smiles and says, "aren't they great!" The new addition will house 24 hour private mailbox rental, digital mailboxes, secure shredding & document destruction service and an area to store large items to be shipped. The newly remodeled store space is bright, cheery and filled with lovely gift items. The original store was at one time the first chapel for St. Martin-in-the-Fields Episcopal Church, built in 1951 on Baseline Road. It was moved to Whitehaven Road in 1956. Father Earle King of St. Martins spoke at the ribbon cutting about the history of the building.




GI Waste Management "Good Neighbors" - March 2016 Grand Island's own "good neighbors" are involved in a project that supplies sneakers and personal care items to homeless people. The owners of Grand Island Waste Management, Jim and Christine Ehde, are friends of the organizer,and are among other businesses that have provided funds for the personal care items in the project begun by Melissa Frawley of Depew, in honor of her late nephew, Danny. Items donated will be given to four shelters: Gerard Place, Compass House, Cornerstone Manor, and Harbor House Drop In Center. Frawley is accepting both new and gently used sneakers for children, teens & adults, along with personal care products and socks to "stuff" inside the sneakers. She is collecting through April 17th, the two year anniversary of her nephew's death. Call Melissa Frawley at (716) 444-4814, melissafrawley222@msn.com or go to the Stuff the Sneakers Facbook page.