Grand Island Business News 2017
Become An Advertiser!
Previous Business Pages


Nurse Practitioner joins Grand Island Family Practice - January 2017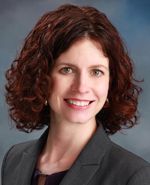 Jennifer C. Earsing, R.N., M.S., A.N.P.-B.C.
Jennifer C. Earsing, R.N., M.S., A.N.P.-B.C., will see patients at Memorial's Grand Island Family Practice and its Lewiston Primary Care Center. An adult nurse practitioner with seven years of experience in her field, Earsing earned a master's degree with specialization in Adult Health Nursing from the University at Buffalo. She received her Bachelor of Science in Nursing from Daemen College.
Earsing previously worked for Amherst physician Dr. Allyn Norman and for the Buffalo Heart Group, where she provided both inpatient and outpatient care. She is a member of the American Association of Nurse Practitioners and Sigma Theta Tau, the National Honor Society of Nursing. To schedule an appointment with Earsing at the Grand Island office, call 773-6181. The number at Lewiston Primary Care is 298-4050.