Grand Island Business News 2018
Become An Advertiser!
Previous Business Pages


773 North Grand Opening - February 2018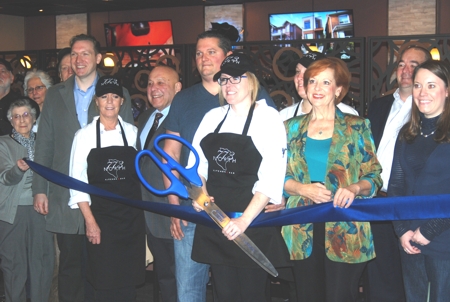 Center: Christy (with scissors) and husband Jason (behind) Zippier with loads of well wishers, at ribbon cutting.

Bar area.
A ribbon cutting for 773 North took place on Wednesday, January 31st at the grand opening. Executive Chef Christy Zippier and husband Jason have totally renovated the property, located at 2749 Grand Island Blvd. The all new restaurant features beautiful brick and metal work, comfortable bar and dining room and adorable restrooms. The men's room features a full size bumper from a Monte Carlo! The menu is self described as "humble", but I think far from it. Pictures on their website cause instant drooling. Congratulations to the Zippiers! They are open every day except for Tuesday. Call (716) 773-6678 for reservations.