Grand Island Business News 2021
Become An Advertiser!
Previous Business Pages
MOG Awarded Community Impact Award - August 2021
Congratulations to Russ Certo at Grand Island Physical Therapy P.C. They recently received the 2021 Community Impact Award from American Physical Therapy Association. This is a peer nominated award from all over the U.S. The award will be presented at a conference in Texas in November.
Message from Thompson Farms - August 2021
Thompson Farms recently had a loss in our family, as many of you have been coming to the farm and various market events you have made yourself familiar with The Coop Bakery and of course our lead baker Shirley, with saddened hearts our market will continue on without her. This Saturday's market, August 7th, will be held as a memorial of Shirley for our market community, we will have a gathering with words and prayer at 11:00 a.m. All are welcome to join and remember. We would like those of you who knew Shirley to share your favorite baked good and memory at this time.
Thompson Farms Market - July 2021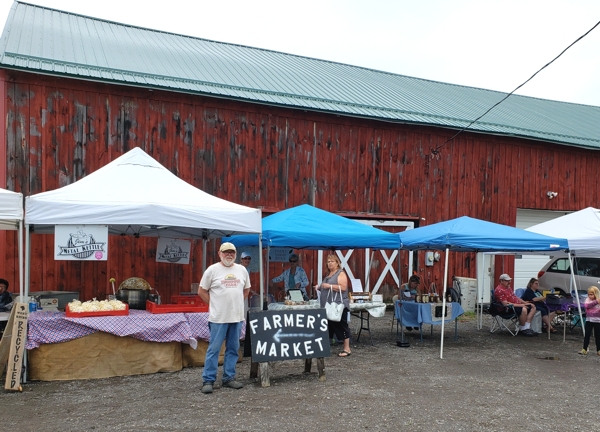 Left: owner Tom Thompson in front of pop up market.

"The Barn" is open daily.
Welcome Thompson Farms, 2487 Long Road. Since 1998 the family has been raising chickens for eggs and meat, and growing seasonal produce. It is open daily (8-8) and on Saturday (9-2), they have a pop up market that last week included the following: The COOP Bakery - baked goods; Every Good Herb - soap and herbals; Pedlow Farms- GI grown goods & more; Jim's Metal Kettle - kettle popcorn; Rinart by Nature - hand crafted candles; West River Recycled - beach Crafts; Baumans Farm - local farm goods. "The Barn" carries the following items daily: eggs, bacon, jam, jelly, syrup, baked goods, strawberries, cucumbers, beets, peas, zucchini, rhubarb, spinach and red Romain lettuce. They also have frozen meats at eye-popping low prices from a local Western New York farm, Falconer Meats. You never know what else you will find, hope to see you there!
Facebook Page
.