Grand Island Fire Company News 2022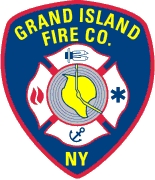 Grand Island Fire Company, Inc. Website
---
For Emergencies Dial 9-1-1 or 773-7508
To contact the Fire Company Dial 773-4334

Previous Fire News


Firematic Officers 2022:
Fire Chief Mark Sadkowski; Deputy Chief Chief Omar Sortino; 1st Assistant Chief John Podlucky; 2nd Assistant Chief Pat Hahn, Fire Captains: Don Turner, Cory Rozell, Tom Shanor; EMS Captain Robbie Meyer; Fire Police Captain Don Portik.
Administrative Officers 2022:
President Sean O'Donnell, Vice President Ron Warner, Recording Secretary Graciana Giambra, Financial Secretary Nicole Gerber, Treasurer Tony Mastantuono Sr., Line Secretary Ellen Valera
Board of Directors 2022
Greg Butcheri, Chairman; Matt Osinski, Kevin Koch, Jeremy Pullano, Norm Mrkall II, Dave Khreis, Saed Shafie.
---
GI Fire Company Annual Open House - Ocotber 2022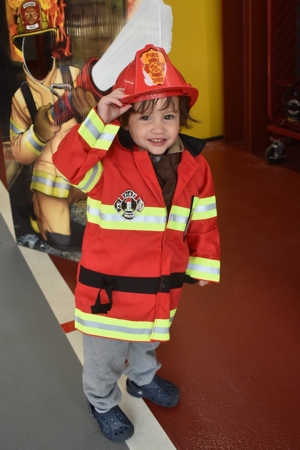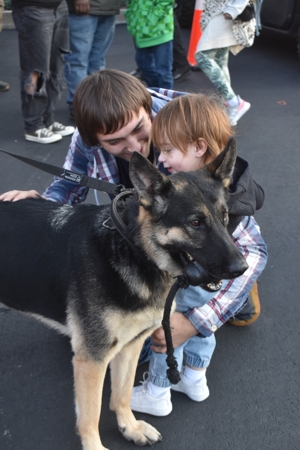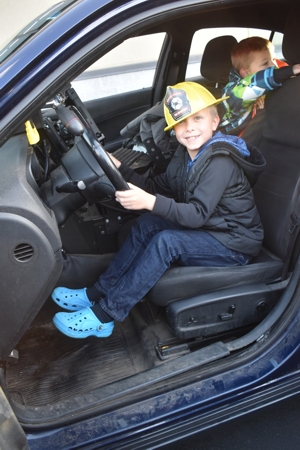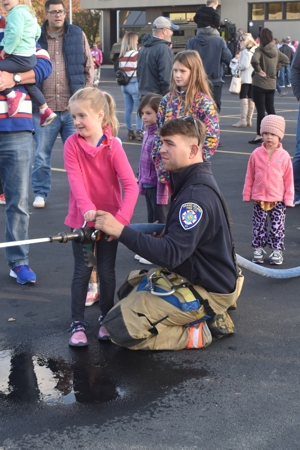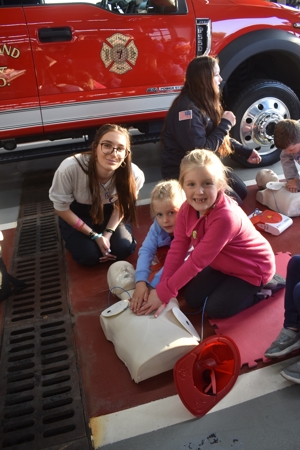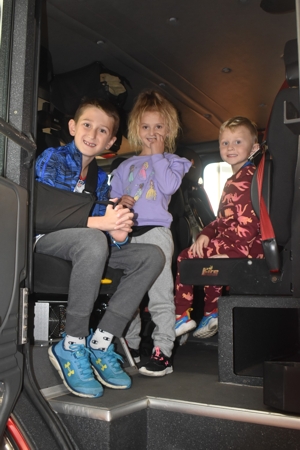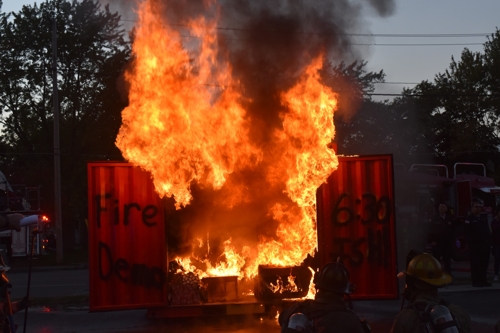 Mary Stewart Photos.
The GI Fire Company Annual Open House took place on Friday, October 14th and was very well attended. There was a live fire demonstration and other hands-on activities.
GI Fire Company Annual Open House - Ocotber 2022
GI Fire Company Annual Open House will take place on Friday, October 14th from 5:00 p.m. - 8:00 p.m. There will be a live fire demonstration at 6:30 p.m. See
FLYER
.
GI Fire Company D'Orozio Scholarship Winners - August 2022
Lou & Rets D'Orozio
Ellen Valera
Michele Jones Story: Ron Stipp - Public Information Officer The D'Orazio family has generously donated funds to create a memorial scholarship for Grand Island Fire Company (GIFC) members pursuing formal education in the medical field. Luigi "Lou" D'Orazio served as a Grand Island firefighter and advanced Emergency Medical Technician (EMT) for 56 years and served as a trustee of the GIFC Benevolent Association. Reta, Lou's wife, was involved in many medical studies to advance cardiac health in women. Both were dedicated to helping others and they supported many community endeavors.
The D'Orazio family has established the Lou and Reta D'Orazio Scholarship Fund to honor their parents' commitment to helping people and to carry on their legacy of supporting others. The criteria established for fire company members applying for a D'Orazio Scholarship include being a member in good standing with the GIFC; being currently enrolled in an accredited two- or four-year institution of higher learning or an accredited technical post-secondary school in a medical field program (nursing, medicine, respiratory therapy, physical therapy, etc.); being in good academic standing at the institution; having demonstrated a financial need, and demonstrating a commitment to voluntary emergency service and providing medical care as a career. Applications for the scholarship are reviewed by the GIFC D'Orazio scholarship committee for eligibility and awarding, in consultation with the D'Orazio family.
The Grand Island Fire Company is proud to announce that two company members, Michele Jones and Ellen Valera, have been the first selected to each receive the inaugural $1,000 D'Orazio scholarships to support their 2022-2023 academic endeavors.
Michele Jones has entered a two-year Doctor of Nursing Practice program at the University at Buffalo. This is a graduate level degree program, which builds off her accomplished nursing career and demonstrates her commitment to the nursing profession. Michele has been a member of the fire company since 2013, receiving the Rookie of the Year award and achieving her paramedic certification while working full time as a nurse. Michele has stated that achieving her Doctor of Nursing Practice will allow her to take part in solutions to improve healthcare by teaching, researching health-related issues, and by exploring clinical trials to provide best practices in health care.
Ellen Valera is enrolled at Erie Community College where she is completing her required courses to enter a college nursing program. Ellen has been an active member of the GIFC for almost four years. She works for Twin City Ambulance and also works as a medical scribe at Dent Neurologic. She enjoys both working and volunteering in the medical field and values the profession of helping others. Ellen understands the current challenges and needs of the healthcare field and is looking forward to pursuing a nursing career to be able to help more and educate others.
In a statement made by Brian and Teresa D'Orazio and Rebecca D'Orazio-Orton, the family described their wishes in memorializing not only the significant contributions that their parents made to the community, but also those of the Grand Island firefighters: "Our parents, Lou and Reta D'Orazio, always guided us by their example. Their sacrifices were our sacrifices; as all families in the GIFC understand very well, for GIFC members rely on their families to support their efforts. In retrospect, their main purpose was to help as best they could with the knowledge and gifts given to them. Those members of the GIFC, who sacrifice so much to help others, sometimes need help to reach a goal that will allow them to best help the community. The Lou and Reta D'Orazio Scholarship Fund seeks to assist GIFC members with financial support toward pursuit of an advanced medical field of study, thus helping them to better help the community. As our parents pursued various humanitarian efforts to help the greater community, it is our hope that this Fund will be a catalyst for humanitarian achievements by the awardees."
The Grand Island Fire Company members are all volunteers, working jobs and attending school as they volunteer their time to respond to emergency calls and attend fire and emergency medical training. The D'Orazio family knows the time and dedication it takes to be a volunteer firefighter and EMT and wanted to help not only the firefighters but the community as well with their generous support of the medical education of the members.
In reflecting on her father's commitment to supporting the community through his fire company service, Becky D'Orazio-Orton said, "Our Dad dedicated so many years to The Grand Island Fire Company. He was an excellent EMT who saved many lives and helped neighbors during many emergencies. Our Dad was Superman, always trying to save the day. They would both be so happy to know that their quest to help lives on."


GI Fire Company 84th Anniversary - May 2022 Story: Ron Stipp - Public Information Officer Grand Island Fire Company (GIFC) President Sean O'Donnell welcomed local government officials, family members, and special guests on Saturday, May 21st, to commemorate 84 years of community protection by the GIFC! Sean stressed that the GIFC would not be as successful as an organization if it were not for local government and community support, and more importantly, the support of the family of all the volunteer firefighters.
Board of Directors chairman, Jeremy Pullano, echoed these sentiments during the annual State of the Fire Company address, pointing out the sacrifices made by the volunteer firefighters and their families every year, with each year being more demanding of member's time. Although the continuing success of the GIFC depends upon a strong group effort, certain individuals are being recognized on this occasion for reaching significant milestones for years of service in the GIFC.
The service awards recipients are as follows: Joe Savage - 5 Years; Adam Crist - 5 Years; Allison DeMartin – 5 Years (in 2021); Ben Shaw – 5 Years (in 2019); Don Turner - 15 Years; Robbie Meyer – 15 Years; Mark Sadkowski – 20 Years; Tammy Gorman – 20 Years; Joe Torregrossa – 20 Years; Greg Butcher – 30 Years; Jeremy Pullano – 30 Years; Mike DeMartin – 35 Years; Bob Aronica – 35 Years; Lee Routsi – 35 Years; Glenn Pelham – 40 Years; David Johnson – 40 Years; Greg Zilliox – 45 Years; Gary Roesch – 55 Years.
Thank you again to all of our volunteer firefighters, who are always there to serve the residents of Grand Island, all day, every day! Photos can be found on our Facebook Page @GrandIslandFire.