Grand Island, New York Photo Album
2012
Previous Photo Albums
---
The goal of this page is to allow Grand Island residents and others to see the essence of Grand Island. E-mail

Let's show the world what a beautiful place Grand Island really is.
---
Web or Net? - December 2012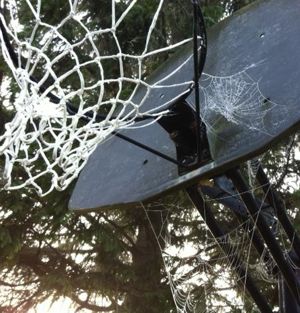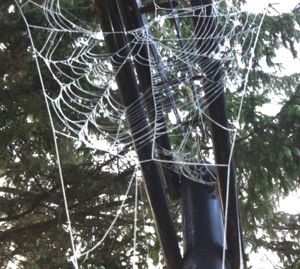 Dick Crawford photos.
Dick Crawford took these photos in his front yard a couple weeks ago on a very foggy morning. The combination of the fog and cold temperatures transformed the spider webs into basketball net wannabees.
Sunset - November 2012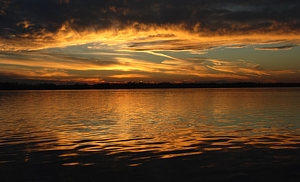 Reg Schopp photo - click for larger view.
Reg Schopp took this photo of this beautiful West River sunset on Sunday evening, November 11, 2012.
Sunset - October 2012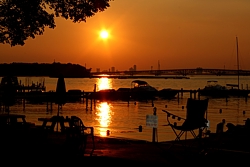 Jim Ehde photo - click for larger view.
This photo of the sun setting over the North Grand Island Bridge was taken Wednesday, October 24, 2012.
West River Osprey - August 2012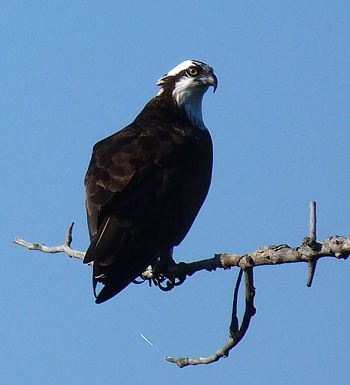 Ron Monti photo
August 30, 2012 . . .
Ron Monti photographed this Osprey along the West River Parkway on August 24, 2012. "There were actually three of them in the trees along the river," Ron said.
South Bridge At Night - August 2012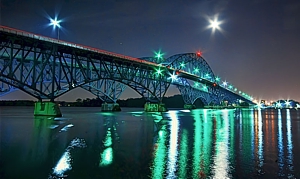 Lisa Boulden photo - click for larger view.
August 9, 2012 . . .
Lisa Boulden took this photo this past week when the moon (appearing like a star) was full.
Egret - June 2012
Abigail Blair photo - click for larger view.
Nine-year-old Abigail Blair took this photo on Sunday, June 17, 2012 while she and her farther, Noel Blair, were anchored along the shore at Buckhorn. This Egret worked its way up and down the shoreline for sometime picking out whatever minnows it came upon.
"Turkey Vultures" - May 2012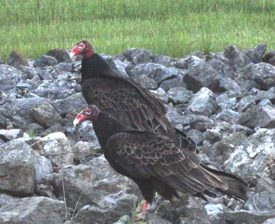 Paul G. Leuchner photo - click for larger view.
Paul G. Leuchner wrote, "It was dusk and I had just returned from a kayaking trip out to Strawberry Island. As I prepared to climb up the dock ladder I heard a guttural sort of grunting followed by the ruffling of feathers. Standing on the shoreline not five feet away were three large Turkey Vultures. Each one stood about three feet high with wingspans that exceed several feet. They were not the least bit intimidated by my presence so I was able to get fairly close to them to get this photo. Turkey Vultures are quite common throughout Western New York although they are not frequently observed roosting this close to the Niagara River. The Turkey Vulture feeds on fresh or decayed carrion. They often work the updrafts during the afternoon prowling for food which they detect by both sight and smell. Although elegant in flight these birds would not win any beauty contests." Thanks Paul!
"Black-Crowned Night Heron" - May 2012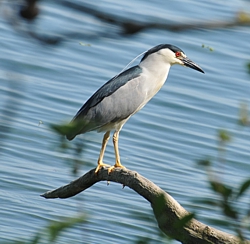 Gary McDannell photo - click for larger view.
This photo was taken by Gary McDannell from the Strawberry Island kiosk at Beaver Island State Park. According to Gary, the night herons are nesting on Motorboat Island as are the Great Blue Herons. "I have seen several of these solitary birds over the past couple of weeks, but this one was the only one that I was able to get a picture of in the park," Gary said.
Red Admiral Butterfly - April 2012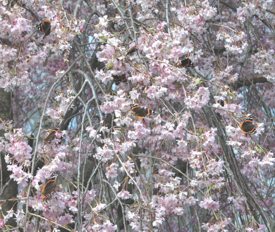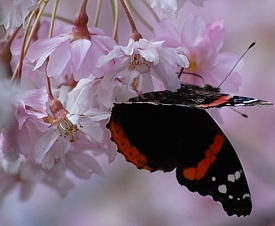 Jodi Robinson/Mary Stewart photos - click for larger view.
Isledegrande received a phone call on Monday, April 16, 2012 from a resident stating millions of butterflies were in her yard. We had to check it out, and found the butterflies were attracted in particular to a flowering cherry tree. After taking a few pictures of the spectacle and doing some research the butterflies were identified as a common type, the Red Admiral. What is uncommon are the numbers involved. Upon further discussion it seems they were sited in large groups in Buffalo and other areas of Grand Island on the same morning. It certainly was not something you see every day! See
wgrz
for more information.
Fisherman's Landing - March 2012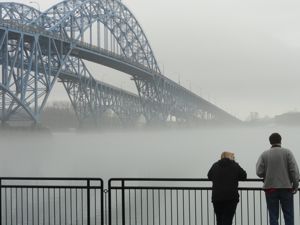 Paul G. Leuchner photo - click for larger view.
This photo was taken on March 17, 2012 at about 10:30 a.m. by Paul Leuchner. The fog was just starting to lift at Fishermanís Landing, Grand Islandís newest park on the Niagara River.
East River Marsh - March 2012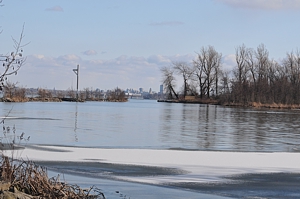 Gary McDannell photo - click for larger view.
This photo was taken by Gary McDannell at the East River Marsh on a quiet Monday afternoon, March 5. "Not a lot happening in the marsh yet," Gary wrote.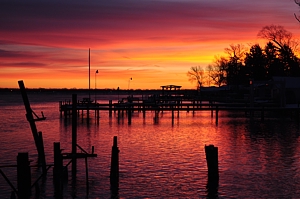 Emily Dahlstrom photo - click for larger view.
Emily Dahlstrom captured the sunrise Sunday morning, January 22, 2012 over the water on the East River.