Golden Age Center Webpage

3278 Whitehaven Road
773-9683

Previous Golden Age Center News
Town of Grand Island Website
To E-mail the Golden Age Center
Membership Application
Meals on Wheels Application
Donation Opportunities

---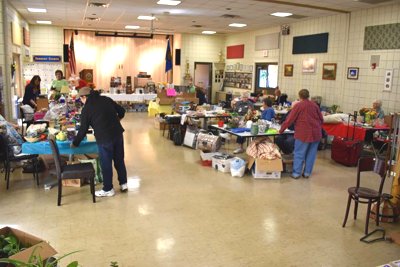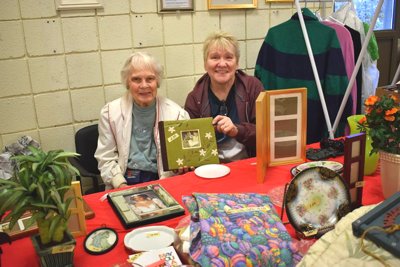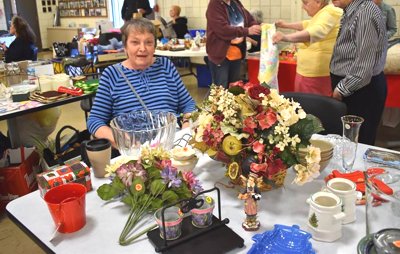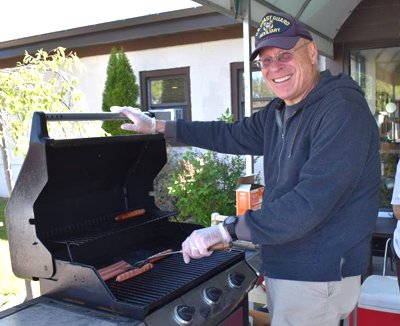 Mary Stewart Photos.
There was something for everyone at this year's Gram's Garage Sale on Saturday, May 20th at the senior center. A wide variety of baked goods were available, thanks to the club's ways and means committee and others who donated baked items. It was a great success and was sold out by the end of the day. Also, hotdogs, pulled pork sandwiches and macaroni salad could be purchased.
A spring raffle, which included garden and other spring items, and a raffle with the proceeds benefiting the Grand Island Dog Park were also held. The winner of the spring raffle will be notified May 25th. Two winners will be picked for the dog crate raffle. Raffles tickets will be available through June and can be purchased at the senior center. Included with the dog crates are lots of goodies for "mans best friend" and various gift certificates from Island merchants. Flyers will be placed at various points around the Island. Thank you to all those who made this year's sale success and to the center's new ways and means committee, which was recently formed to arrange events and come up with different ideas for the center.
Several Grand Island organizations, including the Golden Age Center, helped raise funds for the "Grand Island Challenge to complete a room with care", for the new John R. Oishei Children's Hospital, opening November, 2017. The goal for Grand Island was $25,000. If this goal is met, a plaque will be hung outside the room dedicating it to Grand Island. A total of $2,125, which included several individual donations, was sent to the hospital by the center. Donations are still being accepted and can be mailed to the GI Challenge, Children's Hospital Foundation, 1028 Main St. Buffalo, N. Y. 14202.
Friday, June 2, 2017 at 9:00am, New York State Senator Chris Jacobs (60th SD), and the Grand Island Golden Age Center, 3278 Whitehaven Road, will be co-hosting a free Senior Health and Wellness Fair for all residents. Attendees of the event will have access to various health screenings, one on one meet and greets with various medical, health, and wellness professionals, as well as have the opportunity to participate in numerous activities including Tai Chi, Chair Yoga and arthritic chair exercise. This event is open to any senior residing in the 60th Senate District. See
flyer 1
and
flyer 2
.
Gram's Garage Sale
- Saturday, May 20th.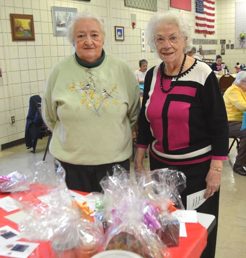 Lorraine Willlcox and Anita Wasson

From left: Rosemarie Shelp, Kathy Shaklee and Brenda Cassoni.

From left: Helen Harrison, Shirley Warmus, Wilma Greenwood and Phyllis Wesolek
Mary Stewart Photos.
The Grand Island Senior held a "Bubbles, Brunch and Bingo" fundraiser Saturday, April 22, 2017, at the center to raise money for the Meals on Wheels program on Grand Island. Included in the event were punch, brunch, bingo, a 50/50 drawing and a door prize. It was a sell out event and enjoyed by all who came. Brunch sponsors were McMahon's Family Restaurant, the culinary talents of the Golden Age Center staff and Tom Thompson.
Bubble sponsors were Elderwood at Grand Island and Wheatfield. Bingo sponsors included Island Ship Center, Dick and Jenny's, Neighborhood Foundation of Grand Island, Recreation Department, Village Inn, Say Cheese, Silk Flowers, The Laundry Lounge, Rose Liquor Store, and Town Cafe. Individuals who contributed were Rosemary Loth Fisher, Kathy Loth, Barbara Nowakowski, Kathy Shaklee and Jullian and Rich Warner. A $50 gift certificate from Dick and Jenny's was the door prize won by Bernie Callahan. The winner of the 50/50 received $130. The event raised over $2400 for Meals on Wheels.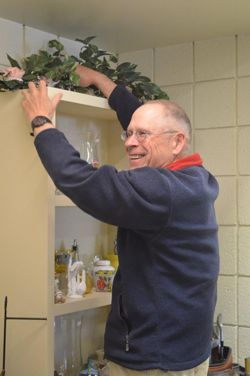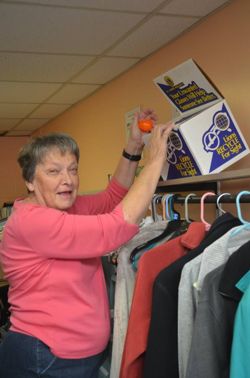 Left: Paul Leuchner, Right: Jeanne Anstett

Tony Amato and Pat Phillips.
Mary Stewart Photos.
An Easter egg hunt began the day at the Grand Island Senior Center on Friday, April 14th. The eggs were hidden so well that the seniors a had a hard time finding them. Prizes were given to those who found an egg with a number inside. After the hunt, a Good Friday Brunch was enjoyed by all.
Summer Walking Program with Erin - April 2017
The Golden Age Center is hosting a "Summer Walking Program with Erin" at different locations around Grand Island. These one mile walks will take place on Wednesday mornings at 10:00 a.m., starting May 3rd. See
flyer
for details.
Bubbles, Brunch & Bingo Fundraiser - April 2017
Brunch Sold Out!
The Golden Age Center, 3278 Whitehaven Road, is hosting a Meals on Wheels program fundraiser on Saturday, April 22nd from 11:00 a.m. - 2:00 p.m. Tickets are $10 and includes brunch, bubbles (punch) and bingo with TONS of prizes.
Flyer
Meals on Wheels Booster Night- April 2017
Dick & Jenny's restaraunt is hosting a Meals on Wheels Booster Night on Tuesday, April 18th from 5:00 p.m. - 10:00 p.m. 20% of your bill will go to the organization
Flyer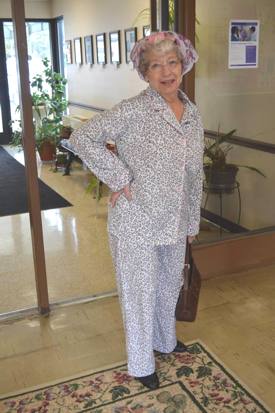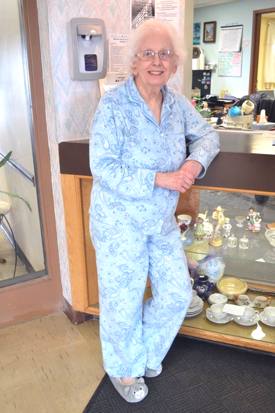 Left: Pat Smith, Right: Mary Stewart

From left: Barb Gannon, Pat Phillips, Jen Mentor and Liz Wilbert.
Mary Stewart Photos.
The Golden Age Center had a Pajama Party on Thursday, March 30th to celebrate "breakfast at lunch" on the menu. Seniors enjoyed sausage, pear french toast, kuchen and fruit cup.
University Express Senior Classes - March 2017
Join us for NINE different University Express classes, lifelong learning for adults age 55+, being offered at the Golden Age Center this Spring. These presentations are brought to you through a collaboration with Erie County Senior Services, Wegmans, Excelsior Orthopedics, Blue Cross Blue Shield of WNY, as well as partnering senior centers. Check out the University Express classes that will be offered at the Golden Age Center
class list
and call 773-9682 to register. Complete WNY University Express
class list
. All of these University Express presentations are FREE, but you must register for these classes. Join in the fun!
Golden Age Center Good Friday Easter Egg Hunt & Breakfast - March 2017
The Golden Age Center Good Friday Easter Egg Hunt & Breakfast will take place on Friday, April 14th. Easter Egg Hunt at 9:15 a.m. and breakfast at 10:15 a.m. Breakfast includes French Toast, vegetable quiche, hash browns, fruit and beverage. Tickets at $4 and available at the GAC office. See
flyer
.
Golden Age Center Happenings - March 2017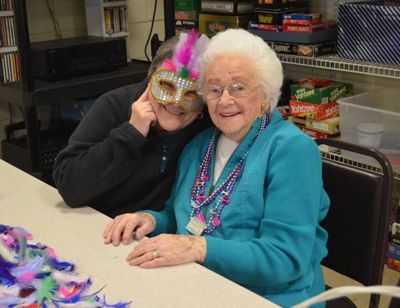 From left: Joanie Raab and Nonnie Carroll

From left: Kathy Lechner and Tony Amato, Sr.
Fat Tuesday Party above.

St. Patrick's Day party.
Mary Stewart photos.
The Golden Age Center is always ready for a party. On Fat Tuesday, February 28th, Mardi Gras was celebrated with costumes and make your own masks. On Friday, March 17th, members dressed in their greens and enjoyed traditional corned beef and cabbage luncheon.
Donation Opportunities at GAC - March 2017
The Grand Island Golden Age Club has successfully reestablished their IRS exempt status as a 501(c)3 public charity. Donors can deduct contributions they make to the Golden Age Club, Inc., and the Club is eligible to receive tax deductible bequests, devises, transfers or gifts under IRS Code. Effective February 16, 2017, the Golden Age Club can provide donors with a tax deductible receipt of any value; the IRS requires a receipt to substantiate donations over $250.
When thinking about deductions for your taxes, or for estate planning purposes, please remember the Golden Age Club has been organizing and conducting activities for the benefit of Grand Island's seniors since 1959! Open to all Grand Islander's over the age of 50, we welcome you to visit us at 3278 Whitehaven Road weekdays to learn more about what we have to offer. Thank you for considering a donation to help our local seniors.
Bows for Paint the Town Purple - March 2017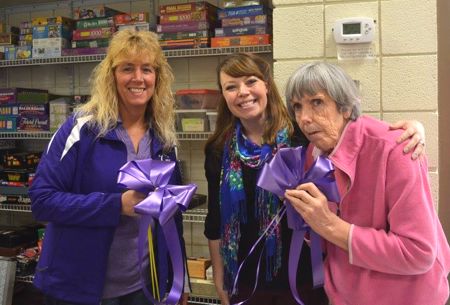 From left: Relay co-chair Lynn Dingey, GAC rep Jen Menter and member Kathy Loth.
Mary Stewart photo.
Every spring the Grand Island Relay For Life "Paints the Town Purple", to bring attention to the upcoming Relay For Life event. Recently, co-chair Lynn Dingey stopped by the Golden Age Center to instruct interested volunteers in making purple bows, to deck out the Town Hall & Commons.
Games at the Golden Age Center - March 2017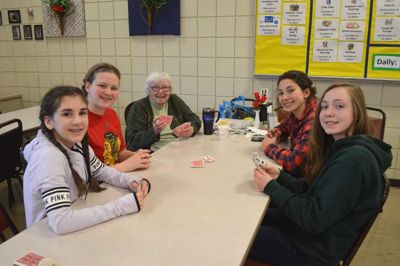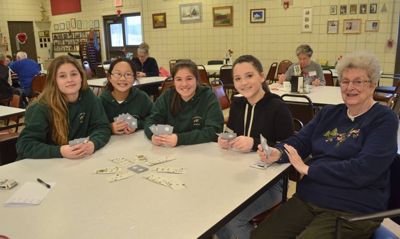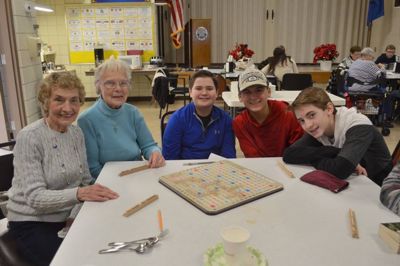 Mary Stewart photos.
On Friday, February 3rd, St. Stephen School 8th graders traveled to the Golden Age Center to play various board games and card games with members of the GAC. This is an ongoing project with the 8th grade class, where students and golden agers can interact to get to meet and know each other.
Mats on a Mission Project - February 2017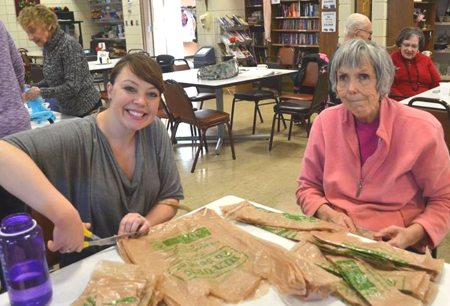 Jen Mentor and Kathy Loth.

Lee Tetkowski & Gail Potter.

Finished product displayed by Jen Mentor, left and Gail Potter.
Mary Stewart photos.
Recently, Gail Potter from "Mats on a Mission" visited the senior center to tell about the project; how it started and its purpose of recycling plastic bags to make "plarn". Plarn is plastic yarn used to crochet hand-woven mats for the homeless. Plarn is rolled into balls and taken to various locations where the mats are assembled. In September of 2016, Gail found out about "Mats on a Mission", which started in Tucson, Arizona, and wanted to start this locally. It didn't take long to recruit volunteers from various groups and organizations to help with this endeavor. The Golden Age Center will be making the plarn as part of their Craft for a Cause project, held on Mondays starting at 10:00 a.m. Bags from Tops, Wegmans or Target can be dropped off at the center between 8:00 a.m. and 4:00 p.m., Monday - Friday. For further information, contact Jen at the Senior Center - 773-9682 - or check out "Mats on a Mission" on Facebook.
Valentine's Day at GAC - February 2017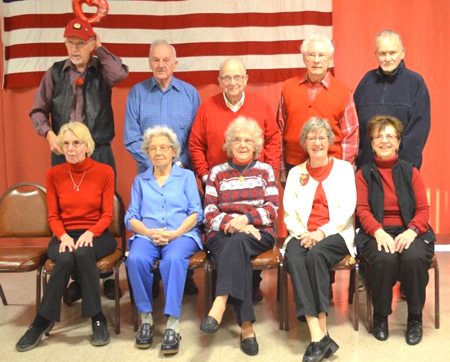 From left: Ann and Dave Rogers (51 years), Sue and Ray Whitbeck (63 years), Evelyn and Don Lewis (54 years), Barbara and Richard Brzyski (54 years), Jean and James Brighton (54 years).

Joan Raab 94 years-old, and dressed to the nines.
Mary Stewart photos.
A special luncheon was held at the Senior Center on Valentines Day celebrating the anniversaries of members married over 50 years.. Honorees included Sam and Pat Akinbami married 51 years, John and Maureen Corrao married 61 years, Ann and Dave Rogers married 51 years, Ray and Sue Whitbeck married 63 years, Don and Evelyn Lewis married 54 years, Richard and Barbara Brzyski marriead 54 years and Jim and Jean Brighton married 54 years. Special music by "Second Time Around" provided entertainment. There were also prizes for those who wore the most visible hearts.
Volunteers Recognized at Birthday Luncheon - January 2017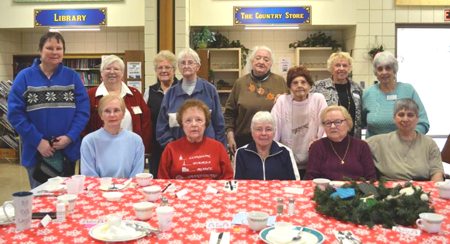 Mary Stewart photo. Click photo for larger view.
he Grand Island Golden Age Center has many talented hands knitting and crocheting items for those who have needs not only on Grand Island but the surrounding area as well. "Mitten Project" is a united effort to help others by creating hats, mittens, scarves, hand bands, lap robe for vets at Veterans Hospital; baby hats for newborns at Children's Hospital, and cancer caps for cancer victims School children. who also have needs, benefit from a "bag of warmth", which includes a hat, mittens, scarf and a pair of new socks if available. Anyone wishing to donate new socks or yarn can drop them off at the Senior Center between 8 am and 4 pm. Many letters of thanks have been received from children as well as adults. One young student said in his letter "now i can keep warm". Over 1700 items have been knitted or crocheted last year alone. Other groups who have benefited from this project include the Shriners, City Mission, Salvation Army and Friends of the Night People. At the February Birthday Luncheon on February 1st, the volunteers were recognized for their good works.
GAC Closed Wednesday - February 2017
The Golden Age Center will be CLOSED Wednesday, February 8th, due to staff illness and member illness. We will reopen again on Thursday, February 9 at 8:00 a.m. We apologize for any inconvenience this may cause.
Senior Volunteers Stuff Town/County Tax Bills - January 2017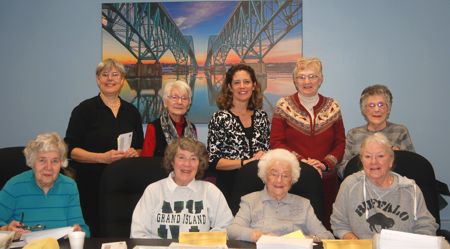 Sitting from left: Chris Bihler, Martha Muller, Nonnie Carroll and Pat Ehinger.
Standing: Mary Cooke, Dorothy Lew Town Clerk Pattie Frentzel, Kathy Lechner and Bernie Callahan.
This is the 13th year a group of seniors from the Golden Age Center have stuffed tax bills for Town Clerk Pattie Frentzel. The seniors spend the day stuffing envelopes for the Town/County taxes and get treated for lunch in return. They also come back in the fall to take care of the school tax bills.
New Year's Celebration - January 2017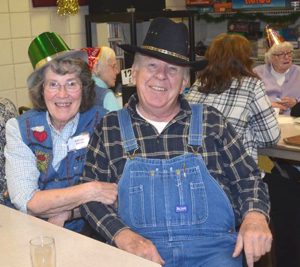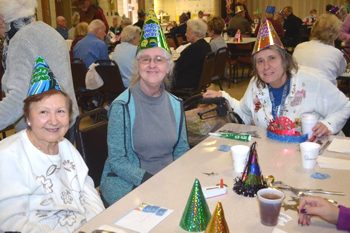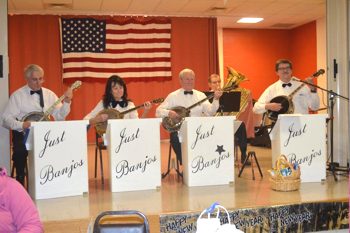 Mary Stewart Photos
The Grand Island Senior Center held its first birthday lunch on Wednesday, January 4th, celebrating the new year with hats and noisemakers. The birthday luncheon celebrates all the January birthdays and guests were invited to come dressed in country attire, to go along with this month's theme, "country hoe down birthday luncheon". Entertainment was provided by "Just Banjos", with great banjo music. It was an enjoyable afternoon.
Coffee Chat about Cancer at GAC - January 2017
Tuesday, January 10th at 2:00 p.m. at the Golden Age Center, 3278 Whitehaven Rd.
Join local American Cancer Sociey volunteers and staff for a afternoon conversation about cancer resources and support. Learn about the Society's life-saving mission, including groundbreaking research, cancer preventation and education, patient services, and advocacy efforts. We'll also share how you can get involved in the cancer fight right here on Grand Island. Light refreshment will be served. RSVP at the Golden Age Center or via email at missy.stolfi@cancer.org.
Volunteers Needed for Respite Program - January 2017
HELPERS WANTED - The Golden Age Center, 3278 Whitehaven Road, Grand Island, is looking for volunteers to help start up a new community respite program in February which will provide breaks for people who are providing care for loved ones with dementia. Volunteers should be willing to share a few hours of their time on the second Wednesday of each month by providing companionship for people with dementia. The Alzheimer's Association Western New York Chapter will furnish all necessary training at no charge. For info, call Jennifer Menter at the Center at 773-9682 or email jrmenter@grand-island.ny.us. The Alzheimer's Association also trains volunteers and oversees respite programs and 10 other locations in Erie and Niagara counties. For info about respite and the chapterís other programs, call toll-free 800-272-3900.