Golden Age Center Webpage

3278 Whitehaven Road
773-9683

Previous Golden Age Center News
Town of Grand Island Website
To E-mail the Golden Age Center
Membership Application
Meals on Wheels Application
Donation Opportunities
AARP

---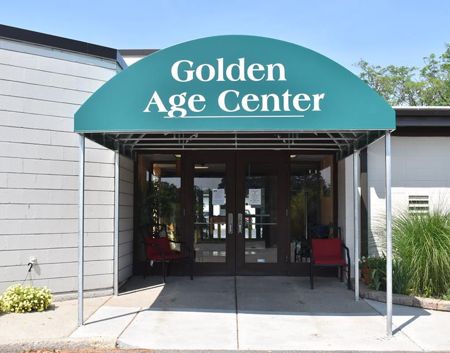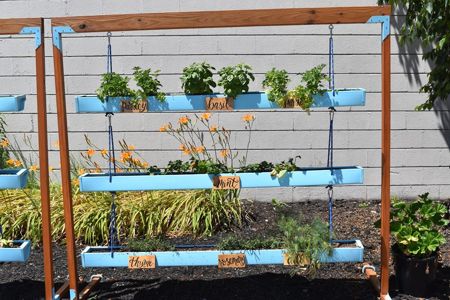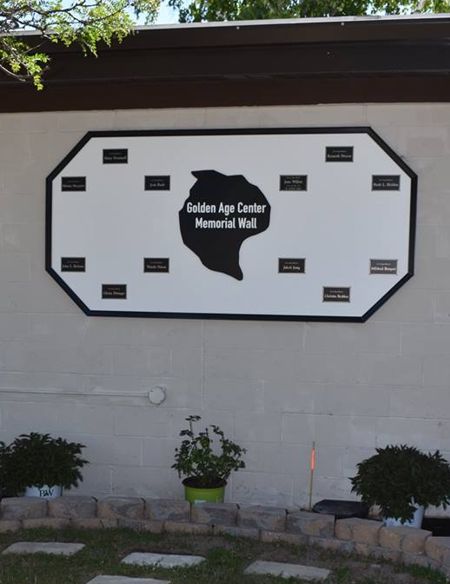 Mary Stewart Photos.
This spring and early this summer, the Golden Age Center has had some major updates and improvements to their buildings and grounds.
The last few, harsh winters had taken its toll on the awning. A new, expanded awning was installed earlier this month and provides extra shade for those who would like to sit outside and enjoy the beauty of the Nike Base, The awning extends from the building to the drop-off area of the parking lot and will help protect members from the elements.
A new Community Garden was created at the east side of the building, complete with herbs and vegetables for members and community to pick and enjoy at home. Many of the fresh herbs and vegetables are used in the daily lunch service at the center. The gardens at the front of the building were beautified with pebbles in the garden bed, surrounding the bushes and trees purchased and planted by members past and present.
A new Golden Age Center Memorial Wall has been installed on the front of the building, displaying nameplates of deceased past presidents and members. Stepping stones lead up to a new Memorial Garden honoring Jakob Jung, featuring a red rose bush and other assorted bushes. The Memorial Wallk and Garden will bring reflection, peace and beauty to the Nike Base.
Walls on the south and east sides of the building that were defaced by graffitti in the past received a fresh coat of paint.
The Golden Age Center is looking for a full-time recreation leader at the center. See
job description
.
Alvera received her first massage at age 100. Florence, a long-time kitchen worker, toured the kitchen and dined at Russell's. Jim, a Korean War Veteran, attended a BPO concert for the first time since eighth grade, and Annie celebrated her heritage at the Gullah Festival in South Carolina. Senior Wishes, WNY's only program dedicated to enriching the lives of deserving seniors by granting meaningful wishes, is continually on the lookout for more seniors to assist.
According to Wendy Miller Backman, Senior Wishes Executive Director, "Senior Wishes was created to recognize that our aging seniors still have things they want to do, places they want to go, or people they want to see. We transform those dreams into a reality."
The organization will be granting its 150th wish this summer, and strives to grant more wishes to seniors in 2018. Wish request can be big or small. In addition to very special outings, many seniors have received items such as: a new sewing machine; a new tape deck to DJ parties; and small household items or craft/hobby supplies.
Wish recipients must meet the following requirements: Age 65+ and a resident of Erie or Niagara County with an annual income $38,000 or less for a household of one or $44,000 or less for a household of two or a permanent resident of a care facility; cognitively, emotionally and physically capable of communicating and experiencing the wish; and unable to fulfill the wish on their own. To learn how to apply for a wish, visit www.seniorwishes.org or call Wendy at 716-508-2121.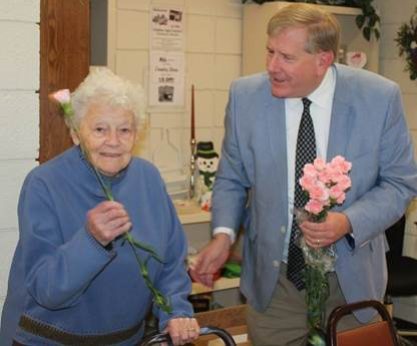 GAC member Iris Jircitano, 91 years young and Kevin Hardwick.
Erie County Legislator Kevin Hardwick stopped by the Grand Island Senior Center to pass out flowers as a special gift ahead of Mother's Day. "It was my pleasure to hand out carnations and wish these wonderful women a Happy Mother's Day," said Legislator Hardwick. "This was a small gesture to recognize the tremendous influence mothers have on our lives." The Erie County Legislature also issued a proclamation in celebration of Mother's Day, which can be found
here
.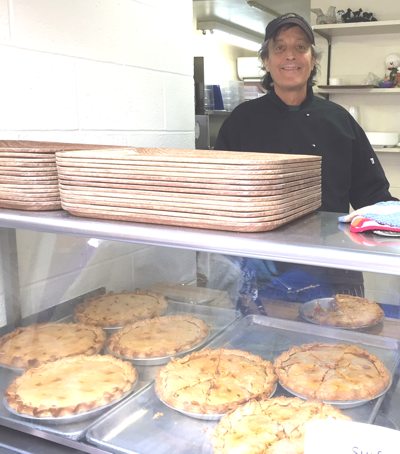 Barry Conway with Southwestern Taco Pies.
On Thursday, May 17th, the Golden Age Center lunch crowd enjoyed feasting on Barry Conway's award winning Southwestern Taco Pie. In 2003, Barry was one of four winners of Emeril's Pie Contest on the FOOD Network with this recipe. It was Season 1, Episode 41, of Emeril Live, if you want to go watch it. If you are over 50 years of age and a Grand Island resident, check out the Golden Age Center and what it has to offer.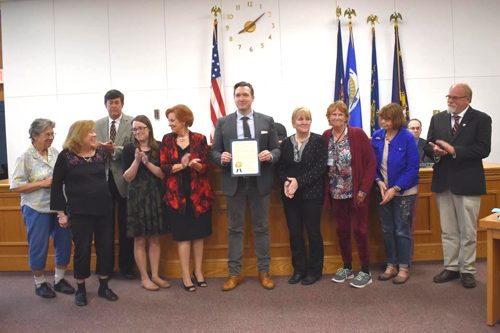 Town Board presents proclamation to Golden Age Center members.
The month of May is celebrated as Older Americans Month to honor our senior citizens. The 2018 theme, Engage at Every Age, which emphasizes that you are never too old (or too young) to take part in activities that can enrich your physical, mental and emotional well-being and celebrates the many ways older adults make a difference in our communities. On Monday, May 7th, a group of Golden Age Center members led by President Nancy Toby were at the Town Board meeting to accept a proclamation from the Grand Island Town Board.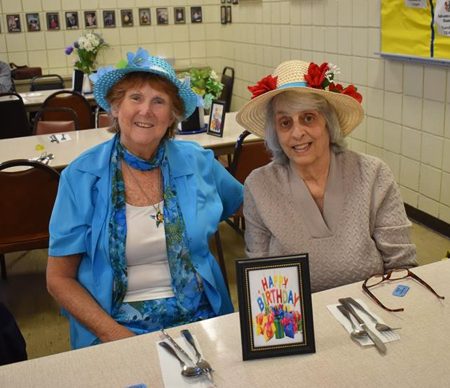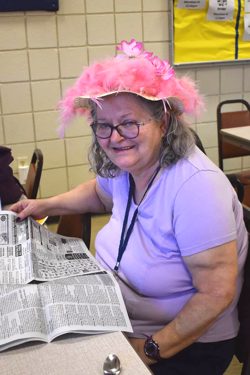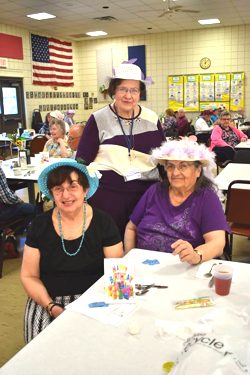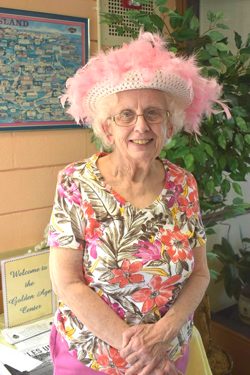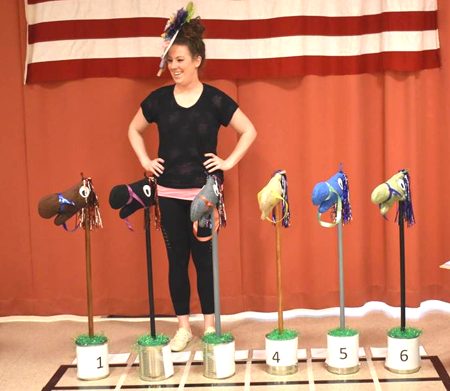 Mary Stewart Photos.
On Wednesday, May 2nd, the Golden Age Center celebrated May birthdays at the monthly birthday luncheon. They also took time to remember thirteen active members who passed away in 2017, with thirteen yellow roses, music by the senior chorus, prayers, and the reading of "Life Well Lived" by Jen Mentor.
The senior center also celebrated the Kentucky Derby by wearing their finest hats and playing a dice game with "real" horses.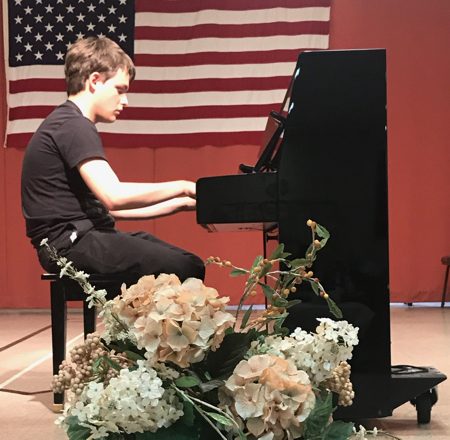 Bryce Wolf entertains seniors at Golden Age Center.
Bryce Wolf, a student from Grand Island Senior High School is a friend of the Golden Age Center, and presently is doing an internship there. Once a week, Bryce comes to the center to help with various projects and tasks, and he shares his love of piano playing with everyone. Last week he played everything from classical music to Star Wars! Thank you to Bryce for sharing his time and talents!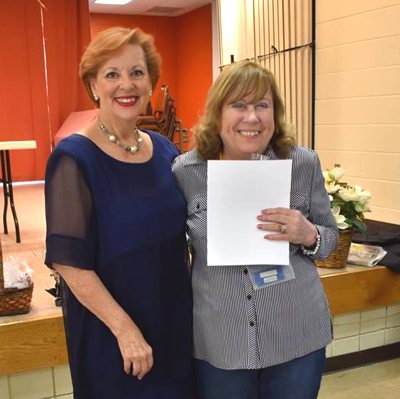 Town Councilwoman Bev Kinney with GAC President Nancy Tobe.
Mary Stewart Photos.
The Grand Island Golden Age Center hosted a Volunteer Appreciation Luncheon on Wednesday, April 18, 2018 to thank the more than 70 volunteers who provide support for ongoing activities as program instructors, Respite aides, and Meals on Wheels delivery people. The ceremony was attended by 41 volunteers, who enjoyed individual recognition and thanks, along with a delicious meal and wonderful camaraderie.
Among the attendees: Nancy Tobe, Michelle Chasse, Dorothy Lew, Jerry Kutis, Barbara Nowakowski, Brenda Cassoni, Lorraine Willcox, Sue Bognar, Ruth Landel, Ann Dlugokinski, Ada Payne, Lucy & Chuck Delavalle, Martha Muller, John Ducknik, Nonnie Carroll, Kathy Shaklee, Don Hamman, Cathy Mancuso, Mary Stewart, Jack Mahnk, Chris Bihler, Lynn Poizzi, Carole Joseph, Pat Akinbami, Eileen Minton, John Blake, Linda Clark, Mary Ann Fancher, Richard & Kathleen Garlapow, Lynn & Pete Gottler, Patti Migaj, Verna Peter, Lana Redell, Sue Robinson, Pat Shaw, Dick Snyder, and Lura & Keith Wilson.
The Golden Age Center consistently runs 35 programs weekly, which would be impossible for the small staff to accomplish without such a great group of volunteers giving of their time and talents. The Meals on Wheels program for Grand Island is also administered through the Golden Age Center, and delivers meals to approximately 25 homebound, elderly or frail individuals five days a week; this also serves as a wellness check and a social opportunity where friendships are made and bonds formed. Thank you to these individuals, and many others not specifically listed, for their dedication and kindness.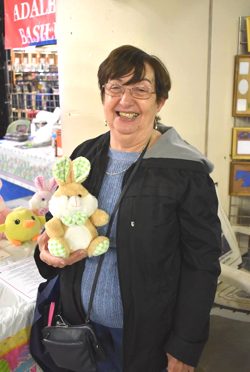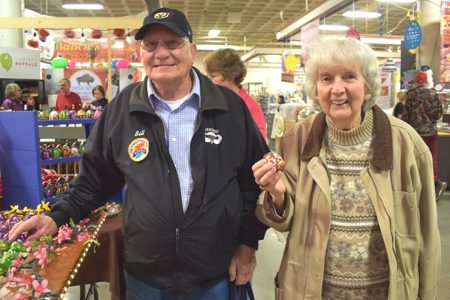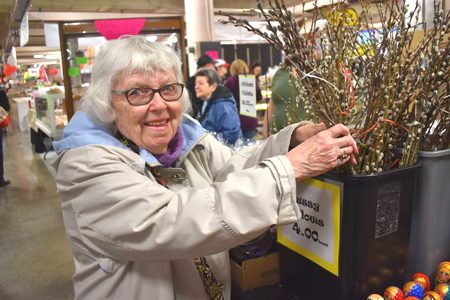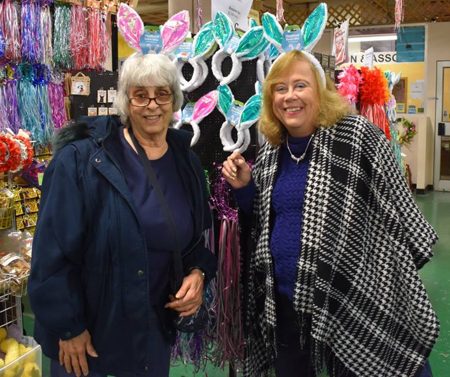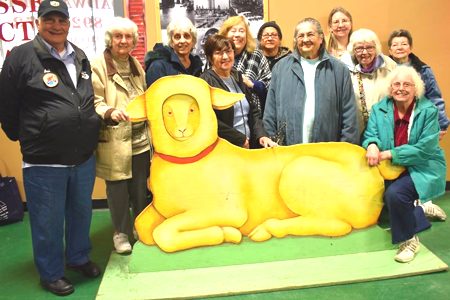 Mary Stewart Photos.
The Golden Age Center has a yearly trip to the Broadway Market during Easter week. This year, two trips were made due to high demand!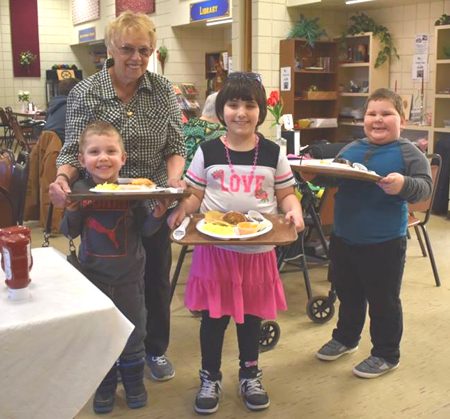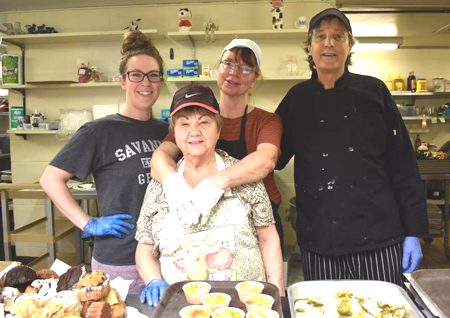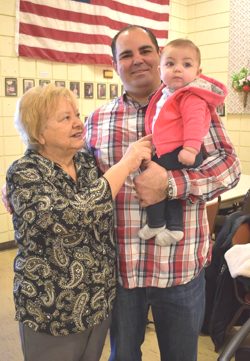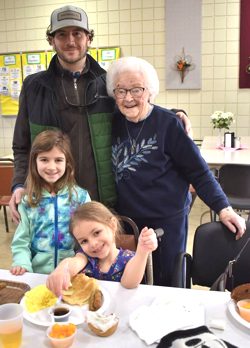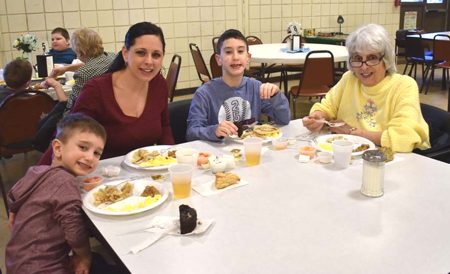 Mary Stewart Photos.
The Golden Age Center had a pancake breakfast fundraiser on Saturday, March 24th. The kitchen crew did a great job of preparing the breakfast which included pancakes, egg bake, breakfast pastries, sausage, fruit cup and beverage. Many of the seniors brought their grandkids and even great grandkids. The younger set enjoyed face painting and decorating cookies to look like easter eggs.
The Golden Age Center is hosting the Alzheimer's Association "Know the 10 Signs", early detection matters, Friday, April 6th from 10:00 a.m. - 11:00 a.m. at the Golden Age Center. See
flyer
.
Every 65 seconds across the United States, someone develops Alzheimer's disease. Early diagnosis is critical to ensure that families can plan for the future together, take advantage of available resources and take part in social engagement programs where they can interact and connect with others facing similar challenges. A major step toward ensuring a timely diagnosis is the recognition that someone may be having difficulties with memory and cognition.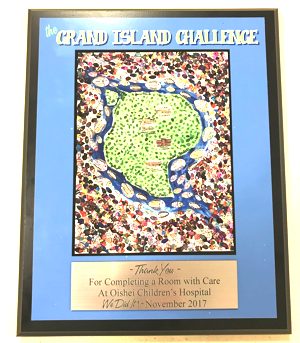 The Golden Age Center was recently honored with a plaque to commemorate their $2,000+ donation to the Oishei Children's Hospital Grand Island Challenge. Grand Island was the only community in the area to raise over $25,000 to outfit a room at the hospital.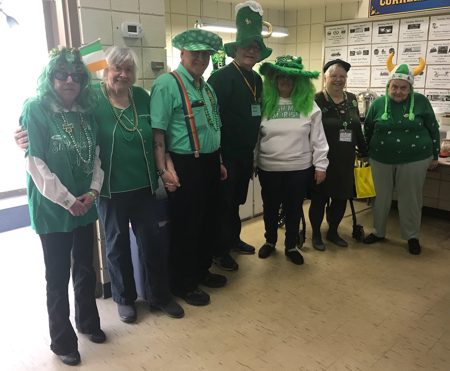 Leprechauns from Left to Right: Pat Phillips, Trudi Shelp, Ed Shelp, Casey Galeza, Iris Galeza, Mary McClive & Ruth Landel.- GAC photo.

Winning leprechaun: Jen Mentor with winner Ruth Landel. - GAC photo.


Irish Step Dancers - Mary Stewart Photos.
The Golden Age Center had a St. Patrick's Day party on Friday, March 16th. Members were invited to wear their best green attire, enjoy a Irish themed luncheon and watch Irish dancing group "Clann na Cara". Ruth Landel was the winner of the best costume.
The Golden Age Center is planning two trips in 2018. In May 2018 a trip to Washington, D.C. is planned. See
flyer
. In October 2018, a trip to Boston/Salem and Cape Ann. See
flyer
.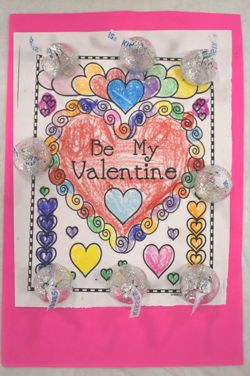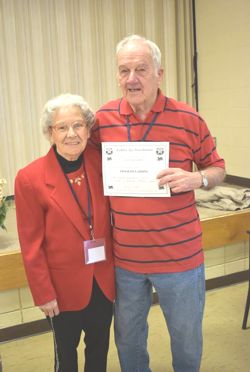 Left: Valentine's made by students. Sue and Ray Whitbeck married 65 years.

The over 50 club: Richard and Barbara Brzyski (55 years), Dave and Ann Rogers (52 years), Chuck and Nancy Tobe (51 years), Ray and Sue Whitbeck (6 5years) and Pat Akinbami (husband Sam couldn't make luncheon, 51 years).
Mary Stewart Photos.
Valentines Day is always a special day at the Grand Island Senior Center as it has its "Sweetheart Luncheon" to recognize those couples who have been married 50 years or more. The couple married the longest were Ray and Sue Whitbeck who said their vows 65 years ago this year. Members who were in the over 50 club last year were treated to lunch. Two special prizes were given, one to whoever was wearing the most visible hearts and to the most creative ensemble. Special entertainment by "23 Skidoo" provided music.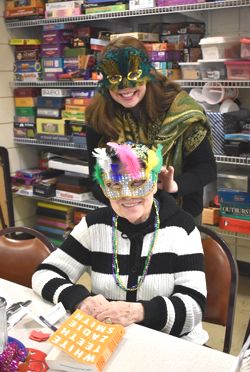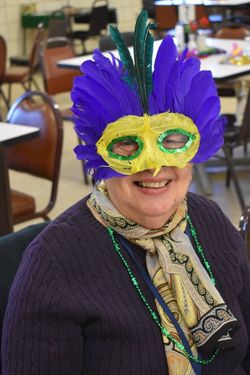 Left: Jennifer Menter and Grace Myhre (seated). Right: Lucy D'Alessandaro.

From left: Gail Sturm, Phyllis Martin, Jerri Benzing and Pat Kostenbauder.
Mary Stewart Photos.
The Grand Island Senior Center celebrated Mardi Gras complete with shrimp and chicken jambalaya for lunch on Tuesday, February 13th. There was also a prize for the person wearing the most green, purple and gold. Those who wished could pick a mask from the "mask basket" to wear.
The Golden Age Center will host a workshop about the early signs of Alzheimer's on Friday, March 2nd from 10:00 a.m. - 11:00 a.m., 3278 Whitehaven Road, "Know the 10 Signs". See
flyer
for details.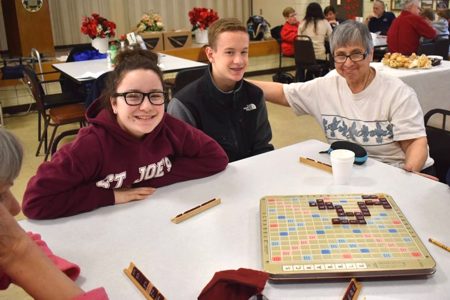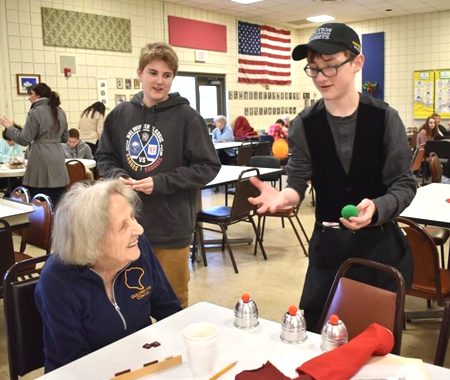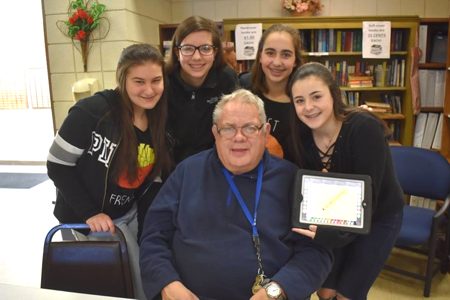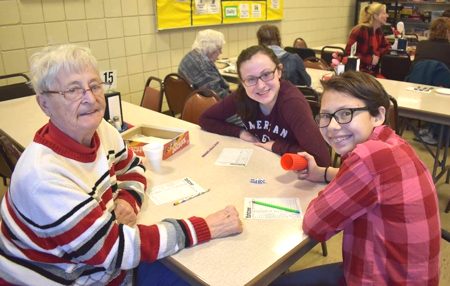 Mary Stewart Photos.
Students from the 8th grade class at St. Stephen's School visited the Golden Age Center on Friday, February 2, 2018 to spend time and play a variety of games, iPad fun, and other fun surprises, with the Golden Age members. A special treat was a student who did magic which kept the golden agers in suspense, wondering, "how did he do that!"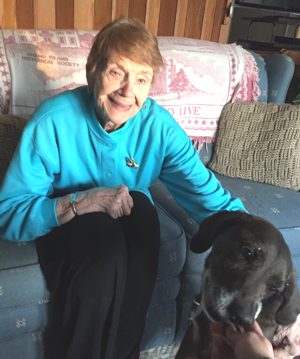 Look who got a forever home and a forever friend! It's Golden Age member Shirley Martin. After Shirley had expressed interest in wanting a dog as a companion and new family member, Golden Age staff member Natalie Grunzweig took Shirley to the Niagara County SPCA after work and picked up Max, a hound mix, age 5, to become Shirley's forever friend. Max is adjusting well to lots of treats, cuddles, and love in his new home. Special thanks to Natalie for taking the time to bring smiles and love to our seniors in our community.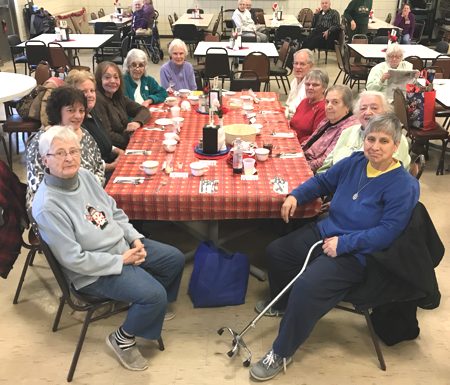 (clockwise from bottom left ) Jackie Kazmerczak, Sue Bognar, Jan Zaborowski, Shirley Norman, Jeri Benzing, Editha Germain, Don Hamman, Jean Schelegal, Betty Clayton, Lorraine Willcox, & Cathy Mancuso.
Special thanks and recognition was given on Wednesday, January 17th to the dedicated & talented group of knitters and crocheters who helped with the 2017 Mitten Project. Graciously led & organized by Golden Age member Lorraine Willcox, the Mitten Project volunteers helped make 1,800 pairs of mittens, headbands, hats, & scarves to donate to over 30 local organizations & to people in need. Out of the 23 volunteers for this project, we thanked the following ladies & gentlemen who joined us for lunch: (clockwise from bottom left ) Jackie Kazmerczak, Sue Bognar, Jan Zaborowski, Shirley Norman, Jeri Benzing, Editha Germain, Don Hamman, Jean Schelegal, Betty Clayton, Lorraine Willcox, & Cathy Mancuso.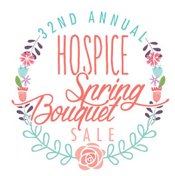 Think spring, and help Hospice Buffalo during their 32nd Annual Hospice Spring Bouquet Sale! The Town of Grand Island is participating by taking pre-sale orders at the Golden Age Center. The beautiful mixed standard bouquets are available for $8. There is also a special Tribute bouquet available for $30. All bouquets will be delivered to the Golden Age Center on Tuesday, March 6, 2018. The order deadline is Wednesday, February 21 and payment is also due by Wednesday, February 21. Call (716) 773-9682 or stop by the Office to place your order. Every bunch truly makes a life better – in 31 years, Hospice Buffalo has sold over 576,000 bouquets and 50,000 Tribute bouquets, raising over $5.4 million for Hospice! Thank you for supporting Hospice Buffalo.