Huth Road Elementary School News Web Page - 2014

1773 Huth Road - 716.773.8850

Huth Road Elementary School District's Website.

Previous News Page

Principal - Kerri Nowak


---
Huth 4th Grade Has Heritage Luncheon - December 2014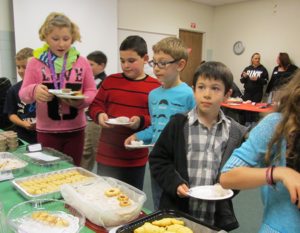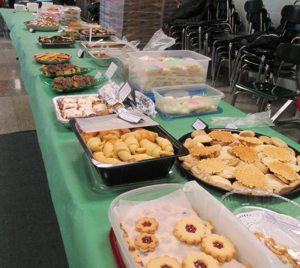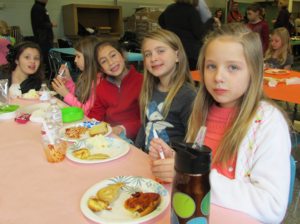 Lee Cohen story and photos
From Peruvian spaghetti to Chinese nan gao, 4th graders at Huth Road school had the opportunity to sample ethnic dishes from round the world at the annual Heritage luncheon held last week. Every year 4th grade student research their family background and then write a paper describing their family origins. The culmination of the project is the Heritage luncheon, with donated food reflecting different nationalities. Parents act as servers and parents, teachers and children enjoy tasting foods from many countries. The choices were numerous this year. Students sampled such items as Ghanan chicken soup, Puerto Rican posta ligio, Polish oreshki, Dutch stroopwafel, and Irish soda bread. Other countries and areas represented included Germany, Cameroons, England, Ukraine, Italy, Greece, Canada, the Mideast Mexico, and France. Huth fourth graders represent a rich cultural heritage.
Chinese Acrobats Dazzle Crowd - October 2014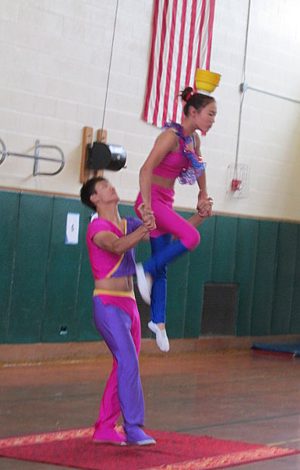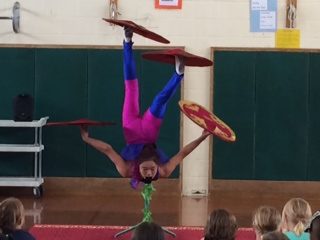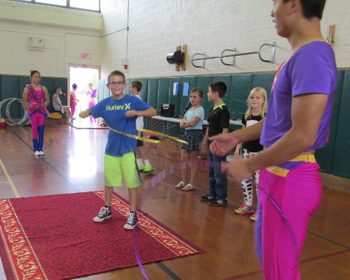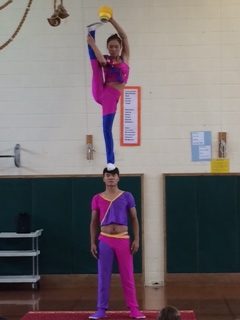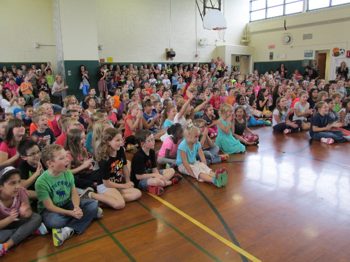 Lee Cohen story and photos
Four acrobats from China visited Huth Road Elementary School in October. These talented acrobats performed dazzling acrobatic stunts and feats of balance, flexibility, coordination and strength. They tumble and flip, twist and bend in mesmerizing ways, demonstrating how practice, concentration and hard work turn their bodies into moving works of art. In addition to showing off their acrobatic talents, they also taught the students a little bit about Chinese history and language. They travel for nine months out of the year, performing up to three shows a day. Their youngest performer was just 14 years old. The visit, arranged by the Huth Road PTA enrichment team, gave our students an unforgettable and breathtaking experience!
Showcase of Grand Island Businesses and Organizations - October 2014
The Huth Road PTA is hosting Family Game Night on Friday, November 7, 2014 from 6:00 p.m. - 8:00 p.m. Families come to Huth Road School for a relaxing evening of board games. This year the PTA is adding a new feature: the Showcase of Grand Island Businesses and Organizations. Local groups are invited to share helpful information with families. See
flyer
for details.
Japanese Flute Demonstration - May 2014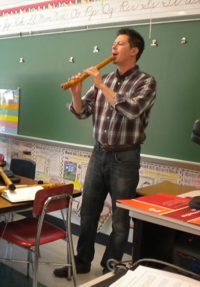 Ms. Michelle Graziano's third graders at Huth Road Elementary were treated to a demonstration of the Japanese flute last week. They heard Mr. Josh Smith, who had lived in Japan for 13 years, play three different types of flutes and also answer many questions about Japan. An adjunct professor at Buffalo State College, he is also the owner of the new Sato Restaurant on Elmwood Avenue. Students had recently completed a social studies unit about Japan.
Thomas Lockett K-12 "Artist of the Month" - May 2014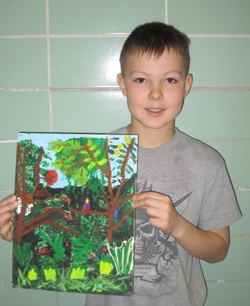 The Grand Island Art Department would like to congratulate Thomas Lockett as our recipient of the K-12 "Artist of the Month". Thomas is a fifth grader at Huth Road Elementary. He is a member of the art club and has enjoyed art since he was very young. Thomas likes to use drawing pencils as his choice of art medium because he likes to work in black and white. He likes the way his drawings look when he displays different values using the hard and soft graphite pencils. He states that the person viewing the work can look at the art and visualize their own color if they choose. One of his favorite artists is the self-taught French artist, Henri Rousseau. He learned about Rousseau in a group research project the fifth grades were involved with this year in art class. After researching his artist in the library, Thomas gained a real appreciation of Rousseau's art work. Thomas then completed a detailed interpretation of a jungle scene by Rousseau using tempera paint on a canvas board. Thomas said that, "art is important because you can draw anything if you work hard enough". He has a lot of encouragement at home from his parents and grandma. It will be so nice to see him flourish in the arts in middle school. We wish him continued success.
Heritage Project and Luncheon at Huth - April 2014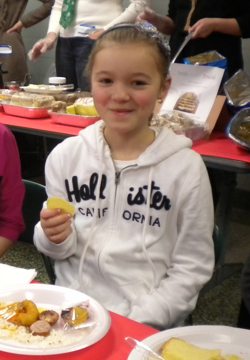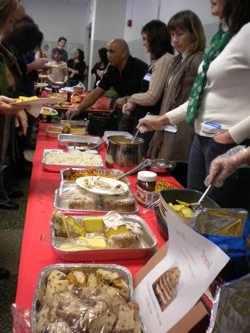 Every year 4th graders research their family background and then write a paper telling about their family origins. The culmination of the project is the Heritage Luncheon, with donated food reflecting ethnic dishes. Parents act as servers and parents, teachers and children enjoy tasting foods from many countries. This year there were numerous choices, with dishes representing Japan, China, Russia, Poland, the South, Mexico, Ireland, England, Denmark, Sweden, Africa, the Mideast, the Caribbean, and Italy, to name a few. And the desserts were delicious! One 4th grader brought in a dessert made from a recipe handed down from his Danish great grandmother.
Thank You Bazaar Donors! - March 2014
The Huth Road PTA and Basket Raffle Chair Sarah Wheeler would like to thank all of those who donated to the Basket Raffle, including: All 21 of our classrooms, parents, kids and teachers, the Grand Island Chamber of Commerce, Melissa Payne, Jessica Mallabar, Mallowitz Lanes, Paddock Chevrolet, Marston's Power Equipment, Plumeria, Sarah Gruszka, Dr Wright, The Pizur Family, The Fabiano Family, Leisure Living, Buffalo Sabres, Buffalo Bandits, Kelly Garrow, Dr. Colosi, The Wheeler Family, Nadine Stolt, Four Seasons Cinema, Currents, The Melting Pot, The Beach House, Dick and Jennys, Riverstone Grill, HJ Hill Accounting Service, INC, The Grand Island Rod and Gun Club, Mary Cook, The Woloszyn Family, Mrs. Nowak and Family, The Grand Island Fire Company, Nicole Butcher, The Mesmer Family, Mrs. O'Connor, Mrs. Pullano and Mrs. Stanczyk, The Buffalo News, Firth Jewelers, Wendy's, Explore and More, Delta Sonic, Andersons, Buffalo Science Museum, Hizair, Byblos, Rose Liquor, Albright Knox, Salvatore's, Rainbow Skating Center, Riviera Theatre, Adventure Landing, Buffalo Harbor Cruise, Russell's Steaks, Chops and More, Wavelengths, Laughlins, Buffalo Chop House, D'Arcy McGees, Holiday Valley, Soma Cura, Marcos, Herschell Carousel Factory Museum, Old Fort Niagara, Branches of Niagara, KinTora Martial Arts & Fitness, Mighty Taco, Bounce Magic, Niagara University Theater Department, Anita Hawley, Flower a Day, Aquarium of Niagara Falls, Target, Tops and LaserTron.
2014 Huth Road All County Participants - March 2014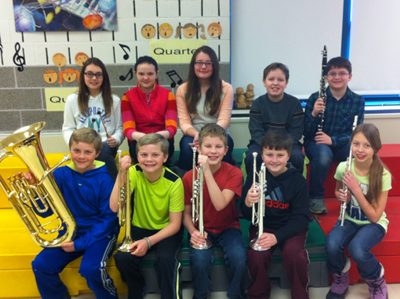 Congratulations to Huth Road's 2014 Elementary All County participants:
Blue Chorus - Samantha Meierer, Jessica Robertson, and Kevin Rogoza
Band - Brooke Eichel, percussion; Mark Ramsperger, clarinet; Lucas Seifert, baritone; Joseph Seifert, trumpet; Aaron Szczepankiewicz, trumpet; Ryan Pinzel, trumpet; Haley Coombs, flute. Students selected for Elementary All County performed with the top musicians from across Erie County (grades 4-6) in a concert at Kleinhan's Music Hall on Saturday, March 8th. Congratulations to all involved on this outstanding achievement!
2014 Huth Road Spelling Bee - March 2014
Huth Road Elementary recently had their spelling bee for 4th and 5th graders. Four students from each grade are invited to attend the Niagara Region Spelling Bee on Saturday, March 29th at 10:00 a.m. at the Newfane Middle School Auditorium, 2700 Transit Road, Newfane, NY. The top spellers in 5th grade are:
1. Lucas Tahara
2. Rose Meaney
3. Victoria Oldman
4. Haley Coombs

The top spellers in 4th grade are:
1. Abishek Selvakumar
2. Evan Walowitz
3. Giana Casullo
4. Alessandra Smith



2014 Huth Road Talent Show- February 2014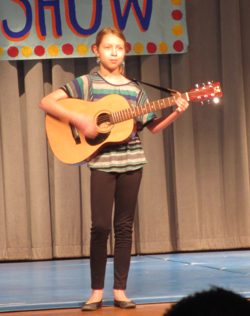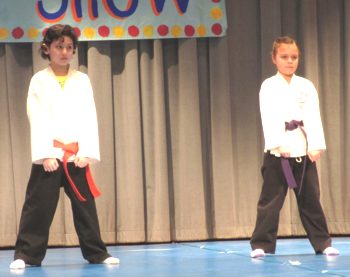 Hayley Coombs, top. Spencer Hecht and Faith Marsala, bottom.
Huth Road Elementary school had their annual talent show on Friday, February 14, 2014. There were 22 acts ranging from singing, dancing, gymnastics and baton to a violin and cello trio, singer-songwriter and karate demonstration.
Skateboard Science at Huth - January 2014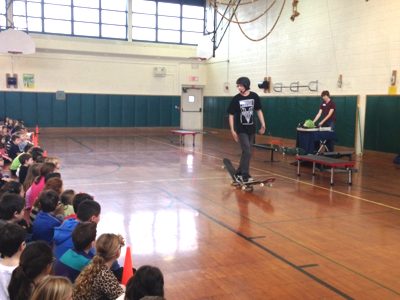 On Tuesday, January 14th, the Huth Road Elementary School Parent Teacher Association (PTA) Enrichment Committee sponsored "Skateboard Science". The whole school participated in this fun, high energy science program. The presenters, Shane and Evan, explained the science behind safety equipment. Students first learned about the center of mass and its importance in balancing, then Evan demonstrated how these ideas come together by performing skateboarding tricks for the students. The Skateboard Science team made physics concepts, like inertia, easy to see and understand. While standing on his skateboard, Evan could not move without pushing off on the floor or wall. Students especially liked the final trick where Evan used a ramp to jump over Shane and Principal Kerri Nowak.