Huth Road Elementary School News Web Page - 2017

1773 Huth Road - 716.773.8850

Huth Road Elementary School District's Website.

Previous News Page

Principal - Kerri Nowak


---
Letters for Honor Flight Vets - November 2017
Buffalo Niagara Honor Flight, recognizes American Veterans for their sacrifices and achievements by flying them to Washington, DC to see their memorial at no cost. Guardians fly with the Veterans on every flight providing assistance and helping the Veterans have a memorable experience. WWII and Korean War Veterans were given letters from several Grand Island elementary students as part of their trip. Mrs. Kathy Brown, Special Education Teacher at Huth Road Elementary School, helps to coordinate this effort of making the Veterans flight possible. Many of these Veterans and their Guardians expressed how getting the letters from students who wrote about their admiration and appreciation for their service was their favorite part of the exciting day!
Artist of the Month - June 2017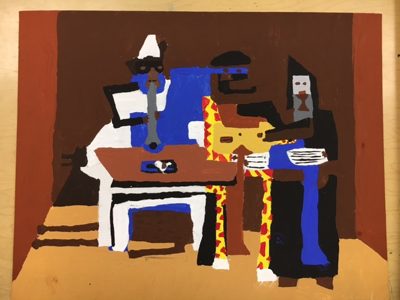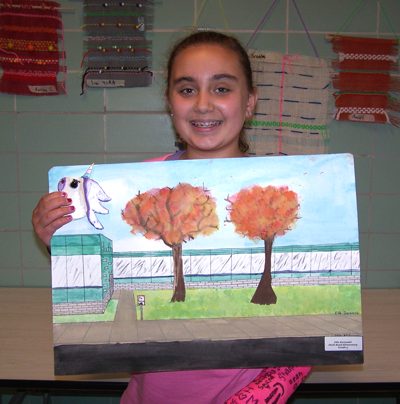 Ella Zaremski and art work.
The Grand Island Art Department proudly announces Ella Zaremski as the K-12 "Artist of the Month". She is a fifth grader at Huth Road Elementary, and a member of the Art Club. Ella has been interested in art since kindergarten. She remembers how proud she was when she could fully color in the lines of a reindeer outline in a coloring book. These skills have been a great part of her ability to have amazing craftsmanship. Ella is a hard worker and always asks what she can do to make her art better.
Ella's favorite artwork this year is her painting on canvas that emulates Picasso's style in the "Three Musicians" (top photo). It is her work in progress that will become one of her best paintings she completed at Huth. She learned to appreciate Artists such as Pablo Picasso and Andy Warhol while working on the art history project. Ella enjoys working in clay and paints as her chosen medium. She likes to work with paint to show her brush strokes and mix fun colors. Clay is also fun because she can shape it any way she wants and paint on colorful glazes.
Ella gets some of her talent from her grandfather who used to be an art teacher. She says her family and Mrs. Allen continue to encourage her artistic talent and abilities. When she grows up, she would like to become a Chef or Baker. Her artistic talents and creativity will help her in decorating and garnishing the plates she creates. We wish you continued creative success.
Kathy Brown Receives Award - April 2017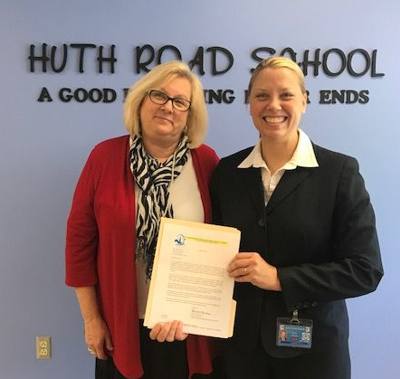 Pictured is Huth Road Elementary principal Kerri Nowak (on right) with Kathy Brown.
A special education teacher at Huth Road Elementary who has dedicated her life to teaching is the recipient of the 2017 Award for Excellence in Teaching from the Western New York Educational Service Council. Kathy Brown, the district's elementary special education coordinator and a special education teacher at Huth, is a constant support for elementary special education students and teachers. Whether through her work designing and delivering professional development to help her fellow teachers stay current in the most effective instructional techniques or supporting teachers in understanding their students' Individual Education Plan (IEPs), she is an advocate for all students to succeed.
"What sets Kathy apart from other teacher leaders, though, is her unending desire to build her own capacity as a teacher," said principal Kerri Nowak. "She is eternally open-minded and willing to try the latest research to help her students succeed. She is a true role model for life-long learning, and she openly shares this passion for learning with her students and colleagues. She brings the best of herself to her students and to her fellow teachers every day."
In a crossover between her personal and professional life, Mrs. Brown adopted a beagle rescue dog named Hurley that she had formally trained as a service dog to work with Huth students. Hurley accompanies her to school several times a week to bring joy, love and companionship to students and staff in the school. Mrs. Brown also organizes the annual Valentines for Vets program and is very involved in Honor Flight, a charity that makes arrangements for Veterans to travel to Washington D.C. to visit war memorials. She has even accompanied the Veterans on their trip, hand delivering the thank you notes and cards she encouraged Grand Island students to create. She also helps coordinate the holiday food drive, bringing toys and food to needy families Island wide.
She is an outspoken advocate for children and education and has been published in The Buffalo News and co-authored a book last year. "Mrs. Brown takes this desire a step further and uses her talent in advocacy, persuasion and writing to influence the masses," said Mrs. Nowak. She was nominated for this honor and chosen from among the largest number of nominees the WNYESC has ever received. She will be honored at the WNYESC Awards for Excellence banquet on April 27. For information on attending the banquet, call WNYESC at 645-2932.
Huth Road School Early Act Club - March 2017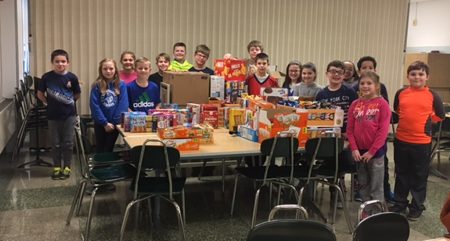 Huth Road's Early Act Club just completed a successful Snack Drive for The Roswell Park Institute. Early Act is a school-wide service club for elementary students that is sponsored by the Grand Island Rotary club. The clubs purpose is to involve students in character-building activities and prepares them to participate in projects that benefit the community. The Early Act Club was completely surprised by the generosity of the families at Huth and proud to donate these snacks which will allow the pediatric patients at Roswell to feel a little more at home as they receive care. The snacks were picked up last week and will be available to the children at Roswell for months to come.