Huth Road Elementary School News Web Page - 2018

1773 Huth Road - 716.773.8850

Huth Road Elementary School District's Website.

Previous News Page

Principal - Ami Alderman


---
Calling All Huth Road Alums. Please join us as we celebrate out 60th Anniversary on Friday, December 7, 2018 at 3:30 p.m. in the Huth Road Community Room! RSVP is required, call 716.773.8850.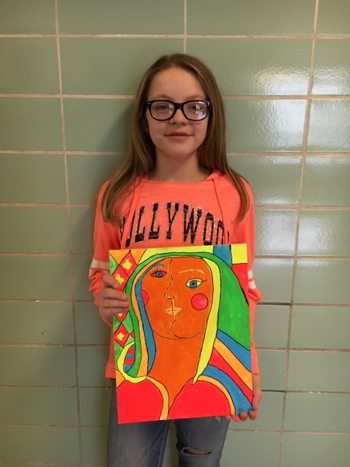 Aubree Battaglia.
The Grand Island Art Department proudly announces Aubree Battaglia as the "K12 Artist of the Month". Aubree is a fifth grader at Huth Road Elementary and is a member of Art Club. She became interested in art in third grade when her work was chosen to be in the District Art Show. She recalled a memorable trip to see the art at Museums in Washington D.C. with her family. Aubree takes pride in her work and creates exceptional projects. Her work is always neatly done and very well thought out. She prefers to work three-dimensionally in clay, but is very good at expressing herself in two-dimensions. Aubree said her Dad influences her and encourages her to draw. She really enjoys drawing animals or whatever subject her Dad comes up with. He has a board that he uses to display all of her drawings. We encourage Aubree to keep up the hard work and keep displaying her art! Congratulations!
Artist of the Month - February 2018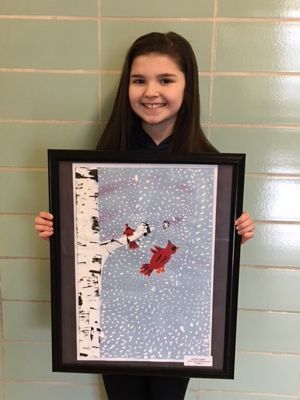 The Grand Island Art Department congratulates Melaina Taylor, as the "K-12 Artist of The Month". Melaina is a fifth grade student at Huth Road Elementary. She started her interest in art when she was in Kindergarten and has continued to create art that really shines. Melaina said her parents encourage her and believe in her along with her Aunt Anita and Don. She attributes her artistic talent to her Dad and Nana. Melaina is pictured with her favorite artwork, The Winter Cardinals, she created in third grade at Huth Road. Her work has been included in art shows and on display in the school. Melaina always produces amazing art and takes pride in her work. She takes her time, does a neat job, and pays attention to detail. Melaina also is a member of the after school Art Club. She believes art will always be important to her and will help her in her future as an engineer. Best of Luck in your future Melaina!!