Islanders In The News Web Page
2017
Previous News Page
An Island couple was featured in a Buffalo News story about the Erie County foster parent program on February 5th. Brandy and Drew Dulak have adopted two foster kids and are in the process of adopting a third. They have two other children, a biological child and a private adoption child. See their heartwarming story
here
.
Island residents, 14 year-old Allyson Nemeth and Jessica Flash invite you to their 4th Annual Pasta Sauce-Off on Saturday, March 4th at the LaSalle Yacht Club. Last year the dynamic duo raised over $5,000 for Carly's Club and they would like to do it again! They are looking for participants to make a pasta suace, items to be donated for the basket raffle, volunteers to work the event and lots of attendees to taste and judge from 3:00 p.m. - 7:00 p.m. See
flyer
for complete details.

Fredonia College President Virginia Horvath recently announced that Sarah Rose Chamberlain will be the recipient of the 2017 Lanford Presidential Prize from the Oscar and Esther Lanford Endowment of the Fredonia College Foundation. The award will be presented at Commencement on May 13, 2017. The award, generously created and endowed by the late President Emeritus Oscar E. Lanford and Mrs. Lanford, recognizes a member of the graduating class who has exhibited balanced achievement and exemplifies Fredonia's ideals.
Sarah Chamberlain, from Grand Island, New York, is completing a major in Applied Mathematics: Physics. Her leadership and campus and community activities are extensive:
President, Engineering and Physics Society
Vice President, Math Club
Tutor, Learning Center
Instructor, Aerobic Center
Participant, Fredonia Fall Sweep
Participant, Mini Maker Faire
Member, Honor Society
Member, Golden Key International Honour Society
Member, Sigma Pi Sigma
Member, Pi Mu Epsilon
Sarah has received many honors and awards, including the Presidential Math and Science Scholarship and the Robert E. Maytum Scholarship. She attended several undergraduate conferences in physics as well as the Student Creativity Exposition promoting research she completed with Dr. Justin Conroy and Dr. Erica Simoson. After graduation, Sarah plans to go into a Biophysics or Medical Physics Ph.D. program. Congratulations to the Lanford Presidential Prize recipient, Sarah Rose Chamberlain.
Former Island resident Mohamed Abdullahi Mohamed is the Somalia President-elect, see
Buffalo News story
by Jane Kwiatkowski Radlich, published Tuesday, February 21, 2017.
Ben Shaw has been named to the D'Youville College Deans List for the Fall 2016 semester. To qualify for the honor, they must have maintained a quality point average of 3.40 or above for the previous semester. This indicates superior academic performance and becomes a permanent part of the student's college record. Ben is a Physical Therapy major. Congratulations Ben!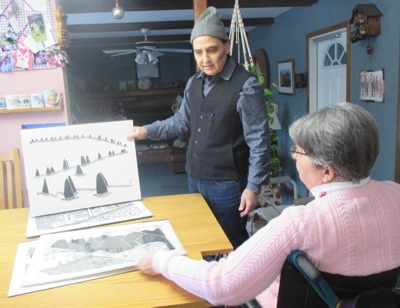 Diane Pokarski shown with brother Neil Tetkowski and artwork.
Diane Tetkowski Pokorski, who grew up and attended Gand Island Schools, a member of the second graduating class of the high school, is exhibiting her drawings and other artwork at the Clarence Presbyterian Church, 9675 Main Street, Clarence on Friday, March 3rd from 6:00 p.m. to 9:00 p.m., and on Saturday, March 4 from 10:00 a.m. to 4:00 p.m. Her newly developed skills have surpassed expectations. Diane's many friends remember her severe limits since she suffered a brain aneurysm sixteen years ago. Her detailed fine line drawings are available as notecards. Her work has been accepted in this upcoming "You Gotta Have Art" Festival.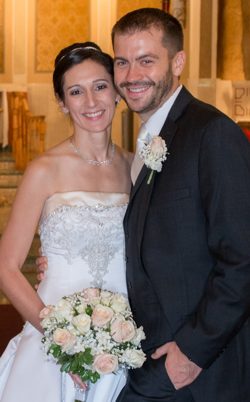 Nikki Ann Zito and Michael Jason Hattersley exchanged wedding vows on September 24, 2016 at Holy Family of Jesus, Mary & Joseph Church, Niagara Falls, NY (formally St. Joseph's Church). Father Louis Klein performed the ceremony. The reception was held in The Garden Pavilion at Kloc's Grove in West Seneca, NY. The bride is the daughter of Joseph and Cheryl Zito of Grand Island, NY. Her husband is the son of John and Jacqueline Hattersley of Skaneateles, NY. Allison Moulin was the Maid of Honor. Bridesmaids were Angela Szafran (Miller), Crissy Morrison, Jen Plesa (Lingenfelter), and Stacy Chesnick (Sister of the Groom). Amorai Netravali was the Flower Girl. Best Man was Wilhelm Mitchell. Groomsmen were John Mowbray, Dan Ozminkowski, Justin Seefeldt, and Erik Zito (Brother of the Bride). Lucas Seefeldt was the Ring Bearer. Nikki is a Special Education Teacher at Sweet Home Middle School and is pursuing her degree in Administration. Michael is working as a Data Monitor at Valuecentric. The couple is currently living in Williamsville and has planned their honeymoon for later this year.
MIDLAND, Mich.
- Anna Martinez of Grand Island, New York, was named to the Northwood University Dean's list for the fall 2016 semester. "We are proud to recognize the academic accomplishments of the students on the Dean's List this past semester," said Keith Pretty, President and CEO of Northwood University. "We commend their hard work and dedication to their futures."Students on the Dean's List are those who have achieved a cumulative grade point average between 3.25 and 3.84 in a semester, and who have no incomplete or ungraded courses. Martinez is a freshman at Northwood.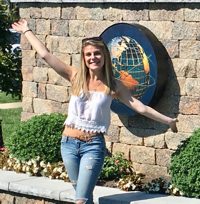 Jay and Carol Giambra are pleased to announce that Ashley Giambra, in her first year Fall semester 2016, enrolled in the Doctorate of Physical Therapy program at Daemen College, has proudly been named to the Dean's list.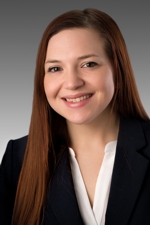 2007 Grand Island High School Graduate Joins Chelus, Herdzik, Speyer & Monte, P.C.
Buffalo, NY, January 25, 2017
...Chelus, Herdzik, Speyer & Monte, P.C., today announces that Justina Potenzo has joined the firm as an associate attorney. She will be working with the other members of the firm in handling the firm's litigation files as well as other general practice matters. In addition to working with the firm at its downtown office at the Main Court Building, 438 Main Street, Tenth Floor, at Lafayette Square, Ms. Potenzo will also be practicing at the firm's branch office at 2448 Union Road in Cheektowaga.
A current resident of Tonawanda, New York, Ms. Potenzo graduated magna cum laude from both the State University of Buffalo Law School and Buffalo State College. She earned her juris doctor in 2016 after completing her Bachelor of Science degree in Social Studies Education in 2011. She also taught at Buffalo Public School 66 before attending law school. Ms. Potenzo now joins with the other associates of Chelus, Herdzik, Speyer & Monte, P.C. in serving the legal needs of the Western New York Community.
Chelus, Herdzik, Speyer & Monte, P.C. is a full service Law Firm practicing in the areas of civil litigation, real estate, corporate and business law, estate and estate planning, criminal defense, and matrimonial law. The Firm is headquartered at the Main Court Building, 438 Main Street, Tenth Floor, at Lafayette Square in Buffalo, with a branch office at 2448 Union Road in Cheektowaga, New York.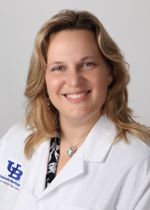 The Grand Island Challenge - Complete a room with care for the John R. Oishei Children's Hospital. Residents of Grand Island are invited to make a donation.
It isn't every day a community can build a brand new Children's Hospital. In fact, there are only 43 stand-alone Children's Hospitals in the country and Western New York is set to open its state-of-the-art facility on the Buffalo/Niagara Medical Campus some 125 years after the original Hospital opened at its current location on Bryant Street. This is an event of historic proportions for Western New York. If ever there was a time to step out and make a difference, this is the moment. By lending our support, we will be making a promise to children of this community that there will always be a place to go when they need medical care - today and for generations to come. It's an important example I want to set for my children.
That's why I'm inviting all of my fellow Grand Islanders to join me in this Challenge. The $270 million John R. Oishei Children's Hospital will open in November 2017. The project has already received $48.9 million in philanthropic support with gifts from local businesses, organizations, foundations, medical practices and the community at large - an amazing feat in and of itself. And, now we're in the home stretch with just $1 million needed to reach our $50 million goal. And my hometown community of Grand Island can help get us to the finish line. If everyone donated just $1, we could reach our $25,000 goal in one day!
And, when children and families come to the Oishei Children's Hospital, they'll know the Grand Island community provided a very special and spacious room designed specifically for their care and comfort. It will be a lasting symbol of the generosity and support of our Grand Island community. I won't stop here, though. I'm challenging every community across Western New York to Complete a Room with Care. Give us a call today and be part of history in the making! Contact: Stacey Watt, MD, 716-878-7938 or Susan Spanitz, Children's Hospital Foundation, 816-881-8230. See
poster
.
Donation Link
.