Islanders In The News Web Page
2019
Previous News Page
Jessica Remmes - December 2019
Selected for the NYS Girls Soccer Hall of Fame - Class of 2020.
2006 Grand Island High School graduate Jessica Remmes was named to the NYS Girls Soccer Hall of Fame for the Class of 2020. Jessica was a five-year starter for the Vikings and three-time first team all-state. She had 168 goals and 107 assists, reaching the semifinals three times. Jesica played 78 games for James Madison University after graduating from GI.
The induction will take place on September 12th in the Albany area. There is a soccer tournament that weekend, with an expected participation of as many as 60 teams.
Fahim Mojawalla - December 2019
Fahim Mojawalla, co-owner of Island Ship Center, was recently featured in a Buffalo News Series titled "Portraits of Western New York." See his portrait
here.


Jerry Cahill Produces Play "Joseph & Mary" - December 2019
By Lynda Schnitzer
Two years ago Grand Island native, Jerry Cahill came home to retire from his hectic life in LA and San Francisco.He had worked with CBS for thirty some years, then started Belleisle, his own production company. Cahill's goal was to create projects to benefit others without answering to anyone.
Several years before returning home, Cahill and his friend, Jim Ineson, saw Jesus Christ Super Star. As producers, they asked each other, what else happened? For the answer they collaborated together to write a rock opera version of the book of Acts. The play was performed in LA and San Francisco, and received great reviews.
Cahill and Ineson partnered again to write Joseph and Mary, a rock musical similar to Joseph and the Amazing Technicolor Dreamcoat. The play takes place BEFORE the books of Luke and Matthew. It is a human love story of a couple soon to be the parents of God's child, the story of a young Orthodox Jewish couple, betrothed at birth, of their trials and tribulations on their journey to Bethlehem as ordered by King Herod.
This play was also performed in LA and San Francisco with great reviews. Cahill met his wife, Bonnie, when his band was searching for a lead female singer. Bonnie sang in the church choir, her voice was perfect. The rest is history. Bonnie now assists in all endeavors.
This year the couple was inspired to do something special for their church, St. Martin-in-the-Fields. Something charitable during the holiday season, to help in any way with needy families. The idea to produce Joseph and Mary locally seemed the perfect answer for a Christmas fundraiser. They had produced Joseph and Mary before – with great success, yet they needed local production and lighting crews, actors, and volunteers to usher, take tickets, to do promotion!
This task was not so easy. No one showed up for auditions, no volunteers came forward, venues they contacted for the performance were already booked. Just weeks ago they began to think maybe Joseph and Mary wasn't going to be. Then one person answered for an audition, then another, and more came forward. Kaegebein School was available! Everything began to fall into place, this wasn't a coincidence, Joseph and Mary was supposed to happen!
Miraculously, in a short time, Belleisle Entertainment was now able to fulfill their hope to raise a significant amount of money for those in need and collect food donations. The play is magical, filled with powerful moments leading up to the event that changed history forever. From that enchanting moment, the year that the Lord was born, time changed from B.C. to A.C. Cahill hopes the audience will be rewarded by Joseph and Mary, of the event that took place that night 2019 years ago, that needy people are blessed by others who bought tickets and came with donations. All proceeds will be given away – to those in need of the same hope shared that evening.
Michael Delano to Compete in Blues Competion - December 2019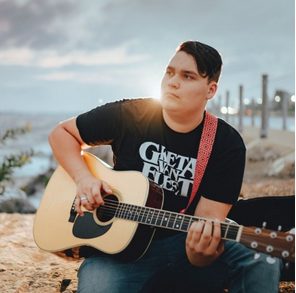 At 17-years-old and only a senior in high school, Michael DeLano has earned the distinct honor of competing in the Blues Foundation's International Blues Challenge in Memphis, TN, in January 2020. Michael competed and won the region's solo challenge and was also chosen by the WNY Blues Society as the year's Youth Showcase winner, meaning he will represent all of WNY on the international stage!
Help send Michael from Buffalo to Memphis and support him on his journey to compete with, and learn from, some of the world's best blues musicians! This is an opportunity of a lifetime for a young musician and Michael has been preparing and practicing so hard to compete at such an elite level. You can donate
here
.
Money raised goes directly towards travel, lodging and equipment expenses for Michael's trip to Memphis (and his parents since he's not old enough to perform in Beale Street's legendary clubs and juke joints without parental supervision). We are immensely grateful to anyone who can contribute even the smallest amount. We're also grateful for anyone who can help by sharing the fundraiser to their social media, and with their friends and family! Thank you to every one of you who has supported Michael along the way. We are filled with gratitude and gratefulness for every one of you who has been there for his journey!
Bob Merritt - December 2019
A Buffalo News story was published on November 28th detailing Island resident Bob Merritt's kidney donation story. Bob's sister-in-law needed a kidney and as no relative match could be found, a paired donation system was utilized. See article by Sean Kirst
here
.
JoAnn Vanderheite - November 2019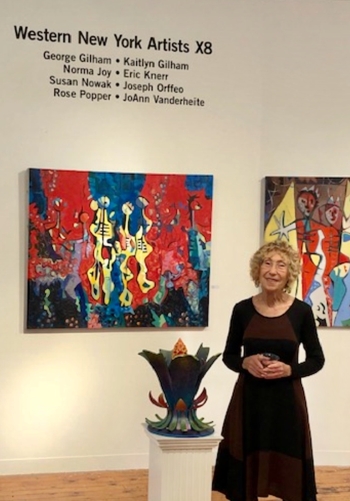 JoAnn Vanderheite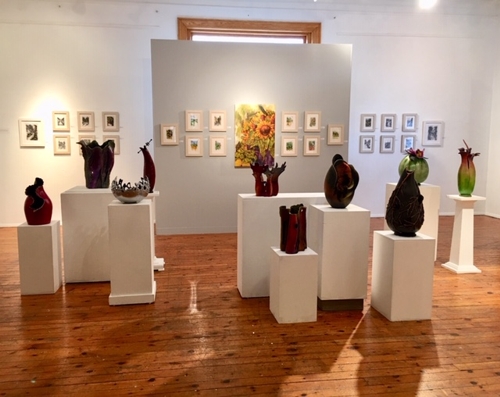 Grand Island Artisit JoAnn Vanderheite has a display of gourd art at the Carnegie Art Center, 240 Gounddry Street, North Tonawanda until Friday, November 29th. It is a combined exhibit of painting, sculpture, collage and mixed media created by eight WNY artists. Gallery hours are Wednesday & Thursday, 6:00 p.m. - 8:00 p.m. and Friday & Saturday, 12:00 p.m. - 4:00 p.m.
Jim Sharpe Receives Distinguished Leadership Award - October 2019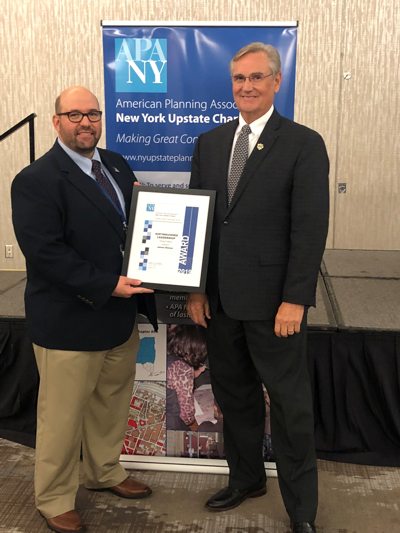 From left: Sean Maguire, AICP CEcD, Chair of Awards Committee and Jim Sharpe.
Congratulations to Jim Sharpe for recently receiving the American Planning Association New York Upstate Chapter's 'Distinguished Leadership Award' for an Elected/Government Official on October 3rd in Rochester, NY. From his prior years of service as an elected town official to his current appointment as our town's Deputy Supervisor, Jim's recognition was given in honor of his significant contributions to excellence in public planning. Under Jim's watch, the town of Grand Island has adopted a Parks, Recreation and Open Space Plan, two Comprehensive Master Plans, is currently preparing plans and programs for agricultural protection and waterfront revitalization, is exploring a number of economic development and ecotourism projects and is working on environmental restoration projects, all to make Grand Island a better place to work, live and play.
Alexandra Montesano Stars in "Crazy For You" - September 2019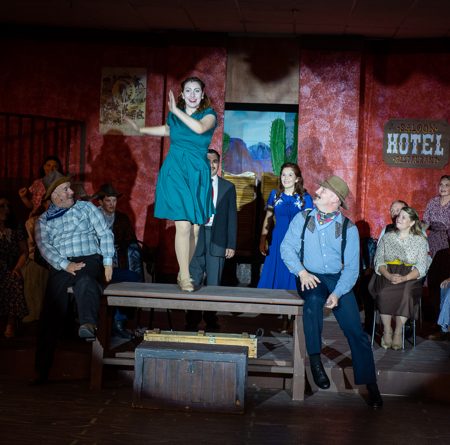 Pictured is Alexandra Montesano in NRTG's "Crazy For You."
Grand Island resident Alexandra Montesano stars in the Niagara Regional Theatre Guild's production of "Crazy For You." The production runs this week Friday, September 27th and Saturday, September 28th at 7:30 pm and Sunday at 3:00 pm. It continues October 4th and 5th at 7:30 pm, and October 5th and 6th at 3:00 pm. Presale tickets are $15.00 presale for seniors, veterans, and students, and $17.00 general. Tickets are $18.00 and $20.00 at the door. Tickets may be purchased by calling the box office at 716-260-2319, or online at niagaratheatre.com.
Capt. Sean O'Donnell - September 2019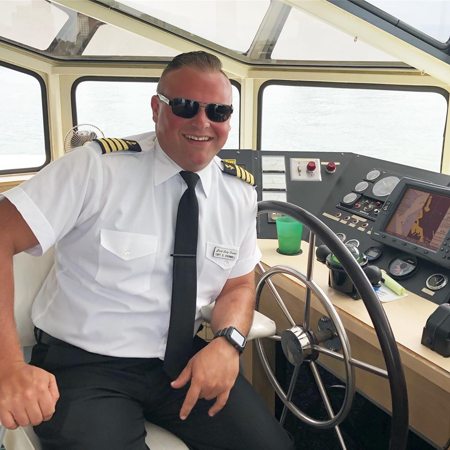 Captain Sean O'Donnell at the helm.
Grand Island resident, volunteer fire fighter and boat captain Sean O'Donnell was recently recognized as the Grand Lady employee of the month for August. The Grand Lady posting read, "Captain Sean O'Donnell has been a mainstay aboard the Grand Lady for OVER. A. DECADE. Sean started as a 16 year old deckhand and self appointed himself "Crew Chief" within a few years. After spending some time behind the bar, Sean earned his Captain's license and has become one of the most talented captains in Buffalo Harbor. In all of Sean's spare time between his "real" job and working aboard the Grand Lady, he is also a volunteer firefighter on Grand Island. We are so happy to have Sean as a member of our Grand Lady family and we really couldn't do it without him." Congratulations Sean!
Dr. & Mrs. Rayhill - September 2019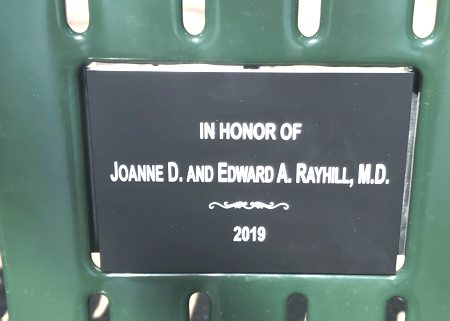 Plaque on bench.

View from bench.

Seated Dr. Edward and Joanne Rayhill. Standing are children and spouses.
The celebration continues! The Rayhill family gathered together last weekend to celebrate a birthday and to dedicate a bench, located overlooking Strawberry Island, in Beaver Island State Park. It is dedicated "In Honor of Joanne D. and Edward A. Rayhill M.D." Doc Rayhill celebrated his 90th birthday on August 29th.
Dr. Rayhill Turns 90 Years Old - August 2019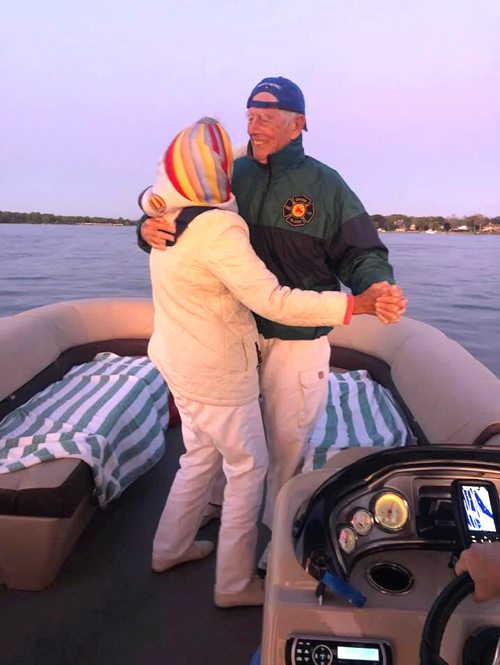 By Michael W. Rayhill
Dr. Edward A. Rayhill, a sixty-one year Island resident, will be celebrating his 90th birthday on August 29th, with his beloved wife of sixty-six years, Joanne, and an assemblage of their children, grandchildren and great grandchildren. This past weekend Dr. and Mrs. Rayhill danced together on their daughter Cathy's boat on the Niagara River to help ring in the birthday celebrations. He proposed to his wife on the West River following several years of dating after he crashed his future brother-in-law's wedding in 1946, where he fell in love at first sight with Joanne who was a bridesmaid.
After obtaining his medical degree from U.B. where he was vice president of his class and received both the Surgical Award and the Anatomical Society Award, he was recruited in the Navy where he practiced medicine in Rhode Island before returning to Western New York to build his dream home with his wife Joanne. He entered into practice with Dr. Robert Miller and was later joined by Dr. Thomas Sheehan. The three doctors helped to better the lives of their fellow Islanders through years of dedication and service to the health and well-being of the local community.
Dr. Rayhill was the "Founding Father" of the GIFC Paramedic Program which was started October 6, 1979. Miller, Rayhill and Sheehan were also the Grand Island Central School physicians, where Rayhill served as the team doctor for the football team. Later on, Rayhill also helped to establish the Family Medicine Foundation at UB, which he invested in personally to help support community-based family physicians and corporations. He was also a Clinical Associate Professor Emeritus at U.B.'s Department of Family Medicine.
Civic-mindedness and compassion for others has always been a founding principle for Dr. Rayhill both in his medical career and personally. His late father-in-law, a pioneer in cataract surgery, Dr. Valentine A. Decot, helped to start the first Buffalo Playgrounds and used to treat the local clergy during the month of August gratis. Dr. Rayhill has actively practiced these generous values, while remaining a student for life.
P.J. Marston Track Champion - August 2019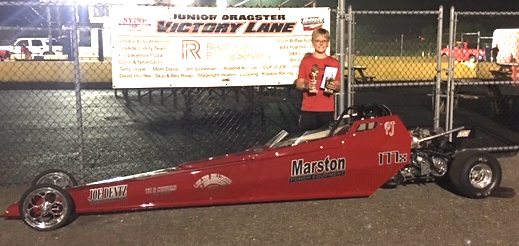 P.J. Marston is the 2019 Junior Dragster Track Champion at Lancaster NYIRP. In a nine race series over the summer, P.J. had two A-main wins, two B-main wins and two #1 qualifiers. His 480 total points was 15 points higher than the 2nd place finisher. The Marston family is now headed to Pittsburg in September, where P.J. will participate in divisional finals.
Bernie Callahan Celebrates 100 Years - August 2019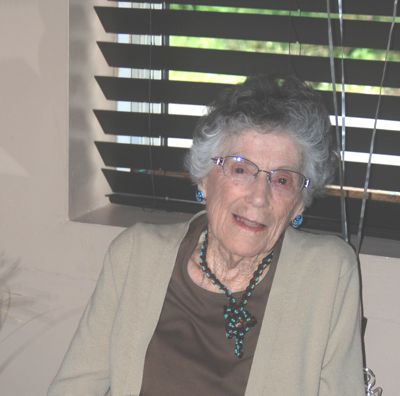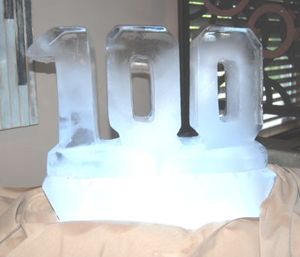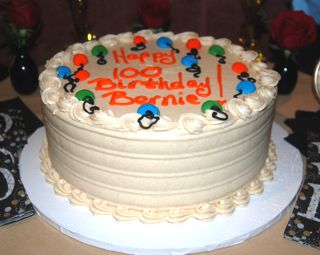 Mrs. Bernie Callahan turned 100 years old on Tuesday, August 13th and her family hosted a party at her granddaughter's restaurant, 773 North. Friends and family enjoyed refreshments and of course, CAKE!
Mrs. Callahan attributes her good genes to her mother's side of the family. Her grandmother lived to 94, and four sisters lived to 98, 93, 102 and 93. The sisters were homebodies and housewives, she noted, Bernie was always busy! She worked over the years at the Island Dispatch, the hardware store, at the voting booths and at the blood bank for nine years. Bernie was a longtime weekly bowler and joined the Golden Age Center at 60 years-old, participating in many activities over the years.
Reflecting on a favorite time period in her life, she said the three-four trips she took with her husband, cross-country, were her fondest memories. There was family on the west coast and they would take a month, driving in their car, staying at motels. The first trip was in 1970 when gas was 25 cents per gallon. She mentioned, "Utah was beautiful."
Asked about her earliest memory; she remembers going to kindergarten from her Rhode Island street home, walking around the corner to either School 31 or 35. That would be in the year 1924! She was born in Rochester and moved to Buffalo at age two. She graduated from Annunciation High School in 1938.
Mrs. Callahan married at 28 years-old and moved to the Island 71 years ago, to the house on Whitehaven she lives in today. She spoke of first moving here and having to buy water for drinking and using rainwater for cleaning and laundry. She no longer drives, giving it up at the age of 97, but looks forward to outings with her son Tim and her friends. Keeping busy is her recommendation for a long life.
Kassandra Bennett Weds Jacob Riley- August 2019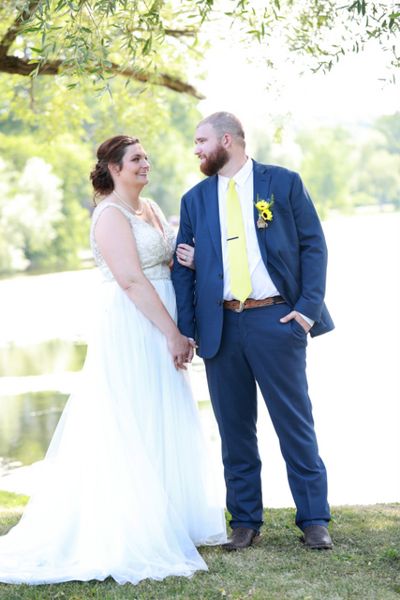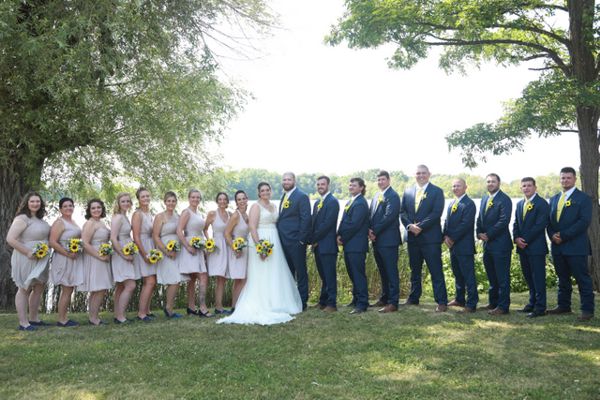 Scott & Dorothy Bennett of Grand Island announce the marriage of their daughter, Kassandra Lee Bennett to Jacob Ray Riley son of Joel and Patricia Riley of Hamptonville, NC. The marriage took place on July 27, 2019 at Cornerstone Church, Grand Island, NY, officiated by Jacob's father, Joel.
The Maid of Honor, long time best friend Katarina, Bridesmaids; Keli & Amy (sisters of the bride), Morgan (sister in law to the bride) LeeAnn (cousin of the bride), Rebecca (sister of the groom) Maria, Logan and M'Lynn (friends of the bride) as well as Flower girls; Annabella, Adalynn and Arielle (nieces of the bride). Best man Luke Vanhoy (long time best friend of the groom). Groomsmen were Stuart (brother in law to the groom) Korey (brother to the bride) as well as Nick, Kerry, Eli, Cole and James (friends of the groom).
Local and out of town guest from North Carolina, New Hampshire, Massachusetts, Colorado, South Carolina and Alabama enjoyed the reception held at Bonds Lake, Ransomville, NY. After their honeymoon in Cancun, Mexico, they will reside in North Carolina, where they're both teachers.
Cap Cooke - August 2019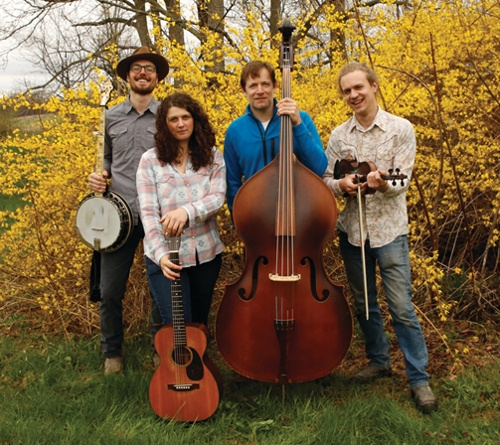 From left: Cap Cooke, Liz Pickard, Jason Zorn & Sam Schmidt. Cady Fontana photo.
Grand Island native Cap Cooke is a musician in Ithaca, NY, playing bluegrass and old-style music on his banjo. A story was published recently in the Tompkins Weekly, a local paper, about Cap and his band, The Flywheels. See
story
.
P.J. Marston - August 2019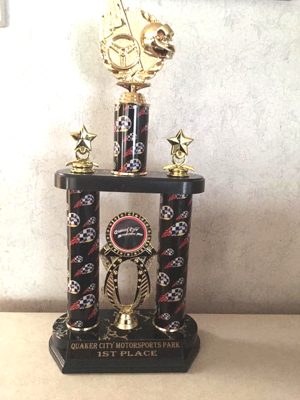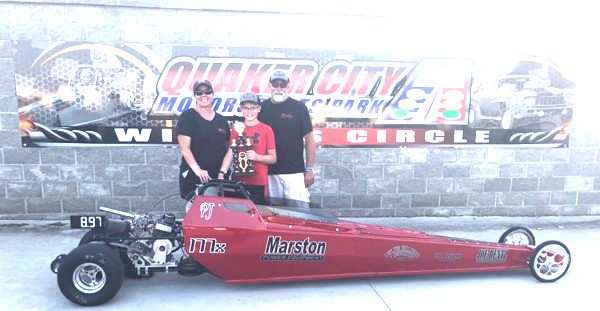 From left: Sue, P.J. & Pete Marston. - Click group photo for larger view.
P.J. Marston won first place in the Junior Dragster Division on July 27th at Quaker City Motorsports Park in Salem, Ohio. P.J. is 11 years-old and his division is for 8 - 12 year-olds. That makes four-first place finishes this year. He has two wins at Lancaster Speedway and one at Empire Raceway in Leichester, NY. By the way, his dragster goes 71-73 mph!
Aurora Lee Bennett - July 2019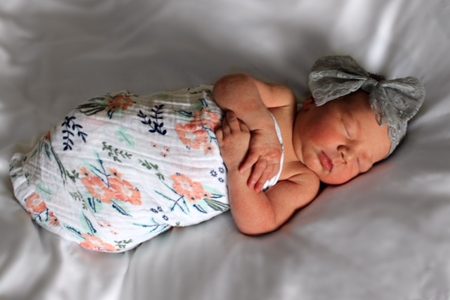 Aurora Lee Bennett, born July 16, 2019, 8 lbs 3.5 o, 20 1/2 inches. She was welcomed home by her three older sisters Annabella Patricia, Adalynn Justine and Arielle Mae. Beaming parents are Korey Bennett and Morgan Green-Bennett. Proud Grandparents are Scott & Dorothy Bennett and Scott & Michelle Green all of Grand Island. Great Grandparents are Patricia Bennett of Grand Island, Sally Bennett of Statesville NC, Robert Kessler of Florida and John & Kathleen Martz of AZ.
Grace LoHouse - July 2019
Buffalo News reporter Sean Kirst wrote a wonderful article about Grand Island High School Class of 2019 valedictorian, Grace LoHouse. Grace gave a moving speech at this year's graduation ceremony at Kleinhans Music Hall about her struggles with mental health issues. See
story
.
Daniel McMahon - July 2019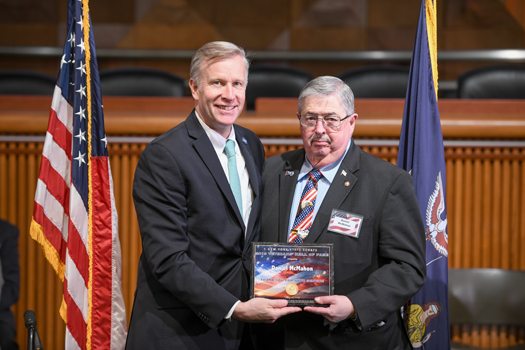 State Senator Chris Jacobs and NYS Veterans' Hall of Fame inductee Daniel McMahon.
(Grand Island, NY)
- In a ceremony at the Pfc. Charles N. DeGlopper Memorial VFW Post 9249, State Senator Chris Jacobs recognized life-long Grand Island resident Daniel McMahon as a 2019 New York State Veterans' Hall of Fame inductee. McMahon, who was also honored in a statewide ceremony in Albany in May, was presented with a framed proclamation marking the honor before his fellow veterans and post members. "Daniel McMahon displayed incredible bravery during very dangerous combat missions with the 9th Infantry Division in the Mekong Delta during the Vietnam War," said Senator Jacobs. "His valor in service to his country earned him numerous commendations, and his service to his fellow veterans in the decades following the war have earned the appreciation of a grateful state and community."
Drafted into the United States Army in September of 1968, McMahon received his basic training at Fort Dix in New Jersey before moving on to advanced individual training in infantry at Fort Polk in Louisiana. It was at Fort Polk where McMahon received specialized training in jungle warfare in Louisiana's intense heat, humidity and precipitation known as "Tigerland". In March of 1969, he was deployed to Vietnam, operating in the 3rd and 4th Corps of the 9th Infantry Division in the Mekong Delta, one of the most strategically significant battle areas that saw some of the war's most savage and ferocious fighting. In recognition of his combat service, McMahon received the Vietnam Service Medal with two Bronze Service Stars, the Republic of Vietnam Campaign Medal, Bronze Star Medal with "V" Device, Army Commendation Medal, Vietnamese Cross of Gallantry with Palm, Civil Actions Medal with Oak Leaf and a Combat Infantryman Badge.
McMahon completed his active service at Fort Hood, Texas and was honorably discharged as a Specialist 4. Upon returning to his hometown of Grand Island, he immediately became a member of the DeGlopper Memorial VFW Post 9249 where he has been a very active member over the years, serving as Post Quartermaster and over four years as Post Commander. He has also held numerous leadership roles within the VFW organization, most notably Erie County Council Commander for two years and as the present Commander of District 6 VFW Department of New York.
In addition to his services to his fellow veterans, Dan has been an active member of the Grand Island Volunteer Fire Department for more than fifty-seven years. He was an original member of the paramedic crew for twenty-six years and a communications supervisor for fourteen years. "Daniel McMahon's lifetime of service is a wonderful example of what the New York State Senate's Veterans Hall of Fame represents – honoring people who have distinguished themselves in their life calling of military and civilian service," said Jacobs. "He is a very deserving of this great honor and it is a privilege for me to recognize him today," the Senator concluded. The New York State Senate Veterans' Hall of Fame was created to honor and recognize outstanding veterans from the Empire State who have distinguished themselves both in military and civilian life. Their meritorious service to our nation deserves the special recognition that only a Hall of Fame can provide, as a fitting expression of our gratitude and admiration.
Carlee Conway - June 2019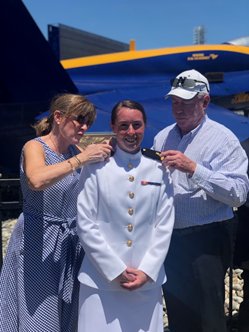 From left: Margaret, Carlee & Brendan Conway.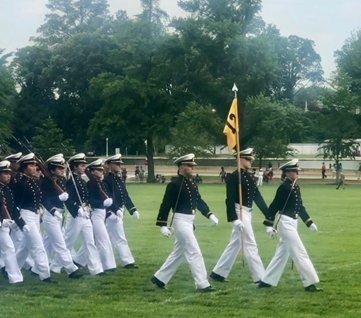 Carlee leading the 12th Company onto the parade grounds.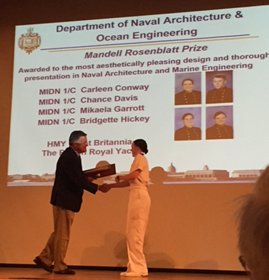 Carlee accepting the Mandell Rosenblatt Prize for Naval Architecture.
Carlee Conway is latest WNY'er to Graduate and be Commissioned at USNA.
Grand Island native, Carlee Conway, lead 12th Company onto the parade grounds for the full Brigade Parade, Wednesday, May 22nd, 2019 as part of the Naval Academy Commissioning week ceremonies. On May 24th, 2019, along with 755 other Midshipmen, she was commissioned an Ensign in the US Navy. Approximately 285 were commissioned 2nd LT. in the Marine Corps. Carlee was selected as the Company Commander for Spring 2019. Earlier in the week, she and three classmates were awarded the academic Mandell Rosenblatt Prize for Naval Architecture with their capstone project.
Carlee graduates with a Bachelor of Science in Naval Architecture/Ocean Engineering. In August, she will report to Naval Air Station Pensacola for Navy's Primary Flight School. It is the next step in her process of becoming a Naval Aviator. Until then, she returns to the Naval Academy to participate as a Detailer during Plebe Summer as well as direct the afternoon athletic tennis sessions.
Carlee was a 3-year Varsity Tennis Player for Navy, finishing her career ranked 8th overall winningest player in Navy Women's Tennis Program history. Highlighting her career were 3 singles victories over Army in Patriot league competition. She was invited back this past season and served as a Student Assistant Coach for Coach Keith Puryear's team. She played one year at Marion Military Academy at the Div. 1 Junior College level prior to her appointment to Navy, finishing 25-0 while in her one year of Navy prep school. Carlee is the daughter of Margaret and Brendan Conway and grand-daughter of long-time Grand Island resident, Ruth Englert.
Amanda Webb - June 2019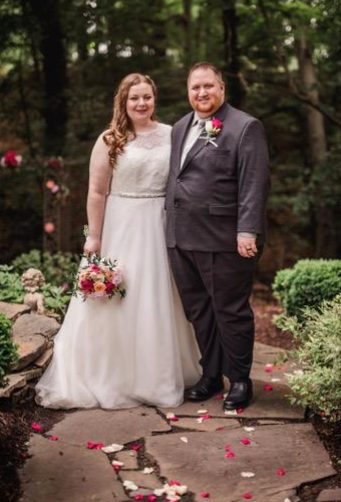 Amanda Webb marries Michael Lanphier.
Amanda Webb and Michael Lanphier were united in marriage at 2:00 pm on June 1, 2019 at Colonial Gardens B&B in Williamsburg, VA. where a reception followed. The ceremony was officiated by Eunice A. Fenwick of Williamsburg, VA. The bride is the daughter of Michelle (Fitzsimmons) Webb of Grand Island, NY and Jeffrey Webb of Tonawanda, NY. The groom is the son of Ann (Stover) Lanphier of Haymarket, VA and Douglas Lanphier of Memphis, MO. The bride and groom met while attending SUNY Oswego.
The bride is a graduate of SUNY Oswego with a bachelor's degree in Meteorology and George Mason University with a bachelor's degree in Nursing, and is employed as a Psychiatric Registered Nurse at Northern Virginia Mental Health Institute. The groom is a graduate of SUNY Oswego with dual bachelor's degrees in Meteorology and Mathematics and is employed by the U.S. Department of Defense as an Analyst. The couple will reside in Woodbridge, VA.
Lee Tetkowski - June 2019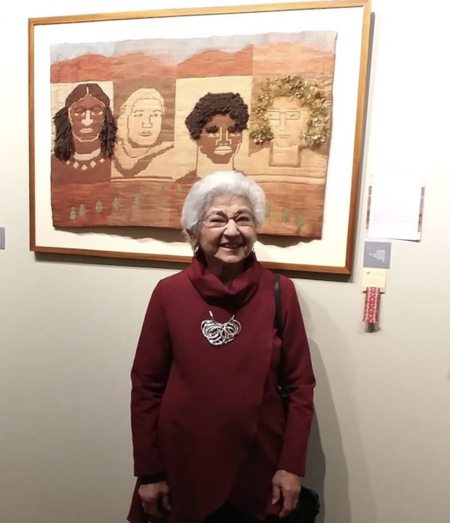 Lee Tetkowski with "Mount Diversity".
On Saturday, June 8, at the Annual Picnic of the Buffalo Weavers' Guild the announcement was made, that after all votes had been counted, Lenore Tetkowski's wall-hanging, "Mount Diversity", was the winner of "People's Choice". During the two and a half month exhibit at Fox Run in Orchard Park, each visitor could vote for his/her favorite work. In addition, Mount Diversity won best wall hung fiber art and the award for best handwoven clothing and yardage.
Abigail Dallessandro - June 2019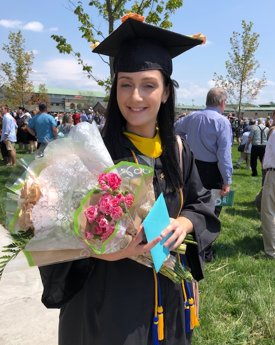 Abigail Dallessandro, the daughter of Michael and Karen Dallessandro of Grand Island has graduated from Lemoyne College's Madden School of Business with her Bachelors Degree in Accounting Magna Cum Laude. After a summer internship with Freed Maxick in Buffalo, Abby will begin her Masters program and certification as a CPA at the University of Buffalo.
Jim Sharpe - June 2019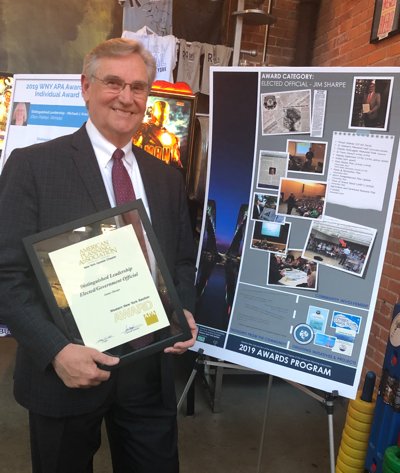 Congratulations to Deputy Supervisor Jim Sharpe, on being selected to receive the WNY American Planning Association's 2019 Planning Award in the category of Government Official. The award is for his body of planning work including the Town's two Master Plans in 1995 and 2018 and the Local Waterfront Revitalization Program, and Agricultural and Farmland Plan currently underway. Jim was honored at the WNY APA Section Awards Reception on Tuesday, May 14th at Resurgence Brewing Co. in Buffalo, NY.
Margaret Rustowicz - May 2019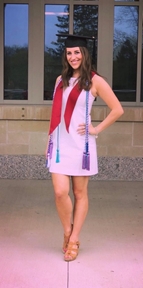 Margaret Rustowicz, daughter of Kevin and Maura Rustowicz has been named to the Spring 2019 Dean's List at St. John Fisher College in Rochester, New York. Rustowicz is a Senior and is a Nursing major. To be eligible for the Dean's List at St. John Fisher College a student must have attained at least a 3.5 grade-point average for the semester.
Daniel McMahon - May 2019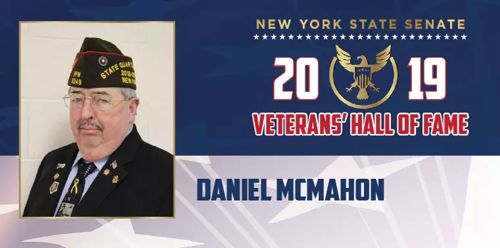 Daniel McMahon - US Army | Specialist E-4
NYS Senator Jeremy Jacobs recently named Grand Island resident Daniel McMahon as his honoree to the 2019 New York State Veterans' Hall of Fame.
Specialist Daniel McMahon, a lifelong resident of Grand Island, New York, was drafted into the United States Army on September 26, 1968. He completed basic training at Fort Dix, New Jersey before receiving advanced individual training in infantry at Fort Polk, Louisiana, specializing in jungle warfare.
Specialist McMahon was then deployed to Vietnam where he served for one year with the 9th Infantry Division, operating in the 3rd and 4th Cores in the Mekong Delta. Upon leaving Vietnam, he returned to the United States where he completed his active service at Fort Hood, Texas. He was honorably discharged from the Army as a Specialist 4.
During his military career, Specialist McMahon received numerous awards and medals, including the Combat Infantry Badge, Bronze Star Medal with V device, Vietnam Service Medal with two bronze service stars,Vietnamese Cross of Gallantry with palm, and the Republic of Vietnam Campaign Medal among others.
Returning home to Grand Island, Specialist McMahon continued serving his nation and fellow veterans when he joined the Charles N. DeGlopper Memorial Veteran of Foreign Wars Post 9249 in 1971. He currently serves as Post Commander, and has served in various leadership roles within the VFW organization, most notably, Erie County Council Commander for two years and present Commander of District 6 VFW Department of New York.
He has also been a member of the Grand Island Fire Company for more than 57 years, and was a member of the original paramedic crew for 26 years and 911 communications supervisor for more than 14 years. SPC McMahon and his wife of 46 years, Sue, have two daughters, Bridget and Molly.
JoAnn Vanderheite - May 2019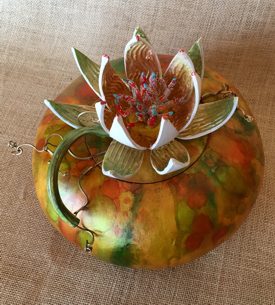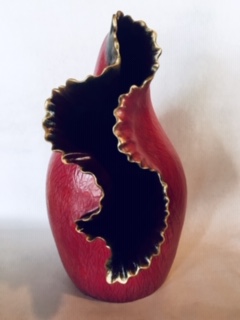 Grand Island artist JoAnn Vanderheite will be in the 100 American Craftsman Craft Show at the Kenan Center in Lockport again this year. The show takes place Friday, May 31st from 5:00 p.m. - 8:00 p.m., Saturday, June 1st from 10:00 a.m. - 5:00 p.m. and Sunday, June 2nd from 11:00 a.m. - 5:00 p.m. Her booth number is C-15.
Dana Hayes Erickson - May 2019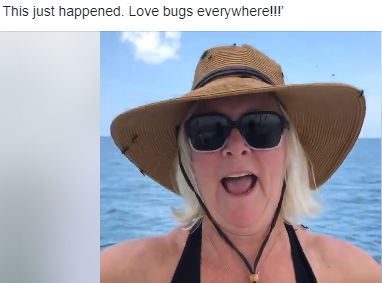 Dana....freaking out!
My sister, Dana Hayes Erickson, was fishing off of Sarasota, Florida last Wednesday, May 8th. Just a half hour after setting the anchor, the boat was swarmed by "Love Bugs". A video was posted on Facebook and as of Tuesday, May 14th, it has received over 4 million views as of today, May 16th. If you would like to see what the fuss is about, see
video
. Disclaimer: there is swearing.
Launch NY Adds Island Native to Board -May 2019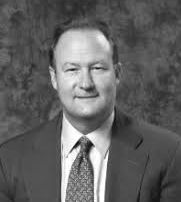 Mel Passarelli.
Launch NY Adds President & CEO of Aspera Mel Passarelli to Board of Directors. WNY expat, UB alum brings 30+ years' experience in leadership building tech companies.
Buffalo, N.Y. May 2, 2019
- Launch New York (Launch NY), Upstate New York's first and only venture development organization to provide pro bono mentoring and capital access to high-growth potential startup businesses across the 27 westernmost counties of the state, has added another national-level Director to its Board with the appointment of Mel Passarelli, Esq., President & CEO of Aspera, a Boston, Ma.-based software asset management company. Passarelli is formerly from Buffalo and a University at Buffalo graduate, where he earned his Bachelor's Degree in Political Science and Economics and MBA in Finance and Marketing. He also holds a Juris Doctorate from Suffolk University Law School. He serves as a board member for several for profit and nonprofit organizations, including the American Heart Association, providing advice and counsel for successful growth.
"Mel's experience in building incredibly successful tech companies will be invaluable as we continue to enhance our mentorship and seed funding programs," said Marnie LaVigne, President and CEO of Launch NY. "And even though New England can claim him as a resident, he has stayed very engaged Western New York both professionally and personally. We are honored he has chosen Launch NY as an outlet for his entrepreneurial spirit and expertise."
Passarelli most recently served as Executive Vice President and General Manager at Attunity, leading the successful turnaround and growth of the data integration and management software provider from an early-stage software asset management company to a NASDAQ listed corporation, which led to an announcement of a $560 million dollar acquisition by Qlik, a leader in data analytics in February 2019. He also spent over 13 years helping to build Intergraph Corporation (now known as Hexagon PPM) into a Fortune 500 company.
"Being a Buffalo native, I am passionate about the revival of this community through entrepreneurship," said Mel Passarelli, President and CEO of Aspera. "I am eager to bring my lessons learned to bear in Western New York, and Launch NY's work in providing business support and access to seed capital is a perfect conduit for giving back to a place that's very special to me." In addition to Launch NY, Passarelli's WNY ties include judging the annual Henry A. Panasci Technology Entrepreneurship Competition at UB. He also serves on the Board for the American Heart Association and American Stroke Association in Boston.
For more information about Launch NY and its programs, visit www.launchny.org, and follow Launch NY on its Facebook, Twitter, and LinkedIn pages.
Dr. Cynthia Czaperacker Receives Board Certification - April 2019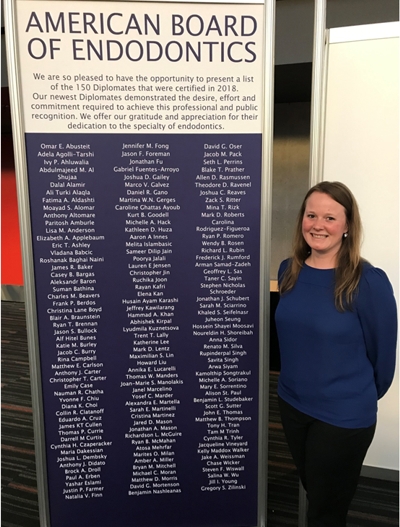 Dr. Cynthia Czaperacker.
Dr. Cynthia Czaperacker (daughter of James and Helen Czapla of Grand Island; Grand Island High School Class of 2004) was awarded board certification by the American Board of Endodontics this year at the American Association of Endodontists annual conference in Montreal, Quebec, Canada. Board certification distinguishes endodontists who have demonstrated exceptional knowledge and skill, dedication to continued professional growth, and a commitment to providing the highest quality of patient care. Currently, only approximately 35% of endodontists nationwide are board certified. In order to earn board certification, an endodontist has to pass a three-part examination including a written examination, oral examination, and case history examination. Dr. Czaperacker currently practices full-time in Chicago, IL.
Island Weavers Win Awards - April 2019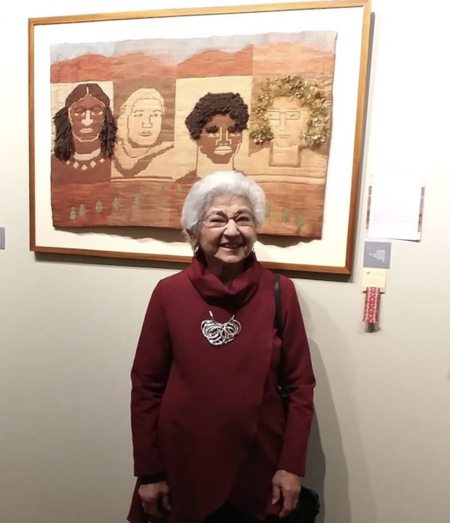 Lee Tetkowski with "Mount Diversity".
Two active members of the Weavers' Guild of Buffalo received awards at the recent opening reception of the celebration of the 50th anniversary of its founding. Lenore Tetkowski 's "Mount Diversity" won best wall hung fiber art, and also the award for best handwoven clothing and yardage. Islander, Cathie Steffan, received the award for handspun skeins, called "Desert Sunset". Heather Olson of Rochester, NY was the judge.
The exhibit continues at Fox Run in Orchard Park through May 30th. Weekly Show Hours are Monday through Saturday, 8 am-8pm. Corner of 20A & California Road. Please enter through the Commons Building.
Nonnie Carroll Celebrates 99 Years! - March 2019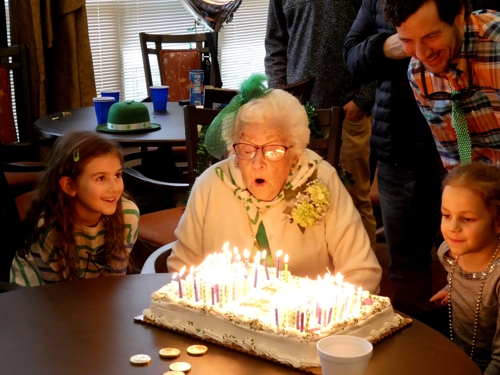 Nonnie Carroll.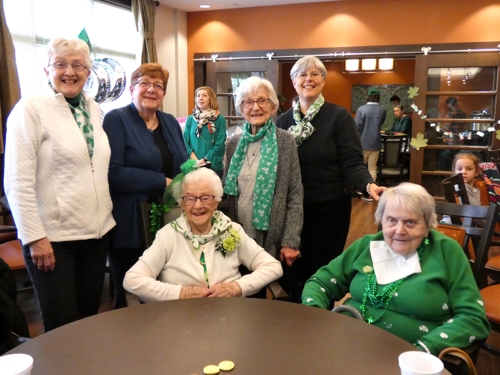 Island friends, from left to right: Kathy Lechner, Beverly Kuszczak, Dorothy Lew, Mary Cooke and Ruth Landel.
Long-time Grand Island resident Nonnie Carroll celebrated her 99th birthday with a party at her new home at the Wheatfield Commons. Family and friends were on hand to celebrate the day Nonnie shares with St. Patrick. Everyone is already looking forward to her 100th in 2020!
GI Weavers in Textile Exhibit - March 2019
The Buffalo Weavers' Guild is celebrating the 50th anniversary of its founding with a creative textile exhibit of current work by its members. It will take place at Fox Run in Orchard Park from March 3rd through May 30th. Weekly Show Hours are Monday through Saturday, 8 am-8pm. Corner of 20A & California Road. Please enter through the Commons Building. The exhibit will feature original designed hand-woven pieces, felting and hand-spun work. Grand Islanders, Cathy Steffan and Lenore Tetkowski are among the exhibitors.
Poster
.
Empowering Pediatric Chemo Patients - March 2019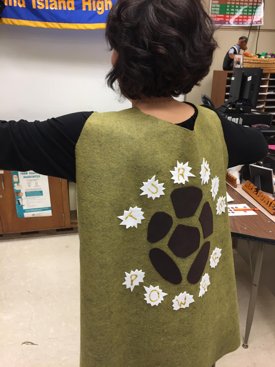 Cape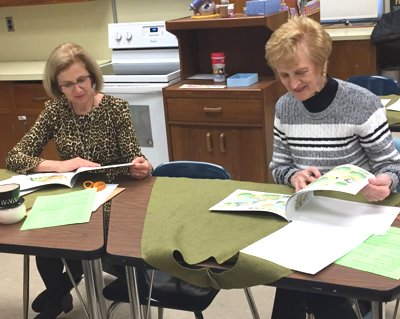 From left: Current Sidway Principal Denise Dunbar, guest of the event and Agnes Becker, Former Principal of VCMS and active member of our chapter.
Since 2005, the Gamma Delta Chapter of Delta Kappa Gamma International has been providing gently used/new books, sometimes with homemade bears, to the patients and families of our Women and Children's Hospital, newly renamed Oshei's Children's Hospital. Over the years, the books have come in various forms, from a simple collection and quarterly drop-off to Women and Children's Hospital Foundation, to more recent centering upon both the Hematology/Oncology Units as well as the Cystic Fibrosis Clinic.
Two years ago, a donation of Turtellini the Turbo Powered Turtle, written, illustrated and signed by author/artist Doug MacGregor accompanied a hand-made Chemo Cape. Since it "takes a village" to raise a child, the sisters of the Gamma Delta Chapter of the Delta Kappa Gamma Society International felt called upon to do our part to empower young patients with courage, stamina and strength.
Inspired by a news clip of a caring pediatric nurse who dons Super Hero costumes to reduce fear and increase well-being in his patients, the Chemo Cape was born. This Turtle Powered cape reflects the character of Turtellini, the Turbo Powered Turtle, written and illustrated by Doug MacGregor; Turtellini overcomes all obstacles with determination to "soar high!" These kits were given to patients in the Oncology/Hematology Dept. at Osheis in an effort to pull kids out of the shells of fear and withdrawal, giving them the positive self-talk recommended to reduce stress and foster the healing process." In response to our Chemo Capes, mother of Michael, a recipient, told us that he took the book to bed and slept in the cape, not wanting to take it off! Thus, when we decided to revisit the Chemo Cape project, we called upon Michael and his Mom to pass out the gifts again. Now two years old, Michael continues to need chemo to survive his rare condition, but was certain to feel weightless and turbo-charged as he visited his fellow patients with our gift of hope. The project was funded by a generous grant from the Bea Small Committee of Delta Kappa Gamma.
Mel Passarelli, New President & CEO - February 2019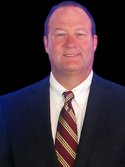 Boston, MA, February 27, 2019
- Strengthening Aspera's leadership team, Mel Passarelli has been named President and CEO. In this role, he will expand the company's market presence as the leading provider of Software Asset Management (SAM) solutions and services.
Mel joins Aspera with over thirty years of experience in corporate strategy and growth. Prior to joining Aspera, he led the successful turnaround and growth of Attunity from an early-stage company to a NASDAQ listed corporation. He has a history of increasing growth and profitability in several private and public software companies.
"Mel's expertise in software and cloud computing makes him the perfect fit for Aspera," said Bernhard Boehler, Chairman of USU Group. "His focus on strong revenue growth will lead the company to new horizons in a highly competitive market space."
"Aspera's focus on enterprise SAM, strong market presence, and robust product portfolio have made them a trusted solution for the world's biggest organizations," said Mel, Aspera Technologies' President and CEO. "The team's dedication and vision in solving the complexities of the ever-changing software landscape are impressive, and I am excited to help our customers gain transparency into their businesses through our solutions."
Aspera has offices in the USA, Canada, Europe, and Japan, and operates worldwide across a growing partner sales network. The Aspera product portfolio provides insights into all major software vendors and SaaS applications. Aspera solutions support companies throughout their SAM journey, providing active control of license costs, cloud transition, and data center optimization.
Mel's entrepreneurial spirit has led him to serve as a board member for several associations, providing advice and counsel for successful growth. He holds a BA and MBA from the State University of New York at Buffalo, and Juris Doctorate from Suffolk University in Boston. Meet Mel on LinkedIn at https://www.linkedin.com/in/melpassarelli/ or Twitter at @melpass77.
Thomas W. Burkman, Home of the Week - February 2019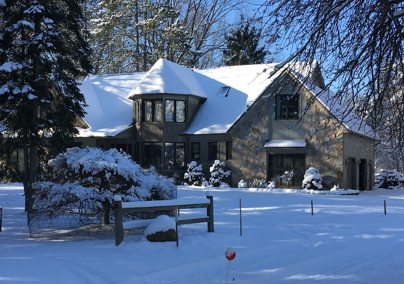 Island resident Thomas W. Burkman, research professor of Asian Studies, emeritus, at the University of Buffalo was featured in a Buffalo News photo gallery as Home of the Week. See
photos
.
Allyson Nemeth, Cooking For Cancer - February 2019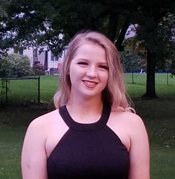 Inspirational Story of Leadership, Passion and Commitment.
It all started in the winter of 2012 when two classmates decided at a sleepover to make a difference in the world. What we as parents could not imagine was how such a simple concept would impact so many, fuel a long lasting friendship, and give hope to those in need. You always tell your children that anyone, no matter what their age can have an impact on this world. You encourage them to set goals and achieve their dreams.
Allyson Nemeth and Jessica Flash did just that when they started the Cooking For Cancer Club at the tender age of 10. These two extraordinary girls set out to raise money for Carly's Club of Roswell Park and pediatric cancer research by organizing bake sales and going door to door. Their goal was simple to raise $1,000 that year.
That night at the sleepover they made and sold bake goods to the neighbors, from there they rallied their fellow classmates and friends to participate. They organized teams and developed a neighborhood rotation to sell their baked goods, realizing they could make more money if they sold to different locations. As parents we thought the novelty would die down, how wrong we were. Together with the help of their friends and their commitment and leadership, these girls baked and sold baked goods to raise money for children with cancer. No short feat since they did this throughout the winter, in the snow, dragging their wagon of baked goods door to door, with their friends by their side.
That same year they asked a local vet if they could make dog treats for donations, participated in the school's craft show and wellness events and created awareness at school by hosting meetings, making posters, and inspiring the students to participate in the club. They also developed a business plan to participate in KidsBiz, a local business fair where children learn how to use business skills to make and sell products.
They did all of this when many children just wanted to go out and play, but gave up their time to help children who could not. Their drive, commitment, leadership, and passion kept this group of friends together, working for a common goal and cause. We had the pleasure of donating the check to Roswell Park and Carly's Club of a $1,000 as they met their goal their first year. How proud we as parents were to see our children leading and inspiring so many.
The second year the girls wanted to raise $2,000 and to accomplish this they realized they needed to do more then just sell bake goods, they needed a larger event to reach this goal. After discussing several ideas the girls settled on hosting a Pasta Sauce Off. They continued to work on the bake sales door to door and current school venues, while they prepared for the Pasta Sauce Off.
They first secured the event as an officially sanctioned event for Roswell Park. They then received an approval from the LaSalle Yacht Club to use their facility to host the event. The club donated their time, facility and pasta to the event. Next they went to area businesses and personally asked the owners for donations. Next they asked family and friends to donate and come out to the event. The girls were working hard along with their team to make this event a success. Word spread around our community and soon the girls were featured on Channel 7 news, Facebook post were being sent round the community, as sponsors and supporters both The Grand Island Dispatch and The Niagara Gazette ran some feature stories on the girls, there teammates, and success. Along with some free ads for the girls to help increase awareness about the event. Isledegrande has also been helpful advertising the event to the community.
At school they inspired their new principal to allow them to promote the event at school, church, and on the schools website and Facebook page. They made announcements at school weekly about the event, sent home flyers, made posters, gave speeches, and developed a brand for the event.
When it came time to actually host the event they had over 70 baskets, several silent auction items, 50/50 raffles and 12 pasta sauces to try. There was a buzz around town and the event was a huge success well beyond what we could have imagined. They smashed their goal of raising $2,000 by raising just over $5,000 at this event alone.
Now as we get ready to host the 6th annual Pasta Sauce Off, Allyson has taken the lead and this young lady and her friends have set high goals for this year. Their passion and drive to succeed should inspire us all to cherish what we have and give to those who need our help. Think of the impact we all could have if we just did one good dead for another person. Allyson has inspired a class, a school and a community. To date she has raised just over $28,000 and we can't wait to see what she accomplishes as she grows up, we all can learn from her and her friends.
Live life in a positive way, inspire dreams, reach for your goals, be good, be faithful anything is possible.
The parents of Allyson Nemeth
Pasta Sauce Off Flyer
Emily Smith Marries Steve Guttenberg - January 2019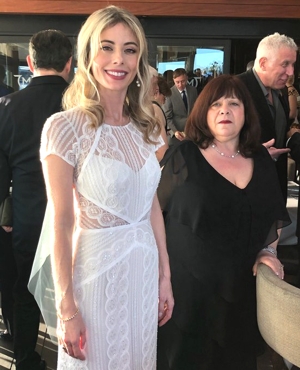 Emily Smith with "Miss Cathy" Thomas at the wedding.

Emily with fiance Steve Guttenberg after engagement in 2016.
Island native Emily Smith married actor Steve Guttenberg last weekend in Malibu, California. Emily is a reporter for CBS, and produces and hosts a show called "Living Large", about multimillion dollar properties. The couple have been dating since 2014 and were engaged in 2016 on the riverfront of her grandparents' former home on East River. She was quoted as saying "best memories of my life there." Emily's parents still reside on Grand Island and a large group of friends and relatives traveled to the wedding from GI. Yes, that is Miss Cathy in the photo above!
Benefit for Kyle Staub - January 2019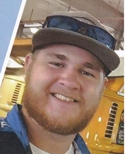 Island native Kyle Staub was in a horrific motorcycle accident on October 26th, sustaining numerous traumatic injuries. He is on a long road to recovery. A fundraiser is planned for Sunday, March 31st at the Sephen Sikora Post 1322, 950 Payne Avenue, Tonawanda, NY 14120. The time is 12:00 p.m. - 6:00 p.m. and tickets are $20. There will be food, a cash bar, basket raffle and 50/50. For ticket information contact Kyle at 716-345-6926.
Flyer
.
Jennifer & Henry Menter - January 2019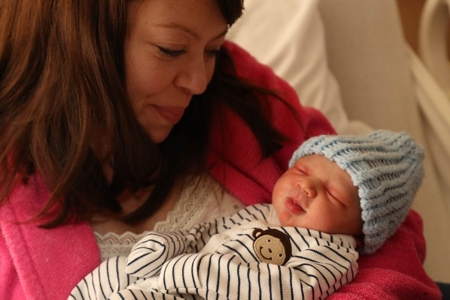 Jennifer Menter and son Henry Robert Wudyka Menter. (Sharon Cantillon/Buffalo News photo.)
A story in the Buffalo News dated January 1, 2019, included Island resident Jennifer Menter and son Henry, born on December 27th at Sisters Hospital. It was titled "First baby born in 2019, and the top baby names in Buffalo for 2018." Old names are very popular again, and Henry made the top ten for Catholic Health-operated hospitals. Henry is the son of Joe Menter, Grand Island Recreation Department Supervisor and Jennifer, Golden Age Center Supervisor.