Islanders In The News Web Page
2020
Previous News Page
Joyce Jones - September 2020
On Saturday, September 5th, Joyce Jones swam from Grand Island to Tonawanda in memory of a friend who swam the river with her 27 years ago. Sister Janet Jones-Brower also swam 27 years ago. Janet now is executive director of a hospice house in Rochester, Webster Comfort Care Home. Funds raised from this event will go to the home. See Spectrum video
here
. Make donation
here
.
Paul Stephens - September 2020
Paul Stephens was recently named to the New York Disc Golf Hall of Fame. He started in disc golf in 1979 and has designed 12 disc golf courses in the WNY area including Beaver Island State Park course. You can see the complete article written by Milt Northrup on Buffalo News
here
.
Chie Doring - August 2020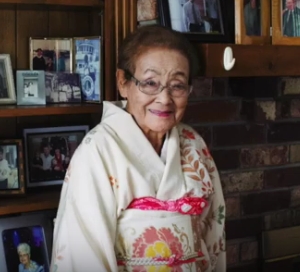 Chie Doring.
"The Asian Porcelain Art Creations of Chie Doring", award winning porcelain artist, showcases 20 pieces of artwork, in a 17 minute presentation. See
video
.
Mrs. Doring, 92, has been doing porcelain art since the late 1960's and has been honored by the Museum of China Painting in Oklahoma City, where a large water pitcher was on display for a year in the late 1990's. An exhibit of her work was to be held at the end of April and due to the pandemic had to be cancelled. Grand Island artist Angela LaDuca narrates the video.
Airman Andrew Masiello - June 2020
Grab those tissues! Airman Andrew Masiello surprises his family after nine-month deployment to the Middle East. WKBW TV had a story recently of Andrew's homecoming. See video
here
. Welcome home!.
Captain Tara Gensler - June 2020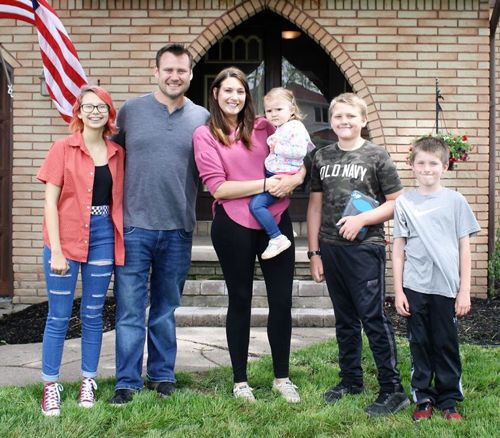 Capt. Tara Gensler, center, with family.
Town of Grand Island
Thank you, Captain Tara Gensler, for stepping forward and working on the front lines of the fight against COVID-19 in New York City for the past several weeks. After serving as an RN first in the city's Javits Center, a makeshift hospital to treat COVID-19 patients, Captain Gensler moved to a hospital in Queens to share her talents and help with patients. Captain Gensler of the 914th Air Refueling Wing based out of Niagara Falls Air Reserve Station had been on the customary quarantine upon her return home to Grand Island.
On Saturday morning, May 30th, our Grand Island neighbor was greeted with a Welcome Home and Appreciation Parade organized by Mr. Floyd Doring. A procession of honking cars decorated with balloons and signs was led by our very own Grand Island Police. Tara stood by her boyfriend Jonathan Williams and was surrounded by Nicolette Williams, Lexi, Caden Brynes and Ryan Brynes that morning as the street was filled with noise, waves and much appreciation to our Hometown Hero. We also express our gratitude to her family that has made such a sacrifice as well in sharing her with those in need.
On behalf of the residents of Grand Island, we would like to express our gratitude for the generosity and service of our neighbor. It is residents like Captain Tara Gensler that make us all proud of our community and that make Grand Island a Grand place to live.
Drive-by baby Shower Welcomes Grand Island Newborn - May 2020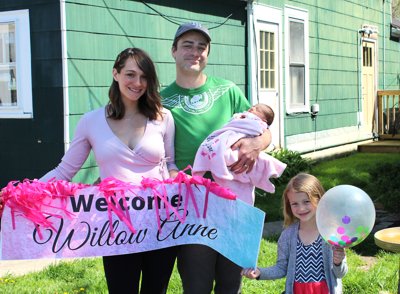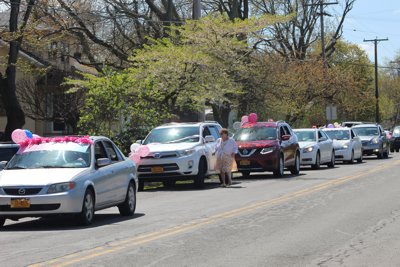 Nathan Keefe photos.
A unique baby shower brought a whole lot of love and a whole lot of diapers to Kadi and Jared Carr of Grand Island over the weekend. Family and friends welcomed the couple's newborn daughter, Willow Anne, with a parade of cars bearing gifts on May 16th. The "Diaper Toss CARE-a-van" was a motorcade, rather than the usual home baby shower, in order to maintain proper social distancing guidelines in effect during the coronavirus pandemic. Drive-by guests tossed packages of diapers, boxes of wipes and baby care items on the front lawn of the Carrs' house in Ferry Village. Willow's parents waved and showed off the baby for the folks to see - from a proper social distance, of course! And Willow's big sister, Maisie Jane, 4, watched the festivities, too, on a bright, sunny Saturday. Willow's grandmother, Laurie Carr, of Grand Island, thought up the idea and hosted the event.
Jamison Fetes - May 2020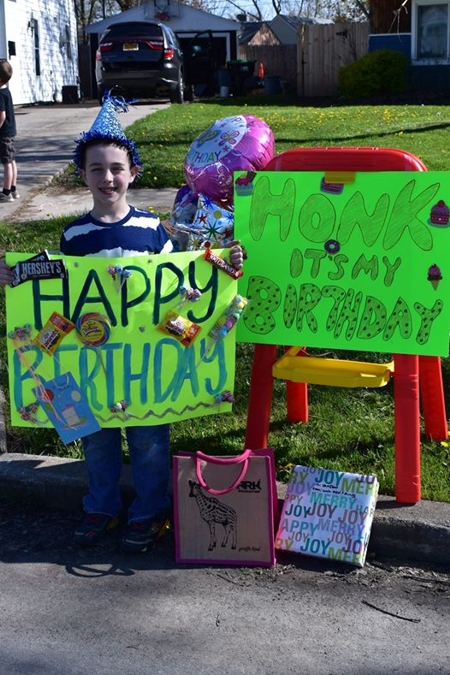 Mary Stewart photo.
Happiest of birthdays to eight year-old Jamison Fetes. His family and friends held a birthday car parade this past weekend to celebrate. Jamison's parents are Amanda and James Fetes.
Fritz Proctor - April 2020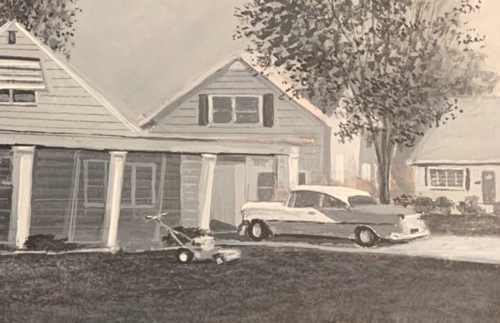 Grandyle Village neighborhood.

Beaver Island beach with Strawberry Island in the background.

Viking Diner with panels painted by Fritz Proctor.

Close up of Fantasy Island panel.

Clown House panel in studio.

Bedell House painting in studio.

Recently completed Bedell House painting.

Artist Fritz Proctor at his easel
Former Islander and life-long artist Fritz Proctor has recently been featured on Facebook, with many of his paintings of old Island institutions. It all started when friend Mel Passarelli admired a painting of the Bedell House that Fritz had painted. Next thing you know Mel receives it in New Hampshire where he lives, and shares it on Facebook. That got a boatload of comments and requests.
Fritz is a Grand Island High School graduate from the early 1970's. He has been painting most of his life, at least part-time. When he retired, after being in the trucking business for 40 years, he has had a lot more time for his passion. Hopefully prints of his paintings will be available in the future. To contact Fritz regarding his paintings, email vproctor@ymail.com.
Betty Killian - April 2020
A noisy, friendly, car caravan was organized to parade past the East River home of 97 year-old Betty Killian on Monday, April 13th. She sat in her doorway enjoying the birthday wishes of her many fans.
Dori Hardman Klaaren - March 2020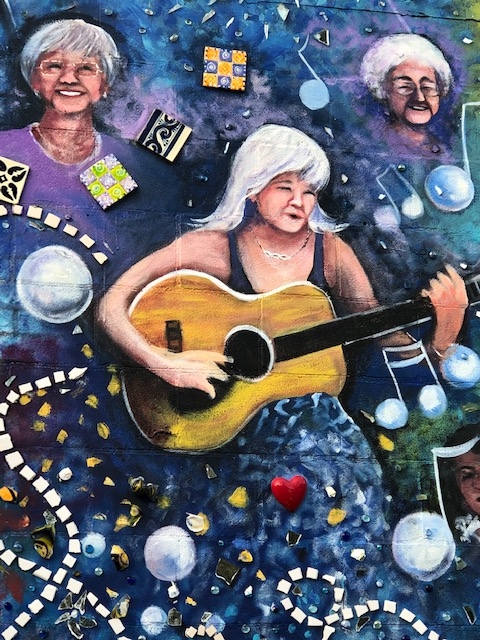 From left: Mrs. Laman, Dori & Mrs. Tetkowski.

Complete Channelside mural.
By Lee Tetkowski
Long-time Grand Islanders may remember two outstanding graduates from GIHS, Terry Klaaren('69) and Dori Hardman(70). Many remember their organizing, designing and painting of the large mural opposite our post office done a few years ago. Dori died tragically over a year ago, and Terry has poured out his grief and love into creating a tribute to her in a large, beautiful mural in Tampa, Florida, where they have enjoyed decades of their strong marriage.
Lee Tetkowski, retired GI art teacher, visited Tampa recently, and made sure to connect with Terry. It was a very special encounter at the site of the mural. Lee and Lyn Laman (art teacher now deceased) are among the women included, who were strong, influences on Dori's art career.
On Saturday, March 8th, a special day was featured to celebrate Dori's life at "Dorfest" at 204 12th St. and Washington in Channelside, Tampa, Florida. The mural was dedicated on that day, and music and memories were part of the event, which includes a month-long exhibit of Dori's art inside the building.
Allyson Nemeth - Cooking For A Cure! - February 2020
Pre-Sale Ticket Form
The 7th Annual "Cooking For A Cure" will take place on Saturday, March 21st at LaSalle Yacht Club in Niagara Falls, NY. This event was dreamed up by Allyson Nemeth, a Grand Island resident and student. Participants make their favorite pasta sauce and compete for the best sauce crown. There are also 50-50, basket & high end raffles, and a bake sale. Volunteers are needed for sauce, basket & high end donations, and for set-up, clean-up and ticket sales. Donations are needed by March 7th. See
flyer
for complete details and help Allyson to her goal of a combined $50,000 raised, just $6,000 to go!



Author Thom Hatch - February 2020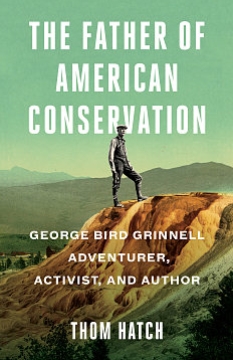 Former Island resident Thom Hatch has just released his lucky 13th book this week. The book is titled THE FATHER OF AMERICAN CONSERVATION: George Bird Grinnell, Adventurer, Activist, and Author, and was available on Tuesday, February 18th.
George Bird Grinnell was a daring 19th and 20th century adventurer and explorer, a crusading magazine editor and publisher; a prolific author; an accomplished outdoorsman; a notable paleontologist, ethnologist; ornithologist; and anthropologist; a presidential advisor; an advocate for Native Americans; and this country's first environmental activist, who accomplishments in preserving and protecting wildlife are unparalleled in American history.
He was an eastern aristocrat who founded the Audubon Club; the Boone and Crockett Club; pushed through Congress the country's first hunting laws, some of which remain on the books today; saved the last wild herd of buffalo; searched for gold in the Black Hills with General Custer; was the first one to chart the birds and mammals in Yellowstone; was adopted into five Native American tribes; and much, much more. This book not only chronicles Grinnell's life, but offers a history of the fledgling conservation movement in the early days of this country. The website address is: www.thomhatch.net.
William Doebler IV - February 2020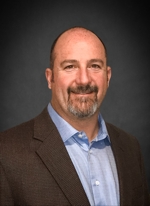 BUFFALO, NY - February 12, 2020
– Barton & Loguidice (B&L) announces William F. Doebler IV, QEP has joined the Solid Waste group as Senior Project Manager in the firm's Buffalo, NY office. A current resident of Grand Island, NY, Doebler received his B.S. in Environmental Health & Safety from Wright State University in Dayton, OH. He is a native of Carlisle, OH.
Doebler has 23 years of experience in the environmental industry including an extensive background in construction management, performing air emissions testing, air permitting, hazardous waste remediation, site environmental inspections and emission inventory surveys, at facilities throughout the United States.
In his previous role, Doebler was a Project Manager, where he managed and prepared Title V and Air State Facility permits for multiple solid waste and industrial facilities throughout New York, Pennsylvania, Ohio and Kentucky. Additionally, he coordinated air compliance activities for some of the largest municipal solid waste facilities in the northeast, and assisted facilities with modeling of landfill gas generation, and landfill gas collection system optimization, improvement, and beneficial use projects.
Doebler is a Qualified Environmental Professional (QEP) through the Institute of Professional Environmental Practice (IPEP). He is also a member the Air & Waste Management Association and the New York State Association of Solid Waste Management.
Women Artists Featured - February 2020
Eight Grand Island women artists will be represented at the Castellani Art Museum in an exhibit entitled "20/20 Vision: Women Artists in Western New York". The museum is located on the Niagara University campus in Lewiston, New York, They are: Maria Laurendi, Debra Meier, Bonnie Nevans, Kath Schifano, Paula Sciuk, Elizabeth Snyder, Lenore Tetkowski and JoAnn Vanderheite. The opening reception is on Feb. 20th from 5:00 -7:00 pm. The exhibit runs from Feb 20 - Aug 15, 2020. View exhibition catalog
here
.
Michael Shanley - January 2020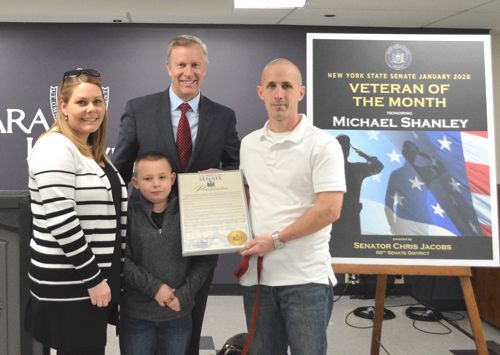 From left: Melissa Shanley, son Donovan, Senator Chris Jacobs and January 2020 Veteran of the Month Michael Shanley.
(Niagara Falls, NY) – New York State Senator Chris Jacobs announced that Grand Island resident and United States Army Veteran Michael Shanley has been selected as the 60th Senate District Veteran of the Month for January 2020.
"Michael Shanley's numerous awards and commendations speak to the excellence of his service as a tank crewman with the Army's 4th Infantry Division during Operation Iraqi Freedom," said Senator Jacobs. "He has carried that same drive to succeed and commitment to excellence into many worthwhile causes on behalf of his fellow veterans, making him a very deserving recipient of this honor," Jacobs added.
During Shanley's service from 2000-2004 he was stationed at Fort Hood in Texas and Camp Casey in Korea before being deployed to Iraq. It was there that Shanley and his unit participated in one of the most daring and noteworthy events of the war, the capture of former Iraqi dictator Saddam Hussein. A seminal moment in our nation's military history, the actions of Shanley and his unit resulted in him receiving a Valorous Unit Award.
In addition to the heroic acts related to the capture, Crewman Shanley's distinguished service was recognized through his receipt of the Army Accommodation Medal and three Army Achievement Medals for excellence in tank maneuvering, gunnery skills and eliminating five enemy armored vehicles in a single battle. He is also a recipient of a National Defense and a Good Conduct Medal, an Iraqi Freedom Medal, a Global War on Terror Medal, an Army Service Medal, an Overseas Ribbon and an Armed Forces Reserve Medal.
Mr. Shanley's service to the veterans community is highlighted by his co-founding of Dog Tags New York in 2013. The organization provides veterans with shelter dogs who are trained to be therapy dogs for veterans. He remains very active with the group as an administrator, mentor and through veteran peer support. Shanley also volunteers for Buffalo Tunnels to Towers, a group whose annual 5K run raises money to support building smart homes for injured service members.
Mr. Shanley helped raise funds for the construction of the Western New York Iraq/Afghanistan Memorial located at the Buffalo and Erie County Naval and Military Park, which forever honors the 72 men and women who gave their lives in defense of their country. He volunteers with the Western New York KIA Memorial Road March and is an active life member of the Charles DeGlopper Veterans of Foreign Wars Post 9249 on Grand Island.
"Michael Shanley's life and career are shining examples of what the 60th Senate District Veteran of the Month award represents," said Jacobs. "I am honored to recognize him with an award that he so richly deserves," the Senator concluded.
Bret Kern - January 2020
"How Grand Island native Brett Kern turned himself into 'the best punter in the NFL," by Jay Skurski. The Buffalo News article published January 26, 2020, is a great Islanders in the News story about the 2004 GI High School graduate. Bret is the punter for the Tennessee Titans and just competed in his third straight Pro Bowl on Sunday, January 26th. For the first time, he was named as a first-team All-Pro, after playing in the league for the last 12 years. Read article
here
.
Michaela Rose Lucatra - January 2020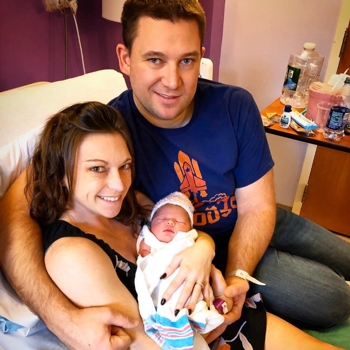 The first born baby of 2020 in Niagara County is Michaela Rose Lucatra of Grand Island. She was born at Niagara Falls Medical Center at 2:52 a.m. on New Year's Day, weighing 6 lb., 15 oz. and nineteen inches long. Parents are Lindsey (Boyle) & Michael Lucatra. Congratulations!