Islanders In The News Web Page
2022
Previous News Page
Niagara Jr. Purple Eagles Win Tournament - December 2022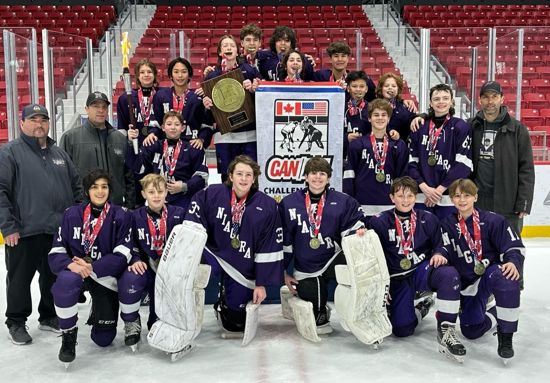 In 1980 Team USA won Gold in Lake Placid. The Niagara Jr. Purple Eagles 13U team followed up with Gold of their own this weekend (12-3-22) in Lake Placid. The Purple Eagles went undefeated in the Can/AM Challenge Cup Tournament taking all 5 games. Grand Island was well represented on the Purple Eagles. Adam Watches, Ben Sander, Grant Fox. Liam Burt, Peter DeSantis, and coach Dr. Ian Burt all played an intricate part in winning the Gold. Congratulations Eagles!
Shirley Luther - November 2022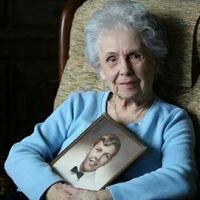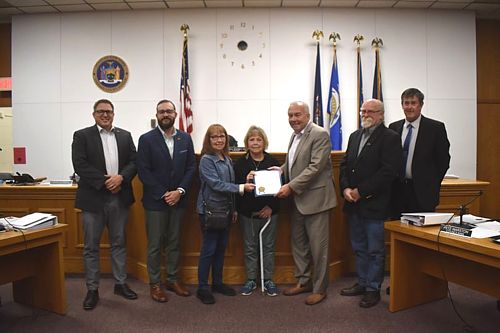 From left: Town Board Councilmen Tom Digati, Christian Bahleda, Carol Dunworth, Gail Click, Supervisor John Whitney, Councilmen Pete Marston & Mike Madigan.
Ninety-eight year old Island resident Shirley Luther is retiring from the Town of Grand Island Historic Preservation Advisory Board (HPAB) on January 1, 2023. At the Town Board meeting on Monday, November 7th, the board designated Shirley as Emeritus Member of the HPAB. This appointment is the first of its kind in Grand Island history. Shirley has served on the board since its inception in 1998. Daughters Gail Click & Carol Dunworth were at the meeting to accept the proclamation in Shirley's honor. See
Proclamation
.
Dr. Sarah Chamberlain - November 2022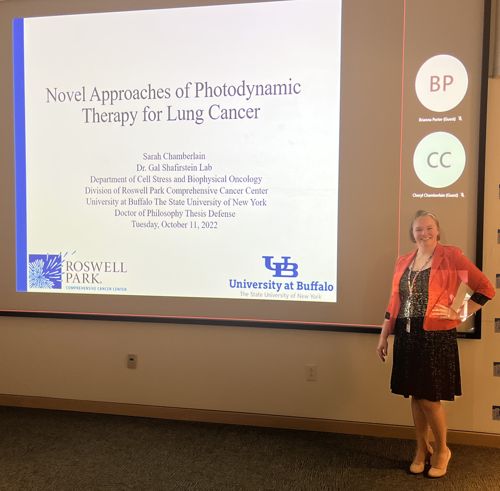 Dr. Sarah Chamberlain. Click photo for larger view.
Sarah Chamberlain, daughter of Greg and Cheryl Chamberlain, successfully defended her PhD thesis titled "Novel Approaches of Photodynamic Therapy for Lung Cancer," at Roswell Park Comprehensive Cancer Center on October 11th, 2022. Dr. Chamberlain is a 2013 graduate of Grand Island High School and a 2017 graduate of SUNY Fredonia where she studied Mathematics and Theoretical Physics. Roswell Park's Graduate Division of The University of Buffalo accepted Sarah for the doctoral program in 2017. Since then, she has been conducting research on cancer therapy, culminating with a clinical trial this past year. Dr. Chamberlain will pursue her postdoctoral work at University at Buffalo, Jacob's School of Medicine in the Structural Biology department.
Toni Watches - October 2022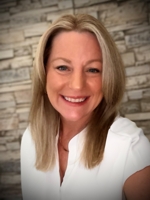 TONAWANDA, NY
- NOCO today announced Toni Watches has joined the full-service energy company as director of customer experience. In this role, Watches is responsible for developing key strategies and delivering program innovation and execution, focusing on enhancing and transforming the customer experience. "Toni will be a valuable asset to our customer experience team as we continue our 1NOCO commitment to align all of our divisions to better serve our customers with their energy needs," said James Dentinger, president, NOCO Enterprises. "In this new role, Toni will be NOCO's customer champion, supporting our customer service and inside sales teams to ensure our customers have an overall positive experience."
With more than 25 years of customer service, call center, and collections experience, Watches was most recently manager of inside sales and customer service with Modern Disposal. Throughout her career, she has also held positions of increasing responsibility with National Recovery Solutions, Premiere Credit of North America, and NCO Financial Systems. A resident of Grand Island, she has an associate degree in accounting from SUNY Cobleskill.
3AM Innovation Team - September 2022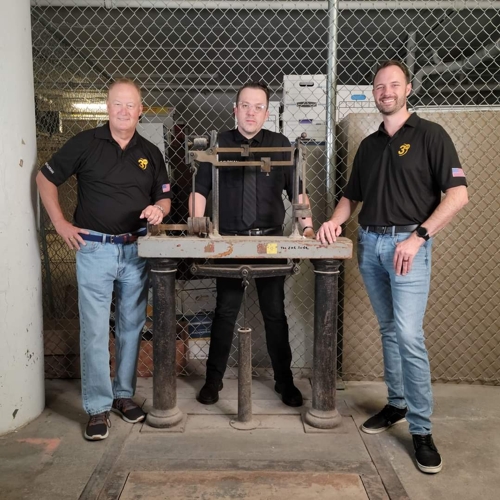 From left: CEO Mel Passarelli, COO Ryan Litt and President Patrick O'Conner in front of a clothing scale that Mel Passarelli's mother used when she worked at M Wile, home of 3AM Innovation
Island resident and former Island resident are on the same team in a technology company that helps track first responders.
3AM Innovation President Patrick O'Connor was a GI Fire Company volunteer in 2009. That year, two Buffalo firefighters were killed responding to a fire, and he decided to find a way to track first responders. With the help of co-founder and COO Ryan Litt, they created Florian software. Former resident and always an Islander, Mel Passarelli, signed on in August 2022 as CEO after many years of experience with software startups. This week two articles were written in local publications. Read
Buffalo News Article
and
Business First Article
.
3AM is looking for tech, marketing, sales and customer support roles.
Hayden Backlund - September 2022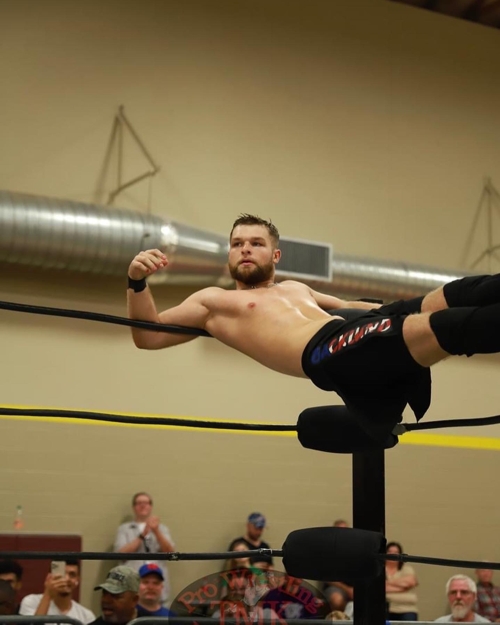 Hayden Backlund's story:
Since I was a little boy I was always into pro wrestling, my father always had it on and no matter what was going on in the world pro wrestling always remained at the forefront of my thoughts.I wrestled all throughout middle school and I was actually pretty good at it but found football to be much more fun and a better way to let my personality show.
I started training on my 18th birthday at a place called Grapplers Anonymous, weird because I'm the champion of that place now. I was there for a little bit, but didn't take it as serious as I should have. Well Covid came around and shut it down and I was lost and sent a application to this super famous school called the Nightmare Factory in Atlanta. I wrestled down south for a little bit, got to do some shows with AEW (All Elite Wrestling) and came back because nothing beats home … Go Bills!
After high school and after a few jobs, not knowing what normal career to go to after a stroke of luck happened, I was invited to train in Atlanta with WWE superstar Cody Rhodes. After a few months of that I ended up in a few segments on his reality show, Rhodes To The Top. A lot more cameras than Grand Island to say the least. When I returned to Buffalo to wrestle in the northeast, Barstool Sports got in touch to do a segment on me about future stars in Wrestling and I also worked with them on a recent show rediscovering America - Buffalo, so Barstool Backlund might be a thing in the future.
Background info: I graduated class of 2019 was on honor roll and played football all thoughout high school. My parents are Aerika Backlund and Robert Backlund all from Grand Island.
Mike Billoni - September 2022

(Grand Island)
- Mike Billoni is a household name in Western New York. Sportswriter at the Buffalo Courier Express. Former Vice-President and General Manager of the Buffalo Bisons AAA professional baseball team. Author and publisher. Founder, President, and COO of communications firm Billoni Associates.
He's a public figure that's "done it all" professionally. Now Mike is sharing his private struggle with the hopes of encouraging others that are hurting psychologically. Mike lives with depression and mental health issues ever since suffering a traumatic brain injury from a bicycle accident that happened 30-years ago this September. He was hit by a drunk driver. Spent 17-hours in surgery. Doctors did not think he would live. He survived the horrific crash. At the time of the accident, Billoni was breaking records with the Bisons. The team had just completed a record fifth of sixth straight seasons selling more than one million tickets to the downtown ballpark that opened as Pilot Field in 1988.
"Four days later, I woke up in excruciating pain. Tubes were inserted all over. A cast was on my fractured left ankle, an air cast on my right leg, a cast on a broken wrist, and my right shoulder was fractured. I saw a huge scar on my stomach where they removed my spleen to stop the bleeding. My face was a mess, a black eye, stitches on my forehead. My helmet was lodged in my skull. My parents and a doctor said if I was not wearing a helmet I would either be dead or a paraplegic," said Billoni.
Mike recovered physically. Unfortunately, Billoni's mental health issues were just beginning. He believes a deep, dark depression that struck him was directly related to the traumatic brain injury caused by the crash. He attempted suicide at the height of his depression. "I was standing at the side of the Thruway. My plan was to jump in front of the next semi. Right then, a friend drove by and stopped, thinking I had car trouble. That intervention, I believe, was divine. I looked up and said 'now what?' God told me to 'use the tools I gave you to end the stigma associated with mental illness and help the less fortunate,'" said Billoni.
In additon to walking in the 2022 "Buffalo Out of Darkness Walk" to strengthen suicide prevention efforts, Billoni also speaks to groups all over New York about the importance of reaching out for help if a single thought of self-harm creeps in. He was recently elected to the Board of Directors for the organization Recovery Options Made Easy (ROME). "I'm sharing my story to let people from all walks of life know they are not alone, their struggle is nothing to be ashamed of, and help is available," said Billoni, who noted that social media can be an avenue for people to use, a tool that did not exist three decades ago. "Facebook provides great resources for help. Crisis Services of Buffalo is active on Facebook, so is the American Foundation for Suicide Prevention. I'll hop on social media for positive affirmations that groups post. Those needing help might not be comfortable calling someone at first. That is why social media is so important. People can send a message to an agency right away if they're hesitant to call," added Billoni.
With September being Suicide Prevention Month, Billoni encourages all who are struggling to feel empowered by asking for help. Resources are even easier to obtain by calling a specially designated three digit phone number: 998. "You are not alone. You are loved. You are worthy. You are valuable, and help is all around you if you need it," concluded Billoni.
Mark S. Nemeth Joins Hurwitz Fine P.C. - August 2022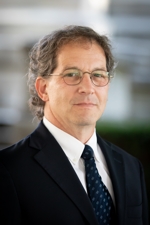 Mark S. Nemeth joins Hurwitz Fine P.C. as a Member in the firm's Toxic Tort/Environmental Law practice group. He brings significant experience representing manufacturers, distributors, and contractors with liability for asbestos-related claims. Mark also represents a wide variety of insureds including spray fireproofing contractors, pipe coverers, pump and valve manufacturers, and boiler and furnace manufacturers. An active member of his community, Mark served as Grand Island Town Prosecutor for 15 years. In 2019, he was elected Grand Island Town Justice. He has been selected to the Upstate New York Super Lawyers List. He was also acknowledged in Buffalo Business First's Who's Who of Law. Mark received his undergrad from State University of New York at Buffalo in 1987 and his J.D. from Cleveland State University, Cleveland-Marshall College of Law in 1993.
Debbie Bastian Studio Piano Recital - June 2022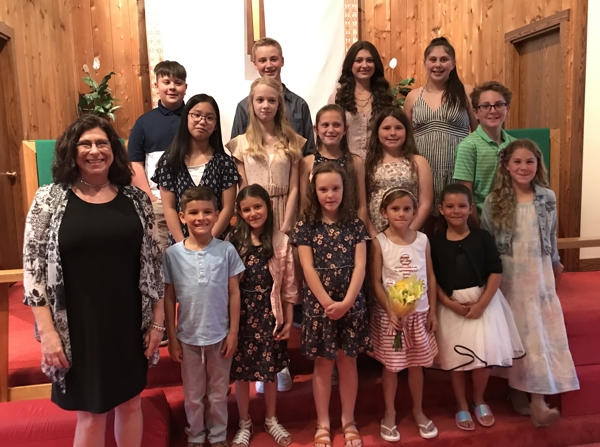 Students and Instructor Bastian at left.

Program
Another successful piano recital at St. Timothy's Luthern Church was held recently. Many of Debbie's students are from Grand Island. This year's recital was also live streamed, so out of town relatives were able to watch online.
Timothy W. Boorady, M.D. - May 2022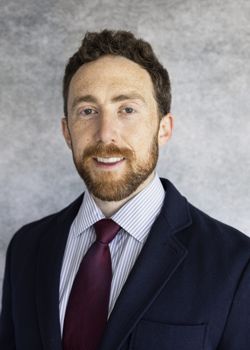 Congratulations to Grand Island High School Class of 2008 alumnus Timothy W. Boorady. On May 15th, 2022, Timothy W. Boorady, M.D. of was conferred the degree of Doctor of Medicine from Geisinger Commonwealth School of Medicine. He was also inducted into the Alpha Omega Alpha (AOA) Honor Medical Society. He will be going on to complete a Radiology residency at David Grant Medical Center in California.
Ieva Stalyga - May 2022
Island resident and student Ieva Stalyga recently wrote an essay on a topic "Going for a walk". She chose to write about Beaver Island State Park and the Niagara River.
The Niagara River
The aura of peace is everywhere around you. Children squeal and laugh around mouthfuls of ice cream, bikers swoop past on the path, and people out for a walk breathe in the fresh air.
If you were passing by, you would see a large variety of creatures along the river. Snowy gray seagulls careen amidst each other in the air, diving down into the water reluctantly; one spies an open chips bag and darts to it, managing only a mouthful before all the other seagulls notice and fly over, shoving each other away. Their raucous cries fill the air, along with the gentle waves. Terns, much smaller and graceful, examine the area with their dark heads, in which a set of sparkling black eyes surveys their surroundings carefully. They scream loudly, and plunge into the water fearlessly, emerging triumphant with a brightly colored beak full of food. Ravens and eagles roam the skies as well, enjoying the fresh air currents and the magnificent view. Along with our avian fellows, there are squirrels. These cheeky rodents race along the ground in search of nuts, berries, seeds, and anything they can get their tiny paws on. One has found a nut; it perches on a picnic table, its snowy belly shivering as it nibbles on the treat. A cat occasionally zooms past, on its way to receive pats and kisses from its owner. All kinds of small birds sit on the branches of the many species of trees, chirping to their heart's contentment. Ducks and geese float calmly in the current, sticking their feathery bottoms up an their beaked heads down into the bottom of the river, in search of food. Dogs of all kinds trot past with their owners in tow.
Humans also enjoy the river, engaging in a myriad of activities. They fly along the path with rollerblades, bikes, skateboards, scooters - you name it. Most of the people along the Niagara River walk along peacefully, and delight in the beautiful views. People sit on benches, doing various things, or just sitting and existing. They eat, read, hug, smile. The River triggers a variety of emotions in humans.
The view is amazing. Green vibrant trees line the path, changing color with different seasons. It is spring now; the air is filled with the smell of rain, a cool breeze blows, and the trees are bright green. The shoreline is somewhat covered with large boulders, leading down to the river, which is dark blue, gray, or light blue, depending on the weather. The water shimmers, and fish float lazily among the seaweed. Boats and jet skis race through the water, making large waves that tilt the ducks and geese from side to side.
The Niagara River is a truly magnificent marvel of nature, and one that inspires people.
Katherine Hastings - April 2022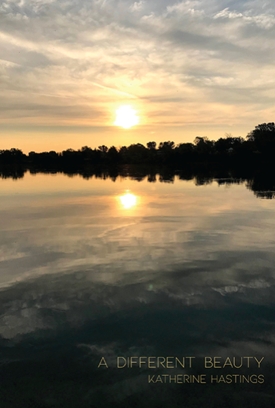 Grand Island the Center of A Different Beauty. Fourth collection of poems by Islander Katherine Hastings.
In October 2017, the worst wildfire in California history at the time blew through Napa and Sonoma Counties destroying 6,000 homes overnight. By March 2018, Katherine Hastings left her Santa Rosa home to relocate on Grand Island to be near family, and to be surrounded by water. In California, she was poet laureate emerita of Sonoma County and the host of WordTemple on NPR affiliate KRCB. Describing herself as largely a poet of place, Hastings began writing her fourth collection, A Different Beauty (Spuyten Duyvil NYC, 2022) once she arrived on Grand Island.
The book opens with one poem from her childhood home in San Francisco, transitions to the wildfire, moves on to poems from Grand Island, the pandemic and more. But it is the Grand Island poems that are the spiritual center of the book and the section that gives the book its title. Many Western New Yorkers have expressed a re-discovery of the beauty of our region by reading poems like "Beaver Island" and "Dear California, I Write to You From an Island In the Niagara River." Here is the latter poem in its entirety:
Dear California...
. A Different Beauty — poems by Katherine Hastings is available from spuytenduyvil.net and amazon.com.
Brooke Chamberlain - February 2022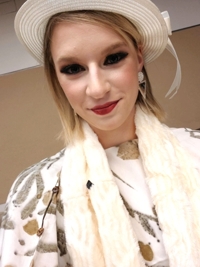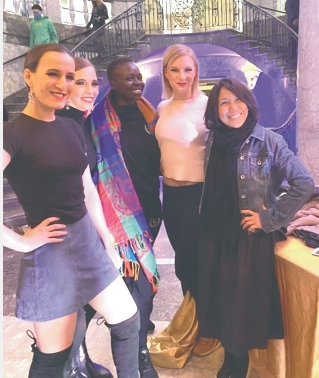 At right: Brooke Chamberlain with boutique owner Novi Sasmita Batik.
Brooke Chamberlain, daughter of Greg and Cheryl Chamberlain, recently had the opportunity to model on the red carpet for New York Fashion Week. Brooke modeled clothes from Indonesian designers in the heart of Manhattan. The venue, 48 Wall Street, was originally the Bank of New York and Trust Company Building built in 1927 and is now a beautiful place for arts and events. This experience could not have been possible without the assistance of Novi Sasmita Batik, owner of her own boutique locally at 43 1/2 Allen Street in Buffalo. Novi is an amazing entrepreneur and invited Brooke to walk for her friends and designers from Indonesia at New York Fashion Week.
Matthew Zarbo Promotion - February 2022
Buffalo, NY – February 11, 2022
Barton & Loguidice, (B&L), a northeast regional engineering, planning, environmental, and landscape architecture firm announces that one member of the firm's Buffalo office has received a senior level promotion in 2022. Island native Matthew J. Zarbo, P.E., has been promoted to Managing Engineer. A resident of Buffalo, NY he received his B.S. degree in Civil Engineering from Clarkson University. Zarbo is a member of the firm's Water Resources Practice Area out of the Buffalo, NY office.
PJ Marston - January 2022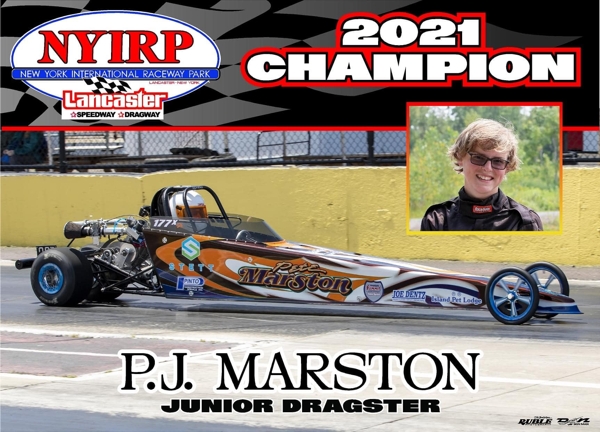 PJ Marston made the drag champ top 10 in the country in his age group. He won 9 out of his 11 finals and took home the Empire Dragway track championship and the Lancaster track championship. Great job PJ!
Adam DeRose - January 2022
Rochester, New York - December 29, 2021
The Moose's Video Game is the first video game based on the Moose-Books series, which are children's books about a traveling moose. The Moose is brought to life in this fun and simple game, which is based off of the first moose book, "The Moose Who Went South For Winter." In the game, you play as the Moose, who is trying to get to Florida for the winter. But watch out, there's a hunter named Kevin, who is trying to prevent your winter vacation in this cute, retro but modern, side scroller.
The two year project started accidently during the summer of 2019. Parker, the son of Adam DeRose (the guy behind the Moose-Books series), discovered his dad's old Sega and Nintendo. Parker enjoyed the games, but quickly became frustrated with the games and after throwing the controller, he shouted, "Why is everyone trying to eat me or shoot me?" That was when the light bulb went off in Adam's head and he decided to make a video game based upon the Moose-Books for his children! Not knowing how to computer program, Adam asked around for help. Adam's friend Rob mentioned that his childhood best friend, Jarell Pryor, did freelance computer programming. Jarell and Adam shared game development. While Jarell programmed the game, Adam illustrated the artwork, and Adam's three kids provided the sound effects. And yes, the bad guy himself, Kevin Allen, lent his voice. Jayson Earles, cousin to Adam, used his musical talent to make the game's retro game sound.
"I like playing the Moose Game. Can I play it again? Before bed?" – Parker DeRose The game is available for free! PC players can download the game or play it in the browser. Apple users are more than welcome to play the game in the browser. The mobile device version is in development. https://adamderose.itch.io/the-mooses-video-game. Jarell Pryor's work can be found at https://www.JarellPryor.com.
Adam is originally from Grand Island, New York. After graduating from St. Joseph's Collegiate Institute, he attended Daemen College, where he earned a BS in Art in 2007. Adam furthered his education, receiving an Associate's Degree in Automotive Technology from Monroe Community College in 2011. Adam currently lives in Rochester, New York with his wife Shannon and three young kids.