William M. Kaegebein Elementary School
News Page 2018
1690 Love Road
773-8840

Previous News Page
Kaegebein Elementary School District's Website

Principal
Mary E. Haggerty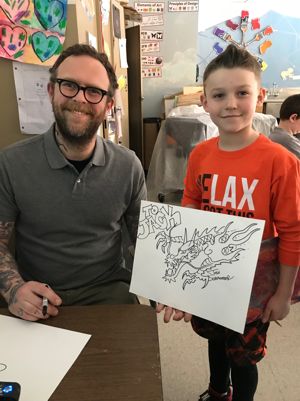 Joshua Schlageter with 3rd grade student Jack Heider.
Visiting artist, Joshua Schlageter, came to KaegebeinElementay School on Friday, March 9th to share his art medium with the students in Keri Schlageter's art classes. Josh is an accomplished local tattoo artist. During his visit he talked about the art and history of tattooing, and taught students how to draw a traditional rose and a Chinese dragon. We really enjoyed his visit and appreciated his time!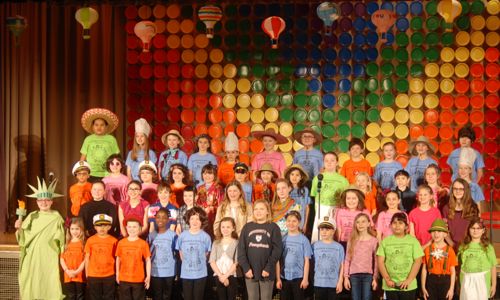 Cast photo, click for larger view.
Kaegebein Elementary presents the musical "It's a Small World" on Thursday and Friday, March 8 & 9th at 7:00 p.m. at the Kaegebein Auditorium, FREE!. Music teacher Renee Michki is directing the show that travels the world through music. See
program
.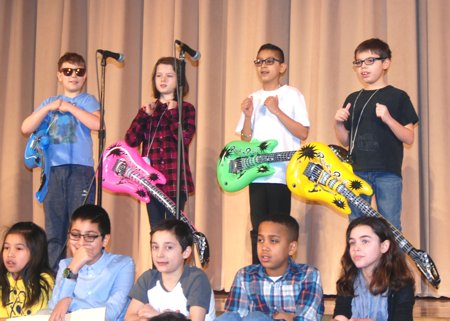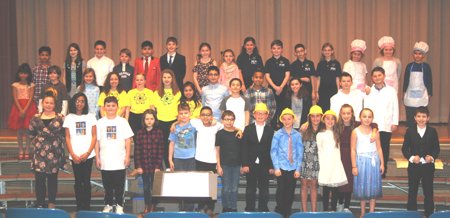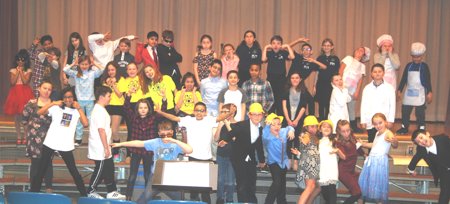 Top: Scene from play.
Middle: Cast Photo. Bottom: Crazy Cast Photo.
Click middle and bottom for larger view.
The 4th grade classes of Mrs. Kathy Chadwick and Mrs. Carolyn Gallagher at Kaegebein Elementary presented a science oriented play on Friday, February 9, 2018. The students gave a lesson in matter through the premise of a tv talk show, "Morning Mishmash with Chad, Nina, Alex and Sam." Mrs. Chadwick and Mrs. Gallagher's plays always have a healthy dose of humor along with numerous cute songs.