William M. Kaegebein Elementary School
News Page 2018
1690 Love Road
773-8840

Previous News Page
Kaegebein Elementary School District's Website

Principal
Mary E. Haggerty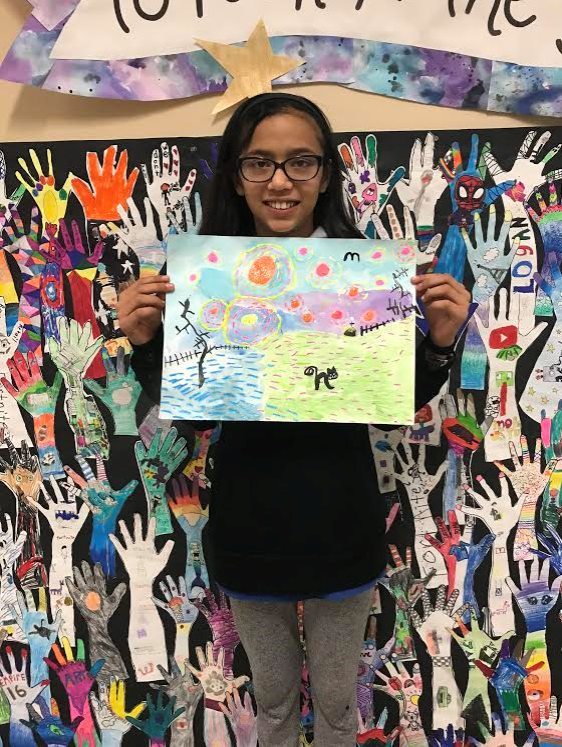 Kaegebein November Artist of the month - 5th grader, Elizabeth Frisbie
. Elizabeth Frisbie was chosen as Kaegebein's artist of the month for November because of her actions and attitude in the art room. Not only does Elizabeth love creating art and always try her hardest, she is the first to ask how she can help. Elizabeth is always willing to clean up supplies and help friends who are falling behind or catch up absent students when they return. Art wouldn't be the same without Elizabeth!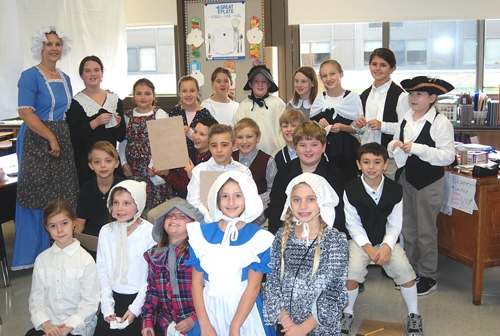 Click for larger view
. Mrs. Cathy Chadwick's 4th grade class at Kaegebein Elementary School celebrated "Colonial Day" on Monday, November 19th. This day is based on a class novel the students read called "Felicity Learns a Lesson". The girls prepare the dinner meal. They make applesauce, butter and peel and mash potatoes. The boys learn lessons from hornbooks. The girls learn how to cross stitch and have a tea party. The boys learn about Colonial occupations and construct a sign to go with an occupation they are interested in. Both the boys and girls make soap, carve soap, write with a quill feather and ink and stencil. All the boys and girls enjoyed this authentic experience of colonial times.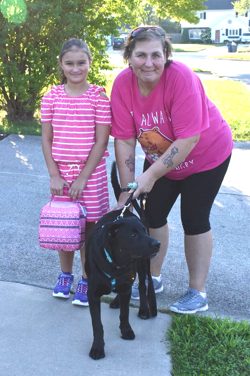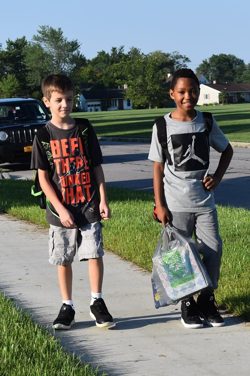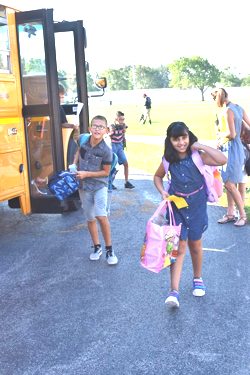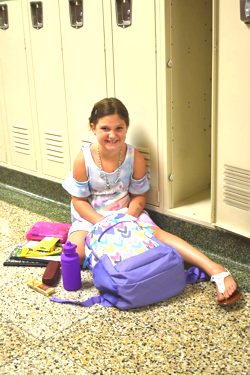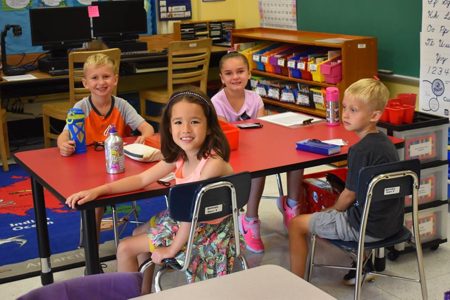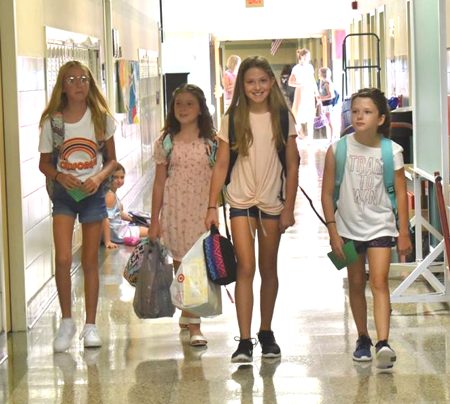 Mary Stewart photos.
The first day of school for the Grand Island School District was Wednesday, September 5, 2018. One of the hotest and muggiest days of the year!
Grade 4, from left: Jeremiah Zherebilov (T-2nd), Preston Pickard (1st), Reilly Smith (T-2nd), with Cyndy Montana.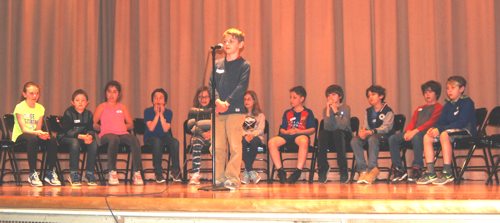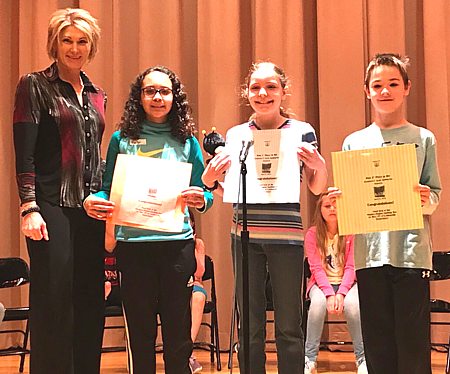 Grade 5, from left: Cyndy Montana, Kailyn Stedman-Pate (3rd), Lorelei Popp (1st), Drew Birtz (2nd).
Kaegebein Spelling Bee for 4th and 5th grade students was held on Tuesday, April 24th in the Kaegebein Auditorium. Each class held their own spelling bees, with the top three competing for the Kaegebein crown. The top three from each grade are headed to Lyndonville, NY on Saturday, May 19th for the Niagara Regional finals. Cyndy Montana organized the event and Principal Mary Haggerty was the pronouncer. Congratulations to finalists: Grade 4 Winners: Preston Pickard (1st), Jeremiah Zherebilov and Reilly Smith (T-2). Grade 5 Winners: Lorelei Popp (1st), Drew Birtz (2nd), Kailyn Stedman-Pate (3rd).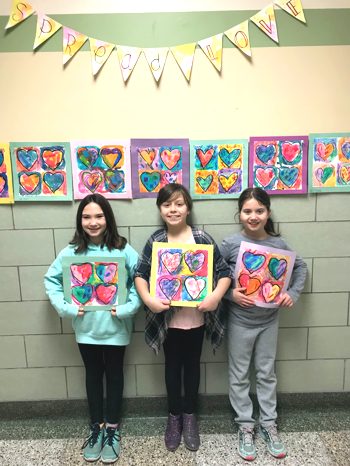 From left: Featured Grade 3 Artists: Abigail Toth, Reese Grover, Gianna Gallegos.
In February, students at Kaegebein created Valentines for Vets in Mrs. Keri Schlageter's art class. They were mailed to our service Veterans to help brighten their Valentine's Day and let them know the students deeply appreciate their sacrifice and are thinking of them and all they have done for us.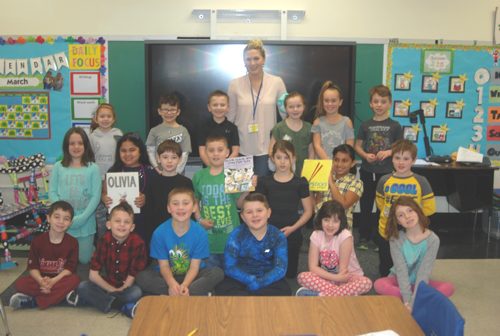 Mrs. Catherine Joynt with second grade students. - Click for larger view.
Kaegebein Elementary School celebrates its annual "Parents As Reading Partners" program in March. Every year during "PARP week" members of the community are invited to come into the school and read to the students. On Thursday, March 29th, I (Jodi Robinson ) went to the second grade class of Mrs. Catherine Joynt and read three books to the students. The students took a vote on which book to read first, second and third. The order went "Chopsticks", "Click, Clack, Moo, Cows That Type" and "Olivia." I really enjoyed my time interacting with the kids. Ask your children about the books and which book they liked best.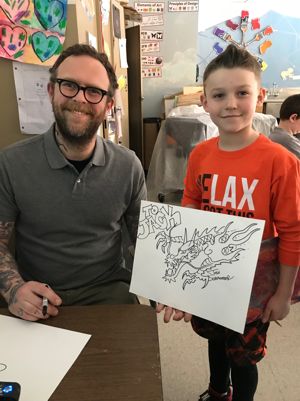 Joshua Schlageter with 3rd grade student Jack Heider.
Visiting artist, Joshua Schlageter, came to KaegebeinElementay School on Friday, March 9th to share his art medium with the students in Keri Schlageter's art classes. Josh is an accomplished local tattoo artist. During his visit he talked about the art and history of tattooing, and taught students how to draw a traditional rose and a Chinese dragon. We really enjoyed his visit and appreciated his time!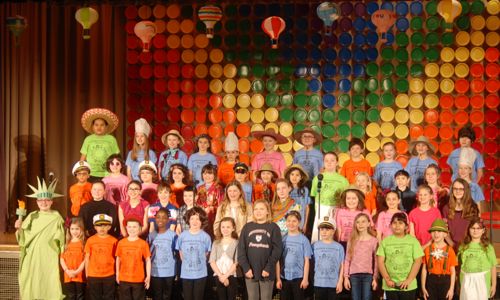 Cast photo, click for larger view.
Kaegebein Elementary presents the musical "It's a Small World" on Thursday and Friday, March 8 & 9th at 7:00 p.m. at the Kaegebein Auditorium, FREE!. Music teacher Renee Michki is directing the show that travels the world through music. See
program
.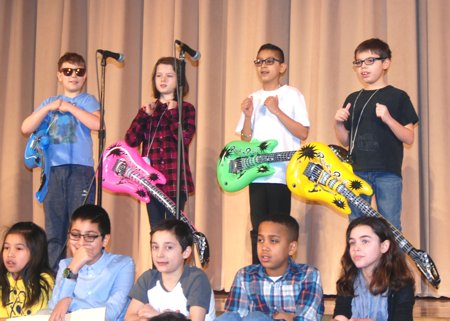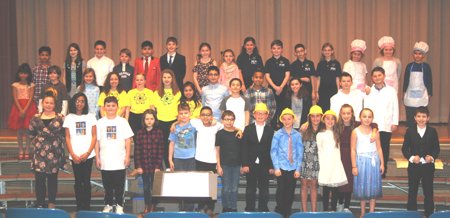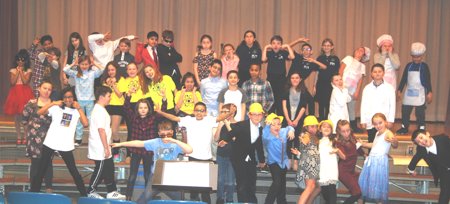 Top: Scene from play.
Middle: Cast Photo. Bottom: Crazy Cast Photo.
Click middle and bottom for larger view.
The 4th grade classes of Mrs. Kathy Chadwick and Mrs. Carolyn Gallagher at Kaegebein Elementary presented a science oriented play on Friday, February 9, 2018. The students gave a lesson in matter through the premise of a tv talk show, "Morning Mishmash with Chad, Nina, Alex and Sam." Mrs. Chadwick and Mrs. Gallagher's plays always have a healthy dose of humor along with numerous cute songs.