American Legion #1346
2020

Previous American Legion News

The American Legion
Click to view.






American Legion Meetings are held 7 p.m. the last Wednesday of the month
In the meeting room of the Loyal Order of Moose #180
2524 Grand Island Blvd. Grand Island, NY 14072

We welcome all veterans that would like to become members.
---
Commander Ray DeGlopper, rayd2198@aol.com, 773-4479
1st Vice Commander Joseph Mesmer, gijoebred@yahoo.com, 773-5651
2nd Vice Commander Patrick Soos, patricksoos@mckesson.com, 258-1509
3rd Vice Commander Mark Manthie, mmthei@roadrunner.com, 368-1019
Adjudant George DeGlopper, 773-5333
Finance Officer Peter Kuszczak, pkuszczak@roadrunner.com, 773-6459
Judge Advocate Joe Synakowski
Sgt-at-Arms Garry Duetschlander, Chaplain Joe Mesmer
Service Officer Patrick Soos, Recording Secretary Amy Garten
---
Mission:
Service to veterans. Information for various benefits due veterans of all services, national and community affairs
Help:
Help in recruiting recently discharged veterans and those veterans who do not belong to at least one veterans organization
Strengths:
Largest veterans organization in the world.
Ideas:
The many veterans living on Grand Island are a great untapped source of community involvement. They are encouraged to help the various programs in the town.
American Legion Scholarship Winners - June 2020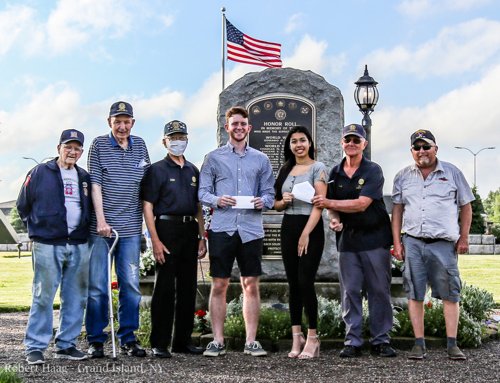 From left: Joe Synakowski, Garry Deutshlander, Peter Kuszczak, Sean Rustowicz, Monica Cortes, Ray DeGlopper, Joe Mesmer .
Robert Haag photos.
On Tuesday, June 23 the American Legion Post 1346 presented the Annual Scholarship Awards to : Sean Rustowicz, and Monica Cortes.
American Legion Flower Sale - May 2020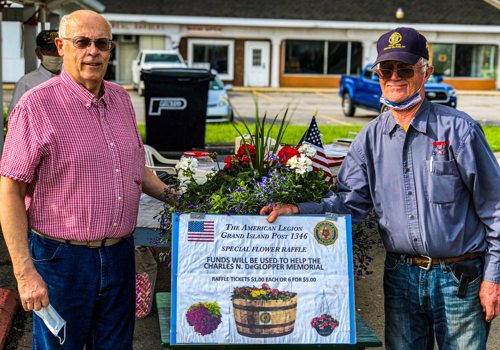 Raffle winner John Hurld with American Legion Commander Ray DeGlopper. Jerry Cahill photo.



Robert Haag photos.
The American Legion hosted their annual flower sale on Friday & Saturday, May 22 & 23 at the DeGlopper Memorial Park. It was a great success! The large parking lot made it easier to social distance and offered a larger area to display the baskets. 3,400 plants were sold at the event. he remaining flowers from the American Legion Post 1346 Annual Flower Sale can be purchased at the Thompson Farms located at 2487 Long Road, Grand Island, NY 14072.
American Legion Flower Sale - May 2020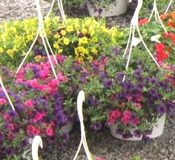 The Annual American Legion Flower Sale is moving from Mother's Day weekend to Memorial Day weekend. It will also move to the Charles DeGlopper Memorial Park, at the corner of Grand Island Blvd. and Baseline Road, for better social distancing. It will take place on Friday & Saturday, May 22nd & 23rd beginning at 7:00 a.m. See
flyer
.
To All Veterans and Members - February 2020
The American Legion, Grand Island Post #1346 general meeting is Wednesday, February 26th at 7:00 p.m. at the Loyal Order of The Moose Lodge, 2524 Grand Island Blvd. All members are requested and urged to attend, you are an important part of the American Legion.Your input is important. The American Legion is the largest Veteran Organization in the world and welcomes all eligible veterans to join and help keep benefits you have earned while serving your country. Help US help you and your Community,
To All Veterans and Members - January 2020
The American Legion, Grand Island Post #1346 general meeting is Wednesday, January 29th at 7:00 p.m. at the Loyal Order of The Moose Lodge, 2524 Grand Island Blvd. All members are requested and urged to attend, you are an important part of the American Legion.Your input is important. The American Legion is the largest Veteran Organization in the world and welcomes all eligible veterans to join and help keep benefits you have earned while serving your country. Help US help you and your Community,