LETTERS TO THE EDITOR 2022
Previous Letters to Editor Page

Letters To The Editor must include a name and contact (phone/email) and may be Emailed to
Editor or addressed to: Letters to the Editor, 1871 Whitehaven Road, Grand Island, NY 14072

One admission every three weeks limit.


Two Modest Proposals - May 2022
I am putting forth two proposals that I believe should be completely non-controversial and should be acted upon immediately. Now, these proposals are not satire as was the original "A Modest Proposal" by Jonathan Swift. I am dead serious about these.
The first proposal is that the presentation to the public of the proposed budget should be held the week after it is approved by the School Board. Current practice is to approve the budget at the second Board meeting in April and hold the public hearing prior to the first Board meeting in May, typically three weeks later. This is a week before the vote. There is no reason for this delay. Using this year as an example, the budget was approved on Tuesday, April 19th, (Easter was on the 17th so the Board meeting wasn't held on Monday).
The presentation to the public was on Monday, May 9th, three weeks later. The presentation to the public should have been on Monday, April 25th. It should NOT be held the same evening as a Board meeting. It used to be held on a separate night so all attention could be devoted to it. This is a very simple action to take. It should be done. Ask the Board members if they are in favor of doing so. Make them look you in the eyes and give you a direct answer.
We all know why the presentation is made a week before the vote and sandwiched in between the executive session and the public board meeting. They really don't want to have to answer any questions or give the public time to digest the budget and its implications. Again, make them give you a direct, coherent justification (they can't) for not adopting this proposal.
The second proposal is a bit more discomfiting but should be done, also. The vote should be held at the Fire Hall. We have held a number of referenda there. It clearly is easy to do. It is a central location. Those who live on the south end of the Island won't have to trek to the north end.
The Board and administration will be opposed, of course. Why, you may ask. It levels the playing field for challengers by having the vote on a neutral site. Currently, the deck is stacked against challengers. Anyone who has paid any attention knows that they schedule concerts for the evening of the vote, offer take-out dinners, and, this year, had an art exhibit by Kaegebein students. Their brazenness would put a Chicago ward boss to shame.
Again, demand the Board members justify why they are opposed to doing this, if they are. Make them look you in the eye and tell you, with a straight face, why it isn't possible. If they do that, make them give their reasons. (We should have a contest for the most inane reason.)
Both of these proposals should be acted upon and implemented, going forward. (Note: all votes, i.e., capital projects; should be held at the Fire Hall, not just the budget and Trustees vote.) Opposition to them by the Board will give a clear picture of the contempt they have for the public. Make them do the right thbing.
Jim Mulcahy
Importance of Arts - May 2022
Having to balance a budget where art is a line item can be a challenging proposition, and putting a price tag on art education can be like appraising the value of love or soul. This is about something greater than balancing career opportunities. Art is a place where some kids actually find meaning in their overall life. A creative experience cannot be evaluated with ordinary metrics as its success cannot be measured in dollars and cents. Yet, the power of art can move human beings and sometimes it even saves lives. When I think back on my four years at Grand Island High School, I can tell you with certainty, it was the art room with Bill Maggio where I found refuge. This is where my adolescent character was given the needed space to be awakened.
Later this week I'll be back on Grand Island to celebrate my mother's 99th birthday. She taught at Grand Island High School and continues to live on Whitehaven Road in the family home I grew up in. She still goes to Tops where people regularly stop her to say how their art experience in her class room continues to be meaningful to them to this day.
Educating kids is about legacy. We have to ask, what kind of community do we want to create for the next generation. I want these kids to become adults that are rich in purpose, that are driven by care and concern for other human beings. I have to imagine what might have turned out differently for me without the great art department of the 1970s at GIHS.
* Would I have created the Common Ground World Project at the United Nations in New York?
* Would my artwork be in the collections of fifty museums in many countries?
* Would my artwork be hanging outside of the auditorium at GIHS?
I urge you to please reconsider the importance of the arts at Grand Island High School. At a time when the world has gone digital, our kids need less time in front of screens. More than ever they need tangible studio art. Please keep our wonderful art programs intact. Our legacy depends on it!
Neil Tetkowski
Thank You Island Neighbors - May 2022
Grand Islanders - On behalf of the entire Board of Directors, I would like to thank you for your bountiful contributions this past weekend with the Letter Carriers' food collection that benefited our organization.
Through your amazing generosity, we are well postured to support our neighbors who require assistance through the summer and into the fall. Of course, we could not have done it without the superb efforts of our Grand Island Letter Carriers who collected and brought all the food to our pantry. Please join us in thanking them for what they do each and every day, and especially their extra effort and selfless service in gathering the food donations this past Saturday.
We would also like to thank the Kiwanis Club, representatives from Grand Island High School, and all our volunteers who spent hours organizing and sorting the food. Thank you once again Grand Island for your continued support of the Neighbors Foundation as we remain committed to providing confidential food assistance to our neighbors. If you need assistance, please contact us at 716-775-7998.
David Conboy
Grand Island Neighbors Foundation
Please Vote! - May 2022
Next Tuesday, May 17th, is the date for the School District budget vote and the vote for two Trustees. Your vote matters. The vote takes place at the High School between 8am and 9pm.
This year the budget requires a 5.59% (that isn't a typo) tax rate increase, based on the current assessed values. Let this sink in: a 5.59% increase. I guess when you have wages that go up automatically every year; guaranteed, defined benefit pensions; and gold-plated healthcare coverage; 5.59% is chump change. To most, however, it is a big deal.
The bad news is that it is going to get worse if nothing is done to stop the impending train wreck known as requiring all new buses after 2027 to be all-electric. This is a ludicrously bad idea. It is virtue-signaling by people in Manhattan who couldn't find Malone, Herkimer, or Grand Island on a bet. It won't make an iota's worth of difference in global warming. It will devastate people's finances. I don't detect any effort to challenge this any more than the lockdown or mask mandates were challenged.
Clearly, there needs to be new thinking on the Board which is why I am running. Please come out and vote for both your pocketbooks and the well-being of the students. Ask, beg, cajole your friends and family to also come out to vote. The winning combination is Jim Mulcahy (that's me!) and Sherry Steffans.
Thank you,
Jim Mulcahy
Spring Flag Raising at DeGlopper Memorial - May 2022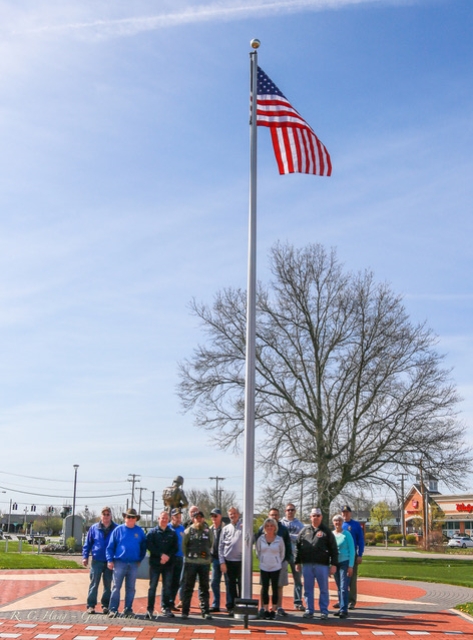 Photos by Robert Haag
On April 30th a group of people from the DeGlopper Memorial Committee, American Legion Post 1346, VFW Post 9249 and the Moose Lodge #180 gathered at the memorial to raise all new flags at the site.
Fifteen people were on hand to raise the flags of all the armed forces, consisting of Army, Marine Corps, Navy, Air Force and Coast Guard. The memorial looks very impressive with all the flags flying once again. One of our Legion members drove from the Auburn, NY area on very short notice to help participate. Many thanks to him for his effort to join us and to all others who make themselves available for our projects.
Thank you to those who donated toward the purchase of new flags. The committee continues to request monetary donations for the ongoing maintenance and completion of the memorial project. We thank those who have and continue to donate throughout the duration of this endeavor.
Ray DeGlopper, Commander, American Legion Post 1346
We Can Do Better - April 2022
Yes, I am running again this year for School Board. I was asked to consider doing so and, after some reflection, decided to do it. Now, one of my oldest friends on the Island, dating back to 1961, thinks I am nuts. He is right. Another friend of over 50 years, from Grad School, thinks I am doing the honorable thing. He, also, is right. While the budget is still an issue, primarily due to decisions that were made in the past that we are stuck with, it isn't the primary reason that I am running. The past two years have shown the indifference toward and, in some cases, outright neglect of the well-being of our students. The claque in Albany dictated to the schools throughout the state. As usual, it was a one size fits all approach. That is bad enough in serene times, much less in the chaos inflicted by Covid. Further, many of their diktats were not based on science as they should have been. There was no cost-benefit analysis done of the collateral damage caused by their decisions.
I was shocked by the passiveness with which almost every district accepted these orders. Neither the governor or the DOH was ever compelled to provide evidence as to why their approach was appropriate. The will of the parents, who pay the taxes, was ignored. Of course, it is always ignored. The high-priests of education don't like to be challenged or second-guessed. We hear about communication, but it is just a buzzword. The Voice of the People at Board meetings is basically a social safety-valve, nothing ever comes of it.
This is what drove me to run. I will not take as an answer: "Because I/We said so." There has to be a clear benefit from taking said action instead of another. I will push to have the Voice of the People section of the Board meetings restructured so there is dialogue. Also, we definitely need to encourage students to consider going into the trades. Finally, I haven't forgotten about the budget. I have an MBA from the University of Chicago, specializing in finance and accounting. I know budgets.
Please come out on May 17th and support me. Ask/beg/implore (!) your friends and neighbors to do the same. WE CAN DO BETTER!
Thank you,
Jim Mulcahy
Airline Overbooking Petition - April 2022
My family had a horrible travel experience in February 2022 at the Buffalo Airport which cost us unplanned peripheral expenses including financial/time/mental losses. This policy was immediately related to the routine practice of overbooking by airlines, and it's all legal but heavily weighted to the benefit of the industry with little to no regard for the personal economics let alone respect of time for the average consumer.
Our flight was oversold by 11 seats and although we had boarding passes with seats, we were randomly selected along with the others. (It was oversold by 5 seats on the way back too!). We missed a few days of our vacation and the frustration was that it was NOT do to uncontrollable factors such as weather, mechanical/technical issues, or staffing shortages. This was and is an intentional practice by which the plane is oversold to minimize the AIRLINE'S losses. I assure you, we have lost a lot of money and efforts for full reimbursement are not easy to pursue.
I am trying to make something positive come from this experience by working to have change implemented in the airline industry. I have started a petition outlining the detail. It lists and links to the law as it reads in our CFR, and am seeking support by consumers to push Congress to update the parameters by which airlines can utilize this currently abused tactic. https://www.change.org/overbooking. Thank you for supporting if you feel comfortable!
Melissa Hartwick
First GIHS Grad Class - January 2022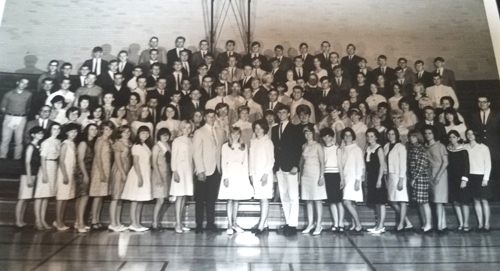 Click photo for larger view.
The article and photo are from 1966. Grand Island Senior High School's First Graduation Class. When we entered this brand new high school we were basically 3 year seniors. We had no upper classmen. Thus, we carved the way for Grand Island Senior High School. The
article
in the Buffalo Evening News published in 1966 is a great example of how we came about.
A 24" x 36" framed photo was made from the original that the late Terry Swain kept for many years. The framed photo was displayed at our 50th reunion and our 55th reunion. We truly would like to see this framed photo of the First Graduating Class of 1966 displayed and acknowledged in our High School. We hope this comes to the attention of the School Board and the Principal.
Thank you in advance.
Nancy Buckley Valone
Add Class of 1966 - January 2022
As a member of the first graduating class of Grand Island Sr. High School, I request that a framed class picture be accepted and prominently displayed with the other classes. Since our class was responsible for making most of the decisions for the class/school that remain today such as school colors, Vikings, motto, yearbook design etc., we deserve a place of notice in our school.
Suzanne Burk Ryan - '66