Little League Baseball Webpage
Previous Little League News Page

"Little League" Official Website

Official Grand Island Website

For forms and more information: www.grandislandll.com


---
Grand Island Little League Baseball Mission: to provide baseball and softball
to the youth of Grand Island, to build good citizens, sportsmanship, leadership and teamwork.

---
Little League Season: May through July.
The League had 63 teams with games for house teams and tournament teams (All-Stars).
There were over 800 girls and boys between the ages of 5 and 18 participating in 2006.


---



Little League Food Drive - June 2012
The Grand Island Little League will be holding its annual food drive to benefit the G.I. Neighbors Foundation on Saturday, June 9th. Donations of non-perishable food items can be made at any diamond or at the snack stand throughout the day.



Grand Island Little League Opening Day - May 2012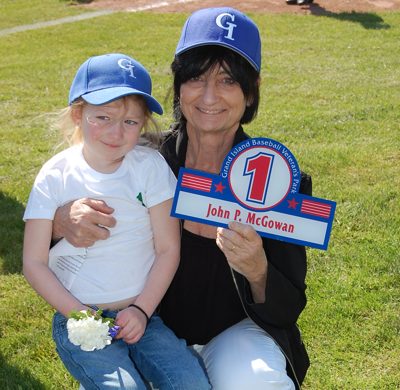 Mrs. John McGowan and child.
Little League Baseball on Grand Island started off the 2012 season with opening day festivities in Vets Park on Saturday, May 12. Included in the ceremonies was the National Anthem beautifully sung by Miss Spanbauer followed by recognition of town officials and the awards ceremony. One of the highlights was the dedication of Diamond 1 in honor of John McGowan, who was one of the founders of Grand Island Little League. Todd Callen was emcee for the event. The weather couldn't have been nicer for the kick off of the baseball season and players officially could "play ball." See
Slide Show
with photos by Mary Stewart.



Grand Island Little League Dedication to John McGowan - May 2012
A dedication is planned for John McGowan, one of the founders of the GILL organization, at the opening day ceremonies on Saturday, May 12th at 8:45 a.m. Everyone is welcome. See the
flyer
for more details.



Grand Island Little League Opening Day - May 2012
Grand Island Little League's opening day ceremonies are being held Saturday, May 12 in Vets Park, Bedell Road with the parade starting at 9 a.m.
The following is the Little League Opening Day Schedule Opening Day Schedule. See
Opening Day Schedule
February is Grand Island Little League Registration month - Feb. 2012
February is Grand Island Little League registration month! We now have a new on-line registration form available on grandislandLL.com. We encourage all to use this format to get your players signed up for the 2012 season. There will be a one time registration date THIS SATURDAY at the GI Memorial Library (FEB 4th) from 10:30 am to 1:30 pm.