Veronica E. Connor Middle School
2020
Principal
Mr. John Fitzpatrick
Veronica Connor Middle School District's Web Page.
Previous News Page
VCMS Student Artist of the Month - February 2020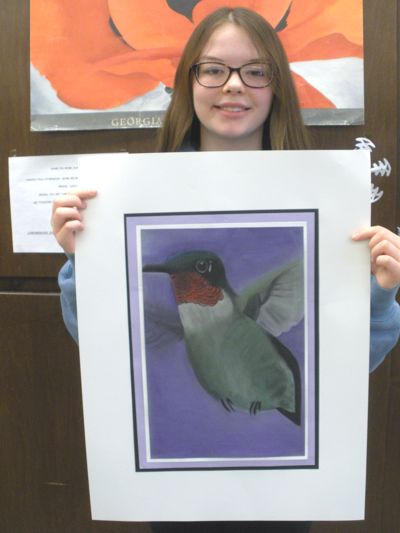 Pictured is Kayleigh Lockett with a work recently completed in class.
Kaleigh Lockett, an accelerated eighth grade student at Veronica Connor Middle School has been selected as the K-12 Artist of the Month for February, 2020. Says Kayleigh; "art is important because it is used to express feelings and emotions. It is much easier doing that with art than with words."
Kayleigh is inspired to make art by the world around her. Nature, animals and looking at the work of other artists are frequent sources of inspiration for this student. Her favorite style of art is Realism, a type of art in which Kayleigh is particularly adept. She is depicted here with her pastel hummingbird painting, realistically rendered and inspired by the artist Georgia O'Keeffe.
Kayleigh's art teacher says that she is an exceptional student who always strives to do her very best. Her work depicts a great deal of thoughtful preparation, precision and a meticulous command of media. While her favorite medium is pencil, this student displays command of every medium that she's explored in class.
Coming from a family, where mom, dad and grandma are all artistic as well, has allowed Kayleigh to explore the arts through family trips to museums and showered her with support, guidance and encouragement in all of her artistic endeavors. Her favorite art memory was made as she and her family recently visited the Metropolitan Museum of art in New York City. While she is not planning an art career at this point, Kayleigh is certain that it is something she will pursue and a way of viewing the world that will always remain important to her. The art department is proud of Kayleigh's exceptional accomplishments and is pleased to select her as this month's K-12 Artist of the Month.
VCMS Hosts Leadership Conference - January 2020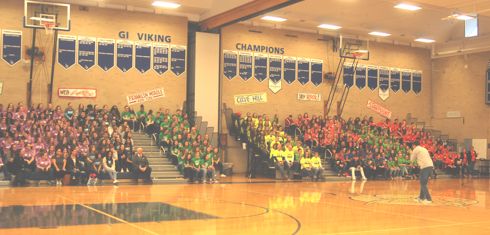 Approximately 400 students participated at the WEB Conference.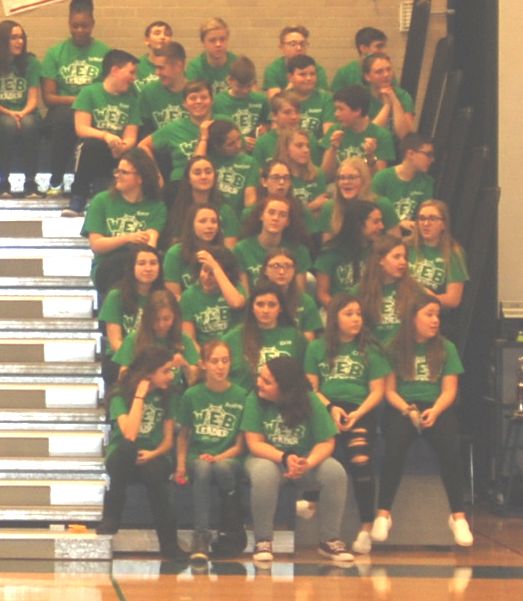 The Grand Island participants.
Veronica E. Connor Middle School hosted a WEB student leadership conference for over 400 Western New York students on Tuesday, January 28th. WEB stands for Where Everyone Belongs. It is a mentor program that pairs eighth graders up with sixth graders at the start of middle school, or seventh graders with fifth graders in buildings that serve those grades. The WEB leaders help the younger students transition into middle school. The goal of the conference is to allow area WEB leaders to share their experiences regarding their WEB program, discuss different ideas from different schools, and bring those ideas back to their own programs. In addition, the WEB leaders will be able to build positive relationships with their peers.
"We are excited for the WEB leaders to meet other like-minded WEB leaders from the area who are determined to be positive role models for others in their school," noted Jillian Stapleton, one of the WEB coordinators at Connor Middle School. "These individuals are dedicated to creating a culture of kindness in the buildings." Districts/middle schools who will be sending students to the leadership conference include Grand Island, Starpoint, Amherst, Cleveland Hill, Casey Middle, Hoover Middle, Franklin Middle, Niagara Wheatfield and Lewiston-Porter.
As part of the WEB program, younger students are introduced to their WEB mentors during an orientation at the start of school. Throughout the school year, WEB leaders meet with their students to teach lessons on things like positive attitude, cooperation, rumors, sportsmanship, study skills, stress management, etc. In addition, they have social gatherings throughout the year. "It's powerful to see all the great WEB leaders in one room and see the impact they are making," stated Deanna Przepiora, a WEB coordinator at Connor Middle School. "These kids are all difference makers in their school." The leadership conference took place in the Grand Island High School Main Gym from 9:45 a.m. to 1:15 p.m.
VCMS Interact Club Luggage Drive - January 2020
Veronica Connor Middle School Interact Club is having the "Carry On" luggage drive to benefit children in foster care. Please help by donating gently used or new luggage, duffle bags, backpacks and toiletry items. Donations will be accepted at the middle school and Nickel City Hardwood in the Mighty Taco Plaza until Friday, February 14th.