Veronica E. Connor Middle School
2020
Principal
Mr. John Fitzpatrick
Veronica Connor Middle School District's Web Page.
Previous News Page
VCMS Morning Announcements - March 2020
March 19, 2020
- View the morning announcement from Mr. John Fitzpatrick the building principal of Veronica E. Connor Middle School.
YouTube Video
.
VCMS Girls Modified Basketball Recap - March 2020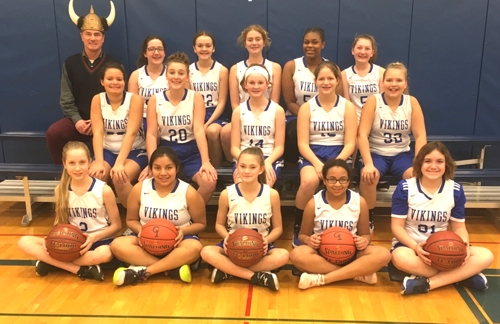 Front row: C Steck, A Higman, E Steinwandel, R Joseph, M Reynolds.
Middle row: H Lee, S Ennis, M Gallagher, A Coombs, S Dreher
Back row: Coach A Meaney, L Amato, K Ash, L Burke, Captain T Wilkes, AC M McGowan
Click photo for larger view.
Written by Coach Arthur Meaney.
The 2020 version of Grand Island girls' modified basketball showed tremendous growth over the course of the season. Yes, they posted a winning record, but what was truly noticeable was the improvement seen from the first game until the last in terms of how they played individually and as a team. The girls demonstrated a deeper understanding of the nuances of the game that can only benefit them as they move along in their basketball doings.
The seventh graders were a large part of a team because there were only four returners from the previous season. They will be a formidable force over the course of the next five years of their GI playing days. Megan Reynolds, Abigail Coombs, and Lydia Amato showed tremendous improvement from Day One to the last day. Their efforts in practice and dedication to improving what they were doing on a daily basis made them better basketball players.
Righthander Lydia Amato's left-handed layup was a sure bet by February and would rival most lefthanded players' layups. Two other seventh graders who brought some skill to the floor were Ailish Higman and Skye Dreher. Ailish became a very solid defender who would hit the floor for a loose ball without thinking twice. She was a very supportive team player who shows promise for next year. Skye led the team in free throw percentage (100%) ~ cannot get much better than that. Skye has a smooth mid-range jump shot that is very accurate. It will be important to get her open next season.
Kailyn Ash was a very important player for us this year. She missed a few games and we spent time trying to see if guard or forward would be best for her skills. She had a nice touch around the basket and has some height as well. She will be an important piece next season. Other important pieces will be two strong forwards ~ Lily Burke and Assistant Captain Madison McGowan. Both Lily and Madison had strong seasons and played off each other very well. Against zones, Lily did a solid job of reading defenses and taking what they gave her for the best of the team, often feeding Madison on the block. Both will be outstanding rebounders next season.
The team leader in minutes played was Madelyn Gallagher. The defensive awareness that she brought over from soccer was a welcomed addition. "Big G" was instrumental in helping calm things on the floor when it looked a little scraggly and could be counted on to make solid interior passes. This group overall shows great promise for their eighth grade year.
And, finally, the eighth graders. These six young ladies will be taking their skills up to the high school next year and expect to compete for important JV roles. Two eighth grade "newbies" were Hailey Lee and Samantha Ennis. Hailey improved over the course of the season, becoming more adept at rebounding and blocking out. Hailey played whistle to whistle, even in practice. Sam's role grew as the season progressed, a great example of "keep working and you'll get noticed". She took on many of the toughest "bigs" to defend and did it very well without committing fouls. She became very reliable on the defensive side of the ball.
Ella Steinwandel was one of a trio of eighth grade guards who started every game and led the direction of the team. Ella was well-versed in the offense and could help out the seventh graders in practice. She loves basketball and is very dedicated to doing well in the sport. JV will be happy to have another "all in" player on their roster. Rachel Joseph is another gym rat who was often one of the first to practice so she could work on her skills before practice actually had begun. "RJ" has a very smooth mid-range jumper, but her crossover and spin moves are what created space for her and her teammates this past season. She will be of great help to the program next year.
Of course, let's not forget Charlotte Steck ~ in the mold of Koz II (current JV player, former member of the mod squad), Charlotte spent every extra minute of practice (water breaks, rest, cleanup time) launching threes. Her efforts were rewarded in a number of games and the three is often a dagger in the heart of a defense. One game worth mentioning was a 41-29 victory over Lockport at Lockport. Down by quite a bit, Charlotte put us on her back and woke us up with a three and a long two. In the end, Charlotte had put up 17 in her strongest performance of the year. She will be a force at JV as she continues to hone her skills.
And, finally finally, Ta'Miah Wilkes. Ta'Miah was our captain, leading scorer, leading rebounder, and MVP. Ta'Miah is a player to account for when you are on defense. She usually has solid positioning under the boards and has a very accurate shot to about 15 feet. Ta'Miah's personality is infectious and often resonates throughout the team. She enjoys having some laughs but also takes her basketball development seriously. Ta'Miah cares about the game and for that reason we will miss her at modified as she heads off to the high school to do her part for Grand Island Girls' Basketball.
A special thanks goes out to all the families of the players for their dedication and support, in particular Steve Steck, scorekeeper par excellence. Keep up the good work, cash money ~
VCMS Student Artist of the Month - February 2020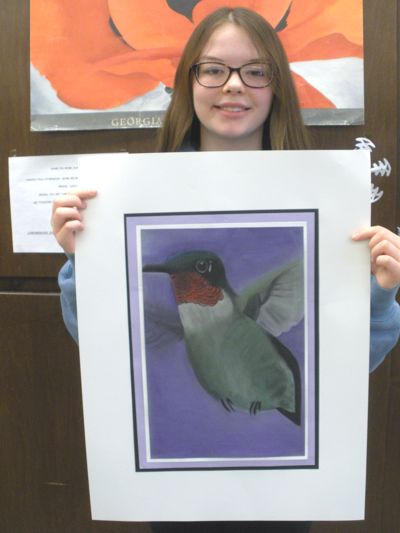 Pictured is Kayleigh Lockett with a work recently completed in class.
Kaleigh Lockett, an accelerated eighth grade student at Veronica Connor Middle School has been selected as the K-12 Artist of the Month for February, 2020. Says Kayleigh; "art is important because it is used to express feelings and emotions. It is much easier doing that with art than with words."
Kayleigh is inspired to make art by the world around her. Nature, animals and looking at the work of other artists are frequent sources of inspiration for this student. Her favorite style of art is Realism, a type of art in which Kayleigh is particularly adept. She is depicted here with her pastel hummingbird painting, realistically rendered and inspired by the artist Georgia O'Keeffe.
Kayleigh's art teacher says that she is an exceptional student who always strives to do her very best. Her work depicts a great deal of thoughtful preparation, precision and a meticulous command of media. While her favorite medium is pencil, this student displays command of every medium that she's explored in class.
Coming from a family, where mom, dad and grandma are all artistic as well, has allowed Kayleigh to explore the arts through family trips to museums and showered her with support, guidance and encouragement in all of her artistic endeavors. Her favorite art memory was made as she and her family recently visited the Metropolitan Museum of art in New York City. While she is not planning an art career at this point, Kayleigh is certain that it is something she will pursue and a way of viewing the world that will always remain important to her. The art department is proud of Kayleigh's exceptional accomplishments and is pleased to select her as this month's K-12 Artist of the Month.
VCMS Hosts Leadership Conference - January 2020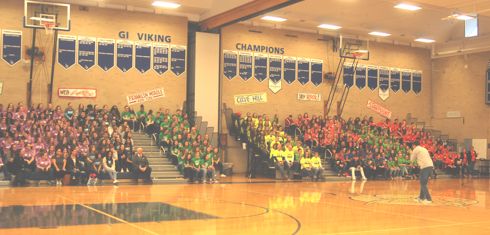 Approximately 400 students participated at the WEB Conference.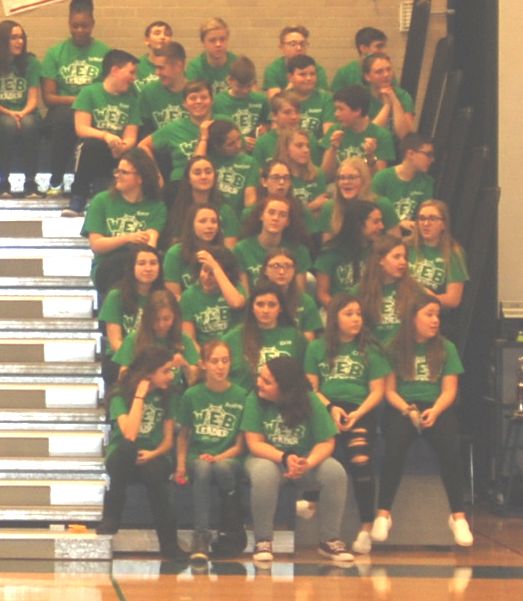 The Grand Island participants.
Veronica E. Connor Middle School hosted a WEB student leadership conference for over 400 Western New York students on Tuesday, January 28th. WEB stands for Where Everyone Belongs. It is a mentor program that pairs eighth graders up with sixth graders at the start of middle school, or seventh graders with fifth graders in buildings that serve those grades. The WEB leaders help the younger students transition into middle school. The goal of the conference is to allow area WEB leaders to share their experiences regarding their WEB program, discuss different ideas from different schools, and bring those ideas back to their own programs. In addition, the WEB leaders will be able to build positive relationships with their peers.
"We are excited for the WEB leaders to meet other like-minded WEB leaders from the area who are determined to be positive role models for others in their school," noted Jillian Stapleton, one of the WEB coordinators at Connor Middle School. "These individuals are dedicated to creating a culture of kindness in the buildings." Districts/middle schools who will be sending students to the leadership conference include Grand Island, Starpoint, Amherst, Cleveland Hill, Casey Middle, Hoover Middle, Franklin Middle, Niagara Wheatfield and Lewiston-Porter.
As part of the WEB program, younger students are introduced to their WEB mentors during an orientation at the start of school. Throughout the school year, WEB leaders meet with their students to teach lessons on things like positive attitude, cooperation, rumors, sportsmanship, study skills, stress management, etc. In addition, they have social gatherings throughout the year. "It's powerful to see all the great WEB leaders in one room and see the impact they are making," stated Deanna Przepiora, a WEB coordinator at Connor Middle School. "These kids are all difference makers in their school." The leadership conference took place in the Grand Island High School Main Gym from 9:45 a.m. to 1:15 p.m.
VCMS Interact Club Luggage Drive - January 2020
Veronica Connor Middle School Interact Club is having the "Carry On" luggage drive to benefit children in foster care. Please help by donating gently used or new luggage, duffle bags, backpacks and toiletry items. Donations will be accepted at the middle school and Nickel City Hardwood in the Mighty Taco Plaza until Friday, February 14th.