Veronica E. Connor Middle School
2023
Principal
Mr. John Fitzpatrick
Veronica Connor Middle School District's Web Page.
Previous News Page
2023 Girls' Modified Basketball Wins NFL, Again - March 2023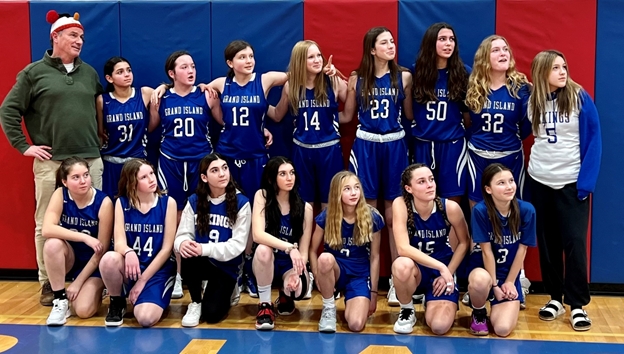 Kneeling: Gianna Gallegos, Sophia Myers, Scorekeeper Ashlyn Cassata, Alanna Soto, Ella Squire, Madelyn Urbaniak, Kayden Wylke. Standing: Coach A. Meaney, Asst. Captain Judah Dulak, Captain Molly Fiebelkorn, Emma Dunn, Evelyn Meinhold, Kailyn Smith, Madelyn Sugg, Assistant Captain Mia McGowan, Calli Rudney.
Recap by Coach Arthur Meaney.
Your 2023 Connor Middle School Girls' Modified Basketball squad posted another championship season, giving the returning eighth graders back-to-back rings during their modified careers. The veteran four, plus a bunch of new eighth graders, and some seventh graders melded together to make a team of which any coach would be proud. They posted a 12-1-1 record on the season, which included the first girls' modified basketball tie game since 1995. Time flies.
This year's seventh grade group of players is as solid as they come. Sophia Myers played both forward and guard for the team, averaging just over seven minutes per game. Sophia grew tremendously as the season progressed, becoming more aggressive on loose balls and playing responsible defense. Ella Squire and Kayden Wylke played the guard position very well. They, too, grew as the season moved along, mastering the offense so as to get the most out of the players on the floor. Their vision will be a huge asset for the team next season as they take over the leadership reins as part of the grizzled veterans of eighth grade.
Assistant Captains Judah Dulak and Mia McGowan were scoring engines this season. They were one and two in scoring for the 2023 campaign (Mia had 88 and Judah had 82). They are both easily capable of being Viking Centurions next year (the last – and only - time GI had two 100-point scorers on the same modified team was 2018 with Olivia Nucci and Jessica Whitfield, which, of course, led to a 14-0 record). Judah's shot is very smooth and she is a big fan of the "runner." She certainly can fill the basket at times. Mia is much more of a grinder ~ she is down low, getting rebounds and putting them back up. She has an excellent nose for the ball and it is very frustrating if you are covering her. She also loves to block a shot on D. Further, she was the Countess of the Skills Competition, a highly sought after accolade, for those in the know.
Another large contingency on the team was the "new" eighth graders. They were not new to sports, but they were new to the modified basketball squad. Alanna Soto was a guard whose game improved throughout the season. As Alanna became more familiar with the offense, her confidence on defense also grew. Alanna averaged just over seven minutes per game. Emma Dunn was a hard-working forward who used every extra minute before and after practice to hone her craft. She came out of the locker room early to get extra reps in and it showed in the games. Emma put in 24 points on the season, a few on fade away jumpers that she worked on in practice. She did not commit one foul on defense this year, qualifying her for Co-Miss Congeniality. Calli Rudney got in six games before a season-ending injury took her off the court. She will be fine in the end ("Whew!" said the soccer coaches) and to her credit she continued to come and support the team from the bench. She is an excellent defender who plays with heart ~ hopefully she continues on with basketball.
And, finally from this group, the Madelyns: Madelyn Sugg and Madelyn Urbaniak. Again, a couple of soccer kids who committed to practicing and learning this new game at an intense level and were rewarded with more and more playing time because their game deserved it. Sugg was named the Most Improved Player and it showed. By the end, she was altering games with rebounds, steals, hustle, and tenacity. She became an important cog in the machine. If she stays with it, she will have an important role on many a high school basketball team. Urbaniak was named Most Valuable Player because of the intangibles and the tangibles. In more than one game late in the season, Urbaniak put the team on her shoulders either defensively or offensively to lead them to victory. She is not yet the smoothest basketball player, but there are few with her determination. If someone was giving advice to future coaches of Madelyn, the advice should be to tell her what she cannot do ~ she will prove you wrong by the end of the season. Urbaniak was third on the team in scoring, posting 54 points, and will be a welcome addition to any team for which she tries out.
And finally, the four veteran returners. They won 26 of 28 games played in their two seasons. These players were examples of what to do and how to do it for the rest of the players new to a basketball team. Gianna Gallegos was bitten by the injury bug early in the year which limited her playing time but not her spirit. Gianna supported her team throughout the season, eventually getting on the court to help out at the halfway point. Kailyn Smith and Evelyn Meinhold (also a co-Miss Congeniality) showed the new forwards how hard to work down in the paint. Kailyn's rebounds and Evelyn's smooth mid-range jumper will be a big help on JV next season. And finally, Captain Molly Fiebelkorn. Molly was a solid organizational leader, making sure everyone knew when to bring their oranges and what to wear. Molly is a solid defender and was the fourth highest scorer on the team (45). She often shared her experiences from seventh grade to this year's seventh graders to keep their spirits up ~ she is a great example of someone who just keeps working at it without getting discouraged, knowing she will see results. And she did. The play of the season happened versus North Tonawanda when Molly created a turnover with less than two minutes left in the game on a surprise press. This momentum change allowed GI to get the lead, win the game, and win the league.
The coach and players would like to thank all of the fans and parents who helped create a memorable season. Many thanks to Ashlyn Cassata, who did a wonderful job as the team scorekeeper. We will all move on and have different experiences and interests, but our time together will always have been special. The work was put in and the success was realized; we are all better for having been a part of it. Keep playing (find five friends and play three-on-three), attend a camp, and just keep dribbling.
Connor Middle School 2nd Quarter High Honor Roll - February 2023
6th GRADE HIGH HONOR
Anthony Amato, Olivia Barr, Persephone Basiliko, Gavin Berg, Brayden Best, Emily Bourbar, Luke Bronson, Keira Bruno, Graeme Burke, Sarah Burke, Maxwell Carpenter, Don Collure, Madison Cramer, Hadley Dahlgren, Ayden Davis, Molly Donnelly, Sarah Ellahi, Kaylie Farkas, Grace Fistola, Maximus Geiger, Leah Glassbrook, Aidan Green, Elianna Higuera, Troy Kephart, Adam Kopf, Erin Krawczyk, Ryder Langworthy, Elizabeth Lehman, Madelyn Lehman, Abigail Lockhart, Brayden MacIntyre, Eden Maerz, Ryan Miano, Lennon Miller, Logan Miller, Owen Miller, Kylie Moore, Ryan Muehlbauer, Skylar Pachura, Reagan Pankow, Andrew Pfalzer, Elizabeth Pfeil, Corwin Seaman, Dylan Shvimer, Oliver Stuardi, Quinn Sugg, Livia Voskerichian, Ylani Walker, Jacqueline Wirth
7th GRADE HIGH HONOR
Alyse Alberalla, Ashlynn Becker, Caoimhe Carpenter, Charles Dalbo, Omer Ellahi, Ava Everett, Angelina Freedman, Isaac Gearhart, Jayden Golden, Ian Joseph, Sukhman Kaur, Cooper Kilianski, Grant Law, Talia Masker, Dillon McCarthy, Mia McGowan, Jack Mezhir, Jacob Miller, Charlotte Miller, Thalia Minasidis, Lucas Mondoux, Jack Morgan, Eleanor Murray, Sophia Myers, Jack O'Connor, Finn O'Kell, Daniel Pellitieri, Madelyn Pfeil, Gwendolyn Pickering, Keira Rivers, Avi Sandhu, Bryce Schreiber, Grayson Shelp, Hazel Shepard, Lucas Szyprowski, Lucas Talamo, Jackson Tower, Amelia Westlake, Matilyn Wolski
8th GRADE HIGH HONOR
Maxx Anderson, Calleigh Anderson, Sophia Anzalone, Elsa Blundell Mata, Gianna Bonaccorso, Olivia Burke, Liam Burt, Molly Carrig, Giana Dudek, Emma Dunn, Molly Fiebelkorn, Anthony Fiebelkorn, Benjamin Frey, Mackenzie Gallagher, Gianna Gallegos, Chase Giambra, Karissa Green, Gianna Griggs, Ava Groff, Owen Hall, Jocelyn Hamilton, Jaiden Hamilton, Malcolm Hannibal, Tyler Hazel, Jamison Hoffman, Nicholas Jayme, Leah Kephart, Carson Kwiatkowski, Brooklyn Landroche, McKenna Lavin, Addison Lewis, Lillyana Lundquist, Levi Maerz, Tiana Magee, Tessa Marsala, Avery McNulty, Giada Mendel, Mason Miller, Sawyer Morris, Riley Myers, Claire Neuhaus, Luke Nowocien, Riley Pankow, Colin Pinzel, Kayla Rejewski, Trenton Ruffolo, Brianna Schiffmacher, Kellie Sukmanowski, Abbigal Toth, Marshall Tryon, Madelyn Urbaniak, Annabelle Vandriel, Gavin Warner, Audrey Watt, Emily Westberg, John Wilkinson
Connor Middle School 2nd Quarter Honor Roll - February 2023
6th GRADE HONOR
Branden Acquisto, Natalia Alderman, Matteo Anello, Mehak Arora, Evangeline Baumler, Kelsi Betz, Jaxon Bridenbaker, Ryan Byrnes, Vedder Caruana, Sophia Chalfant, Riley Cohoon, Avery Conschafter, Sienna D'Aloise, Mason DeWitt, Carina Dudek, Braeden Finkowski, Easton Forbes, Adam Franco, Avery Gismondi, Alexander Godlove, Jacob Govern, Kevin Hall, Liam Hillman, Aiden Horvath, Brayden Jacobs, Julia Johnson, Xander Kranking, Irelynn Landroche, Gavin Lange, Ella Lee, Olivia Manzi, Nicholas Martineck, Christopher Martino, Luke McMurray, Connor Milne, Chloe Mondoux, Amelia Moser, Liam Muehlbauer, Emilio Nelson Herrera, Shannon Norton, Caitlyn Oelofse, Avery Parillo, Korbin Rejewski, Sabreen Rizek, Emiliana Rodriguez, Kloe Sargent, Leo Schmidt, Gabriel Scibilia, Anna Shafiq, Jacob Slaiman, Liam Smith, Carter Steiner, Ashlynn Tilkins, Abraham Tudor, Francesco Vacanti, Makenna Vandriel, Ethan Vincent, Austin Volek, Declan Walworth, Jacob Weng, Jacob Zulawski
7th GRADE HONOR
Ali Ackerman, Ella Arnone, Aaron Battaglia, Brayden Boyle, Jenna Callahan, Bennett Carestia, Ashlyn Cassata, Galilee Chapman, Aiden Cinelli, Austin Clause, Kieran Cudahy, Braden Cudzilo, Leo D'Angelo, Cali Del Monte, Olivia DeLisle, Samantha DeSantis, Jackson Dunn, Kendall Duscher, Gabriella Grisanti, Olivia Groff, Allison Hall, Emma Hartwick, Brock Hillman, Emily Kirkendall, Madison Klos, Eve Kolesar, Claire Kucinski, Sienna Lenze, Xavier Louisos, Anabel Lowman, Luca Marinucci, Isabella Mathieson, Riley O'Brien, Ethan Osuchowski, Reagan Pax, Emilee Payne, Ava Pomaranski, Tyler Porreca, Emily Pyc, Aneil Rokicki, Caine Rumsey, Savannah Russo, Charley Ruth, Imaan Sandhu, Kason Scarpena, Christian Scibilia, Jake Scott, Aileen Slaiman, Ella Squire, Landon Tyrrell, Anthony Ventura, Elijah Weselak Viviane Wrobel, Kayden Wylke
8th GRADE HONOR
Giada Aguzzi, Jory Alharthi, Noah Arnone, Tina Arslan, Camryn Bagley, Beau Bergeron, Morgan Bridenbaker, Dane Brown, Morgan Cantor, Jake Castiglia, Robert Cieri, Don Collure, Madelyn Colpetzer, Madison Cope, Sophia D'Aloise, Tucker Dankert, Blake DeLoreto, Vincenzo DiSanto, Mitchell Dylag, Zoha Elahi, Eden Fancher, Santino Favorite, Austin Forsey, Samuel Geblein, Emily Glassbrook, Ella Gordon, Michaela Granelli, Chase Hall, Camden Hillary, Avery Hoock, Sarah Jackson, Reese Johnson, Bristol Khreis, Molly Kilianski, Christian Kochanowski, Jada LaMarco, Capri Olivia, Leslie Andrew MacConkey, Chase Martineck, Chloe Masich, Caitlin Maurer, Jocelyn May, EllaRae Moore, Leanna Musleh, Karlei Novak, Lilly O'Connor, Layla Oursler, Kendyll Panowicz, Owen Parker, Andrew Pelczynski, Cole Randle, Grayson Rastelli, Hannah Rastelli, Emma Redfern, Ognjen Ristic, Abigail Ruminski, Emerson Rusert, Jackson Rutter, Ava Satterlee, Ava Schnepf, Julius Schopp, Taylor Simpson, Kailyn Smith, Petra Smykowski, Alanna Soto, Alice Staub, Thomas Steck, Mya Steinwandel, Audrey Still, Madelyn Sugg, Kamaldeep Toor, Mason Urbaniak, Aaron Vizzi, Ryan Whalen, Kayleigh Wheaton, Abigail Wilkins, Emma Wilkins, Shannon Williams
Connor Middle School 2nd Quarter Merit Roll - February 2023
6th GRADE MERIT
Casey Acquisto, Sonya Barnhart, Lydia Barr, Silas Basiliko, Avery Bolton, Ivy Brown, Jack Caldwell, Mila Cardenas, Quinn Carey, Eli Coutu, Thomas DeCoux, Elijah Ginsberg, Renata Gonzalez Alonso, Collin Greene, Damion Hanel, Andrew Hartwick, Eirelyn Hayes, Kady Howitt, Bailey Hoyt, Charles Hurlburt, Aubrey Korkuc, Alexa Lewis, Aiden Loncar, Francesca Louisos, Josiah Mallon, Brennan Morgan, Hannah O'Connor, Arthur Paolucci, Owen Proctor, Grady Rice, Chad Ruffolo, Garnet Schopp, Kaitlyn Scott, Juliette Semski, Cal Steinwandel, Logan Wence, Brody Wheeling, Sophia Wilkinson, Makana Williams, Derrek Wolski, Nayef Zidan
7th GRADE MERIT
Gavin Andrzejak, Hannah Benton, Lia Campas, Juliette Cardin-Galeza, Matthew Colosimo, Judah Dulak, Jacoby Faulkner, Gabriel Gardner, Braxton Hallifax, London Harsch, Kellen Hernandez, Than Zin Hlaine, Isaiah Huber, Eian Jablonski-Rebon, Abigail Mallon, Lia Mango, Anthony Mantione, Austin Martino, Meghan Maurer, Ryan Mayer, Reese Nevans, Jayden Neville, Madelyn Obarka, Aiden O'Donnell, Declan O'Leary, Eli Ostapiuk, Kaylee Porter, Evan Pyszczynski, Nora Rein, Caiden Riggio, Nicholas Rogers, Dario Savard, Donovan Shanley, Avery Sheehan, Wyatt Smith, Christopher Sobrino, Vytas Stalyga, Aaren Suwal, Cassidy Szathmary, Chase Uribes, Maya Valle, Jonathan Weselak, Kaitlyn Wilson, Dylan Zaremski
8th GRADE MERIT
Robert Agnello, Racheal Banas, Ethan Berg, Gavin Blum, Lucas Bonafede, Gabriella Cannarozzo, Adrianna Carroll, Ayden Case, Owen Cioppa, Kelly Coram, Deni Daghestani, Peter DeSantis, Bre'Onna Donovan, Abby Ennis, Zachary Flick, Brayden Florio, Kage Flory, Olivia Govern, Liam Graeff Friel, Reese Grover, Tula Hussein, Abigail King, Shayne Koester, Amaya Lundquist, Zsofia Magyari, Nelly, Maziarz, Evelyn Meinhold, Will Meyers, Robert Neuner, Luke Nichols, Aiden Peck, Wesley Pelczynski, Calli Rudney, Charlotte Russo, Ava Sole, Lucas Soto, Chloe Timmerman, John Wenner, Claire Yarwood, Azariah Young, Lydia Young, Anna Zherebilov, Nadeen Zidan