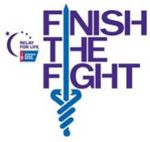 Grand Island Relay For Life
2019

Friday, June 7th - 4:00 p.m. - Cooking Up A Cure!
Veterans Park
A.C.S. Grand Island Relay Site

Relay For Life Page - 2018

Kick-Off & Soup-A-Thon - Tuesday, March 12th<
14th Annual Bowl For A Cure - Friday, March 22nd
Band & Baskets - Saturday, March 30th
Zumbathon Saturday, May 5th


---
2nd Annual Purple Ribbon Warrior 5K - February 2019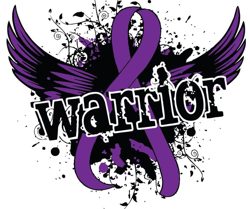 The 2nd Annual Purple Ribbon Warrior 5K will be held on Sunday, April 14th at 10:00 a.m. at Say Cheese Pizza, Love Road, Grand Island. The race will start and finish in front of Say Cheese Pizza Co. The course design is USATF certified (NY18005JJ) by Jeff John of BuffaloRunners.com. Join us after the race for a post race celebration including delicious pizza provided by our host, beverages, music, and the awards ceremony!
WHY PURPLE RIBBON WARRIOR: This is a story about one of the most courageous people you would have ever met. In the year 2005, Mary Dunbar-Daluisio was diagnosed with Carcinoid Tumors and fought this disease for 11 years. During this courageous battle it was never about her. She stood firm with her belief that everything happens for a reason and that with her diagnosis, the doctors at Roswell Park could learn more about the cause, treatment & the finding of a cure in her lifetime.
Mary chose to help other survivors during her own fight by taking part in the Relay For Life, an American Cancer Society fundraiser that supports the fight against ALL cancers by funding research, education, advocacy and patient service programs right here in Buffalo. Purple is the color of Relay For Life, the ribbon is a symbol of hope and support, and a warrior is any one fighting for a cure…. A Purple Ribbon Warrior is somebody looking to put an end to ALL cancers.
For years, Mary was a ray of sunshine to so many with her positive outlook. It is now our time to remember & honor Mary, along with all survivors, by helping in any way that we can do to fight back against cancer through Relay For Life of Grand Island & the ACS– the group Mary worked so hard with to find a cure. Please join us in the fight for a cure and run/walk this race for the survivor in your life.
Sign Up at
Register This
.
PDF Application
. Fee: $25 through April 9, 2019, $30 through race day. Food & Drink only $15.
Facebook Page
. All participants who register by 4/01/19 will be guaranteed to receive a long sleeve cotton shirt along with one of our great swag bags. Additional shirts (if any) will be distributed on a first-come, first-serve basis.