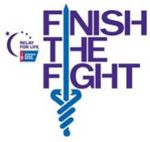 Grand Island Relay For Life
2020

The Grand Island Relay For Life smashed their $100,000 goal for 2019 by raising $118,131.11!!!!!

Friday, June 5th - 4:00 p.m.
Veterans Park

A.C.S. Grand Island Relay Site
Relay For Life Page - 2019
---
Thank You Pinto Sanitation - January 2020
Relay For Life Co-Chair Lynn Dingey accepts $2000 check from Giorgio Penepinto.
Donated garbage totes for the annual Father's Day Lawnmower Race.
In 2019, Pinto Sanitation held a Pink Tote sale, $25 from each tote was donated to the American Cancer Society...$5 directly to Making Strides from Cascade (the tote manufacturer) and $20 to Relay For Life of Grand Island from Pinto Sanitation. Giorgio Panepinto, owner of Pinto Sanitation, recently presented Lynn Dingey, co-chair of Relay For Life of Grand Island with a $2,000 check and the news that they plan to hold another Pink Tote sale in the spring, Watch for more information and help us turn the Island pink, one pink tote at a time.
A big thank you from Relay For Life to Pinto Sanitation for the$2000 donation and for being a sponsor at several different Relay events over the past year. This includes supplying outhouses for the Purple Ribbon Warrior 5K and totes for trash collection at the Father's Day Lawnmower Races. Without the support of the Grand Island businesses and all the great residents of Grand Island, our Relay wouldn't be the successful event that it is.
3rd Annual Purple Ribbon Warrior 5k - January 2020
The 3rd Annual Purple Ribbon Warrior 5k will take place on Sunday, April 19th at Say Cheese Pizza Co., 1771 Love Road at 10:00 a.m. The event is in honor of Mary Dunbar-Daluisio, long-time chair woman of the Relay For Life Grand Island. Mary was diagnosed in 2005 with Carcinoid Tumors and fought the disease for 11 years. The registration fee is $25 through April 13th and $30 after. There will also be a basket raffle at the event. Sign up
here
.
Flyer
.