Grand Island Soccer Club News 2014
Official Grand Island Soccer Club Web Site
---
Board of Directors:
President Mike Rudney
Vice President Chris Kam
Secretary Kim Willer
Treasurer Patty Shaw
Player Development Bethany Bernatovicz
House Coordinator Adam Howell
Equipment Coordinator Greg Robinson
Communication Coordinator Roger Hutton
GISC Board Scott Boyko
GISC Board Lou Fabiano
---
The Grand Island Soccer Club is getting excited about the warmer weather and preparing for 2014 House soccer season (with a World Cup theme for the Soccer World Cup this year in Brazil):
Online Registration will Open April 1-30
Open to boys & girls between 5 to 16
No playing experience necessary.
Please see our web-site for more details re: the upcoming program(s): www.gisoccerclub.org
House Soccer Programs for U6, U7 Micro Soccer, as well as Teams/Games for the U8 through the U16 Age Groups.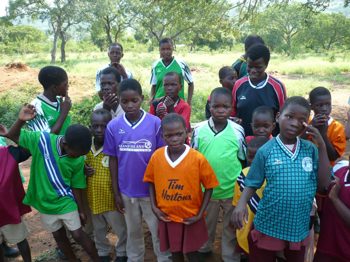 Click photo for larger view.
By Rom Figler...Four years ago, the Grand Island Soccer Club was contacted by Grand Island resident and GISC travel coach Neil Buyer. A friend of Neil's named Jon Schuerholz, a Senior Paster in the Kenmore Alliance Church and his son Micah were part of a group that was heading on a humanitarian trip to Swaziland, Africa. They were looking for sports clothing donations that they could distribute to those in need. The GISC gave them 30+ extra soccer jerseys and they were distributed to a number of Swazi soccer clubs who had none. The children come to rural care points six times a week for a hot meal. Swaziland has the highest infection for AIDS in the World so many of these children are orphans.
The feedback from an associate of Senior Pastor Schuerholz, who works with orphans, said it was the best thing any organization has every brought. The kids loved them and needed clothes so it was a win-win! Four years later they still see kids wearing a Grand Island Soccer shirt and are amazed they are still being used.
The Kenmore Alliance group is headed back to Africa on February 13th, and the GISC is loading them up with more surplus soccer jerseys and some soccer balls. "We really appreciate this year's donations as we leave for Africa on Feb 13th," said Senior Pastor Schuerholz, "I know the kids will love them again!" and "thank you for your efforts and generosity, the kids really appreciate it!" The picture tells the story and it is heart warming to see what a little donation can do for kids in need.