Grand Island Sports News 2014
Previous Sports Pages
14U Cayuga Heat Boys Travel Tryouts - August 2014
The Cayuga Youth Athletic Association's 14U Cayuga Heat boys travel baseball team is welcoming Grand Island residents to an open tryout on September 6 at noon. The tryout is located at CYAA baseball complex located at 1043 93rd street Niagara Falls NY 14304. Players must be 14 years old or younger on May 1, 2015 to be eligible. The 14U Cayuga Heat plays in the Clarence Sunday league as well as in various local and away tournaments. Please contact Chris at 609-1989 or by email at ccardona@roadrunner.com for registration and/or questions.
GI 14U Season News - August 2014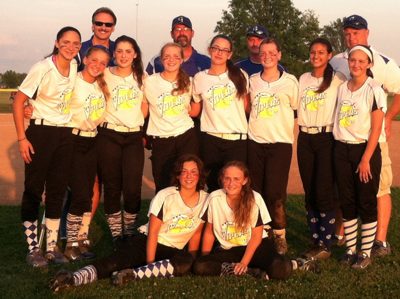 Front: Megan Stanley and Hallie Mingoia. Middle row, Allyson Scheoner, Chloe McQuestion, Grace Federico, Jenna Tavano, Amanda Brodie, Bailey Huber, Jenn Hinaman, and Marissa Hovey.
Back: Coaches AJ Hinaman, Bill Stanley, Scott Huber, and Dave Mingoia
By Coach Bill Stanley
The Coaches weren't sure what to expect from the young 14u Viper team this year, especially after they won the 12u Metro League title in 2013. This year they were full of surprises as they won their first nine games of the season, before recording their first loss to North Tonawanda Elite. After that loss the Vipers pulled together to win the last two games of the season to win the Metro League North regular season title. When playoffs came the Vipers won their first game before losing to North Tonawanda Elite who went on to beat West Seneca to win the 14u Metro Playoff Championship. The Vipers were tough this year offensively scoring an average of 10 runs per game. The offense was strong by all of the girls throughout the entire season. Bailey Huber, and Hallie Mingoia, led the team with .400 batting averages, while Jenn Hinaman, Allyson Scheoner, Megan Stanley, and Grace Federico, had batting averages of over .300, and Chloe McQuestion, Marissa Hovey, Jenna Tavano, and Amanda Brodie weren't far behind. The speed, and smart base running of McQuestion, Hinaman, Tavano, Mingoia, Scheoner, Huber, and Hovey, made outs hard to come by on the bases for the opposition, as they accounted for 105 runs between them.
Defensively it started on the pitching mound. The Vipers have three pitchers that made it tough on opposing hitters. Megan Stanley saw most of the work pitching in nine games recording a 7-1 record with 1 save. Hallie Mingoia went 2-0 with 2 saves and Marissa Hovey went 2-0 with 4 saves and the only shutout of the season. Grace Federico was tough to run on as catcher, making several outs on steal attempts. In the field the Vipers were tough as well. Chloe McQustion, Jenn Hinaman, Allyson Scheoner, and Bailey Huber wowed their fans with several double plays. While the others made great catches and plays as well. This is an amazing group of young ladies that will be a force to be reckoned with both at the jv and varsity levels, as well as the travel level for years to come.
GI U12 Baseball Tournament News - August 2014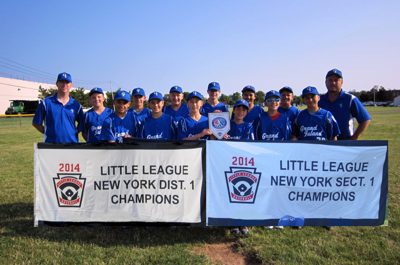 Front: PJ Munoz, Colby Muggli, Alex Paul, Nolan Massaro, David Wynne, Liam Hart.
Back: Coach Chris Paul, Austin Weber, Easton Speer, Nate Reichel, Jacob Konopski, Bill Wieberg, Ben Moskala, Coach John Weber
The Grand Island 12U Little League Baseball Team enjoyed a very successful summer tournament season this year during their quest to play at the Little League Tournament in Williamsport. This team played in a total of 15 games during the month of July, outscoring their competition 135 to 42. Team defense and pitching was very strong, led by Easton Speer and PJ Munoz, along with Austin Weber, Colby Muggli, and Alex Paul. The big bats in the middle of the line-up combined for 20 home runs, including 2 grand slams by Austin Weber (Munoz 7, Speer 4, Reichel 4, Weber 3, Muggli 1, and Konopski 1. The second half of the batting order routinely got on base led by David Wynne, Nolan Massaro, and Alex Paul.
GI Vipers 16U Travel Tryouts - August 2014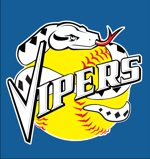 New Tryout Schedule: Day 2--Tuesday, August 26 starting at 6:00p at Vets. Park #10.
New Tryout Schedule: Day 1--Saturday, August 16 starting at 6:00p at Vets. Park #10.
Day 2--Tuesday, August 19 starting at 6:00p at Vets. Park #10.
The 2015 Grand Island Vipers 16u Travel Softball tryouts are Tuesday, August 12th at 6 p.m., Veterans Park #10, Grand Island and Saturday, August 16th at 6 p.m., Veterans Park #10. Several players needed to complete the roster. (Player age as of Jan. 1, 2015.) The team plans to play the Metro League Schedule, One Fall 2014 tournament, 3 to 4 Spring 2015 local tournaments and one out-of-town tournament during the Spring of 2015. The Vipers will hold weekly off-season practices and will participate in hitting and pitching classes when available throughout the fall and winter. Please contact a coach if you have any questions or are unable to attend these times to make other arrangements to tryout for the team. Coaches are Rob Diehl - 716-583-7631; rrdiehl2@gmail.com and Rob Hennessy - 716-909-9919; rjhennessy@verizon.net.
GI Vipers Black 14U Try Out - July 2014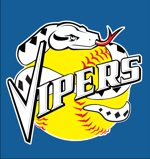 The second year GI Vipers Black team will be holding try outs for the 2015 season on Thursday, August 7th from 6-7:30 p.m. at Veterans Park, Diamond #10 on Grand Island. The Vipers play a full regular season of games and several weekend tournaments (4 in 2014), starting in May and running through July. During the off season they practice periodically beginning in November/December and ramping up as it gets closer to playing games in the Spring. For more information please contact David Mingoia (dmingoia@roadrunner.com, 696-2402). If you are unable to make this try out, please contact us and we can arrange a separate time. Our Rain Date will be Friday, August 8th at the same diamond and time. Hope to see you there!
GI U12 Baseball Headed to States - July 2014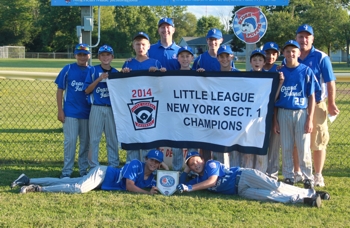 Front: Easton Speer & Austin Weber
Back: Liam Hart, David Wynne, Nate Reichel, Coach Chris Paul, Alex Paul, Jake Konopski, Colby Muggli, Nolan Massaro, PJ Munoz, Ben Moskala and Coach John Weber.
Grand Island's 12U Little League Team traveled to Syracuse for the New York State Championships last weekend, after winning the Section 1 Tournament on Wednesday, July 17th in Seneca Falls 14-4, beating Wellsville. Only Six teams make the NY State Tournament and GI will be representing all of western New York, west of Auburn. The winner of the NY State Tournament will travel to Bristol, Connecticut, to play for the Little League World Series in Williamsport, PA featured on ESPN.
Lindsay Proctor - National Volleyball Champion - July 2014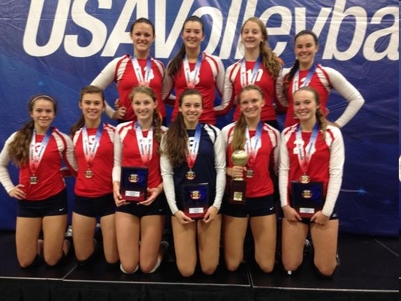 Lindsay Proctor is first row, center in blue jacket.
The Niagara Frontier U-15 volleyball team won the USA Volleyball Girls Junior National Championship on Saturday, June 28th in Minneapolis. 48 teams from across the country participated and the Niagara team beat 11 opponents, winning 22 games and losing just four. Grand Island resident Lindsay Proctor is a 14 year-old defensive specialist and was named All-Tournament. Her fellow team members are from all over the WNY area, they are; Jessica Kranz, Karley King, Caitlyn Meyer, Julie Milbrand, Alexis Novak, Ellen Paddock, Julia Panepinto, Meghan Neelon (Tournament MVP) and Samantha Burgio (All-Tournament).
Emma Santorio - Gymnast - June 2014
Emma Santorio
Gleason's (Niagara) Gymnastics level 3 team competed in the New York State Championship at Gymnastics Unlimited on June 7th. The team took first place. Emma Santorio, a second grader at Kaegebein Elementary School, placed 1st on vault with a 9.875, 2nd on bars with a 9.55, 2nd on beam with a 9.275, and 3rd on floor with a 9.475. Emma took first place and the NYS Championship with an all around score of 38.175 in the 8 year old division.
GI Vipers 14U-2 at "Battle of Fort Niagara" - June 2014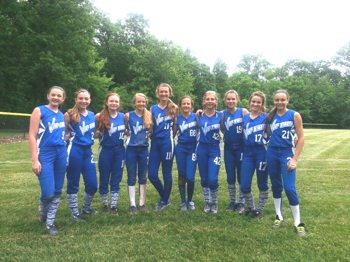 From right: Kay Lee Richard #9, Jess Faso #23, Julia Diehl #10, McKenna Collignon #7, Emma Richard #11, Rachel Madigan #88, Alyssa Ruminski #42, Abby Klie #19, Hanna Mahon #17, and Nicole "Taz" Castiglione #21. Click for larger view.
The Grand Island Vipers 14U were in the Battle of Fort Niagara this past weekend and did very well, The ladies went 2-1 in Pool play to earn the 8th seed out of 20 teams, which placed them in the Championship Bracket. The Vipers beat the Wheatfield Nitro team 8-4 on Friday night and came back to beat the North Tonawanda Elite team 8-5 on Saturday Morning. Unfortunately being the 8th seed in the Championship Bracket means you play the #1 seed Amherst Lightning (who went on to win the tournament) and we lost. The team is a second year team in this division.
Megan Stanley - Travel Softball - May 2014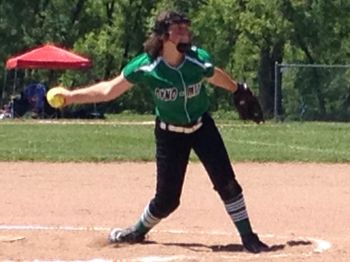 Megan Stanley
Middle school student Megan Stanley pitched for the Lockport Dynomite travel softball team in the EMW Memorial Day softball tournament over the Memorial Day weekend. The team took second place honors. Megan said after the tourney that she still bleeds GI blue and always will. The Grand Island Vipers 14u team, part of the WNY Metro Softball League, will begin their season on Wednesday, June 4th at 6:00 p.m. at Kaegebein School diamond three. Come out and watch Megan and her amazing fellow teammates as they start their season and work for their second league championship.
Conway Reigns Supreme at Msgr. Martin Girls Tennis - May 2014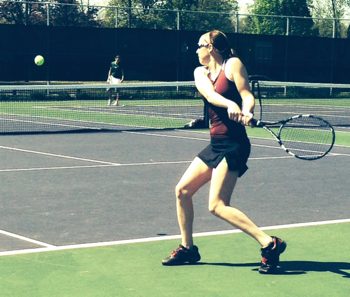 Conway prepares to hit a backhand
Grand Island resident Carlee Conway made it a perfect 56-0 in her four-year high school tennis career. Conway never lost a set in 56 matches and won 93% of her games this season, going 168-12 overall. The Sacred Heart Academy senior completed her high school career on Sunday with her fourth All-Catholic title and fourth league MVP on the McMillan Courts at Delaware Park. She breezed through the Saturday qualifiers by defeating two singles players from Mt. Mercy, defeating both 6-0 / 6-0.
On a beautiful cool-sunny Sunday, Conway first defeated Allie Jehle from rival Nardin Academy, 6-0 / 6-0. And for the third year in a row, the final was against junior Madison Bradley also of Nardin. The match was much closer than what the score indicates. Both players were strong with their ground-strokes as evident by the long rallies. Bradley accomplished something that no other players could do against Conway. She kept her return balls deep on Conway, making it difficult for Conway to play her serve and volley style of game. Conway chased down nearly all of Bradley's shots and returned them with authority. As the match progressed, Conway's powerful serves took over, finishing the match with an over-head smash! The final score was 6-1 / 6-1. "Madison really improved her consistency. And when she won the first game in each set, I knew I was in for a tough match. She's athletic and I needed to force the ball onto her, so I changed my strategy and played more aggressively" Conway was quoted as saying after the match.
Bradley will be pleased to see Conway graduate and move on in her career. Conway signed a national letter of intent to play college tennis last month. Conway received the US Naval Academy's Foundation Scholarship; she will be sponsored for two-semesters of prep-school at the Marion Military Institute in Alabama. After successful completion, Conway will be admitted to the US Naval Academy, Annapolis, MD in the Fall 2015. Conway has a tennisrecruiting.com national ranking of #294 in her class of 2014 and is rated as the #2 player in Upstate NY. She has played and defeated all but one of Upstate NY public high school sectional champions (Buffalo to Albany) while competing in USTA Jr. tournaments. In USTA Jr. tennis, Conway is ranked at #17 for the Eastern Section Girls 18U. Since January, 2014, Conway has won two USTA Jr Level One tournaments in Rochester and Binghamton while being a Finalist in another in Albany, NY. Conway was the Buffalo MUNY 2013 Women's Singles Open Champion and partnered with Derick Acker to win the Mixed Open Doubles title.
Neutz Picked Up by Cincinnati - May 2014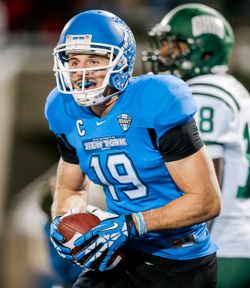 The Cincinnati Bengals picked up Island native and Buffalo Free Agent Receiver Alex Neutz over the weekend. See
story
from the UB Bull Run website.
Knights NYS Free Throw Championship Finalist - April 2014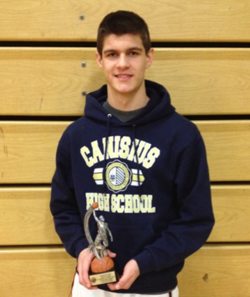 Islander John-Paul Bobak, alumni from St Stephens School and freshman at Canisus High School won third place in the Knights of Columbus NY State Free Throw Championship in the 14 year old finals this past weekend at the West Point Army Academy. "J-P" was the Upstate Regional Champion having won four competitions to advance to the finals.
Islanders Compete at CAN/AM Championship - April 2014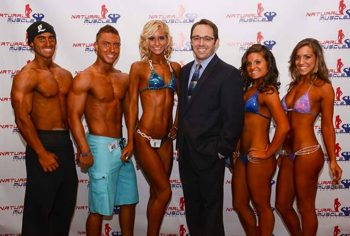 From left: Nick Antonelli, Connor Frascatore, Kara Hazelet, Jerry Marsala (event promoter), Bianca Roberts and Dominica Roberts.
On Saturday, March 29th, the Natural Muscle Association hosted the 22nd CAN/AM Bodybuilding & Physique Championships at the Flickinger Performing Arts Center at Nichols School. Five Grand Islanders competed in the standing room only event. The CAN/AM is one of eight events that Grand Islander Jerry Marsala and his wife Jennifer promote throughout NY, PA and Ohio. Jennifer is also a Physical Education teacher at Kaegebein school. Jerry is a former Great Lakes Bodybuilding Champion and Jennifer is a former CAN/AM Fitness Champion. The Natural Muscle Association is a Drug Free Bodybuilding and Physique organization where steroids and performance enhancing drugs are NOT allowed. "My wife and I have been involved with fitness our entire lives. We are very much against the use of steroids and provide these events to give people and opportunity to compete on a fair drug free platform." You can learn more about the Natural Muscle Association at www.naturalmuscle.com.
Cassie Oursler Headed to NCAA Tournament - March 2014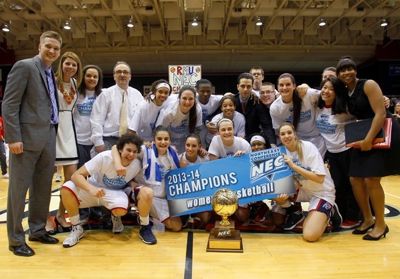 Click for larger view.
Island native and Robert Morris University freshman Cassie Oursler is headed to the NCAA Women's Basketball Tournament this weekend. Cassie and her fellow Colonials beat Saint Francis University in the NEC Tournament Championship game last Sunday afternoon by a score of 78-64. They earned the Northeast Conference's automatic bid by capturing the regular season and tournament crowns. The Colonials are a #16 seed and will take on #1 seeded Notre Dame at Savage Arena in Toledo, Ohio, Saturday, March 22nd at 1:30 p.m. The game will be aired on ESPN. Cassie also earned a spot on the NEC All-Rookie team.
GI Youth Wrestling Club Headed to States - March 2014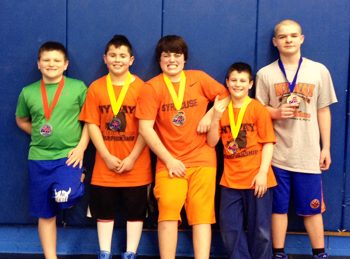 The Grand Island Youth wrestling club participated in the far western region championship this past weekend in Jamestown. Henry Grunzweig took 1st place in division 4, Hayden Backlund, 2nd place in division 4, Blake Bielec, 3rd place in division 4, Logan Ramadan, 1st place at 105 lbs. in division 3 and Brian Bielec 1st at 80 lbs. in division 3. All 5 boys will be competing at the NY State Championship in Syracuse March 15 & 16! Go Vikings!
Jeff Bellanca - February 2014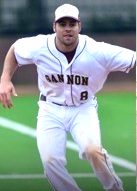 Story & photo from Gannon University website.
Gannon University in Erie, Pennsylvania announced that Grand Island resident Jeff Bellanca, a St. Joseph's Collegiate Institute graduate, was named to the NCBWA Preseason All-Atlantic Region honorable-mention team. Bellanca was selected as a first baseman.
Bellanca landed a spot on the Daktronics All-Atlantic Region and All-PSAC Western Division second teams last season with a .325 batting average, a .375 slugging percentage and a .410 on-base percentage. The redshirt junior started 21 games at first base, 10 in right field, five at designated hitter, three in left field and two at catcher. He produced 25 runs, six doubles, 14 RBIs and 10 walks. Defensively, Bellanca made only two errors in 186 fielding opportunities. The Grand Island, N.Y., native hit .333 (18-54) with runners on base and .333 (11-33) with runners in scoring position. Bellanca had a team-best 12 multiple-hit performances. He went back-to-back games without a hit only four times last season.
Neutz to Play in NFLPA Collegiate Bowl - January 2014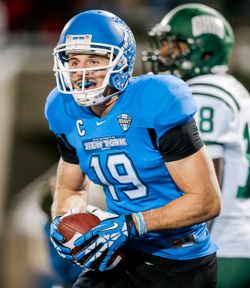 Story & photo from U.B. website.
BUFFALO, NY – Former University at Buffalo wide receiver Alex Neutz has been invited to play in the third annual NFLPA Collegiate Bowl scheduled for Saturday at the StubHub Center in Carson, CA. The game kicks off at 6 pm (EST) and will air on ESPN2. The game is comprised of 110 draft-eligible players divided into "American" and "National" teams. Neutz will play for the "American Team," coached by former NFL coach Dennis Green. Along with the actual game broadcast, live game week practices can be found on ESPNU on Wednesday, Jan. 15 (10 a.m. – noon; 1 p.m. – 3 p.m. ET) and Thursday, Jan. 16 (10 a.m. – noon; 1:30 p.m. – 3:30 p.m. ET). Full rosters for the game can be found by clicking here. Neutz capped his stellar career by earning All-MAC First Team honors in 2013. He led the Bulls with 61 receptions for 1,024 yards and 12 touchdowns. The Grand Island native broke the school record for career receiving touchdowns with 31 and ranks third in school history in both career receptions (195) and career receiving yards (3,094). Neutz is one of only three players from the Mid-American Conference playing in the game, joining Ohio offensive lineman Ryan McGrath and Bowling Green defensive back Jerry "BooBoo" Gates.
Declan McDonnell Headed to Bolanzo, Italy - January 2014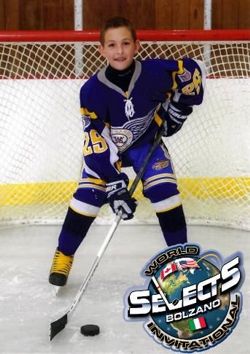 Declan McDonnell
The McDonnell family has been residents of Grand Island and superb athletes for generations. Recently 12 year-old Declan McDonnell, son of Scott and Kim McDonnell (now of Lakeview), was selected to join the Selects Hockey Organization, an international program. More than 300 players from across North America competed for 68 positions, with those selected participating in the programs all-star tournament and educational tour this spring in Bolzano, Italy. This is a once in a lifetime opportunity for Declan to take his hockey talents to the next level and provide him with cultural exchanges with his peers from all over the globe. Participating in the World Selects Hockey Invitational are teams from USA, Latvia, Canada, Switzerland, Sweden, Russia, Norway, Czech Republic, Slovakia and Finland. Participants will be submerged into foreign cultures and face top international competition in this once in a life time experience.
Proud Grandparents are Terry and Sherry McDonnell and thanks to Aunt Tara McDonnell Bondi for sharing the great news. If you would like to help out with Declan's fundraising, go to
www.gofundme.com
.
Purple Eagles Pee Wee Major Win Tournament - January 2014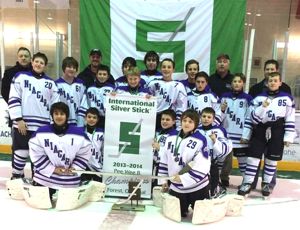 Click for larger view.
Top Row:
Head Coach - Mark Mendel
, Alex Pronobis, Dylan Lugris,
Assistant Coach - Rick Desimone
, Vince Capolupo, Kyle Lee, Chris Cacciatore, Peter Lysiak,
Rhys Mendel
, Patrick Brady, Michael Barker, Assistant Coach - Keith Harlock, Jackson Burns, Assistant Coach - Jeff Pronobis, Nick Harlock Bottom Row: Om Acharya,
Dylan Russo, Anthony Desimone, Tyler Lehan
and Drew Merino (Not Pictured- Cam King) - Islanders in bold.
The Niagara Jr. Purple Eagles Pee Wee Major team won the "International Silver Sticks Pee Wee Hockey Tournament" final in Forest, Ontario on Sunday, January 12, 2014. The team plays out of Niagara University and consists of several players from Grand Island and is coached by Grand Island resident Mark Mendel. They recently won the Regional Silver Sticks tournament in Rome, NY, which advanced them to the finals yesterday, beating the AYR Ontario Flames 2 - 1.
The prestigious "Silver Sticks International Tournament" was named after the Ottawa Silver Seven Hockey team that won the Stanley Cup from 1903-1905. It is the largest North American minor hockey tournament hosting over 65,000 players and coaches every year from across North America. It is the only minor hockey association to have its own display in the Hockey Hall of Fame, which will now include the Niagara Jr. Purple Eagles name. The philosophy of the tournament is to promote "Citizenship and International Goodwill" through Silver Stick hockey.
The Niagara Jr. Purple Eagles currently have a record of 30-4-5, and are ranked 30th in the nation out of 904 teams. They are also the current number one ranked Pee Wee AA team in New York State. The team is preparing for the 2014 New York State Pee Wee tournament finals coming in March.