Grand Island Sports News 2017
Previous Sports Pages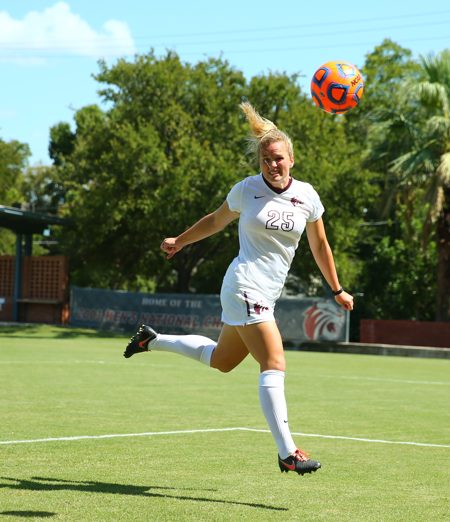 2014 GIHS graduate Julia Kelly was recently named to the United Soccer Coaches Women's Scholar All-Americans Third Team. Julia is a senior at Trinity University, a NCAA Division III school, playing in the Southern Collegiate Athletic Conference (SCAC). She is the 2017 Southern Collegiate Athletic Conference Defensive Player of the Year and is a three-time SCAC honoree.
Julia led the Trinity defense, allowing just six goals, and posted 17 shutouts in 21 games. The team finished with an overall record of 19-2-0, and ranked 9th in Division III. Julia was second on the team with 16 goals and 36 total points and named to the All-Region First Team and All-America Second team this year. A conference will be held in Philadelphia on January 20th where she will be honored.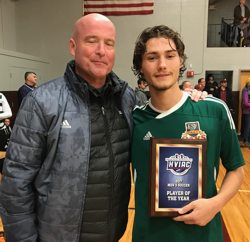 Coach Dan Ramin with Joe Kulikowski.
October 249, 2017
- Joseph Kulikowski named Men's Soccer Player of the Year for USCAA Men's Soccer HVIAC. SUNY ESF head coach Dan Ramin was named Coach of the Year.
October 24, 2017
- The Hudson Valley Intercollegiate Athletic Conference (HVIAC) named Joseph Kulikowski, SUNY ESF, Men's Soccer Player of the Week, for the second time in three weeks. Joe had four goals and two assists in two wins. Joe is a sophomore-forward from GI.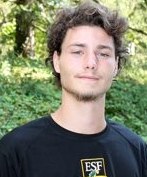 Joe Kulikowski
October 10, 2017
- The Hudson Valley Intercollegiate Athletic Conference (HVIAC) named Joseph Kulikowski, SUNY ESF, Men's Soccer Player of the Week. Joe is a sophomore-forward from GI. He recorded back-to-back hat-tricks and notched the game-winning goals in victories over Alfred State and Vaughn to lead SUNY ESF to a 3-0 week. The team is 1st in the conference with a 5-0 record, 8-3 overall.
The GI Revolution 9U Baseball Meat Raffle Fundraiser is Saturday, October 14, 2017 at VFW Post #9249, 2121 Grand Island Blvd., 5:00 p.m. - 8:00 p.m. Tickets are $7 at door and includes snacks, BYOB. 50/50 raffle and basket raffle. Everyone welcome!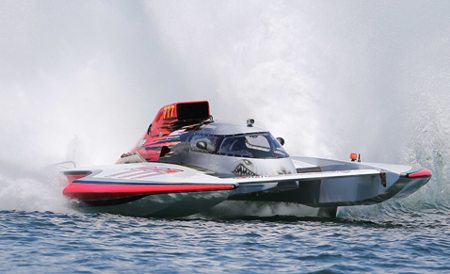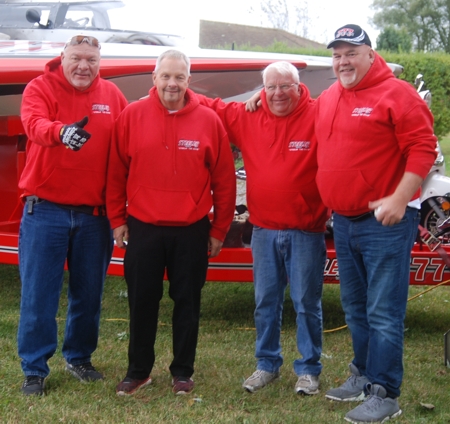 From left: Tom Snyder, Mike Endres, Gary Roesch & Mike Geblein.
Mike Endres recently sent a recap of the Steeler GP 777 season. Steeler is the 2017 HRL Grand Prix series champion. They won 6 of 9 races in 2017; Cambridge MD, Stuart, FL, Valleyfield Quebec, (5th time in 8 years. Tied for the most Valleyfield wins ever), Detroit, MI, Beauhornois, Quebec, Gananoque, Ontario. One second place finish and one DNF and one DNS. The Owner is Huey Newport of Cincinnati, Ohio and driver is Bert Henderson of Brockville, Ontario. The Grand Island connections are: Mike Endres, team manager/crew chief; Mike Geblein, crew member; Gary Roesch, crew member; Tom Snyder, crew member/sponsor.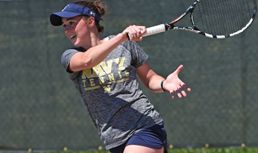 Photo courtesy of Navy Women's Tennis 2017
Navy Women's Tennis wins the top three singles flights, Conway Takes C-Flight at the Moore Invitational.
The Navy women's tennis program had a very successful weekend in winning four of six flights at the Bill & Sandra Moore Invitational at the Brigade Sports Complex, Annapolis, MD. Navy captured the top three singles flights and the top doubles flight. The Midshipmen were an impressive 31-13 in singles matches over the weekend and 13-7 in doubles play.
Players from six colleges/universities participated: St. Bonaventure, NJ Institute of Technology, Farleigh Dickenson, Lehigh, Binghamton and Navy. Senior, Amanda Keller had a combined record of 6-0 in singles and doubles matches this past weekend. She won all three of her singles matches in straight sets for Navy, capturing the A-Flight title.
Navy freshman Brooke Bogdanovich became the second Navy plebe to win a singles flight this fall by winning the B bracket at the Moore Invitational with 4-0 record. Grand Island native, Carlee Conway won the C-flight by defeating Navy freshman Miranda Deng, 6-4, 5-7, 1-0 (10-3) in the finals. Conway went 4-0 in the flight and opened with a 6-0, 6-2 win over Binghamton's Paulina Tafler in the first round. Conway then defeated Lehigh's Paula Gonzalez in the quarterfinals, 6-3, 5-7, 1-0 (10-6) and knocked off Lehigh's Kristin Godau in the semifinals, 6-4, 6-1. Conway improved her two-year singles record at Navy to 37-18.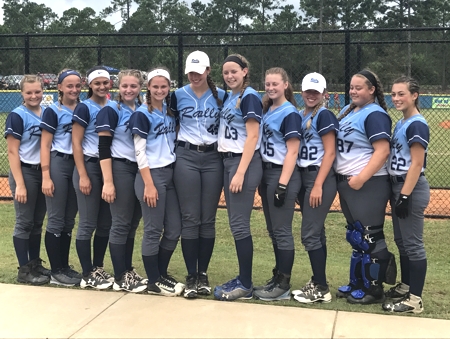 Picture Lft to Rght. Maddie Koeppell, Hallie Mingoia, Jenn Hinaman, Grace Wendell, Megan Weber, Emma Tierney, Laura Bagley, Bailey Huber, MacKenzie Blake, Savannah Smith, Megan Stanley. Missing are coaches Bill Stanley, Jesse Wendell, Scott Huber, Brian Tierney.
The 2017 WNY Rally 16u softball team, comprised of young ladies from all over Western New York including 4 from Grand Island, won the Niagara Frontier Girls Softball League Championship. This is a significant achievement as the NFL and the age group in which they played in is considered to be the toughest in our area.
The team competed in several tournaments over the summer taking two 3rd place finishes and two 5th place finishes, and also finishing in the top 30 at Summer Nationals, which were held in Myrtle Beach SC. There were nearly 100 of the top teams from across the country entered in the 16u age bracket there.
The players from Grand Island are pitcher Megan Stanley, who held opponents to a .240 batting average; Shortstop Jenn Hinaman who batted .424; Catcher Maddie Koeppell who batted .351, and center fielder Hallie Mingoia who batted .314.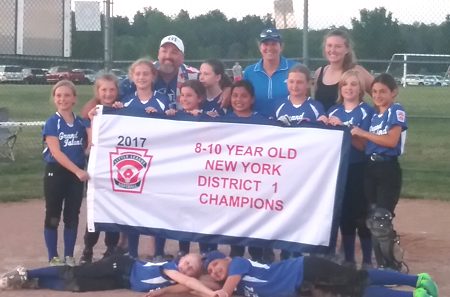 Front - Teagan Willats, Isabella Jayme
1st Row - Isabella Burt, Madison McGowan, Lilly Burke, Jillian Manns, Ailish Higman, Natalie Kopf, Mavis Riley, Brooke Caldwell.
Back Row - Coach Jeff Richards Lauren Soluri, Coach Jennifer Kopf, Coach Emma Richards.
Missing: Olivia Wenner.
The Grand Island Rapids 10U softball team won the 8-10 year old New York District 1 Championship.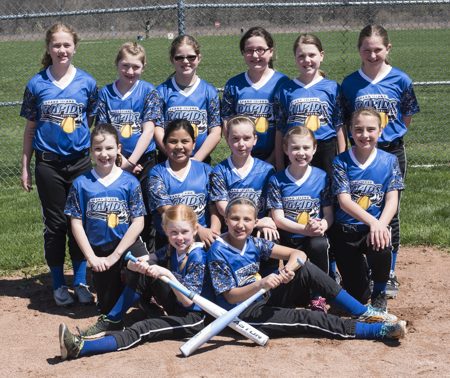 Top Row- Lily Burke, Maddie McGowan, Abby Coombs, Lydia Amato, Melina Valle, Natalie Kopf
2nd Row - Avery Smith, Ailish Higman, Izzy Burt, Abby Szyprowski, Olivia Wenner
Front Row - Teagan Willats, Bella Jayme
Coaches - Jennifer Kopf, Katie McGowan and John Wenner
The Grand Island Rapids 10U Team inaugural season ended with a loss in the championship game for the rookie division of the Metro Girls Softball League. This was the girls first year playing competitive softball and after an 0-7 start finished a five game winning streak to land in the championship game. Tryouts for next year Grand Island Rapids Travel Softball are on Tuesday, August 15th and Thursday, August17th @ Vets Park. Registration begins at 6. Contact GISOFTBALL07@Gmail.com for information.
American Legion Loses in Final - July 2017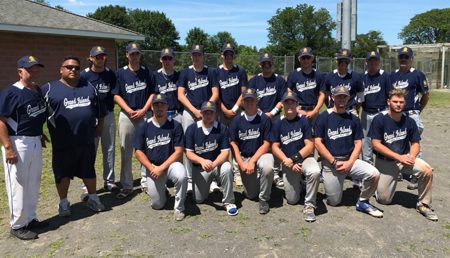 Click photo for larger view.
Buffalo News Story
Grand Island Post took it as far as it could Saturday before running out of gas and fresh pitching arms against defending champion Rockland County Pirates in the championship round of the New York State American Legion Baseball Championship at Murnane Field in Utica. Grand Island finished the season with a 24-6 record.
Needing to win both games to win the championship, Grand Island extended its playoff life with a 5-2 victory over Rockland in the first game Saturday. It was the only loss of the tournament for the Pirates. Lou Destino started and went six innings for GI, allowing just two hits. Bryce Jellinick took over and pitched three hitless innings. A tired Jellinick had to start the second game, however, and was not nearly as effective. Manny Montez and Matt Grace had two hits and two RBIs for Grand Island, which never trailed in the opener.
Rockland rebounded with an 18-2 rout in Saturday's final game to claim its third straight state title. The Pirates were helped by seven Grand Island errors, including three in their eight-run fifth inning. Rockland County owned a 10-0 lead after four innings and pitcher Ivan Rodriguez had no problem coasting until he gave up two runs in the seventh inning. Ryan Weiss had four hits of the winners' 13 hits.
Mark Weigel Recap (7-30-17):
Grand Island Post went as hard and as far as they could this week, but for the second consecutive year Rockland edged out District VIII for the state title.
Having to beat the deepest team in the state twice on Saturday, GI completed the first half of that task. Lou Destino and Bryce Jellinick, the same pair that spun a shutout to begin the week, combined on a two hitter in a 5-2 win to force the decisive game. Manny Montez and Matt Grace had two hits each and drove in key runs.
But then our boys ran out of magic, gas, and arms all at the same time. Talk about hitting a wall! Coach Pufpaff only had a couple of available pitchers left including a spent Jellinick who had to start the last game out of necessity. The result was predictable against a team the caliber of Rockland. The wheels came off early and the three-time state champs turned into circling sharks and were relentless. 18-2 was the final, which was not indicative of the difference between the two teams. But Rockland is decisively deeper (18 guys that play for one team only and don't miss a game) which ultimately resulted in better. They now travel on to Purcellville, VA for the Mid-Atlantic Regional.
Join me in congratulating Grand Island Post which raised a lot of eyebrows in only their second year of competing. But these results are also a tribute to the depth of talent in our league. With the exception of Rockland, GI faced it's toughest competition all year long right within its own division. I'm 100% certain that any one of our final-four teams would have pushed the competition to the limit this week. Lets reload and do that again. Recruiting starts now!
Mark Weigel Recap (7-28-17):
I don't think anyone around the state would have blamed Grand Island for folding their tent and hitting the thruway today after having their hearts ripped out at 2:00 in the morning. Most people around the tournament were predicting just that. But they had other plans, including sticking around for tomorrow's finals!
Instead of rolling over they rolled! GI turned in the most dominating performance of the week and sent a very good Binghamton Post packing, 13-1. Chris Ewing out of Niagara Falls HS turned in a HUGE complete game performance to pump life into a strapped pitching staff. Brendan Sheehan and Art Meaney drove in 3 each to lead an offense that jumped on Binghamton for 5 in the first frame, leaving no doubt that they had put the nightmare from just 14 hours before out of their heads.
Now it's another shot at Rockland tomorrow at 1:00. The defending champs are still undefeated so GI will have to beat them twice. Tuesday's winning pitcher Lou Destino and several others (thanks to Ewing) will be ready to go in the first one. Coach Pufpaff says he can't/won't worry about game two until they earn the chance to play it. BTW, if there has been an unsung hero down there, Frank DePalma has caught all 38 innings in four days. Best of luck fellas! You have already made us proud but don't stop now!
Boys won first game 5-2.
American Legion Baseball in Winners Bracket Final - July 2017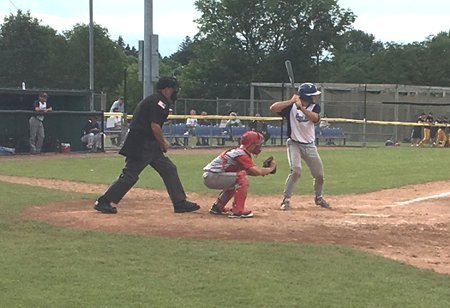 Mark Weigel Recap (7-28-17)
.
Our boys had Rockland, the defending state champs and this year's odds-on favorite, by the throat after seven innings last night. Matt Grace gave seven excellent innings against an excellent team before turning over a 10-3 lead to the bullpen. But it was not to be. They lost in 11 innings, 12-10.
The game started at 10:30 p.m. due to rain delays and ran well into this morning sometime. They now play Binghamton in an elimination game tonight at 7:00 p.m. It's an uphill climb now as available pitching leaves Rockland with a huge advantage over the other three teams left with one loss. Those three teams will be passing out leaflets at the stadium today to see if anyone would like to throw a few innings.
Patrick Soos Recap & photo (7-27-17)
.
Grand Island will play Rockland County in winners bracket Thursday, July 27th at 7:00 p.m.
The boys from the big island are getting it done in Utica. They scored four times in the 4th inning to erase a 2-1 deficit and rolled to a 10-3 victory over Sherrill Post, the District V champions on Wednesday. The win advances Coach Pufpaff's squad into the Winners Bracket Final Thursday night at 7:00 p.m. Sherrill lost only one game during the regular season and one more in their playoffs. They started a D1 prospect on the mound who came into the game undefeated with a 0.28 ERA. GI hit up and down the lineup with Matt Grace getting the big hit in that decisive rally, a two-out, two-run double to the wall.
Casey Gruarin pitched in and out of trouble and battled his way through 7 innings to pick up the win. He is now done down there due to the pitch count rule. Jordan Kowalski pitched the final two innings and only threw 27 so he is available tomorrow. Grace, coming off two impressive performances in the playoffs including the clincher on Saturday, will get the ball tomorrow. His likely opponent will be Rockland Post from Long Island, the defending state champ and the popular pick to repeat.
Games are being streamed online. Just google ALB State Tournament NY and you will get to the link.
American Legion Baseball in Second Round - July 2017
Patrick Soos Recap (7-25-17)
: Grand Island advanced to the winners bracket today by grabbing that all important first game in Utica. Lou Destino & Bryce Jellinick combined on a 3-0 shutout over Schenectady, a team that has made multiple visits to the State Tournament in the past. Coach Puffpaff was able to wiggle around the pitch count rule so that both of those guys will be available later on this week. Manny Montez banged out two hits and scored a run to lead the offense.
They now await the winner of Sherrill Post from the Mohawk Valley area and Binghamton Post, two teams that will play later this evening. Tomorrow's game starts at 5:00 p.m. and will see Casey Gruarin, GI's crafty lefty, take the hill. Matt Grace, who notched the complete game win to clinch the District Championship, is lined up to go Thursday. I like our boys' chances!!
Games are being streamed online. Just google ALB State Tournament NY and you will get to the link.
Buffalo News Story
...Lou Destino (Lew-Port) and Bryce Jellinick (Grand Island) combined on a three-hit shutout as Grand Island Post (American Legion #1346) opened the New York State American Legion Baseball Tournament with a 3-0 victory over Schenectady on Tuesday at Murnane Field in Utica. Destino pitched five innings before Jellinick took over.
Grand Island (21-4) will face Sherrill at 5 p.m. today in the second round of the double-elimination tournament. The loss dropped Schenectady to 21-9-1 and sent it on to a loser's bracket game against Binghamton at 9 a.m. today. Players from Grand Island High, Niagara Wheatfield, Niagara Falls and Canisius comprise the Grand Island roster. Manny Montes (Grand Island, Niagara CCC) had two hits, including a double, and Jordan Kowalski (Canisius High) had a double and an RBI for coach Scott Pufpaff's team. The eight-team field includes defending champion Rockland, which defeated West Seneca, 4-2, in last year's state championship game.
Grand Island Rapids Softball 2018 Tryouts - July 2017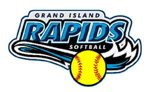 Grand Island Rapids Softball 2018 Tryouts are August 15 & 17 at Veterans Park at 6:00 p.m. This includes 10U, 12U and 14U. See
flyer
for more details.
GI Rapids 12U Silver Champions - June 2017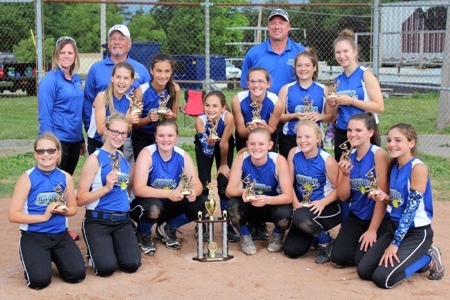 Top row: Coaches Jerrica DeGlopper, John Pilkey & Scott Hammond.
Middle row: Lauren Geyer, Natalyn Cordero, Faith Caldwell, Lauren Ratajczak, Olivia Crowley, Madison Martino.
Bottom row: Lauren Coombs, Anna Bartlo, Anna Hammond, Isabella Deglopper, Hailey Watches, Alicia Hunt, Olivia Flouro.
Click photo for larger view.
The Grand Islands Rapids 12u girls travel team took the Silver Championship win at "The Battle of the Fort" this past weekend. The girls played hard and brought home the trophy. The girls brought their bats to this one and hard work pitching, catching, fielding and fun were had by all!
Madisyn Pezzino Named Gatorade Player of the Year - June 2017
Island resident Madisyn Pezzino has recently been named Gatorade Player of the Year for girls soccer in New York State. Madisyn left Grand Island High School early to start her studies and play soccer at Florida State this past semester. During her five year career with GI, she racked up 251 goals, breaking the New York state record last fall (234). See
Buffalo News story
by Ben Tsujimoto.
GI Youth Lacrosse - April 2017
Grand Island Youth Lacrosse would like to announce open registration for its boys and girls summer lacrosse programs. Registration will begin on May 1 and will remain open until roster spots are filled. There will be teams for boys in grades 1-10, and for girls in grades 3-11. More information and registration is available at
www.grandislandlacrosse.com
.
23rd GBTC Annual Grand Island Half Marathon and 10k - April 2017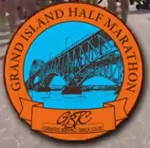 The 23rd GBTC Annual Grand Island Half Marathon and 10k is a Buffalo News Runner of the Year Race and is on Saturday, May 6, 2017. USATF certified flat, fast, out and back half marathon course starts at Beaver Island State Park and runs on West River Parkway along the scenic Niagara River. Fan Zones along the course to keep you pumped up! Premium long sleeve t-shirt, awards, door prizes and great post race party. A portion of the race proceeds will be donated towards a prostate cancer related charity. Commemorative medal to every Half Marathon finisher. Over 600 runners are expected to participate.
Sponsors include a number of Grand Island businesses - Elderwood at Grand Island (Premier), ThermoFisher Scientific (Platinum), Tops, Soma Cura and Dick & Jenny's. There will be various volunteer groups from Grand Island supporting the event, particularly the "Fan Zones". Registration is still open at www.grandislandhalfmarathon.com.
Pezzino Playing for WNY Flash Soccer - April 2017
Islander Maddie Pezzino is now playing soccer for Florida State, but will be back this summer to play for the Western New York Flash. The Flash recently joined the United Women's Soccer league. The league was formed in 2015 to help fill the gap in the development of female soccer players between the collegiate game and professional & international games. Pezzino graduated from Grand Island High School early and has been playing in the spring season at FSU.
WNY Flash home schedule, matches played at Niagara Field at Niagara University:
May 20, 5 p.m. vs. New York Surf

June 3, 7 p.m. vs. Long Island Rough Riders

June 10, 7 p.m. vs. New England Mutiny

June 11, 3 p.m. vs. New Jersey Copa FC

June 17, 7 p.m. vs. Rochester Lancers





GI Players On FC Buffalo Soccer Team - April 2017
The FC Buffalo Soccer team begins their season against the Dayton Dynamo on Saturday, May 20th at All-High Stadium at 7:00 p.m. New manager Frank Butcher, who also coaches the GIHS Boys Soccer team, will have four Grand Island natives on his team this year. They are Troy Brady, Frank Cotroneo, Jeremy Figler and Nick Szabo.

Troy Brady (Grand Island, N.Y. / Canisius College) played for coach Butcher at Grand Island High School, where he was the 2015 WNY Player of the Year. Troy trained with FCB in 2016, and made a quick impact at Canisius College under Dermot McGrane before suffering a season-ending injury.

Frank Cotroneo (Grand Island, N.Y. / Villanova) is coming off his freshman season at Villanova, where he was a highly-touted recruit. Frank trained with FCB last summer.

Jeremy Figler (Grand Island, N.Y. / St. Bonaventure) was on the FCB roster in 2013, and played for the club in a friendly match against Genesee Community College in 2015. He returns to Buffalo after spending time with the Baltimore Blast, New York Cosmos, Berwick City SC (Australia), and Swedish clubs Nasjo and Savsjo.

Nick Szabo (Grand Island, N.Y. / Empire DA) is headed to Canisius College this Fall after a standout career as a defender at Empire. He's also spent time in the BDSL with Soho FC.





Frank Butcher - March 2017
A nice story in the Buffalo News on February 27, 2017 by Ben Tsujimoto, on Grand Island High School Boys Soccer Coach Frank Butcher. Butcher was recently named head coach of the National Premier League Soccer team, FC Buffalo. The story is titled "10 things to know about new FC Buffalo coach Frank Butcher." See story here.





Lindsay Proctor - January - 2017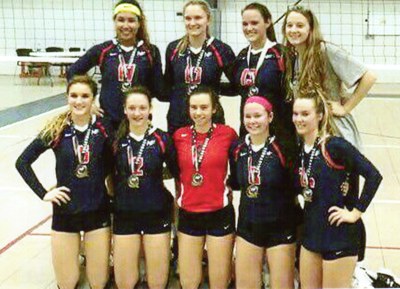 Lindsay Proctor is center, in red shirt.
GIHS senior Lindsay Proctor plays for the "A" team for Niagara Frontier Volleyball. The team won the CAN-AM Tournament last weekend and received a gold medal. Lindsay is headed to Division 1 West Virginia University in the fall on a full scholarship.