Grand Island Sports News 2019
Previous Sports Pages
Grand Island Tuesday Night Mens League & Playoff Softball Champions - August 2019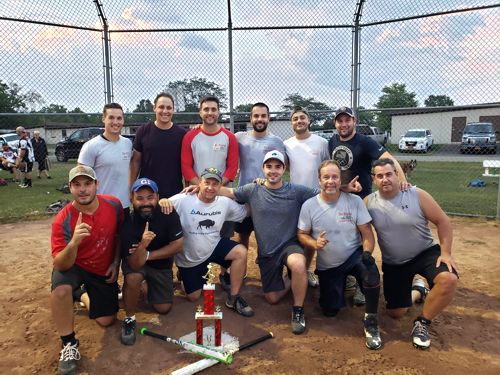 Tuesday Night Playoff Champs - John's Pizza & Subs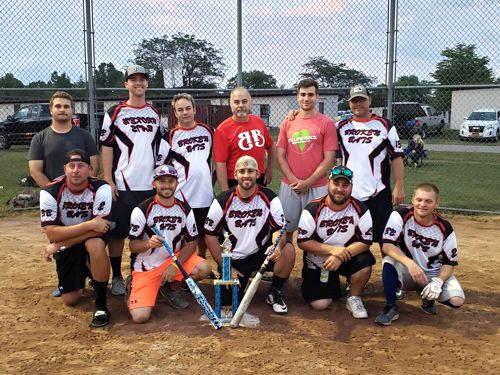 Tuesday Night League Champs - Broken Bats
Erie County Slo-Pitch World Series - August 2019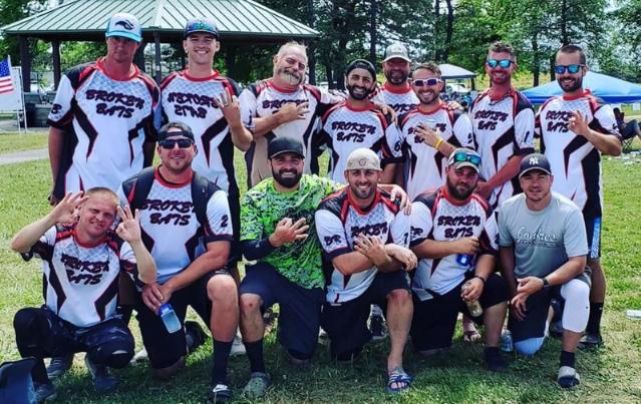 Broken Bat's - Currently Men's A Champions.
The once popular Erie County Slo-pitch World Series is back. This is a Men's Class A champion, one-day, single elimination tournament to crown the Erie County champion. Four town teams have been selected from Amherst, Buffalo, Grand Island & Tonawanda. The championship will be held on Saturday, August 17th at the Expressway Diamonds in Tonawanda from 5:30 p.m. to 8:00 p.m. Future championship locations will be rotated around the towns participating.
Men's Softball Team representing Grand Island in the Erie County Softball Championship is Broken Bats. They are #1 in the Men's Tuesday Night Softball League with a 9-0 record. Team Coach and player: Shaun W. Team Players: Andy C, Doug B, AJ P, JJ T, Mike P, Joe P, Rohn P, Peter K, Neil C, Sean D, Carl G, Jay H, Nick B, Jehad A, Justin V.
Grand Island Rapids Travel Softball Tryouts - July 2019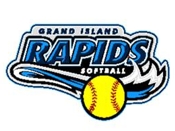 Grand Island Rapids Softball is holding travel team tryouts for the 2020 season. 12U & 14U will be on Monday/Tuesday, August 5 & 6th at Veterans Park at 6:00 p.m. 10U will be on Wednesday, August 7th at 6:00 p.m. See
flyer
for details.
14th Annual Thunder on the Niagara - July 2019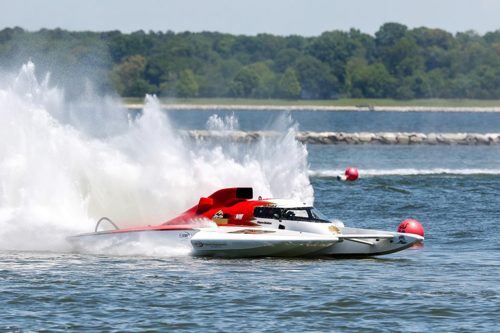 GP:50; Island owned by Don Less and driven by Ken Brodie.
North Tonawanda, NY
- The Niagara Frontier Boat Racing Association announced plans for the 14th annual Thunder on the Niagara boat racing event that will take place on Saturday, August 3rd and Sunday, August 4th at Gratwick Riverside Park in North Tonwanda.
Dubbed as "the fastest show on water," Thunder on the Niagara will feature over 70 boat racing teams and hydroplanes, which can glide along the river at approximately 170 miles per hour, from across the United States and Canada.
"It's with excitement and enthusiasm we again announce the Thunder on the Niagara coming, " said North Tonawanda Mayor Arthur Pappas. "As I've said in past years, this is probably one location where you see every mode of transportation. From cars to trucks to planes to trains and especially the boat races."
The event is free and open to the public. The park will open each day at 8:00 a.m., with boat races beginning at 10:00 a.m., and concluding at 5:00 p.m. There also will be a kids zone on both days as well as food trucks and food and craft vendors. Parking is $10, a portion of which will benefit the Twin Cities Community Outreach.
On Saturday, there will be a car show from 9:00 a.m. - 5:00 p.m. Also on, on Saturday, fireworks will take place at dusk, around 9:30 p.m. During the intermission on Sunday, from noon to 1:00 p.m., there will be skydivers. Racing will conclude at 5:00 p.m. and awards will be handed out at 6:00 p.m.
"The Gratwick area and the North Tonawanda region is so unique, and people look forward to the hospitality that they receive here," said event organizer Gary Roesch. "We also want to thank and acknowledge our sponsors and in particular Snyder Industries."
For the 6th year in a row, Snyder Industries will be the primary sponsor of the event. Snyder Industries manufactures original equipment and aftermarket parts for above and underground mining machinery, construction, and heavy earth moving equipment.
"There's something here for everyone and we are delighted to once again be supporting this great outdoor event at a beautiful venue," said Snyder Industries President Thomas Snyder. "From the kids zone to the car enthusiasts to, of course, the boating people. We're looking forward to a good and safe event." For more information, visit the event's Facebook page or www.thunderontheniagara.com.
Jaden Riley on Championship Hockey Team - April 2019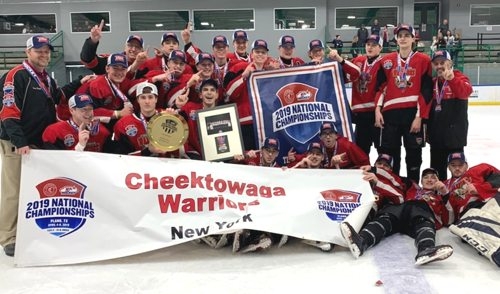 Cheektowaga Warriors Championship team.
Click for larger view.
Island resident, 16 year-old Jaden Riley, participated in the 2019 Chipotle-USA Hockey Youth Tier II 16U National Championships at the Plano StarCenter last weekend, and came out on top, Monday, April 8th. Jaden is a junior at Canisius High School and plays for the Cheektowaga Warriors 16u team. His team is the National Champion after a third-period comeback and 5-4 shootout win. "Jaden Riley opened the Warrior offensive with a power-play goal at 7:44 of the third. Daniel Tocco followed 10 seconds later." See
story
from Red Line Editorial, Inc. Congratulations Jaden!