Grand Island Sports News 2018
Previous Sports Pages
A Grand Island Lacrosse Meat Raffle Fundraiser will be held on Sunday, August 5th at the VFW Post 9249, 2121 Grand Island Blvd. from 2:00 p.m. - 6:00 p.m. Tickets are $10 and include a door prizr ticket. Bring your own drinks and snacks. There will be a 50/50 and eight rounds of meat packages + bonus round. Proceeds will be used towards GI Youth Lacrosse costs and a Go Fund Me page for Julie Neville. Call Dave Castiglia/903-4447 or Dawn Wylke/998-7777.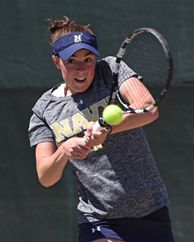 Island native Carlee Conway. (photo from previous match)
(ANNAPOLIS, Md. March 31, 2018) - The Navy women's tennis team (20-5, 1-1 PL) blanked rival Army West Point (15-6, 3-1 PL), 7-0, in the 2018 Army-Navy Women's Tennis Star Match on Saturday at the Brigade Sports Complex. A Star Match is part of the overall Army-Navy Star Series presented by USAA and is the head-to head competition between the academies' athletic programs. Navy has now won eight-straight matches and 16 of its last 17.
"It feels great for our program to get the N-Star," said Navy head coach Keith Puryear. "The support from our fans today went a long way in helping to secure the match. The atmosphere here today was electric. It was great to be a part of it."
Navy won the doubles point, 2-1, and then won all six singles matches. Grand Island native, senior Carlee Conway put Navy ahead 3-0 with a 6-1, 6-1 win over Sasha Inchauste at No. 5 singles. Conway and Emily Louie-Meadors both improved to 19-8, leading Navy in singles play this season. With the win, Conway moves into Navy's all-time Top 10 Most Singles Career Wins, currently at #10 with 51 victories, accomplished in only 3 years. She is currently at #7 Best Career Singles Record, with a .671-win percentage. Conway is co-holder of Navy's all-time program record by winning 13 straight singles matches in 2015-2016 season.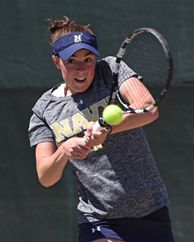 Island native Carlee Conway.

Opponent Brianna Gibbs from Williamsville.
Islander and Sacred Heart standout Carlee Conway recently won a singles match over a long time training partner from Williamsville.
Miller Tennis Center, in Amherst, was the training grounds for both former Williamsville East's Brianna Gibbs and Sacred Heart's, Carlee Conway. They had to hit 5,000+ tennis balls on the same courts at the same times since they were 9 years old to 16-17 years old. Three to four times a week they would both show up at the same time on the same days for tennis practice, year round.
Gibbs' family moved to New Jersey as Conway was finishing her High School career at Sacred Heart. Conway's tennis career took a turn to a Navy Foundation prep school at an Alabama military academy while Gibbs went onto finish a strong High School and USTA Jr. career in New Jersey. Eventually, Conway was accepted into the US Naval Academy's class of 2019 while Gibbs was finishing her HS career and accepting a scholarship to George Mason University in Fairfax, VA.
On February 25th, 2018, their tennis careers intersected again. This time as representatives of their college tennis teams, playing in the #2 slot against each other, Navy vs. George Mason at the Tose Family Tennis Center in Annapolis, MD. As the single matches started, Gibbs took a 6-0 first set over Conway. Conway took the second set 6-3. Both players knew each others strengths and weaknesses, especially after all the balls they hit at each other over the many years at Miller Tennis Center. The third set was played as a 10-point tie-breaker which Conway won 10-8. The Navy team went on to a 6-1 win and is positioned at a 9-4 record so far for the Spring season. Freshman, Amada Cyr and Conway lead the team with 14 singles victories so far this 2017-18 season. The Grand Island native, Conway has been seeing the majority of her playing time at the 2 thru 4 slot, depending on their opponent. George Mason head coach Stephen Curtis said "...it was an excellent match against one of the region's elite players, Carlee Conway. As a freshman, Brianna is progressing and learning the college game."
2017 Grand Island High School graduate and soccer standout Maddie Pezino has transferred to the University of Mississippi (Ole Miss), after playing her freshman year at Florida State. Maddie is the leading scorer in New York State high school soccer history with 251 goals playing for Grand Island. See
Buffalo News story
by Ben Tsujimoto.
The Niagara Frontier Gymnastics Gold, Platinum and Diamond Xcel Teams took the top spot, winning first in their division at the Winter Graffiti Invitational held in Niagara Falls, New York the weekend of January 5-7, 2018. Niagara Xcel Diamond teammate, Grand Island High School freshman Kendall Suffoletta earned second place on floor with a 9.475.