St. Stephen School News Page
2015
School Website
Previous News Page
St. Stephen School Shopping Extravaganza - October 2015

Join us at St. Stephen's 7th Annual Craft Show and Shopping Extravaganza event being held on Sunday, November 1st from 9:00 - 3:00 p.m. FREE ADMISSION AND PARKING. Our vendors and crafters offer a variety of items to please and satisfy your holiday shopping needs. Looking for a unique gift for that someone special? We have it all! Over 80+ vendors! Food, Drink, Fun, Face Painting, Kids Crafts, Raffles and admission is FREE! 2080 Baseline Rd Grand Island NY 14072. See
flyer
for list of vendor's wares.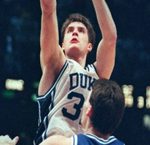 St. Stephen School on Grand Island Proudly Hosts a Christian Laettner Weekend, October 2nd - 4th, 2015 at the St. Stephen School Athletic Facility, 2080 Baseline Road Grand Island, NY 14072. Available openings at weekend clinics are:
Saturday, October 3, 2015
*Open to the Community Clinic 1:30pm-4:00pm Boys & Girls ages 6 - 13 $50
*Meet & Greet Dinner/Silent Auction Open to Community 7pm - 8:30pm $25
Sunday, October 4, 2015
*Open to the Community Coaches Clinic 10am - Noon $50
*Open to the Community Clinic 1pm - 3pm Boys & Girls Ages 14 - 18 $50
All participants will receive an official St. Stephen/Christian Laettner Weekend T-Shirt. Register & Pay online at www.theclba.com. For more information please contact the CLBA's Public Relations Specialist, Kelly Truman @ kelly.theclba@gmail.com or Karen Cammarata, 773-7647 ext 104. See
flyer
.
St. Stephen School Shopping Extravaganza - September 2015

St. Stephens School, 2080 Baseline Road, Grand Island is seeking vendors of home-based businesses and crafters to participate in our 7th annual shopping extravaganza event on Sunday, November 1st from 9:00 a.m. - 3:00 p.m. Cost for the booths range from $25.00 - $50.00, depending on the location selected. For more information and an application call Kim Nemeth at 716-773-3331, 716-481-3746 or email kimneme@gmail.com.



St. Stephen School Paint Nite - July 2015

St. Stephen School Paint Nite will be held on Thursday, August 6th at the Sandy Beach Yacht Club, 1851 Winter Road, at 6:00 p.m. A happy hour is scheduled for 6:00 - 7:00 p.m., and painting from 7:00 - 9:00 p.m. Tickets are $45.00 and include food, supplies and painting, a cash bar and 50/50 drawing are also available. The proceeds of the event will go to a greenhouse fund to enhance the STREAM and Health/Science programs at the school. See
flyer
for complete details.
3rd Trimester Honor Roll - July 2015

St. Stephen School of Grand Island has announced the third trimester honor roll. See
page
.
2nd Trimester Honor Roll - March 2015

Grade 3: Mrs. Julia Moretti
1st Honors: Eric Bartlo, Kelly Coghlan, Emma McWilliams, Tessa Morris, Maria Pawelczyk, Blake Pyc, Rebecca Sander, Luke Sweeney, Isaac Tagliavento, Jack Trettel, Mara Wild
2nd Honors: Brigid Dugan, Natalie Garland, Maxwell Martineck, Marissa Mrkall, Luke Noe

Grade 4: Mrs. Maria Grapes
1st Honors: Joseph Ciraolo, Bobby Damon, Ella DeRose, Julia Eddy, Tyler Gardner, Madison Jones, Jessica Klein, Kathleen Krawczyk, Brendan Murphy, Joseph Pawelczyk, Jack Rogers, Juliana Rottaris, Elliott Stone 2nd Honors: Anna Donlon, Riley Masterman, James Moorhouse, Lily Panepinto, Christian Reszel, Ava Sullivan

Grade 5: Mrs. Jennifer Hoplight 1st Honors: Anna Bartlo, Natalie Hesch, Sheila Strott, Grace Tabone, Sophia Terlecky
2nd Honors: Brandon Barone, Cara Eugeni, Samantha Falbo, Alivia Frosolone, Grace Frosolone, Elizabeth Garland, Graer Howell, Chance Luthringer, Dennis Misko, Marissa Mistriner, Sean Nemeth, Bridget Sander, Olivia Sentz, Nicolette Williams

Grade 6: Mrs. Kelly Davis 1st Honors: Andrew Buchman, Kristen Coghlan, Marek Eddy, Jay Granto, Connor Hill, Elizabeth Judd, Grace Misko, Vincent Ricotta, Grace Sweeney
2nd Honors: Connor Berlinger, Giuliana Congi, Anna Dugan, Evan Maynard, Maisie Mrkall

Grade 7: Mr. Phillip Kenline
1st Honors: Sara Frosolone, Victoria Garland, Sara Hyder, Chase Luthringer, Meghan McMurray, Emily Meka, Allison Nemeth, Mikayla Robinson, Mary Helen Strott
2nd Honors: Vincenzo Ciffa, Jessica Flash, Victor Pavone, Isabel Reszel, Robert Reszel, Taylor Stock, Kathryn Sullivan

Grade 8: Mrs. Bonnie Stephens 1st Honors: Mackenzie Barone, Jacob Eddy, Emma Gandolfi, Alexander Nemeth, Nicole Nobrega, Isabella Ziolkowski
2nd Honors: Charley Benz, Sarah Berlinger, Catherine Faturos, Jake Flash, Emily Klein



2nd Place in Math Contest - February 2015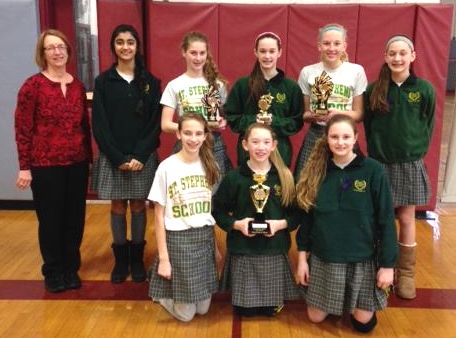 From left: kneeling: Victoria Garland, Emily Meka, Chase Luthringer.
Back Row: AP Math Teacher, Mrs. Anne Wild, Sarah Hyland, Mary Helen Strott, Mikayla Robinson, Katie Sullivan, Sara Frosolone (missing from picture Meghan McMurray)
Congratulations to the St. Stephen 7th Grade Advanced Math Class and Mrs. Anne Wild for their 2nd place in overall points in the small schools division at the St. Joseph Collegiate Institute's Math Contest Tuesday, February 24th. This contest consists of public and private school teams who complete a test and the scores are added and averaged. The results are based on team score and individual scores. Mikayla Robinson had the 1st place score for the school with Katie Sullivan and Mary Helen Strott as honorable mentions.



Friday Fish Fry Dinners - February 2015

St. Stephen School of Grand Island will host its famous Lenten Fish Fry Dinners each Friday, through April 3rd. Come join us for a great meal. This delicious, family friendly tradition has continued for three and a half decades! Dinners will be served from 4:30pm - 7pm in the school cafeteria (2080 Baseline Road, Grand Island, NY, 14072). Take-Out orders will be taken by phone at (716) 773-4347 from 3:30 - 7pm. On April 3rd (Good Friday), dinners will be available for Take-Out only (no Dine-In).
Dinner choices include:
Deep fried beer-battered haddock or oven baked haddock
Deep fried shrimp
Deep fried scallops
Captain's Combo (1/2 piece fish, with shrimp and scallops)
Creamy macaroni & cheese

All dinners include coleslaw and a choice of homemade potato salad, french fries, rice pilaf, or macaroni & cheese. DiCamillo's fresh bread is also served for dine-in guests. Delicious homemade desserts and a range of beverages including beer, wine, and assorted soft drinks are available for a nominal charge. Coffee and tea are complimentary for our dine-in guests. Discounts available for senior citizens, and this year we offer a special children's menu. For additional information, visit http://www.ststephensgi.org.



St. Stephen School Open House - January 2015


St. Stephen School is hosting an Open House, 2080 Baseline Rd., Grand Island on Sunday, January 25th. Tours will run from 10:00 a.m. - 2:00 p.m. and story hour will be in the library from 10:30 a.m. - 11:30 a.m. You can also view the gym and see the basketball team at play.
Did you know?:

Clubs are available for all grades

Competitive sports K-8th

Tuition assistance available

Pre-K readiness program available

Before and after school programs available
See why St Stephen's out performs other schools.