St. Stephen School News Page
2016
School Website
Previous News Page
St. Stephen School Shopping Extravaganza - October 2016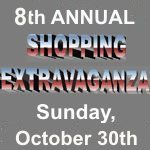 St. Stephens School is hosting their 8th annual shopping extravaganza event on Sunday, October 30th, from 9:00 a.m. - 3:00 p.m. at 2080 Baseline Road. There will be a huge Chinese Auction, Free Face Painting, Baked goods sale, food and drink and 80+ Vendors. See
flyer
for details.
Vendors Wanted for Shopping Extravaganza - September 2016

St. Stephens School located on Grand Island is seeking vendors of home-based businesses and crafters to participate in our 8th annual shopping extravaganza event on Sunday, October 30th, from 9:00 a.m. - 3:00 p.m. Cost for the booths range from $50.00-$25.00 depending on the location selected. For more information and an application call Kim Nemeth at 716-773-3331, 716-481-3746 or email her at kimneme@gmail.com



Third Annual Pasta Sauce-Off - February 2016

The third annual Pasta Sauce-Off will take place at the LaSalle Yacht Club, 73 S. 68th Street, Niagara Falls, on Saturday, February 27th. Two 13-year-old girls from St. Stephen School, Allyson Nemeth and Jessica Flash, would like to ask for your help. Last year the girls' club, Cooking for Cancer, raised over $5,000 for Carly's Club and to date has raised just over $11,000. They would like your help to do it again in support of Roswell Park and Carly's Club. The event will include: Variety of delicious homemade pasta sauces, 50/50 raffle, Basket raffle, Silent Auction, salad, bread, bake sale & fun! See
flyer
for complete details.
The girls are looking for:
1. Participants to make a pasta sauce.
2. Items to be donated for the basket raffle.
3. Volunteers to work the event.
4. Lots of folks to come out attend the event!
Valentines for Vets Program - February 2015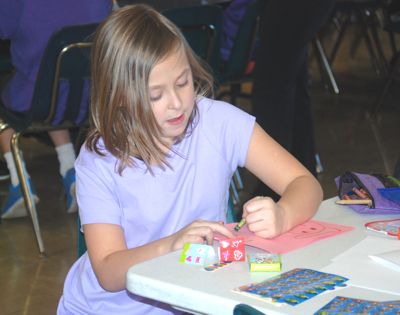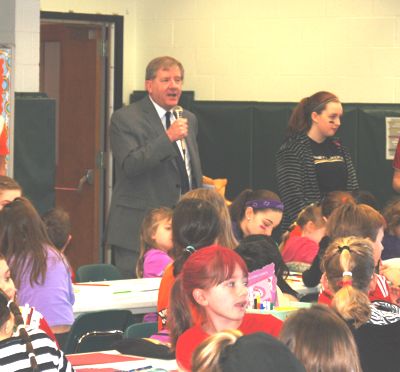 Erie County Legislator Kevin Hardwick addressing students.
Erie County Legislator Kevin Hardwick made his 6th annual visit to St. Stephen School on Tuesday, February 2nd for the Valentines for Vets program. All the students in the school filled the cafeteria and made Valentines cards for veterans in the area. In the past, Mr. Hardwick has delivered the Valentines to the Niagara Falls Air Base, the VA Hospital in Buffalo, and different Veterans organizations in Western New York. Certificates of appreciation were left for the participating students. After the students made cards they were going to have a mini olympics.



Friday Fish Fry Dinners - February 2015

St. Stephen School of Grand Island will host its famous Lenten Fish Fry Dinners each Friday, from February 12th through March 25th. Come join us for a great meal. This delicious, family friendly tradition has continued for three and a half decades! Dinners will be served from 4:30pm - 7pm in the school cafeteria (2080 Baseline Road, Grand Island, NY, 14072). Take-Out orders will be taken by phone at (716) 773-4347 from 3:30 - 7pm. On March 25th (Good Friday), dinners will be available for Take-Out only (no Dine-In).
Dinner choices include:
Deep fried beer-battered haddock or oven baked haddock
Deep fried shrimp
Captain's Combo (1/2 piece fish, with shrimp)
Creamy macaroni & cheese

All dinners include coleslaw and a choice of homemade potato salad, french fries, rice pilaf, or macaroni & cheese. DiCamillo's fresh bread is also served for dine-in guests. Delicious homemade desserts and a range of beverages including beer, wine, and assorted soft drinks are available for a nominal charge. Coffee and tea are complimentary for our dine-in guests. Discounts available for senior citizens. We also offer a special children's menu with non-seafood options. For additional information, visit www.ststephensgi.org