Grand Island Business News 2012
Become An Advertiser!
Previous Business Pages


Welcome Spa Purity - December 2012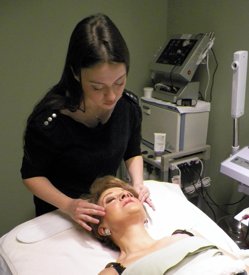 Above: Karen Stopa-Chavez
Island residents Sascha and Karen Stopa-Chavez recently opened a day spa in East Amherst, "Spa Purity". The spa is located at 8770 Transit Road Suite #3, and offers services in Aesthetics, Massage Therapy, Nail Services, Make Up Application, and more. Karen earned her Aesthetician License at the New York Institute of Aesthetics in 2008, and then worked for years as the lead aesthetician at a hotel and spa in Lewiston. Karen and her committed staff have extensive knowledge in skincare and make-up which enables them to customize a particular beauty & skincare regimen for each individual. Take a look at the Spa Purity
website
and then take advantage of a 20% off discount on gift cards until December 22nd.


Wavelengths Hosts Bennie Pollard - December 2012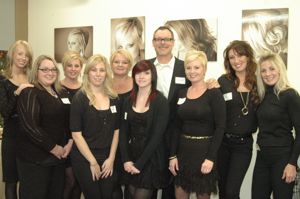 Wavelengths staff with Mr. Pollard, center.
Wavelengths Hair Design owner Ingrid Kinney, daughters Erica Forbes and Danielle Neuhaus and their fabulous team recently hosted award winning salon owner, hairdresser and manufacturer Bennie Pollard. Mr. Pollard entertained Wavelengths stylists and clients with his positive energy on Monday, December 3, 2012. He has made it his mission to spin the positive among those who come in contact with him on a daily basis. Ingrid's daughters Erica Forbes and Danielle Neuhaus discovered Mr. Pollard at a Salon Show in 2011, which became their "A-HA" moment. Since then they have established a great relationship and attended a two-day business course in Louisville, Kentucky where Mr. Pollard is from.
A second-generation hairdresser, Bennie has over 25 years of experience in the professional beauty industry. In 1992 he opened his award-winning salon, Hair by Bennie and Friends. The salon has been honored as Salon of the Year by Modern Salon magazine, one of the top salons in the United States by Glamour magazine, and one of the top 20 salons in the country by Beauty Launchpad magazine. In 2001, Bennie added manufacturer to his resume, launching BennieFactor together with his wife and business partner, Maria, and soon followed with GAGE FOR MEN. Bennie strongly believes that people get what they think about, so the time was right to create product lines based on positive affirmations.
Wavelengths Hair Design located at 2289 Grand Island Blvd. has been a family owned and operated salon since 1982. They are currently celebrating their 30th year in business. Services include, color and highlights, permanent wave, extensions, special occasion updo's, Keratin treatments, waxing and manicures. If you are interested in attending future "Styling Labs", check out the
website
for more information. Riverstone Grill catered the Styling Lab and garnered rave reviews!


Serene Gardens Cafe' Best SPoT on the Island - November 2012
Coffee lovers: Christmas has come early at Serene Gardens café, which has become Grand Island's only location to carry SPoT coffee.
Serene Gardens, located at 2800 Grand Island Boulevard, the island café features SPoT Coffee in both house blend and specialty blends in 12-oz and 16-oz sizes for in-house consumption or to go. Ground and unground coffee beans also are available.
SPoT Coffee is a Buffalo-based company known for excellent coffee from around the world. It recently earned the 2012 ArtVoice Best of Buffalo "Best Coffee" award. Serene Gardens is the only authorized café on the island to proudly serve SPoT Coffee.
"We're proud to be able to offer our customers Buffalo's finest in coffee, along with our premium imported teas," said Josh Smith, president of Serene Gardens. "This complements our menu of authentic Japanese dishes with international influences. SPoT tastes great with all our homemade dishes, from our crepes to our fish fry."
Serene Gardens is a full-menu restaurant operated by GI residents Satomi and Josh Smith, who opened the café this year after spending 12 years in Japan. Satomi is the head chef at the restaurant, which features authentic Japanese family recipes with a blend of modern adaptations. The café is open every day except Monday. Check the website (www.Serene-Gardens.com) for times and menu listings.
The associated Serene Gardens nursery and garden-design center features a full range of flowers and plants suitable for the Western New York climate, as well as a specialty in Japanese-style plants.
Serene Gardens also is a hub of Japanese cultural activities, offering language instruction and lessons on the shakuhachi (bamboo flute) and ikebana (flower arranging). It also is the site of periodic music concerts. See
website


Wavelengths Celebrates 30 Years of Business - September 2012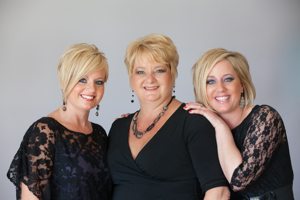 From left: Danielle Neuhaus, Ingrid Kinney and Erica Forbes.
Wavelengths Hair Design is currently celebrating its 30th year in business. Wavelengths has been a family owned and operated salon since 1982. Ingrid Kinney along with her two daughters, Danielle Neuhaus and Erica Forbes, all work together and operate the salon. Ingrid's father was a barber and she apprenticed under him for many years before opening her own salon. Ingrid is one of the few master barbers left in our area.
Wavelengths Hair Design has seven highly skilled stylists. All of the stylists continue with their education and on going training to stay on top of the latest trends and fashions. Wavelengths is located at 2289 Grand Island Blvd, and is open Monday - Saturday. Call for an appointment 773-2946 or visit
www.wavelengthshairdesign.com
.


Soma Cura Wellness Center Ribbon Cutting - August 2012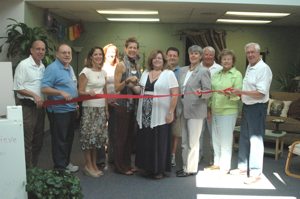 Owners Susan Zinter and Sheila Daminski, center of photo.
Members of the Grand Island Chamber of Commerce and town officials were on hand to welcome a new business to the island on Thursday, August 30th. Soma Cura Wellness Center is located at 2710 Grand Island Blvd., in the office complex that was formerly a medical practice. The wellness center offers classes in Yoga, Tai Chi and Qi Gong. Susan Zinter is a massage therapist and Sheila Daminski is a Doctor of Naturopathy and a Usui Reiki master. These practices can assist healing and wellness. The wellness center herbal shop is stocked with herbs, medicinal teas, essential oils and homeopathic remedies. A Grand Opening is planned for Saturday, September 8th from 11am - 2pm.


Welcome New Advertiser, Grand Island Optical - August 2012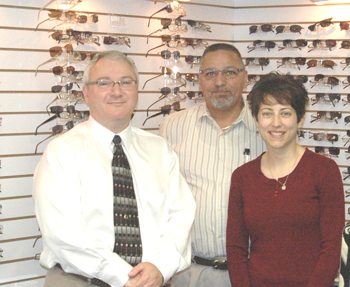 Opticians William Waldron & Nick Geschwender, Office Manager Lisa Risio.
On April 1, 2012, Dr. William Waldron became the new owner of Grand Island Optical, located at 2077 Baseline Road. Dr. Waldron has a Doctor of Optometry degree from Pennsylvania College of Optometry. His medical background enables him to treat eye infections, Diabetes, Glaucoma, and dry eyes, so you no longer have to leave the island to address these issues. Dr. Waldron's staff includes Optician and former owner Lou Macro, Optician Nick Geschwender and Office Manager Lisa Risio. A large array of glasses are available and on display and most insurance plans are accepted. Check out the
website
where online appointment scheduling is featured and office hours are listed. Grand Island Optical is also on Facebook.


Compu-Mail Moves to Island - August 2012
See
Compu-Mail
Buffalo News story by Jonathan D. Epstein.


Welcome New Advertiser, Serene Gardens, Garden Center & Cafe - June 2012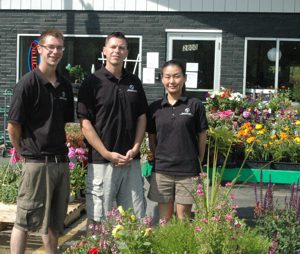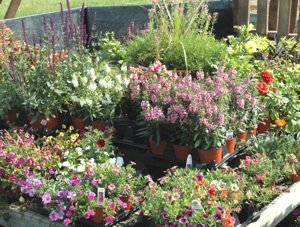 Matt, Josh and Satomi Smith.
Serene Gardens, located at 2800 Grand Island Blvd. is chock full of gifts, indoor and outdoor plants & trees, and garden necessities. In addition, the cafe is open from 11am-3pm, and carries a nice selection of items for lunch, dessert, and delicious coffees and teas. There are daily specials available, as is take out.
The Japanese garden center has beautiful pottery, Bonsai plants, sculpture, indoor and outdoor plants, trees and flowers, bird feeders, baths and seed. They also carry gardening equipment, tools, fertilizer, seeds, everything you need to spruce up your landscaping.
That's not all... a yoga class will be starting in June and a summer series called "Music in the Garden", will begin June 16th, on weekends. Live classical music by Grand Island High School musicians, Maggie Nobumoto and Zach Jones will be featured on June 16th from 2-3pm. On Sunday, June 17th, Grand Island's own "Inlite" will be playing acoustic, indie rock and pop from 2-3pm. Serene Gardens is a lovely place to wander around and get inspired by the beautiful landscaping and items available for purchase. . Check out the
website
for complete information.


Welcome New Advertiser, Sam Long's Landscaping - May 2012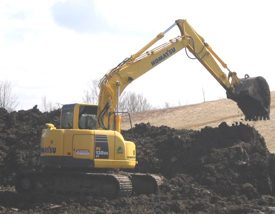 Tom Long working his magic.
Sam Long's Landscaping/Excavating Inc., was founded by Sam Long in 1970 as a father and son venture. Today, son Thomas Long is the owner/operator and the business has expanded many times over the past 40+ years. The successful business operation includes residential, commercial, municipal and industrial clients. Excavating, site work, septic systems installed and repaired, sewer, water lines, break wall installation, foundation, wall repair, bulldozer and backhoe work and heavy brush cutting are part of what they do. Check out the
website
for more information and photos of past projects.


Welcome New Advertiser, Certified Auto Brokers - April 2012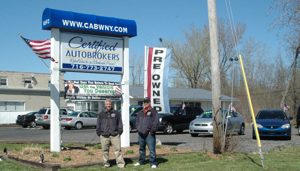 Left: Chris Taylor and Travis Smith - Click for larger view.
Isledegrande's most recent new advertiser is Certified Auto Brokers, 1693 Grand Island Blvd., next to Tim Horton's. Chris Taylor and Travis Smith are partners who have been in business since March of 2010 and have over 10 years of experience in the automotive industry. Chris was born and raised on Grand Island and stated, "our goal is to provide quality pre-owned cars, trucks and SUV's to the residents of Grand Island and the surrounding area." The company was awarded "Small Business of the Year" Award for 2011 by the Small Business Development Center (SBDC) and the Small Business Administration. The first year in business they sold 110 vehicles, in 2011 they sold 225! On pace for another big year in 2012, "with the support of Grand Island we hope to see similar growth for 2012 and many years to come." Certified Auto Brokers moved a couple hundred feet into their new location at 1693 Grand Island Blvd in July of 2011 and have received great feedback from Island residents about the new lot location. They provide great financing options for every credit situation, rates right now are as low as 4.0% for qualified buyers! Stop in and see Chris and Travis soon.


Welcome New Advertiser, Realtor Doug Gregory - March 2012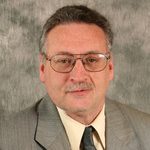 M.J. Peterson Realtor Doug Gregory is Isledegrande's newest advertiser. Doug grew up on Grand Island and is a 1970 graduate of Grand Island High School. He retired from the U.S. Air Force after twenty years and has spent the last ten years in real estate. Doug is married to islander Joan (Hardison) and they have three children and nine grand children. Doug enjoys working with first time buyers and down-sizers. See Doug's
website
for contact information and his listings.


SNAP Fitness is Open for Business - February 2012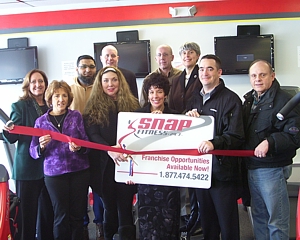 (front left) Sandy Preston, SNAP Fitness Front Desk Manager; Maryanne Fechter, SNAP Fitness General Manager; Teresa Costello, Chamber Director; Eric Fiebelkorn, Chamber President; John Bonora, Chamber Past President; (back) Liz Wilbert, Chamber Director; Fahim Mojawalla, Chamber Director; Mike Woods, Chamber Member; Dick Crawford, Town Councilman; Mary Cooke, Town Supervisor
Members of the Grand Island Chamber of Commerce and elected town officials celebrated with SNAP Fitness General Manager, Maryanne Fechter, on Monday, January 30th at a Ribbon Cutting Ceremony. SNAP Fitness is a new gym open 24 hours, 7 days a week and located at 2055 Baseline Rd. Gym owners, Bridget Kelley and Jim Busshart, own several other SNAP Fitness gyms in Western New York but have been looking to open another gym on Grand Island for awhile. After researching the area and looking at Grand Island's demographics, they knew this would be a successful place to do business.
The space was occupied and started renovations in September and the doors were open for their first day of business on December 12th. The fitness center is full of new equipment and offers many services. An athletic trainer is available by appointment and members can use the interactive
www.mysnapfitness.com
website for incentives and wellness programs to help you track your progress.
Discounts are offered to groups, businesses, students 18 years and older, Military, Boarder Patrol, and Fire and Police personnel. Family and individual memberships are available at a reasonable price. Free one week's trials are available.
For more information contact General Manager, Maryanne Fechter at 775-8486 or www.snapfitness.com/grandislandny
www.snapfitness.com/grandislandny


Welcome New Advertiser, Eddie's Art Shoppe - February 2012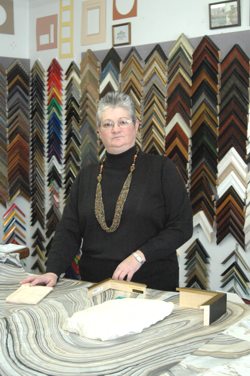 Linda Feldman framing a stone relief.
Eddie's Art Shoppe, 2305 Grand Island Blvd., has been providing island residents with picture framing guidance since 1983. Linda Feldman worked for the previous owner for 25 years and purchased the business in the Spring of 2011. Linda has always been creative. Her dad was a carpenter and she started working with him at a young age. She is not afraid of power tools and said wood is a comfortable medium for her to work with. You can't imagine all the different ways to display your artwork, pictures and treasures. Stop in the store and Linda would be happy to show you her custom creations. Her favorite way to display/frame your memories are in three-dimensional framed boxes. Over the years the framing has included sports jerseys, flat screen TVs, wedding photos and invitations, military medals, children's artwork, very old locks of hair, mirrors, art and posters. You name it, it can be framed. The Grand Island Historical Society had Linda make a display box for hair jewelry donated to the society over the years. The store also provides custom matting. See
website
. Hours of operation are Monday, Tuesday, Thursday, and Friday from 10:00 am to 5:30 pm and Wednesday and Saturday from 10:00 am to 2:00 pm.
Dunkin' Donuts Opens - January 2012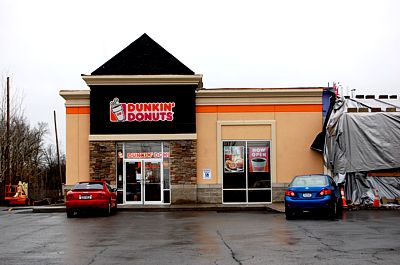 Mary Stewart photo
Dunkin' Donuts opened on Grand Island Blvd. on Friday, December 30, 2011 to the delight of many Islanders and those who are employed here.