Grand Island Fire Company News 2020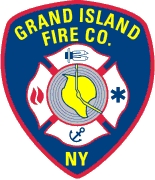 Grand Island Fire Company, Inc. Website
---
For Emergencies Dial 9-1-1 or 773-7508
To contact the Fire Company Dial 773-4334

Previous Fire News


Firematic Officers 2019:
Fire Chief Matt Osinski; Deputy Fire Chief Mark Sadkowski; 1st Assistant Chief Omar Sortino; 2nd Assistant Chief Daniel Mathes, Fire Captains: John Podlucky, Jourdain Benoit, Pat Hahn; EMS Captain Scott McCormick; Fire Police Captain Don Portik.
Administrative Officers 2019:
President Joann Ciffa, Vice President Tammy Gorman, Recording Secretary Graciana Giambra, Financial Secretary Nicole Gerber, Treasurer Tony Mastantuono Sr., Line Secretary Michelle Jones
Board of Directors 2019:
Peter Sukmanowski, Chairman; Greg Butcher, Vice-Chairman, Kevin Koch, Jeremy Pullano, Michael Haynes, Dave Khreis, Saed Shafie.
---
Grand Island Fire Company Ladies Auxiliary Annual Chowder Sale - October 2020
Grand Island Fire Company Ladies Auxiliary Annual Chowder Sale is on Saturday, October 17th. Chowder ready at 11:00 a.m. Pre-orders are encouraged, contact Nicole (609-3563) or Darcey (907-3002). The cost is $6 per quart and containers will be provided. There will only be a drive through pick-up in the parking lot. Credit cards are accepted.
New Paramedics Bolster GIFC ALS Team - October 2020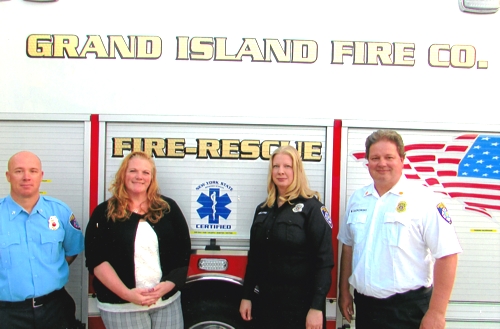 From left: EMS Capt. Rob Meyer, Tracy Yund, Katie Ireland, Fire Chief Mark Sadkowski.
Photo & story by Ray Pauley, Public Information Officer.
Fire Chief Mark Sadkowski reports that the addition of two new paramedics to the Grand Island Fire Company has increased the advanced life support team to sixteen.
Katie Ireland and Tracy Yund joined the GIFC on June 6, 2018 as the first EMS only members. They are well suited as paramedics since Katie is an attorney and Tracy is a nurse. This solid foundation enable them to complete their EMT qualifications (150-190 hours) in March 2019 and just earned their NYS Paramedic certification (1200-1900 hours) earlier in September 2020. Completion of these advanced courses is a tremendous sacrifice given the demands of families and careers.
Please join us in congratulating them on their achievement and steadfast willingness to serve the people of this community.
Chiavetta's Chicken BBQ - July 2020
Grand Island Fire Company and the Ladies Auxiliary are hosting a Chiavetta's Chicken BBQ on Tuesday, August 4th from 3:00 p.m. - 7:00 p.m. Tickets are $10 and pre-sale is encouraged. See
flyer
.
Truck Fire at Ace Hardware - July 2020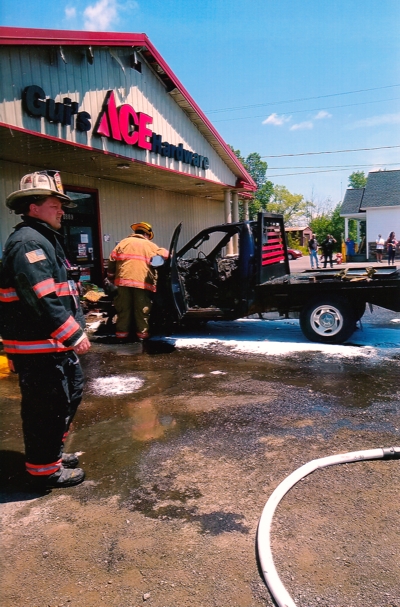 Photo by Garnet "Sam" Pauley
Story by Ray Pauley, Public Information Officer.
At 12:35 p.m. on Friday, July 3rd, Grand Island firefighters responded to a vehicle fire in the Ace Hardware store parking lot at 1889 Whitehaven Rd. Assistant Fire Chief Dan Mathes reported that a pickup truck was fully engulfed in flames when Engines #2,3,4,5,LT6 and fire suppresion crews arrived on location. Because the burning truck was parked next to the building itself, some exposure damage was condidered inevitable.
Assistant Fire Chief John Podlucky reported the fire under control at 12:55 p.m. with attention to hot spots and overhaul underway. Meanwhile, Sheridan Park VFD and City of Tonawanda Fire Department provided mutual aid support.
Damage to the truck was estimated at $5,000 and damage to Ace Hardware was limited to $5,000 due to quick response.
Grand Island Residence Heavily Damaged by Late Sunday Evening Fire - June 2020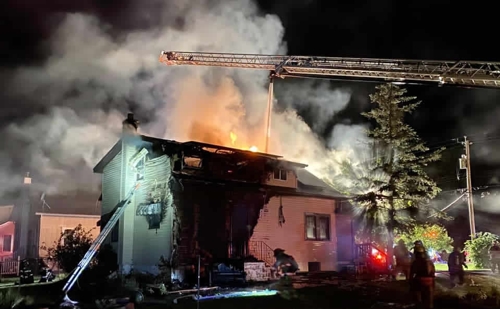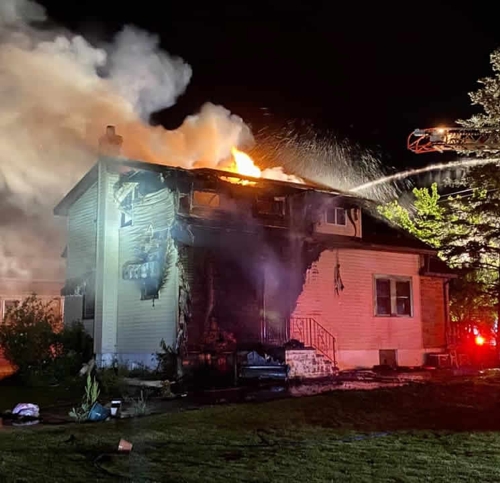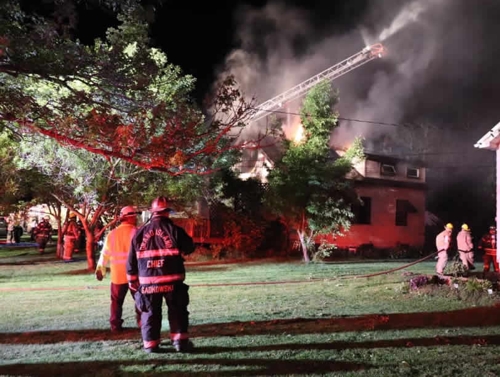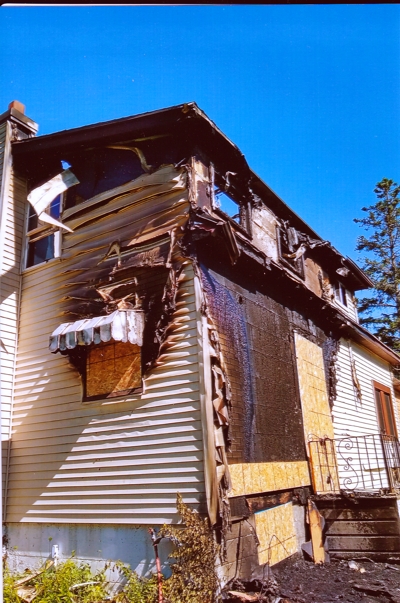 Photos by Chief Sadkowski, Garnet "Sam" Pauley and Jon Cinelli.
Story by Ray Pauley, Public Information Officer.
Shortly before 11:00 p.m. on Sunday, June 14th, Grand Island fire fighters responded to a Fix Road structure fire called in by a nearby neighbor. The occupant, a new EMS member of the GI Fire Company, was able to safely exit her burning home prior to the arrival of firefighters.
Fire Chief Mark Sadkowski reported that the basement and first floor were fully involved when E-2,E-4,E-5,LT-6 and fire suppression crews arrived on location. However, after early success on lower levels, interior attack crews were unable to advance into the second floor where the fire had spread and had to be withdrawn due to the imminent danger of collapse.
Meanwhile, Sheridan Park VFD assisted with exterior aerial operations at the scene while Brighton VFD and the City of Tonawanda Fire Department also proveded mutual aid support. The fire was knocked down by 12:09 a.m. when a few hot spots were still being attended to and extensive overhaul commenced.
Total damage was estimated at $175,000 to the residence and $75,000 to the contents. Grand Island Fire Investigator Mike DeMartin stated that the exact cause remains undetermined. There were no firefighter injuries reported. All participating units returned in service by 2:29 a.m. on Jun 15th except fire investigators.
Severe Storm Creates Havoc for Volunteers - June 2020
One of several broken power poles on Grand Island, this one located on West Oakfield near Beaver Island State Park.
Photo by Garnet "Sam" Pauley
Story by Ray Pauley, Public Information Officer.
A ferocious wind, rain, and hail storm swept through WNY late Tuesday and early Wednesday, June 2 & 3, causing considerable property damage and a widespread power outage estimated at about 6000 on Grand Island and Tonawanda.
Fire Chief Mark Sadkowski reports that Grand island firefighters responded to fourteen storm realted emergencies during an eight hour period commencing at 11:28 p.m. on Tuesday. Most of these calls involved electrical hazards, wires down, etc.
6/2/20 - 11:28 p.m. - reported water leak at Radison Hotel
11:29 p.m. - wires down - East River Rd.
11:35 p.m. - power problem - Grand Island Blvd.
11:42 p.m. - power outage - Fix Road
11:52 p.m. - National Grid request for assistance - East River Rd.
6/3/20 - 12:04 a.m. - wires down - West Oakfield
12:16 a.m. - gas leak referred to Nat. Fuel - Hennepin
12:49 a.m. - wires down - Ferry Road
12:49 a.m. - wires arcing - Westwood
2:07 a.m. - sump pump alarm - West River Road
2:39 a.m. - tree across road - Fix Road
5:08 a.m. - EMS call
6:36 a.m. - CO detector alarm - Cottagewood Lane
7:30 a.m. - tree on wires - Legion Drive
The GIFC was informed that power repair crews expected to restore power to most of their consumers by late Wednesday.
Fire Company Advice - April 2020
Press Release from Fire Chief Mark Sadkowski
A REMINDER TO OUR GRAND ISLAND COMMUNITY…
During these unprecedented and challenging times, the men and women of the Grand Island Fire Company want the community to know that we are trained, equipped and prepared to fulfill our mission of protecting the life and property of our Grand Island residents and visitors.
Through diligent planning and coordination with state, county and local government, and area emergency service agencies, we have implemented measures that will ensure we are capable of responding to any type of emergency now and in the future.
Service to the public is our main mission. We are here to serve the community and to ensure that we are able to continue to provide the highest level of service, consistent with our mission in light of the current pandemic.
If you call 911 for a medical problem, we ask that you inform the dispatcher if you are having symptoms and/or a fever. When we respond we will be wearing a face mask, safety glasses, as well as gloves and will ask screening questions from a six-foot distance. These measures are for our safety and are to ensure we will be available to respond to the next emergency.
You can do your part to help stem the spread of COVID-19 by practicing social distancing, maintaining 6' or more between people, minimizing trips to the grocery store or pharmacy as necessary, self-monitoring for cold or flu-like symptoms such as fever, cough, or shortness of breath, and frequently washing your hands. If you have any of these symptoms contact your medical provider. Thank you for your understanding and stay safe.
Two MVA's in 24 Hours - January 2020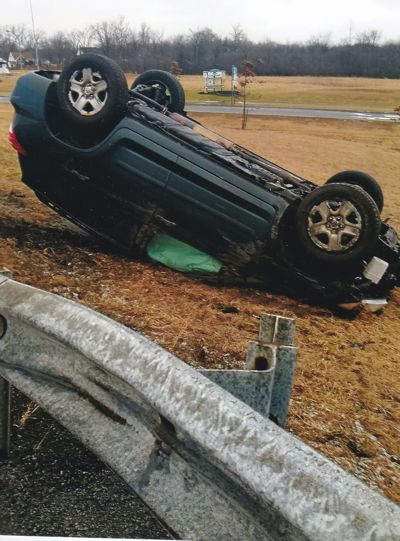 MVA near roundabout.
Photo by Sam Pauley
Story by Ray Pauley, Public Information Officer.
At 8:30 a.m. on Sunday, January 26th, Grand Island firefighters responded to a one car MVA at the end of Grand Island Blvd. between the roundabout and I-190 junction. Fire Chief Mark Sadkowski reported that the driver apparently lost control of her vehicle which then knocked down a roadside light pole and flipped over the guardrail, landing on its roof. Fire officials credited sear belt and air bag protection with preventing serious injuries and the driver declined hospitalization.
Subsequently, at 8:20 p.m., Grand Island firefighters/EMTs/Medics responded to a two car collision on Baseline Road near St. Stephen RC Church, while they were attending a nearby medical emergency. Chief Sadkowski stated that one victim was extricated from the wreckage with non-life-threatening injuries and transported by TCA to ECMC for followup treatment. Two others declined hospitalization.
2020 GI Fire Company Installation - January 2020
Story by Ray Pauley, Public Information Officer.
Grand Island Town Supervisor John Whitney administered the oath of office to newly elected Grand Island Fire Company officers on Saturday, January 11th, at fire headquarters, 2275 Baseline Road. Both firematic and administrative officers were sworn to uphold their 2020 community protection duties. Honored guests and family members joined in praising the steadfast committment of these volunteers.
GIFC Board of Directors Chairman Greg Butcher noted that 1734 calls answered during 2019 represents a steady increase over the past few years and requires solid leadership to ensure successful firefighting and EMS results. There is no question that the GIFC is top rate in this regard.
Mark Sadkowski begins his first term as Fire Chief and is joined by Deputy Chief Omar Sortino, 1st Ass't Chief Dan Mathes, 2nd Ass't Chief John Podlucky; Fire Captain's Jourdain Benoit, Patrick Hahn, Don Turner; EMS Captain Robert Meyer and Fire Police Captain Don Portick.
President Josephine Ciffa is joined by Vice President Sean O'Donnell, Recording Secretary Graciana Giambra, Treasurer Tony Mastantuono, Financial Secretary Nicole Gerber, Line Secretary Ellen Valera, and Sgt at Arms Thomas Shanor.
The Board of Directors, led by Chairman Greg Butcher, is comprised of Dave Khreis, Kevin Koch, Matt Osinski, Jeremy Pullano, Saed Shafie, and Peter Sukmanowski. Norm Mrkall II and Mike DeMartin were added as Benevolent Assoc. Trustees, and Ron Warner became a Review Board member.
Ladies Auxiliary President Nicole Butcher is assisted by Vice President Vicki Soluri, Corresponding Secretary Arlene Soluri, Recording Secretary Madaline Dallessandrro, Treasurer Karen Dallessandro, Sgt at Arms Michelle Chalupka, Chaplain Mary Becker, Trustees Darcy Golde, Julie Meyer and Barbara Wilson.
Allison DeMartin is the GIFC's newest paramedic. completing over 1600 hours of training along with several other related life support courses. Those who became NYS certified EMT's during 2019 are: Dakota Bower, Kevin Chalupka, Madison Green, Katie Ireland, Vincent Malpica, Thomas Shanor, Megan Stanley, Ellen Valera and Tracey Yund.
Recognized for special accomplishments during 2019 were Robert Becker - recruit of the year; Dakota Bower - training excellence, Allison DeMartin and Joe Savage - EMS award; Dan Mathes - Presidential Award; Paul Valera - Chiefs award. Pat Hahn, Allison DeMartin, Joe Savage, Paul Valera, Ellen Valera and Graciana Giambra received a special Chief's commendation for their successful treatment in an active childbirth situation.
Top ten responders for 2019 were led by Megan Stanley with 537 calls, followed by Tim Krecisz, Joe Savage, John Podlucky, Dan Mathes, Ryan Schwinn, Allison DeMartin, Tom Shanor, Robert Meyer and Mark Sadkowski.
Damage Limited in Island Basement Fire - December 2019
Story by Ray Pauley, Public Information Officer.
At 3:40 p.m. on Monday, December 23rd, Grand Island firefighters responded to a structure fire at the Hall residence on Staley Road. A home health aide discovered smoke in the building upon arriving there and immediately contacted the Grand Island Fire Company Dispatch Center for emergency assistance. The homeowner was off premises at that time.
Fire Chief Matt Osinksi reported that Engines #2,3,4,5, LT6 and fire suppression crews began to arrive on location within three minutes. It was then determined that a wood pellet stove in the basement was the actual problem. The door had been accidently left open and fire spread to an underlying platform and adjoining wall. The fire was quickly extinguished with estimated damage of $2000 to the structure and $2500 to the contents.
Meanwhile, mutual aid assistance was rendered by the Sheridan Park VFD and City of Tonawanda FD. Chief Osinski cautions anyone using auxiliary heating methods to frequently check for proper operation and make sure that flues are clean and clear of any hazardous blockage. Taking such precautions can prevent serious property damage and/or life threatening consequences.


2001 News - 2002 News
2003 News - 2004 News
2006 News - 2007 News
2008 News - 2009 News
2010 Jan. - June News
2010 July - Dec. News
2011 News
2012 News
2013 News
2014 News
2015 News
2016 News
2017 News
2018 News