Grand Island Fire Company News 2020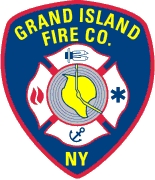 Grand Island Fire Company, Inc. Website
---
For Emergencies Dial 9-1-1 or 773-7508
To contact the Fire Company Dial 773-4334

Previous Fire News


Firematic Officers 2019:
Fire Chief Matt Osinski; Deputy Fire Chief Mark Sadkowski; 1st Assistant Chief Omar Sortino; 2nd Assistant Chief Daniel Mathes, Fire Captains: John Podlucky, Jourdain Benoit, Pat Hahn; EMS Captain Scott McCormick; Fire Police Captain Don Portik.
Administrative Officers 2019:
President Joann Ciffa, Vice President Tammy Gorman, Recording Secretary Graciana Giambra, Financial Secretary Nicole Gerber, Treasurer Tony Mastantuono Sr., Line Secretary Michelle Jones
Board of Directors 2019:
Peter Sukmanowski, Chairman; Greg Butcher, Vice-Chairman, Kevin Koch, Jeremy Pullano, Michael Haynes, Dave Khreis, Saed Shafie.
---
Two MVA's in 24 Hours - January 2020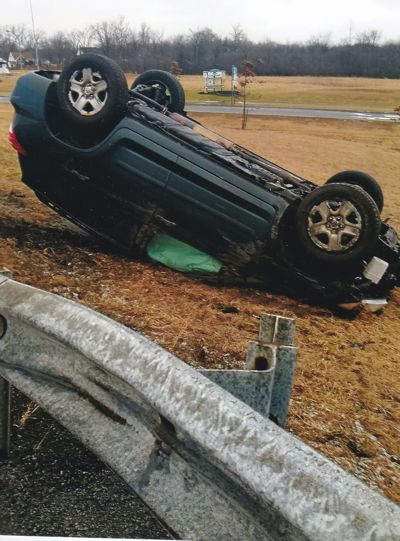 MVA near roundabout.
Photo by Sam Pauley
Story by Ray Pauley, Public Information Officer.
At 8:30 a.m. on Sunday, January 26th, Grand Island firefighters responded to a one car MVA at the end of Grand Island Blvd. between the roundabout and I-190 junction. Fire Chief Mark Sadkowski reported that the driver apparently lost control of her vehicle which then knocked down a roadside light pole and flipped over the guardrail, landing on its roof. Fire officials credited sear belt and air bag protection with preventing serious injuries and the driver declined hospitalization.
Subsequently, at 8:20 p.m., Grand Island firefighters/EMTs/Medics responded to a two car collision on Baseline Road near St. Stephen RC Church, while they were attending a nearby medical emergency. Chief Sadkowski stated that one victim was extricated from the wreckage with non-life-threatening injuries and transported by TCA to ECMC for followup treatment. Two others declined hospitalization.
2020 GI Fire Company Installation - January 2020
Story by Ray Pauley, Public Information Officer.
Grand Island Town Supervisor John Whitney administered the oath of office to newly elected Grand Island Fire Company officers on Saturday, January 11th, at fire headquarters, 2275 Baseline Road. Both firematic and administrative officers were sworn to uphold their 2020 community protection duties. Honored guests and family members joined in praising the steadfast committment of these volunteers.
GIFC Board of Directors Chairman Greg Butcher noted that 1734 calls answered during 2019 represents a steady increase over the past few years and requires solid leadership to ensure successful firefighting and EMS results. There is no question that the GIFC is top rate in this regard.
Mark Sadkowski begins his first term as Fire Chief and is joined by Deputy Chief Omar Sortino, 1st Ass't Chief Dan Mathes, 2nd Ass't Chief John Podlucky; Fire Captain's Jourdain Benoit, Patrick Hahn, Don Turner; EMS Captain Robert Meyer and Fire Police Captain Don Portick.
President Josephine Ciffa is joined by Vice President Sean O'Donnell, Recording Secretary Graciana Giambra, Treasurer Tony Mastantuono, Financial Secretary Nicole Gerber, Line Secretary Ellen Valera, and Sgt at Arms Thomas Shanor.
The Board of Directors, led by Chairman Greg Butcher, is comprised of Dave Khreis, Kevin Koch, Matt Osinski, Jeremy Pullano, Saed Shafie, and Peter Sukmanowski. Norm Mrkall II and Mike DeMartin were added as Benevolent Assoc. Trustees, and Ron Warner became a Review Board member.
Ladies Auxiliary President Nicole Butcher is assisted by Vice President Vicki Soluri, Corresponding Secretary Arlene Soluri, Recording Secretary Madaline Dallessandrro, Treasurer Karen Dallessandro, Sgt at Arms Michelle Chalupka, Chaplain Mary Becker, Trustees Darcy Golde, Julie Meyer and Barbara Wilson.
Allison DeMartin is the GIFC's newest paramedic. completing over 1600 hours of training along with several other related life support courses. Those who became NYS certified EMT's during 2019 are: Dakota Bower, Kevin Chalupka, Madison Green, Katie Ireland, Vincent Malpica, Thomas Shanor, Megan Stanley, Ellen Valera and Tracey Yund.
Recognized for special accomplishments during 2019 were Robert Becker - recruit of the year; Dakota Bower - training excellence, Allison DeMartin and Joe Savage - EMS award; Dan Mathes - Presidential Award; Paul Valera - Chiefs award. Pat Hahn, Allison DeMartin, Joe Savage, Paul Valera, Ellen Valera and Graciana Giambra received a special Chief's commendation for their successful treatment in an active childbirth situation.
Top ten responders for 2019 were led by Megan Stanley with 537 calls, followed by Tim Krecisz, Joe Savage, John Podlucky, Dan Mathes, Ryan Schwinn, Allison DeMartin, Tom Shanor, Robert Meyer and Mark Sadkowski.
Damage Limited in Island Basement Fire - December 2019
Story by Ray Pauley, Public Information Officer.
At 3:40 p.m. on Monday, December 23rd, Grand Island firefighters responded to a structure fire at the Hall residence on Staley Road. A home health aide discovered smoke in the building upon arriving there and immediately contacted the Grand Island Fire Company Dispatch Center for emergency assistance. The homeowner was off premises at that time.
Fire Chief Matt Osinksi reported that Engines #2,3,4,5, LT6 and fire suppression crews began to arrive on location within three minutes. It was then determined that a wood pellet stove in the basement was the actual problem. The door had been accidently left open and fire spread to an underlying platform and adjoining wall. The fire was quickly extinguished with estimated damage of $2000 to the structure and $2500 to the contents.
Meanwhile, mutual aid assistance was rendered by the Sheridan Park VFD and City of Tonawanda FD. Chief Osinski cautions anyone using auxiliary heating methods to frequently check for proper operation and make sure that flues are clean and clear of any hazardous blockage. Taking such precautions can prevent serious property damage and/or life threatening consequences.


2001 News - 2002 News
2003 News - 2004 News
2006 News - 2007 News
2008 News - 2009 News
2010 Jan. - June News
2010 July - Dec. News
2011 News
2012 News
2013 News
2014 News
2015 News
2016 News
2017 News
2018 News