Grand Island Sports News 2010
Previous Sports Pages
See
11/21/10 Buffalo News Story
By Rodney McKissic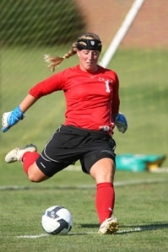 Grand Island resident Allie Weiser and her C.W. Post of Long Island University teammates magical season continues as the team advances to the NCAA Woman's Soccer Tournament round of 16 after a convincing 2-0 win yesterday in the quest of a National Championship.
C.W. Post, currently ranked #13 in the Nation, captured the regular season title in convincing fashion and used the momentum to secure the East Coast Conference Tournament Championship as well. Following the Conference tournament, and for the second time in three years, Weiser was selected as an All Conference 1st team member and Conference "Goal Keeper of the Year". Weiser is nationally ranked among the leaders in NCAA goal keeping statistics.
Academically, Weiser is a junior in the Education program at Long Island University and has been initiated into the Phi Eta Sigma National Honor Society. In addition to working as a Youth Soccer coach on Long Island and as an instructor in the "America Reads Program" for elementary school aged children, Allie remains a big fan on the Grand Island Lady Viking soccer team.
Eddie Weiser, Grand Island High School Class of 2009, competed in the Raging Wolf X: Mayhem in the Mist at the Seneca Niagara Casino on Saturday evening, November 6.
The following is a partial report from the Tuesday, November 9 Niagara Gazette:
Local products Frank Scalzo and Eddie Weiser were among the Mixed Martial Arts winners during Raging Wolf X: Mayhem in the Mist at the Seneca Niagara Casino on Saturday night.
Scalzo, a Niagara Falls native who fights for Victory MMA, improved to 2-0 by winning a split decision over Sabino Scarpone at 145 pounds. The judges scored the fight 29-28, 30-27, 30-27 in favor of Scalzo.
Weiser scored a technical knockout over Kevin Ayes as the former Grand Island football star quickly scored a takedown, before moving into control. Weiser passed Ayers' guard and took full mount.
Ayers rolled over, giving up his back. Weiser began pounding away and Ayers could not improve his position, forcing the referee to stop the fight at the 1:55 mark for the technical knockout victory.
Click photo for larger view
Grand Island fielded a team that participated in the 12U Fall Baseball League, sponsored by Tonawanda Little League. The Blue Jays team was the 5th seed heading into the playoff round. After beating the #4 seed in Rd 1, the Jays went on to knock off the #1 seed in Rd 2 of the playoffs, and defeated the #3 seed in the Championship game held at Knab Field in Tonawanda. Pictured are: (front) Steven Pufpaff, Josh Horvath, Carson Suffoletta, Art Meaney, Nick Falbo, Roman Cacciatore, Coach John Cacciatore; (middle) Sean Pufpaff, Josh Barrett, Troy Brady, Brendan Sheehan, RJ Solfo, Danny Dinsmore, Coach Mark Suffoletta; (back) Coaches Scott Pufpaff, Pat Sheehan, Aart Meaney and Julius Horvath.
Results of the Village Open golf tournament of Thursday, Sept. 23 at the Beaver Island Golf Course follow:
Low Gross
Greg Solazzo 43
Low Net
Dick Crawford 36
"Match of Cards"
Team Net
Mike Cutini 36
Bill Gorrell 36
John Blake 37
Don Tranter 37
Other Net Scores
Jim Tomkins 36
Mike Carr 36
Les Dumas 36
Denny Dahl 37
Wayne Anstett 37
Gary Scheither 37
Ed Moore 38
John Vogel 38
Don Scalise 38
Larry Furnia 39
Niagara Gazette - niagara-gazette.com
GI's Rayhill recognized
D-III Football: Hobart senior is defensive player of the Week.
STAFF REPORTS
Grand Island graduate James Rayhill was named Liberty League Defensive Player of the Week on Monday (Sept. 20) for his performance in Hobart's recent win over Carnegie Mellon.
Rayhill had 10 tackles, three tackles for loss and two-and-a-half sacks - all career highs - in Saturday's 35-21 victory.
The senior defensive end now leads the Liberty League in sacks. Rayhill was a Class A all-state selection in his senior year at Grand Island and was the Niagara Gazette lacrosse player of the year.
Hobart (2-0) hosts St. John Fisher (2-0) on Saturday.
The Village Open golf tournament takes place Thursday, Sept. 23 at the Beaver Island Golf Course on Grand Island.
In addition to nine holes of afternoon golf, golfers can enjoy a pre-tournament breakfast at 11 a.m. at the Village Inn. A post-tournament get-together with refreshments will follow at approximately 3:30 p.m., also at the Village Inn - good food, beer and pop at $5.
For more information, contact Edward Moore, 773-3817.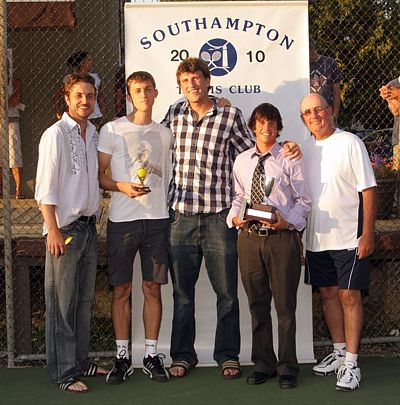 Steve Kopf (Grand Island) and Matt Buckley (Waterloo, Ont.) won the Men's Doubles event during the annual Southampton Tennis Club Cups Day tournament on August 28 in Southampton, Ontario. The team of Kopf/Buckley have been the runner ups for the last two years. Steve is a senior tennis instructor at the club and has been an instructor there for 11 years as well as being the tennis coach for Cleveland Hill High School.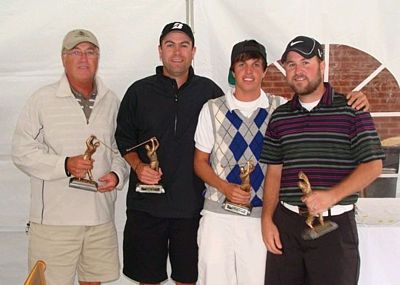 The team of Brian, Rob, Steve and Bob Kopf finished in a tie for 1st place at the annual CitiGroup Golf Tournament held at the Arrowhead Golf Club on Saturday September 11. The Kopf team recorded an 18 hole score of 60, 12 under par. This is the third year in a row that the Kopf team tied for first place in the tournament.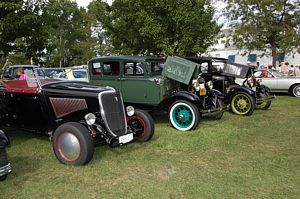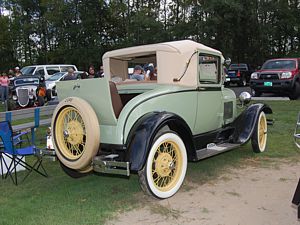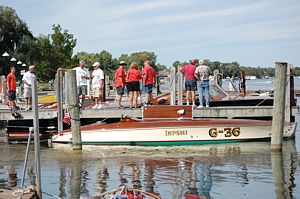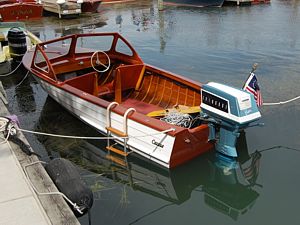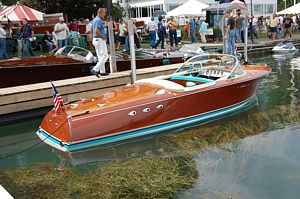 Mary Stewart Photos
September 2010 . . .
Niagara Frontier Chapter Antique and Classic Boat Society held its 33rd annual antique boat show Saturday, September 11 at the Buffalo Launch Club. Vintage and customized cars were also on display. A large crowd of boat enthusiasts and car buffs attended this year's show making it another successful year for the Niagara Frontier Boat Society. Pictured are some of the antique boats and cars that were on display.
Niagara Gazette
Grand Island product Jamie Raepple scored with just over 20 minutes remaining to help the Niagara University women's soccer team force overtime on Labor Day at East Carolina, but the host Pirates scored in the extra session to earn a 2-1 victory.
Niagara (2-1-1) got behind early in Greenville, N.C., as Jessica Woodward gave the host the lead in the first five minutes of play.
Raepple tied it with a shot in the top corner, but Amanda Windsor got the game-winner for ECU.
"We played some very good soccer today. We made a few mistakes and they capitalized on them," NU Coach Peter Veltri said. "Even though we lost the game, we can still take a lot of positives from it. We had different players step up and produce for us today."
The Niagara Frontier Antique and Classic Boats 33rd Annual Antique and Classic Boat Show & Race Boat Reunion is being held at the Buffalo Launch Club, 503 East River Road from 10 a.m. to 4 p.m. September 11, 2010. See
http://www.oldboatsbuffalo.org/
for complete details.
Thunder on the Niagara - August 21-22 was a successful event! Beautiful skies, a variety of food vendors and crafters and exciting competitive racing had thousands of racing fans lining the Niagara River at Gratwick Park. As the announcer Dick Delsner from Michigan stated: "the boat racing fans in Western New York are the BEST !! The fans LOVE racing and know the boats and racing procedures."
Boat Count: 68 total
1.5 stock "T" 8
2.5 stock "S" 22
5 litre "E" 14
Pro Stock 8
Grand Prix 11
Vintage 5
Overall winners:
T: 1. CT10 Jonathan Abbott, Chateauguay Quebec
2. CT15 Patrick Morneault, Valleyfield, Quebec
3. T27 Leah Hoosick, Amesbury, Mass.
S: 1. S9 Greg Barker, Grand Island, NY Mike Monahan (driver) Cavan Ontario
2. CS19 Sylvain Maheu, Valleyfield, Quebec
3. CS00 Kent Henderson Brockville, Ontario
E: 1. CE104 Marc LeCompte, Valleyfield, Quebec
2. E43 Jim Martin Norfolk, VA
3. CE666 Ghislain Marcoux, St. Zotique, Quebec
PS: 1. PS4 Mike Smith (owner) Toronto, Driver - Dale Hernandex Jr. St. Paul MN
2. PS163 Hugh Monahan , Hillsdale, Ontario
3. PS122 Dominic Cournoyer, St-Anne-de-Sorel, Quebec
GP: 1. GP46 Pierre Maheau, St. Michel, Quebec
2. GP777, owner Huey Newport, West Chester, Ohio, Driver, Mike Monahan, Cavan Ontario
3. GP77 owner Huey Newport, West Chester Ohio, Driver, Bert Henderson, Brockville, Ontario
Next racing event up is the Antique Boat event at the Buffalo Launch Club Sept. 11.
Thunder on the Niagara - Hydroplane Regatta will be held August 21-22 off Gratwick Park, North Tonawanda. The races are presented by the Niagara Frontier Boat Racing Association and will feature food vendors, crafters, and fun for all - www.nfbra.com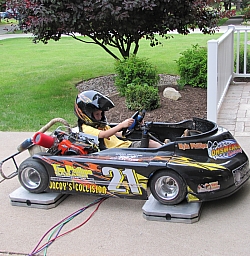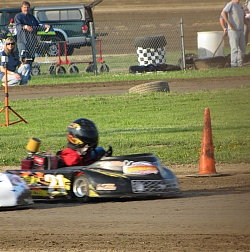 Click photos for larger view
Kyle Phillips is on a roll. He is racing Go Karts and has won seven races so far this year, one exhibition race and 6 points races for a career 12 feature wins in the two years he has been racing.
Kyle, son of Tim and Pam Phillips, races a Slack racing Go Kart that runs on methanol alcohol at Ransomville and Merrittville speedways in the Novice 5- to 8-year-old class.
After this past Thursday night (Aug. 12) win, kyle has to move up to the Junior one 8- to 10-year-old class even though he is six years old. Kyle says he can't wait to move up.
Kyle sponsors are: Tim Phillips Garage, Jocoy's Collision, Mike Davis Racing Engines, Ohsweken Speedway, Longs Racing and Eman Motorsports.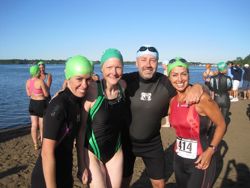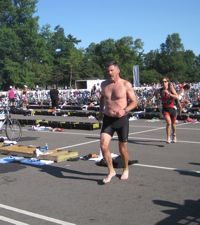 Kim Kalman, Jill Kaplan, Scott Kalman and Annalea Masiello. Right: Mike Dudley
Start of kids swim.
Hundreds of athletes, including islanders: Annalea Masiello, Jill Kaplan, Kim & Scott Kalman, Amy Garten, Chris Jurga, Mike Dudley, Ann Strott & Dean Rallo, participated in the 3rd Annual Riverside Federal Credit Union Summer Sizzler Sprint Triathlon on Saturday, August 7th at Beaver Island State Park. The athletes & relay teams had a 400 meter swim, 17k bike and a 3k run. The formula 1 race athletes had to do the same distances twice. There was also a duathlon which was a 3K Run, 17K Bike and 3K Run. The kids race included a 25m swim, 3K Bike, and 1K Run.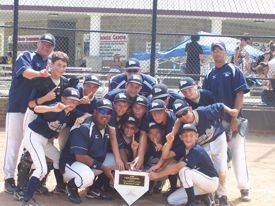 Pictured are: Bottom row: Coach Chris Gresham , Matt Kevekordes , Josh Laurie, Nate Berke. Second Row: Brady Meakin , Evan Kaul, Brandon Dallavia, Austin Oshei, Max Lewis. Back row: Coach Brennan Meakin, Ben Monti, Chase Goodband, Brendan Sheehan (Grand Island), Chris Gresahm, Holden Deres., Coach Adam Oshei. Coach Joe Laurie crouching in back.
Click photo for larger view
The Sports at the Beach baseball tournament in Georgetown, Delaware, was held the weekend of August 7th. A team from Western New York with a never-give-up attitude took home the championship title. New Era Blue went 2-1-1 in pool play and beat the Delaware Select Rebels in the semi-final game to advance to the championship game, where they competed against their brother team New Era Gold. Despite being down 7-0 after two innings, New Era Blue rallied back and defeated New Era Gold 13-7 to win the championship game.
Joe Beauchamp (standing 3rd from left) & Peter Chopra (standing 4th from left)
Click photo for larger view
Islanders Joe Beauchamp and Peter Chopra, members of The Buffalo Wings, took first place at The Cheektowaga Inline Hockey Showcase held in July. Joe contributed 12 goals over the course of the tournement while Peter had a strong defensive outing.
See
Vipers 2011 Tryout Schedule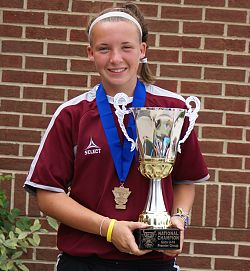 Steph Senn, goalie
US Club Soccer National Championships - Virginia Beach, VA
Teams from 10 different soccer clubs earned national titles, including the U-16 Premier Group champion Empire United SA Blue (Syracuse, N.Y.). Empire United was the only club to place two teams into group finals, with the U-16 team picking up the club's lone championship by defeating Real Reno (Nev.) by a score of 3-0.
"To beat a team twice in the same weekend is very difficult, but I thought we did a very good job of keeping our composure," said Empire United SA Blue coach Mike Paolini. "Once we started going at them we were able to create some openings and get some goals. As a club, we pride ourselves on development of individuals and we train our teams to compete at the regional and national level."
Empire United scored a total of 15 goals this weekend, allowing only 2 against with Grand Island's own Steph Senn in net!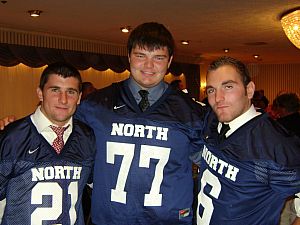 Andy LaLonde #21, Eric Harnden #77, and Brett Dlugosz #6 are shown at the banquet held for the players on Tuesday, July 27th at the Hearthstone Manor.
The Kensington Lions Club's 35th Annual All-Star High School Football Classic took place Wednesday evening, July 28, 2010 at Depew High School. The game was delayed due to lightening. It rained hard and the wind picked up, then skies cleared and it was a beautiful night for the game.
This game consists of the area's best high school football players. Representing Grand Island on the North team were Brett Dlugosz (#6, Linebacker), Andy LaLonde (#21, Running Back) and Eric Harnden (#77, Defensive Tackle). Most schools have one or two players chosen for this team, however Grand Island is lucky to have had three chosen. Grand Island coaches Dean Santorio, Mike Stauffer and Steve Steck attended the game.
Last year, the Kensington Lions were proud to make a donation of $10,000 to Kids Escaping Drugs from the profits of this game. Hopefully this year they will be able to meet or exceed that donation.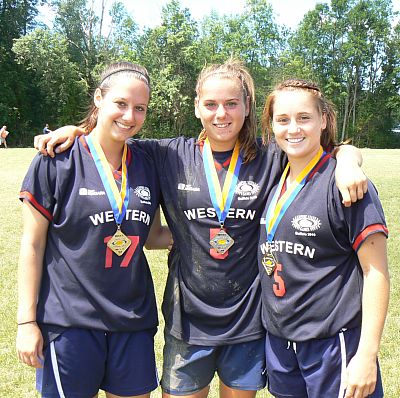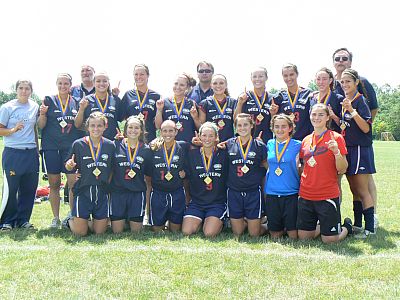 (left) Jessica Kuehne, Jenna Raepple and Jamie Raepple
The team picture shows the Western Women's Open Soccer, sporting their Gold Medals
Jessica Kuehne (left) and Jamie Raepple (right) won Gold Medals in the Women's Open Soccer, and Jenna Raepple (center) won Silver in the Women's Scholastic Soccer. Jessica is a 2007 graduate from Grand Island High School and will be a senior at Siena College in the fall. Jamie is a 2009 graduate from GIHS and will be a sophomore at Niagara University. Jenna Raepple will be a senior at Grand Island High School this year. Siena will be coming to WNY on October 15th playing against Canisius, and on October 17th playing against Niagara University so they will meet again then.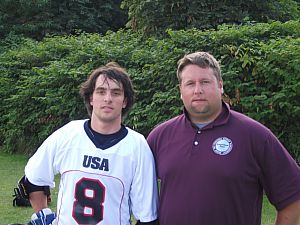 Alex Hultgren and Michael Brand
Michael Brand, head lacrosse coach at Centenary College in Shreveport, Louisiana and GIHS Class of '97, and Alex Hultgren, Senior Midfielder at UB and GIHS Class of '08, recently competed in the U19 lacrosse festival for Harvard Sports Tours, running concurrently as the FIL World Lacrosse Championship in Manchester, England. Their team finished with the silver medal as they lost to USA West 9-8 in the final. Michael served as the head coach and Alex was team captain.
Brand, in his second season at Centenary was recently named the Lone Star Alliance Division 2 Coach of the Year. Hultgren was recently named Honorable Mention All-Central Collegiate Lacrosse Association at attack.
A Village Open golf tournament took place Thursday, July 22 at the Beaver Island Golf Course on Grand Island with refreshments following at the Village Inn in Ferry Village. The results follow.
Low Gross - Gary Scheitheir 40
Low Net - Greg Salazzo - 34
Low Team Net
Gary Scheitheir - 34
Greg Salazzo - 35
Ed Moore - 34
John Vogel - 39
Other NEt Scores
Al Roberts - 356
Dale Boerschig - 35
Chuck Gaiser - 35
Bob Violanti - 36
Dan Lynch -36
Bill Winterfield - 40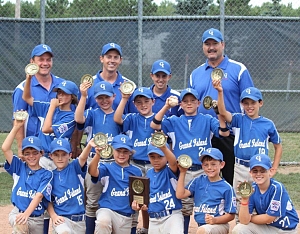 Kneeling L to R: Cameron Sionko, Nathan Canazzi, Ryan Jellinick, Pasquale Munoz, Easton Speer, and Jacob Ford; (2nd Row) Allison Schoener, Mark Seibert, Will Soos, Austin Weber, and Alex Dodge; (Back) Coach John Weber, Manager Greg Ford, Coach Tyler Ford, and Coach Jim Sionko - Click photo for larger view
The Grand Island U9 All-star team won the 2010 Lew-Port Lancer Baseball Tournament July 18. The team overcame an early loss to the South-town Knights, before stringing together 3 wins against some of the top teams in the area. Team Pitching and Defense along with timely hitting powered the team to Victory in the championship game over Fredonia in 9 innings.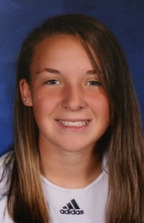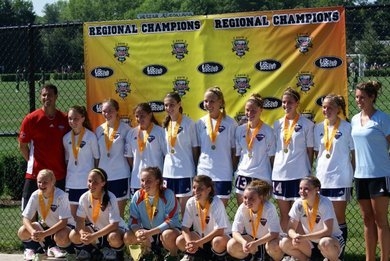 The 2010 PA Classic Series Mid-Atlantic Cup was the destination for Steph Senn (shown above) and her U16G Empire United Syracuse team the weekend of July 17th. The Empire team did an outstanding job winning the tournament - including a breath taking tie breaker which was decided in penalty kicks, resulting in the Empire team proceeding against the higher ranked Real NJ SC Power team. The Empire team heads to VA Beach this weekend to compete at the US Club Soccer National Cup IX Finals.
The Village Open golf tournament takes place Thursday, July 22 at the Beaver Island Golf Course on Grand Island.
In addition to nine holes of afternoon golf, golfers can enjoy a pre-tournament breakfast at 11 a.m. at the Village Inn. A post-tournament get-together with refreshments will follow at approximately 3:30 p.m., also at the Village Inn - good food, beer and pop at $5.
For more information, contact Edward Moore, 773-3817.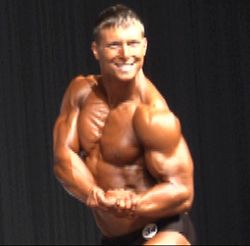 Alex Webb was the overall winner in the Teenage Men division of the Rochester Bodybuilding Championships, held on June 12, 2010 in Rochester, NY. Alex, son of Nancy and Steve Webb, is a 2008 graduate of Grand Island High School and will be starting his junior year at George Washington University in the fall. He is currently in training for the GNC NPC National Teen Championships to be held on July 24, 2010.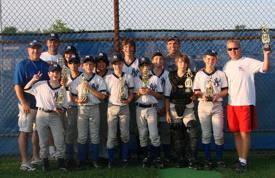 Back Row (left to right): Coach Scott Morrow, Coach Mark Valle', Mark Valle', Anthony Mosher, Vinny Chiarenza, Brandon Costolnick, Tom Major, Head Coach John Chiarenza Front Row (left to right): Max VeRost, Troy Brady, Christian Mason, Danny Otto, Tanner Morrow, Jarod Brandon, and Coach Todd Brandon - Click photo for larger view
The Majors Division Yankees, the #1 seed heading into the playoffs, won the 2010 Majors Division Championship against the Royals 4 to 1. For more than half of the game the score was held 1 to 1 with a pitching duel between Jarod Brandon of the Yankees and Jake Niland of The Royals. Tanner Morrow was solid behind the plate and saved a run on a throw home with the tag... Anthony Mosher scored the 1st run using his speed by stealing his way around the bases. Troy Brady hit a smashing triple and was brought home by an RBI from Mark Valle. Jarod Brandon followed suit with another RBI driving Mark Valle in to make the game 3 to 1. Christian Mason scored the final 4th run on a steal home. Vinny Chiarenza, Danny Otto and Brandon Costolnick were hitting the ball moving base runners into scoring positions and supported the great defense on the field with Tom Major and Max VeRost. All the boys from both teams demonstrated great sportsmanship and played their very best throughout the game and the entire season.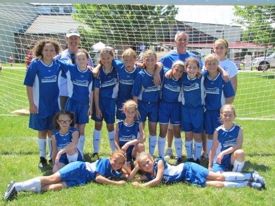 Click photo for larger view
The Grand Island Dynamo U10 Girls Soccer Travel A Team traveled on a road trip to Webster, NY over the June 19th weekend. All the girls played their very best and won all 3 games in their division. The Dynamo tournament team players are: Gianna Aiello, Samantha Bailey, Rosy Boyko, Claire Brandon, Sarah Bykowicz, Jordan Eckrote, Marissa Hovey, Amanda Jordan, Joy LoHouse, Sarah McMahan, Breanna Stedman-Pate, Elizabeth Strott, Gracie Tompkins. Head Coach Tony Pariso, Assistant Coach Alaina Pariso and Nani Bailey.
The Second Annual Angler Young Angler (AYA) Fishing tournament will be held out of Anchor Marine on Grand Island on July 17. Teams of one adult and two anglers ages 17 or younger fish for bass and walleye on Lake Erie and the Niagara River. The winning team receives a 2010 Lund Boat, motor, and trailer plus qualifies for an international championship in Kenora, Ont. For details, call Chris Weaver at Anchor Marine (888) 393-5846.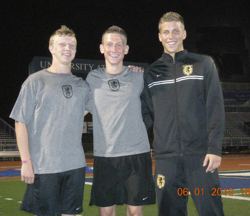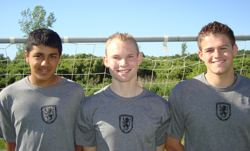 Photos from left: Left: Kolby Banker, Bobby Ross & Jeremy Figler. Right: Aman Cheema, Sam Cummings and Justin Lee.
Click photos for larger view
Congratulations to Kolby Banker (U19), Bobby Ross (U19) and Jeremy Figler (U19), Aman Cheema(U17), Sam Cummings(U17) and Justin Lee (U17) for their contributions to their BlackWatch Soccer teams. Both the U17 and U19 teams entered the State Championship Tournament and have advanced to the Final Four in their respective age groups. The Final Four is held the weekend of June 4-6 in Cortland, NY. The U17 team is coached by Matt Stuczynski and the U19 by Dave Hesch. Good luck to both teams with your quest to advance as State champions and move on to the Regional Finals to be held in Barboursville, West Virginia, July 1-6.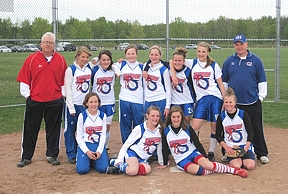 Click photo for larger view
Jillian Sheehan and Amanda Boyle provided all the offense needed for the GI Vipers as they opened up their 14U 2010 Metro League travel softball season in winning fashion. Jillian Sheehan was 2 for 3 with two doubles and two runs scored along with Amanda Boyle's bases loaded clearing double in the 4th inning, and that was all the offense needed to secure the victory for the hometown Vipers. Jenna Sauter and Leah Geis each scored two runs apiece in this lopsided affair. Catarine Boyle and Jenna Neff shut down the Mustangs offense as they combined on a four hit, nine strikeout performance in which they did not allow a walk. Final score was 11-1. The Viper girls have a 12-game Metro schedule, three local tournaments and two out-of-state tournaments this summer. Vipers next home game is slated for Saturday, May 22 at 6 p.m. at Veterans Park against EMW.
See
5/13/10 Niagara Gazette Story
by Jonah Bronstein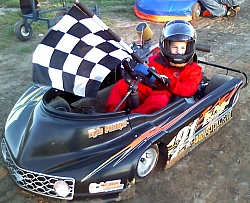 Click photo for larger view
Six-year-old Kyle Phillips made it a clean sweep in his second outing this year and won both heats and the feature on Thursday night, May 6 at Ransomville speedway in his methanol alcohol powered racing Go Kart. Kyle, son of Tim and Pam Phillips, is starting his second year of racing after a very successful 2009 season when he won five feature races and 11 heat races. Kyle races weekly throughout the summer in the Novice 5- to 8-year-old class at Ransomville and Merrittville speedways. Kyles is a Grand Island resident and attends Charlotte Sidway School on Grand Island. Kyle's sponsors are Tim Phillips Garage, Jocoy's collision, Mike Davis racing engines and Ohsweken speedway.
The Village Open golf tournament takes place Thursday, May 20 at the Beaver Island Golf Course on Grand Island.
In addition to nine holes of afternoon golf, golfers can enjoy a pre-tournament breakfast at 11 a.m. at the Village Inn. A post-tournament get-together with refreshments will follow at approximately 3:15 p.m., also at the Village Inn - good food, beer and pop at $5.
For more information, contact Edward Moore, 773-3817.
A boating class will be held at the Holiday Inn Grand Island Saturday, May 15th and begins at 8 a.m. Participants are to ask in the lobby for the room number the class is being held in. Students are free to provide their own lunch at the hotel or at a food location or "brown bag" during the 30-minute lunch break. The class is over at 4:30 p.m. NYS requires an eight-hour course.
Covered will be the Federal requirements for boaters (also Personal Watercraft) plus the NY State requirements so the boater will know the "rules of the road," discuss recommendations for safe handling, docking and equipping of boats. Legal issues For US and Canadian waters and other practical boat handling items will be discussed. NY State requires a proctored exam at the completion of the course. Those passing the exam will receive the certificates and wallet cards at the end of the session.
Cost of the class is $40.00 for the first person and if two more family members enroll the cost is $20.00 each "because we believe that one text can be shared by three in a family," a spokesman for the class said. "Then the price structure repeats for four or more," he said.
Contact person is Steeg Johnson at 716-632-7353. Anyone wishing to preregister should call him or Email
heidisteeg@earthlink.net
to find out how to proceed.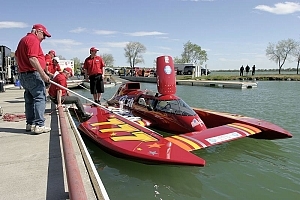 Shown are Gary Roesch (left holding the pike pole), Warren Hayworth (the driver's father) sitting on dock, Mike Endres, Steve Polizzi and Danny LaFrance; part of nine that were with the boat for the race.
Brad Drake Photo - Click photo for larger view
The GP-777 team ('The Crush') owned by Island resident Mike Endres and former resident Todd Roesch, (also co-owned by Huey Newport and Tom Baker) traveled to Moses Lake, in Walla Walla Washington (April 23-25) to compete against the APBA GP WEST racing club May 1st and 2nd. This was the first time a ACHA boat traveled to compete in a West Coast event.
"We arrived on Thursday, April 22nd and tested Friday," Gary Roesch said. "We needed the testing due to the boat was in West Palm Beach all winter going through a complete over hall from the 2009 season. Saturday the race got cancelled due to high winds. The two day race started promptly at 8:30 a.m. Sunday and Saturday's heats were completed by noon," Roesch said. "The Crush boat had steering problems in the first heat and got a first in the second heat. As for Sunday's heats, we got a second over all. A fairly successful week end considering the 3000-mile trip. The boat is now in Cincinnati, Ohio getting ready for the next race in Long Sault, Ontario on May 29th and 30th," Roesch said.
Former Grand Island resident Dan Kanfoush of Niagara Falls was also there and won all four of his heats in the Y class (1200cc). He broke his previous record by two miles per hour. He averaged over 91 MPH for the five-mile four-lap course. "We are very proud of Dan and his accomplishments as national champion in 2009. He has already established himself as the guy to beat in 2010," Gary Roesch said.
Catch The Crush boat this summer in Tonawanda on August 21st and 22nd!
Niagara Power Squadron Public Boating Class May 15th from 8:30 AM to 5pm at the Elk's Lodge on Factory Outlet Blvd. Walk in registration. Any questions, please call 773-2140 after 6pm.
Niagara Gazette . . .May 1, 2010
Grand Island product and University of Buffalo senior hurdler John Connors was named the Mid-American Conference's men's track athlete of the week, after winning the men's 400-meter hurdles at last Sunday's Big Red Invitational at Cornell Univesity in Ithaca. Connors set a season-best with his finish in 53.30 as the Bulls captured two of the top three finishes in the race.
Cheektowaga Bee - April 22, 2010. . .
Steve Kopf, a 2005 Magna Cum Laude graduate of Grand Island High School and a Magna Cum Laude graduate from Niagara University, is not only teaching at Cleveland Hill High School but is also the boys tennis coach there. See
Steve Kopf
for complete story by Cheektowaga Bee reporter Jason Nadolinski.
Eddie Weiser, Grand Island High School Class of 2009, will be featured in the 7th installment of Raging Wolf's Mayhem in the Mist: The Series in a three-round match up against Kyle Rozanski on May 8 at the Seneca Niagara Casino. See
4/28/10 Niagara Gazette Story
by Brandon Koch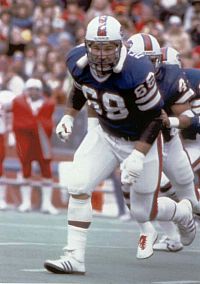 Buffalo News. . .
Buffalo Bills Hall of Famer Joe DeLamielleure will make an appearance at a fundraising event for the 16-and-under Grand Island Dug-Out Travel Baseball team. The fundraiser will be held from 7-11 p. m. May 7 at the Knights of Columbus, 1941 Whitehaven Road, Grand Island. Admission is $10 and includes food and drinks. DeLamielleure will sign autographs, take photos and conduct a special health and fitness demonstration from 7:30- 8:30 p. m.
See
"complete information."
See
"further information."
See
4/25/10 Niagara Gazette Story
by Jonah Bronstein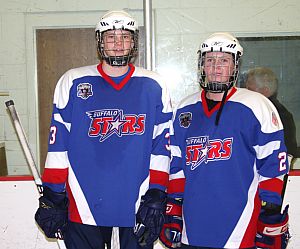 The Fellowship of Christian Athletes (FCA) Hockey Announces Inaugural "Team FCA" to include 17-year-old Islanders, Max Hyland and Larry Smith, Jr. Team FCA will consist of 18 skaters from seven different states. The elite team will compete Memorial Day weekend in the CAN/AM Hockey Tournament at the Amherst Pepsi Center.
FCA is the largest Christian sports organization in America. Both Hyland and Smith are excited to be named to Team FCA and are proud to be members of a hockey organization that focuses on serving local communities by equipping, empowering and encouraging young athletes to make a difference for Christ.
"These kids are the future leaders of our country and I am proud to have them playing on Team FCA this summer," said Team FCA GM, Ken Paulin.
Hyland, a junior at Canisius High School, and Smith, a junior at Grand Island Senior High, were also defensive teammates on the Buffalo Stars Empire Junior B Hockey Team and travelled to the team's first National appearance in Marlborough, MA on March 25th, 2010.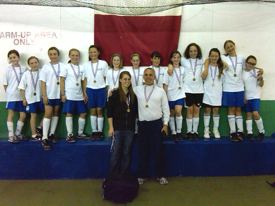 Click photo for larger view
The Grand Island Dynamo U10 Travel A Team played a tight game on Sunday April 11th against the 1st place Amherst Wildcats. The game ended in a 3 to 3 tie and went in to an overtime shootout ending with a victory for the Dynamo. A great game and season was played by all the girls led by Head Coach Tony Pariso, Assistant Coach Abby Wittlinger and Team Manager Nancy Bykowicz. The Dynamo team players are: Samantha Bailey, Rosey Boyko, Claire Brandon, Sarah Bykowicz, Jordan Eckrote, Marissa Hovey, Amanda Jordan, Natasha Keller, Joy LoHouse, Sarah McMahan, Natalie O'Brien, Breanna Stedman-Pate, Elizabeth Strott, Gracie Tompkins.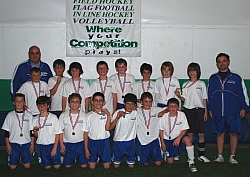 Click photo for larger view
The Grand Island Charging Rhinos U-11 boys' soccer team, playing an age group up, clinched the U-12 division indoor championship at Epic Center by winning the final playoff game 5-2 against the U-11 Empire Premier team (also playing up). The Rhinos team consists of John-Paul Bobak, Joey Boyko, Troy Brady, Anthony Emmi, Louie Fabiano, Jacob Gleave, Justin Kozlowski, Peter Kroetsch, Jason Miller, Sean Pufpaff, Nicholas Rallo, Garrett Robinson, Cameron Smith (not in picture), Anthony Stolfo, Charlie Stube and Nicholas (Skittles) Szabo. The team is coached by Angelo Grande and Lou Fabiano.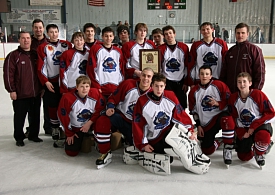 (Front left) Mark Hughes, Joe Fanara, Zach Dowsey, Zac Sortore, Jack Boyko; (back) Coach David Ungaro, Goalie Coach Scott Boyko, John McCassey, Adam Stanczyk, Josh Ungaro, Mark Grozio, Jeff Janese, Jake Lawley, Nick McKenna, Antonio Guerrucci, John Conti, Coach Kirk Lawley.
Click photo for larger view
The Niagara County Coyotes Bantam Hockey Team capped off its 2009-2010 season with a victory in the Niagara Falls Championship Cup Hockey Tournament. The Coyotes went 4-0 in tournament play and defeated the Niagara Jr. Purple Eagles in the championship game with a shootout goal.
The tournament was a terrific way to end a great season which saw the Coyotes only lose 2 games in league play, finish first in their division, and be one of eight teams in New York State to qualify for the State Tournament played in Cortland, NY.
The team will compete in the Midget 15u AA division for 2010 and will be holding tryouts on Tuesday, April 13th at 4:30 p.m. at The Pepsi Center in Amherst and Thursday, April 15th at 9:00 p.m. at Dwyer Arena on the Niagara University Campus. The team will be looking to add players at both defense and offense. For more information call David Ungaro at 310-0104.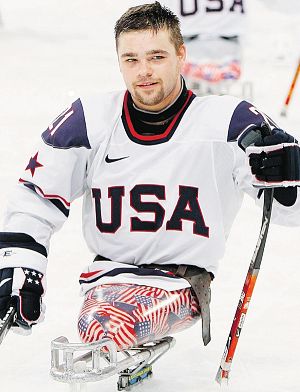 Grand Island's Alexi Salamone is a member of the Paralympians U. S. sled hockey world championship team. His U. S. sled hockey team defeated Japan, 2-0 in Vancouver to win the Gold.
See
3/24/10 Buffalo News story"
by Gene Warner.
See also
"Vancouver Sun story."
Thomas Cecere, a fourth grader at Kagebein Elementary, recently helped his team the Tonawanda Lightning win the New York State Tier II Squirt Major Championship held in Binghamton, N.Y. Thomas scored 3 goals and 5 assists in the five game tournament. He helped set up the game winner in the championship. For more details on the championship go to
http://tonawanda-news.com/sports/x1745496104/Blachowski-lifts-Lightning-to-state-hockey-title
Niagara Power Squadron will hold the NY State required boating/jetski class from 8:30 a.m. to 5 p.m. Saturday, May 15th at the Elks Club located next to the Factory Outlet Mall. Certificates will be issued after completeing the exam. Call 773-2140 after 6 p.m. for further information.
See
3/18/10 Buffalo News Story
by Gene Warner See also
Team USA Story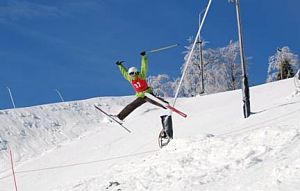 Brianna McGuire, daughter of Andrea and Michael McGuire, is 1 of 28 girls from the east coast invited to ski in the Kelar Atlantic EQS B Championships being held at Holiday Valley March 19-21, 2010. Brianna will be representing the Holiday Valley Freestyle Team in this event. She will compete in the Moguls event on Saturday. Brianna, who started skiing when she was four years old, is a student at Grand Island Senior High School.
The 2010 Grand Island Youth Lacrosse League for grades 3 through 5 will begin on May 2nd. The program will be on Sundays and Tuesdays from 6:00-7:30 p.m. No experience is necessary. Flyers with registration forms were distributed to the students at Kaegebein and Huth Road Elementary school. Email amynicolia@k12.ginet.org or call the Community Ed. Dpt. at 773-8864 for a registration copy. For additional program information, please contact Steve Steck at
stevensteck@yahoo.com
or 773 9417.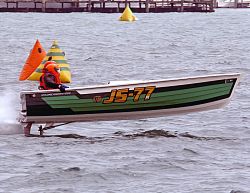 Click photo for larger view
March 4, 2010 . . .
Grand Island's Brian DeGlopper was awarded the East Coast Rookie of the Year honor at the recent American Powerboat Racing Association National Meeting held in Seattle. Having participated in the Vintage & Historic Division for 10 years, 2009 marked his first year driving the family's Jersey Speed Skiff race boat, JS-77 Zippy Pickle.
Flotilla 3-5 U.S. Coast Guard Auxiliary will give a Safe Boating Course (The ABC Course) on Saturday, May 15, 2010 at the Buffalo Launch Club. For further information, call 632-7353 or 694-2468.
See
2/19/10Niagara Gazette Story
by Tim Schmitt
See
2/10/10 Buffalo News Story
by Gene Warner
The Niagara Jr. Purple Eagles Hockey League, with 40% of the players from Grand Island, held a food drive for the Western NY Food Bank that is connected with NCAP. This was the second year for the league to do so. Last year players collected around 800 lbs. of food, and this year almost tripled what was collected, 2550 pounds of food. Families either went out collecting food or donated from their own cupboards. Some people who forgot about the event at Dwyer Arena, showed up for a game or practice and just donated cash. "At the end of each day we went shopping with the cash we collected. I was amazed at the number of volunteers we had, we gave out a hockey puck for every 3 items donated," a spokesman said. "At one point we were running out of pucks, when coaches heard of this they went home and brought in dozens of pucks to hand out to the families who donated. This was two-day event 16-hour days, when we had no one to man the tables in the lobby, people who were donating the food offered to sit at the tables to help collect, while their kids helped organize the food," he said. "I just wanted to thank all the people who helped in organizing this, sat at tables collecting food/money, coaches, the rink for letting us do this and especially the kids who took their time out of their busy weekend to help others who they don't even know. Sometimes a story like this will make people appreciate each other and give others a smile whether giving or receiving, all enjoyed the weekend."
Niagara Gazette Jan. 26, 2010 . . . Kelsey Harrigan of Kaegebein Elementary School on Grand Island took first place in the annual Elks Western District Hoopshoot Contest for girls ages 10 and 11 at Erie Community College's Flickinger Center this past weekend. The win qualified her for the Western Regional competition on Feb. 6 at Olean High School.
Bowling Results
submitted January 07, 2010
Steve Beatty - Buffalo News Feature - 2010
See Buffalo News Story.
2nd Annual Alumni Hockey Game - 2010
Grand Island Alumni Hockey will host its second annual alumni game and chinese auction fundraiser. The fundraiser will be held Saturday, January 9, 2010 at Hyde Park Ice Pavilion from 5:45 p.m. to 11 p.m. "We will be celebrating the 40th anniversary of Grand Island High School Hockey, and will profile the 1970 team in our program," Gene Kozek said. The night starts off at 5:45 p.m. with the Grand Island Junior Varsity taking on Lockport, followed by the 70's vs 80's at 7 p.m., and 90's vs 00's at 8:30 p.m. Tickets are $10 and include alumni games, food, beverages and chinese auction. "Come out and support our program" Gene said.