Grand Island Sports News 2011
Previous Sports Pages
Island Hockey Players Honored - Dec. 2011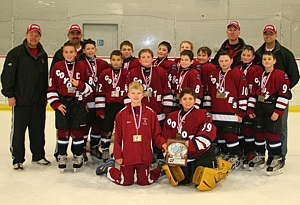 Click photo for larger view
The Niagara County Coyotes PeeWee Minor AA Youth Ice Hockey team took runner-up honors during the Festival of Lights Tournament Held at Hyde Park in Niagara Falls during the Thanksgiving Holiday 2011. Many of the members of the team are residents of Grand Island.
Front Row:Goalies Stroh, Antonio
Second Row:Leone, Giordano, Evert, Palmer, Russell, Neff
Third Row:Clarkson, Carden, S.Scheeler, Ferrari, Graff, B. Scheeler
Fourth Row: Coaches Neff, Giordano, Scheeler, Leone
Niagara County Coyotes Peewee Minor AA Team Manager is Brenda Scheeler


Niagara Gazette - Thursday, Dec. 1, 2011
Kern comes home with away team

NFL: Last time Titans punter played at The Ralph, he was playing for Grand Island
by Doug Smith
Native Grand Islander Brett Kern gets a kick out of life as a Titan. Even his 2-year-old son talks with a Tennessee drawl.
"Bryce is a little advanced for his age," NFL punter Kern said by phone moments after a Titan team meeting. "And yes, he talks with that twang."
And now, family twang and all, the former Grand Island Viking is coming home when the Titans take on the Bills Sunday afternoon at 1 p.m.
He'll be stepping onto the turf at Ralph Wilson Stadium for the first time since a Section VI playoff game vs. Sweet Home in 2003.
"It was windy," he recalls.
"It's a wind tunnel," echoes dad Cal Kern.
Nonetheless, says Brett, "We don't try to plan anything or work out any differently than we would for any other place. We just try to prepare for anything that might come up."
Preparing for anything that might come up pretty well describes the life of Brett Kern. If his punts resembled his career path, he'd have to buy a ticket to get in.
At Grand Island High, Brett was contentedly following the footsteps of his soccer All-American dad when the football team lost its kicker and coach Dean Santorio found a spot for him. Then came the University of Toledo, a huge success (except for a day at UB when two kicks came back into his face) and two long days waiting in vain for an NFL draft call.
But when the prices went down, Denver checked in and Brett Kern went up, lofting moon shots into the mile-high Colorado air in 2008 and well into 2009. The Broncs were 6-0, Brett was averaging around 50 yards and then after an opponent returned a punt for a TD, they cut him loose.
Brett was golfing out his frustrations the following morning when the Titans called him, telling him to putt out and pack up. For what it's worth, the Titans then went 3-0 and the Broncs 0-3.
So in "preparing for anything that might come up," Kern had to take note of the Bills' situation last month when placekicker Ryan Lindell went down mid-game and punter Brian Moorman had to take his place. "I've always admired Moorman," Kern says, "and yes, I'm the 'disaster' placekicker here. If the same thing happened here, I'd need to step in, we practice it about once a week and spend the rest of the week praying I never have to."
Kern's raw "numbers" have gone down considerably since the waltz to Tennessee - about 43 yards, and just 29.3 this past Saturday - and there's more to that than the heavier Nashville air.
"Our formations and lineup emphasize direction," Kern said. "They want the ball outside the numbers. It doesn't look good in the stats, but there are too many good return men in the league now. It may not look the prettiest but it's what they want and I'm glad to give it to them."
He maintains close contact with his staff at Toledo, which earlier this season lost an epic 63-60 game (no overtime) to Northern Illinois. Not much punting in that one. "It was painful to watch," he said.
Living in a suburb "much like Amherst," Kern notes that "The community here is huge on the Titans, even with so much other football around," such as the University of Tennessee. Kern pauses, searching for the perfect word with all the precision of a punter eyeing the five-yard line. "They appreciate football," he says. "that's not to say Bills fans don't but it's different. I caught a high school playoff game myself a couple of weeks ago."
The future forecast is bright for Kern, whose studies include meteorology. He and wife Tiffany infanticipate a roster addition in mid-May. But for now, the concentration is on Sunday, and Brett Kern is well-prepared for whatever comes next.



Alex Cancilla Off to National Soccer Tournament - Nov. 2011
November 23, 2011 . . .
Alex Cancilla, son of Mitchell & Rosary Cancilla, will travel this weekend to play the National U14 Soccer Team in Chula Vista, CA as one of the top 106 players in the country. The road to this huge honor for any soccer player follows.
Alex made the Olympic Development (ODP) New York West (NYW) team, participated in the Region I tournament in New Jersey and attended the Region 1 Camp in PA (around 500+ players). He was asked to come to the Region 1 Call Back Camp in Pennsylvania and made the Region I Team of players (70 players). Region 1 encompasses Northeastern States from Maine to Virginia.
From this pool of 70 players, Alex was chosen as one of the 18 players selected to attend the U.S. Youth Soccer ODP Thanksgiving Interregional Event in Chula Vista, CA. There are 18 players from each Region Team and 36 National Players from the National Pool. This makes a total of 108 of the top soccer players identified by ODP in the country. His team will play Region III, Region IV and BOTH National Squads (Red & Blue).
This is quite an honor and a great experience for Alex. He will be at the Olympic Center where the Olympic Athletes are housed and trained. He will not only play in such a great venue, he'll be meeting other players from all over the country. To prepare for this event, he has also been going for training with Coach "Kiwi" Aaron Lines who coaches the women's #1 professional team in the world the WNY FLASH team.
Alex was also a starter on the Grand Island J.V. team and was the lead scorer with 28 goals and 11 assists. Alex also plays on the U14 Empire United Premier Soccer Team along with three other Grand Island boys: Eric Albrect, Frank Controneo, and Josh Horvath. They just returned from a tournament in Bethesda, MD this past weekend.
Alex, who is the Student Council President of Veronica Middle School, has consecutively made the High Honor Roll since 6th grade and currently has a 98 average. He participated in Destination Imagination for two years and his team went to Globals in TN representing Grand Island. Alex was an undefeated wrestler last year on the Modified wrestling squad under Mr. Henry Carney
Chelsea Hall Earns Alfred University Volleyball Honors- Nov. 2011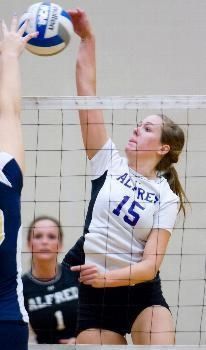 ALFRED, NY - Chelsea Hall (Grand Island, NY/Grand Island), a sophomore on the Alfred University women's volleyball team, has earned Empire 8 all-conference honors. Hall, an outside hitter, earned honorable mention from the conference. All-Empire 8 honors were determined by a vote by coaches, using players' statistics from seven matches of conference round-robin tournament play. Hall had 51 kills (.152 hitting percentage) and 11 service aces to lead the team in conference play. She also had 61 digs (second on the team) and 18 blocks (third). For all matches heading into this weekend's season finale, Hall has 238 kills, a .204 hitting percentage and 38 service aces (all team highs) and has 284 digs and 66 blocks, both of which ranks second on the team.
Chelsea is a Grand Island High School graduate, Class of 2010 and the daughter of Susan and Brian.
Runner Chris Carter Recognized - N0v. 2011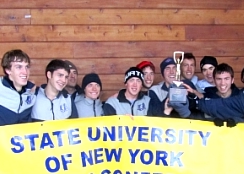 Click photo for larger view
Chris Carter, Grand Island Class of 2008, pictured center, has been named Second Team All Conference. Next stops NCAA D3 Regionals Nov. 12, 2011 at St. Lawrence and Chris will be part of the Geneseo Team participating at NCAA D3 Nationals at Oshkosh, Wisconsin on Nov. 19. Chris was number 10 runner at SUNYAC Conference and earned 2nd Team All Conference. See
State University of New York Athletic Conference
Eddie Weiser Turns Pro - August 2011
See
10/21/11 Gazette Story
by Mike Meiler
Allie Weiser Featured in Niagara Gazette - Oct. 2011
See
10/12/11 Gazette Story
by Nate Beutel
Results of the Oct. 6, 2011 Village Inn Open follow:
Low Gross - Pat Conn - 41
Low Net
- Gary Sceitheir - 34 (1st hole
Team net
Gary Sceitheir 34
John Vogel - 38
Tom Hallett - 38
Dave Hallett - 34
144
Other Net Scores
Wayne Anstett 35 (1st hole)
Bill Gorrell 39
Hank Carroll - 35
Dav L. Ynch 35
Bill Lee 36
Mike Torrance - 36
Les Dumas - 37
Al Roberts - 37
Dan Lynch 37
Don Tranter 38
John Boutet Inducted into WNY Baseball Hall of Fame - Sept. 2011

(Left) John, his wife Robin and daughter Amy
Grand Island resident John Boutet was recently inducted into the WNY Baseball Hall of Fame. The Hall of Fame's 15th induction ceremony was held at the Lake Erie Italian Club in Lackawanna on September 21st. John was a two-time All Catholic at St. Joe's and named to the All Western New York first team in 1981 when he batted .508. He went on to a college career at Canisius and played AAABA for Leibs and AAA Muny for the Southside Athletic Club and the Wiechec's Mustangs. He also won two New York State 16 and under championships highlighted by an appearance in the 1980 16U World Series in Memphis, TN. He is currently a Phys. Ed. teacher and coach in the Niagara Wheatfield school district.
Soccer Great Jessica Remmes Signs With French Club Montpellier - Sept. 2011
Former Dukes forward/midfielder, Jessica Remmes (Grand Island, NY), has signed a professional contract with French club Montpellier, considered one of the top women's teams in Europe and a regular competitor in the UEFA Women's Champions League. Remmes becomes Montpellier's 3rd international signing (French teams are allowed 3 non-European Union players) along with 2011 FIFA Women's World Cup champions Rumi Utsugi and Aya Sameshima from Japan. Since early August, Jessica has been training with Montpellier in the south of France and has scored 3 goals in 3 pre-season games, most recently netting one against Algeria's national team. Montpellier also boasts France Women's World Cup stars Marie-Laure Deli, Ophelie Meilleroux, and Laetitia Philippe, who helped guide France to the semi-finals of the competition this past summer in Germany. The French women's professional league consists of 12 teams playing a 9-month season that runs from September to June with the top two teams also competing in the UEFA Women's Champions League.
Jessica is a 2006 graduate of Grand Island High School where she was an NSCAA All-American player. She played college at James Madison University for four years. She is currently the only American player in the French women's pro league and is the only former female JMU player currently playing in a full-time professional league.
Nick Masiello Featured in Niagara Gazette - Sept. 2011
See
8/22/11 Gazette Story
by Ryan Nagelhout
Cycle-paths Labor Day Pub Crawl - Sept. 2011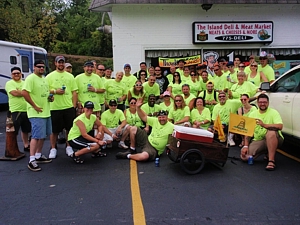 Click photo for much larger view
The annual Labor Day pub crawl of the Island bicycle club "Cycle-paths" took place on Sunday September 4th with 50 + riders (our biggest turnout yet). A Halloween ride is planned for October 29th at 3 p.m. The meeting place for this occasion is The Comicbook Cafe, 1771 Love Road.
Joel Klock Featured in Niagara Gazette - August 2011
See Niagara Gazette story 8/22/11,
8/30/11 Gazette Story
by Nate Beutel
Vipers 14U Travel Softball Tryouts - Sept. 2011
Grand Island Vipers 14U second year travel softball team will hold open tryouts at 1 p.m. Saturday, September 10, 2011 at Veteran's Park, Field 10, Bedell Road, Grand Island, NY. Coaches are looking for all position players, including catching and pitching, to complete the 2012 roster. The 14U girls will be playing in the Metro Girls Softball League, three-four local tournaments and one out-of-town tournament. They will fundraise a majority of the costs. Practices and clinics will be held during the off season. Those unable to make this date, who would like a separate tryout, contact Jim Myers at (716) 531-2351 or sydnah@msn.com.



Aceti's Monday Night Women's Softball Wins Championship - August 2011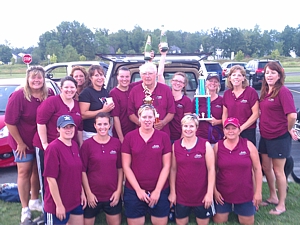 (Front left) Janine Moran, Jackie McBride, Amanda Lake, Amanda Galas, Laura Anderson; (back) Sue Wieberg, Cherrish Beals, Jude Kuehne, Lynn Kelly, Jessie Balling, Kester Bleich, Melanie Anderson, Jennifer Peresie, Amy Davis, Karrie Valle
Click photo for larger view.
The Town Recreation team, Aceti's, coached by Kester Bleich, came in first place in the Women's League (standing 8-2). The Aceti's team won the championship game against The Moose with a score of 9-0.
Sports Recognition - Stacey Schroeder-Watt - August 2011
See Niagara Gazette story 8/22/11,
Stacey Schroeder-Watt
by Ryan Nagelhout
Cycle-paths Labor Day Pub Crawl - August 2011
The annual Labor Day pub crawl of the Island bicycle club "Cycle-paths" will take place on Sunday September 4th, @ 12 noon. This year's starting point is The Island Deli and Meat Market, located at 2488 Grand Island Blvd. near Martin's Fantasy Island. Anyone interested can attend.



Grand Island Blue Champs - August 2011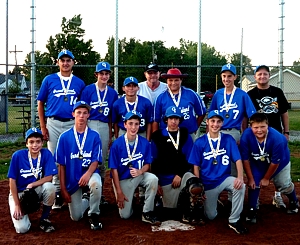 Pictured is the championship Grand Island Blue, Juniors Baseball team. The team won the Mel Ott house Championship (Commac Travel House League in Tonawanda) Tuesday night, August 16, 2011 with a 3-1 final score over the Kensington Braves. Bryce Callen pitched the whole game. Brian Brennan, Alex Brennan and Nick Colan drove in the three runs. Shown left to right are Nate Marino, Tanner Speer, Nick Colan, Joe Saraceno, Bryce Callen and Alex Brennan; (back) Kevin Borowicz, Lucas Siebert, Colton Czajka, Coach Bob Brennan, Brian Brennan, Tyler Ford and Coach Rick Hilts. Not shown are Jake Matwijko, Christian Hilts, Danny Otto, RJ Stolfo and Luke Saraceno. The GI Blue team went on to a 1-game GI championship, beating the other GI team (White) 6-5 on Tuesday night at Veterans Park. After the game the players had a home run derby which was won by Luke Saraceno.
Click photo for larger view.



Billy Click Runner-up In Jr. Dragster Competition - August 2011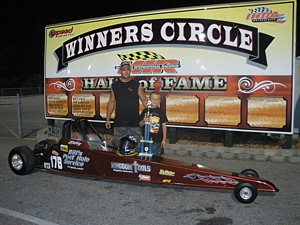 Bill Click Sr. and son Billy Click

Click photo for larger view.
Royce Miller from Maryland International Raceway took the old movie line, "Build it and they will come" seriously when he started hosting the IHRA Junior Dragster event 15 years ago. This year's turnout set a record for number of teams attending with 26. They came from Maryland, South Carolina, Georgia, Virginia, Pennsylvania, New York, North Carolina, Ohio and as far away as Texas and California to compete at one of the most prestigious and fun all junior dragsters events in the country. All IHRA, NHRA and independent tracks are invited to send up to 3 teams of 10 junior competitors to compete for individual team awards.
The three-day event started with time runs, a gamblers race and a wild water fight led by Royce himself. Saturday started with index classes and an all run bracket race. The winning drivers received cash prizes and the winning team of each event received a pizza party. A Quick 16, the Micron 330's, Real Housewives of Junior Dragsters, dads on pit bikes and the little ones on big wheels rounded out the day. Sunday was the main event with 8-9, 10-11, 12-14 and 15-17 year olds. Awards for Best Appearing Car, Best Engineered Car, Best Team Spirit and Best Appearing Team were also given out on Sunday morning.
On July 15-17, 2011 the Click family went down to Maryland International Raceway to compete in the Junior Dragster Team Finals. Eight-year-old Billy Click from Grand Island NY who attends Kaegebein Elementary School and is going into 4th grade this September, took runner up competing in the 12.90 index with pro tree (which is the 8-9-year-old class). At this event there were 237 total kids competing in ages from 8-17 years old, (which set an all time record) from all over the country, including as far away as California. Billy represented Dunn Tire Raceway team along with 2 other drivers. He is the son of Bill & Danielle Click.
Emily Czubaj 9-Hole Champ - August 2011

Emily Czubaj (right), a fifth grader at Huth Road Elementary School, won the 9-hole championship sponsored by the Women's Buffalo District Golf Association at River Oaks Golf Club. She won by two strokes over Sophia Downey.
2011 Marcia Bassett Mc Gratton
Junior Girls Golf Championship

River Oaks Country Club
Tuesday, August 9, 2011
All the girls had to endure very inclement weather and finished with many smiles.
The 18 hole winner was Chelsea Dantanio.
See
http://wbdga.com/index.htm
for pictures and information.



Village Inn Open - August 2011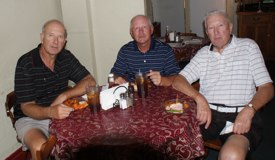 From left: Gary Sceithier, Greg Salazzo, John Vogel, Missing: Ed Moore.

From left: Mike Cutini, Dave Crockett, Don Tranter, John Blake.

From left: Dan Lynch, Bob Sims, Chuck Gaiser, Dale Boerschig.
Photos by Ed Moore.
The Village Inn Open took place at Beaver Island Golf Course on Thursday, August 11, 2011. "Ed's Hot Shots" were the winners, consisting of the team of Gary Sceithier, Greg Salazzo, John Vogel and Ed Moore. Low gross was Gary Sceithier with a score of 39 and low net was Ed Sontag, with the score of 34.
Thunder on the Niagara - August 2011
Thunder on the Niagara hydroplane racing returns to the east Niagara River on Saturday, August 20 and Sunday, August 21 with races starting at 11 a.m. off Gratwick Park, N. Tonawanda.
New Sports Entry (SE) will be the Flatbottom Class. See
Thunder on the Niagara
for complete information.
Vipers 14U Hold Softball Tryouts
See
2012 GI Vipers Travel Softball Tryout Schedule



GI Vipers Win 16U Metro Championship - July 2011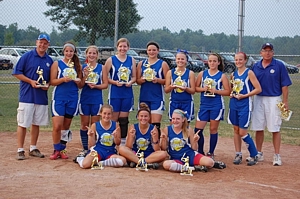 Front sitting left to right: Jillian Sheehan (GI), Catharine Boyle (NF), Jenna Neff (GI); (standing) Coach Neff (GI), Allison Novak (Amherst), Leah Geis (GI), Jessica Flohr (Ca), Jasmine Petrishin (NF), Jenna Sauter (NF), Emily Edwards (GI), Natalie Argy (GI), Coach Edwards (GI)

Click photo for larger view.
August 10, 2011 . . .
The cardiac girls of Grand Island escaped another nail biting finish to defeat the North Buffalo Wildcats 3-2 in the 16U Metro League Championship at Veterans Park on Grand Island. Jasmine Petrishin who has been a workhorse for the Vipers all season long took the mound for the hometown Vipers and did not disappoint. Petrishin, who saved her best stuff for last, flamed 9 Wildcat batters, allowing only two runs on 6 hits to a very good Wildcat lineup. In the bottom of the sixth with the scored tied at 1-1, Leah Geis started things off with a one out hit down the 3rd base line. With the count 2 and 2 Petrishin unloaded with a 200 ft. bomb over the left fielder's head to score Geis with a stand-up double. Petrishin would score on the very next pitch as Jenna Sauter doubled up the middle giving the Vipers a 3-1 lead. The Wildcats would make things close, after Petrishin struck out Thompson to start the inning, a double by Johinson and a sacrifice hit closed the gap to 3-2. The Wildcats weren't done yet, with two out hits from Davis and Fitzpatrick that put runners on 1st and 2nd, the Wildcats attempted to steal third and were promptly put out by Geis who threw a laser down to third to end the game. The Vipers have been use to these nail bitting finishes as all three playoff games have come down to 1 run but this put the icing on the cake. Catharine Boyle and Jenna Neff each went 2 for 2 in this game, with Boyle scoring the other Viper run on a Jessica Flohr hit. In the semi-final tilt, the Vipers again got excellent pitching from their other ace Allison Novak who, like Petrishin, struck out 9 batters, allowing only 4 runs on 7 hits in a 5-4 victory over the Orchard Park Starz. The Starz jumped out to an early 3-0 lead on the Vipers, but Emily Edwards closed the gap to two scoring on a run off and a two out single by Jillian Sheehan in the bottom of the fourth. The Vipers then exploded in the fifth with runs by Flohr, Neff and Geis from timely hits off the bats off Sauter and Natalie Argy to take their first lead of the game. The Starz would even things up in the top of the sixth, but with a two out single by Boyle, who later stole second, scored on a hit up the middle by Flohr to put the Vipers up for good. Novak came in and shut things down with a couple strikeouts and a pop fly to Geis behind the plate to end the game. It's been a long year for this Viper team who started working out for the season last November in the GI High School gym. With all the big name orginaizations in the area that recruit players from all districts, it's nice to see a small homegrown team get rewarded for all their hard work. With the combination of good pitching, shut down defense, timely hitting and speed, the Vipers have gone an impressive 35-12-1 over the summer. The Vipers played in 5 tournaments over the summer, finishing in 3rd place in each tournament with teams from Canada, NY, Ohio and Pennsylvania. "Im extremely proud of these girls for all their accomplishments they have had this season. They have represented Grand Island with class and I want to thank them for a great season," Coach Dean Neff said.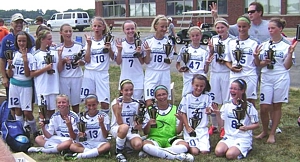 Click photo for larger view.
August 10, 2011 . . .
The GISC U12 Vikings recently won the Wilson soccer tournament for the 3rd consecutive year. The 2011 roster consisted of Sarah Asbach, Lexi Belstadt, Cassie Brooks, Kelsey Harrigan, Kaitlin Hoy, Emily Jelonek, Natalie Kaminski, Hayley Latvala, Gracie McNamara, Madison McNamara, Kayli Nelson, Miranda Nemeth, Keara Schaser, Emma Schultz, Taylor Venderzell, Madelyn Webb, Sarah Wellence, and Brigid White. Tournament guest players were Marcy Barberic, Taylor DeMarco, and Maddie Pezzino. The team is coached by Jim Beatty and Thom Blonski. Congratulations!



Grand Island Boys 12U Win Mel Ott Tournament - July 2011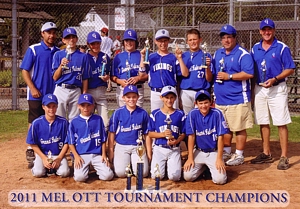 Pictured from are Mike Englert, Carson Suffoletta, Tyler Muggli, Devon Brandon and Troy Brady; (back) Coach Suffoletta, Roman Cacciatore, Danny Dinsmore, Will Frank, Sean Pufpaff, Ryan McDonald, Coach Cacciatore, Coach Pufpaff.
Click photo for larger view.
The Grand Island 12U Baseball Team won the 2011 Mel Ott tournament in Amherst, NY last weekend. The tournament comprised of five games over a three-day period. The GI team went 5-0.
The five wins came over teams from Stony Creek, Canada, Mel Ott II, Tonawanda, Mel Ott, and Tonwanda in a rematch for the championship. Game MVP's went to Will Frank, Mike Englert, Tyler Muggli and Danny Dinsmore. Each player received a trophy to close out their Little League careers on the 40/60 diamond. Congratulations!
Megan Wagner, Tae Kwon Do Gold Winner - August 2011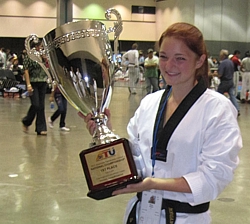 August 4, 2011 . . .
Master Chong's World Class Tae Kwon Do demonstration team came home with the gold cup trophy after traveling to Los Angeles last month. Fourteen of Buffalo's elite athletes from four school competed, including Megan Wagner from Grand Island. The four-day event included teams from states as far as Texas, Oregon, North Carolina and California.
The team was welcomed home by a crowd of well wishers with signs and cheers at the Buffalo airport. They will be competing in North Carolina again in August.
Megan, a member of the GIHS Class of 2009, is a senior instructor for Master Chong's Tae Kwon Do school in Amherst. She holds a second degree black belt and is continuing her training to earn her third degree in the near future. A junior at Canisius College studying animal behavior, she will graduate in 2013.
Kallie Banker - Cassie Oursler - August 2011
Feature: Kallie Banker and Cassie Oursler - Basketball Coaches Association of New York's Summer Hoops Festival.
See Niagara Gazette story 8/4/11,
GI duo on Hoops Festival Roster.
Village Inn Golf Open - August 2011
The Village Open golf tournament takes place Thursday, August 11 at the Beaver Island Golf Course on Grand Island. A rain date is set for Thursday, August 18.
In addition to nine holes of afternoon golf, golfers can enjoy lunch at the Village Inn from 11 a.m. on. A post-tournament get-together with refreshments will follow at approximately 3:30 p.m., also at the Village Inn - good food, beer and pop at $5.
For more information, contact Edward Moore, 773-3817.
Vipers 14U Hold Tryouts
Grand Island Vipers 14U will hold tryouts for their 2012 season. The Vipers are looking for all position players, including catching and pitching. They will be playing in the Metro Girls Softball League with a 12-game schedule, three-four local tournaments and one out-of-town tournament. Players will fundraise a majority of the costs. Tryouts will be held at Veterans Park, Field 10, Bedell Road, Grand Island, NY on Thursday, August 11, 2011, from 6 p.m. to 8 p.m. Registration will start at 6 p.m. and tryouts will start at 6:30 p.m. Those unable to make this date and in need of a separate tryout, will accommodated. Contact Jim Myers at (716) 531-2351 or
sydnah@msn.com
with any questions and/or concerns.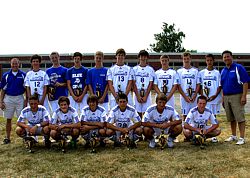 (front left) Nick Soos, Jake Dixon, Tim Doermer, Adam Missert, Sam Calao, Aaron Cook; (top) Coach Gary Dixon, Matt DiMura, Tyler Yockey, James Rustowitz, Zach Re, Zach Manuszewski, Ben Purrington, Matt Seaman, Tyler Mondoux, James Osbourne, and Coach Brian Re
Click photo for larger view.
Grand Island Boys U-16 Travel Team won a hard fought championship at the Wilson Soccer Tournament over the July 16-17 weekend. The boys' team won four, hard fought games including scoring a goal with 1 minute, 45 seconds left against one of their main rivals to send them into the championship game! The championship game turned out to be a 0-0 regulation tie and had to go 7 deep in penalty kicks to finally win the tournament! Grand Island did not allow a single goal over the weekend and it was a great tournament for the boys and especially the proud parents.
Vipers Play 16U Metro Championship Grand Island Viper team will be playing in the 2011 16U Metro League Championship in softball on Thursday, July 28, 2011 at Veteran's Park No.10 on Grand Island at 6:30 PM. This is a travel softball league with 12 teams from Elma, Buffalo, Lancaster, Wheatfield, Niagara Falls and others. We will be playing the Kenmore Blue Devils. Most of the players are from the Grand Island, Niagara Falls area. I was hoping someone from the Dispatch would come down and cover the game. We just had our semi-final game on Tuesday and could write up a little something for an article for you that I will send later. Players from Grand Island include, Jenna Neff, Leah Geis, Natalie Argy, Jillian Sheehan, and Emily Edwards


Results of the June 30, 2011 Village Inn Open follow:
Low Gross - Greg Salazzo - 41
Low Net - Gary Sceitheir - 36
Other net scores
Al Roberts - 36
Hank Carroll - 36
Tom Hallett - 39
Les Dumas - 39
John Vogel - 40
Mike Torrance - 40




Carlee Conway Continues Tennis Wins - June 2011
Carlee Conway, a member of the Miller Tennis Center's Advanced 18U team, traveled with the team to Schenectady, NY to compete in the USTA Juniors Eastern Sectional Championships. See See Carlee Conway for story.




Village Inn Golf Open - June 2011
The Village Open golf tournament takes place Thursday, June 23 at the Beaver Island Golf Course on Grand Island. A rain date is set for Thursday, June 30.
In addition to nine holes of afternoon golf, golfers can enjoy lunch at the Village Inn from 11 a.m. on. A post-tournament get-together with refreshments will follow at approximately 3:30 p.m., also at the Village Inn - good food, beer and pop at $5.
For more information, contact Edward Moore, 773-3817.
Village Inn Golf Open Results - June 2011
Results of the May 26, 2011 Village Inn Open follow:
Low Gross - Gary Scheitheir - 42
Low Net - John Vogel 36
Match of First Hole - Other Scores
Peter Boerschig - 36
Ed Moore - 36
Greg Salazzo - 37
Conway Wins MMA Girls Singles Tennis Title - May 2011
May 23-24th: SportsPlex, North Tonawanda, NY
Sacred Heart Academy freshman, Carlee Conway won the MMA All-Catholic Tennis Singles crown Tuesday, May 24, 2011 at SportsPlex, North Tonawanda. In a match that lasted less than one hour, Conway defeated Nardin's Nikki Smolinski by a score of 6-1 , 6-0.
The two day event included 28 singles players from the various Catholic league high schools. The committee that coordinated the draws should be highly commended. As the draws and matches unfolded, it turned out the #1 seed, Conway, played the #2 seed, Smolinski in the final as the #3 seed Meghan Atallah from Mt. St. Mary's faced the #4 seed, Haley Stearns from Buffalo Seminary. Atallah won the consolation round in a tightly contested match.
On the way to her play-off championship, Carlee Conway faced Lauren Losi from Nardin in the first round (6-1, 6-0). Then faced Sara Saleh from Mt. St. Mary's and won 6-0, 6-0. Day two saw Conway defeat Haley Stearns from Buffalo Seminary 6-0, 6-0. That set-up the second match-up in one week of Smolinski vs Conway. The rematch saw numerous big-first serves by both players. Conway's ground-strokes forced the play and led to untimely errors. In the four matches Conway played, the freshman won a total 48 games and only gave up a total of 2 to her opponents. It's the first singles crown won by someone other than a Nardin player in five-plus years.
Michael Brand, Alex Hultgren Meet at Tourney - June 2011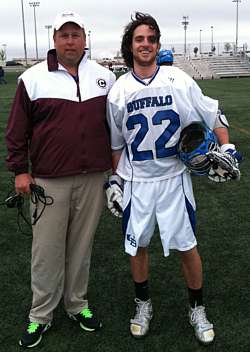 UB midfielder and Grand Island High School grad Alex Hultgren (right) and Centenary College head coach and GI grad Michael Brand recently met up at the 2011 MCLA National Championship tournament in Denver, Colorado. Alex's UB Bulls qualified for their first every tournament and Alex was recently named the 2011 Pioneer Collegiate Lacrosse League Offensive Player of the Year. Coach Brand was on hand to perform television commentary for all the games and was recently named the Lone Star Alliance Coach of the Year.
Carlee Conway Remains Undefeated - May 2011
Sacred Heart Academy Suffers First Tennis Loss
Wednesday, May 18 was a cloudy, misty day that saw Sacred Heart Academy suffer its first loss of the season in Monsignor Martin Girls' Tennis League. SHA had amassed an 8-0 record going into their match against undefeated Nardin Academy. But Nardin prevailed, winning the match 4-1 that assures them the league overall crown for the third year in a row. Nardin won in the #2 and #3 singles as well as winning both doubles. The bright spots for SHA were a win at first singles by Carlee Conway of Grand Island and a hard fought loss at second singles by Megan McDonald. Nardin's Tessa Lewis from Lewiston took on fellow Lewiston native, McDonald at second singles. Their first set took over an hour to complete with Lewis winning 7-5.
The Nardin team features the two-time defending MMA champ, senior Nikki Smolinski at first singles who had been undefeated going into this critical match. Conway played a very consistent game, locating her forehands and backhands, keeping the pressure on Smolinski. Smolinski's hard first-serves gave Conway trouble at times. But Conway had five service aces of her own throughout the match. Conway won the match 6-2 , 6-1, handing Smolinski her first loss in two years, to remain undefeated in her freshman season. In the nine league matches played by SHA, Conway has given up a total of just seven games, going 108-7 over that span. The MMA will announce their seeds for the upcoming All-Catholic tournament this weekend. Conway should be the #1 seed in the competition that will be held at the LaSalle outside courts on the University of Buffalo's north campus beginning Monday May 23rd.
Public Boating Class - May/June 2011
Niagara Power Squadron is offering a public boating class on May 24, 26, 31, and June 2 at Bob Weaver Motorsports, 3400 Niagara Falls Blvd. The class will run from 7-9 p.m. each night. Walk in registration. Call 773-2140 or 773-5020 for questions or further information.
The Village Open golf tournament takes place Thursday, May 26 at the Beaver Island Golf Course on Grand Island.
In addition to nine holes of afternoon golf, golfers can enjoy lunch at the Village Inn from 11 a.m. on. A post-tournament get-together with refreshments will follow at approximately 3:30 p.m., also at the Village Inn - good food, beer and pop at $5.
For more information, contact Edward Moore, 773-3817.
Carlee Conway - Another Tennis Success - May 2011
Miller Tennis Center 18U Advanced Team Wins Upstate USTA Jr. District Championship
Mother's Day celebrations were interrupted briefly Sunday, May 8, 2011 as an 18U elite team from the CNY area of Binghamton traveled to Williamsville for the Eastern USTA Junior Western District Championship for team tennis. This co-ed competition featured the 18U team from Miller's Tennis Center, comprised of Tony Miller, Alex Parker, Jonah Epstein, Nate Palmer, Ashley Chevalier, Taylor Cole and Grand Island's, Carlee Conway. The unique format consisted of five one-set matches: boys singles, girls singles, girls doubles, boys doubles, and mixed doubles. The team of Miller-Parker won a 6-2 set in boys doubles while Chevalier and Conway won 6-0 in girls doubles. Jonah Epstein won a very entertaining singles match 6-3 while Taylor Cole won her singles match 6-2. Carlee Conway and Nate Palmer then teamed up for a 6-1 mixed doubles win. The quality of play was extremely good by both the WNY team and that of the CNY squad. All the matches featured big serves, well placed ground strokes and the doubles-play saw well-executed volley's at the net. Final team score was WNY 30 and CNY 8.
By winning the upstate district championship, the Miller team now advances to the sectional championships to be held Father's Day weekend, June 18-19th in Schenectady, NY
Niagara University Awards O'Rourke - May 2011
Niagara Gazette
story
Gand Island graduate Ian O'Rourke received four awards from the Niagara University for his diving exploits during his senior season.
Coach Ben Nigro presented O'Rourke with the Most Outstanding Performer, Sportsmanship and Coaches Awards. At last week's student-athlete banquet, O'Rourke received the Purple Heart Award given to the student-athlete who embraces to Vincentian spirit.
Safe Boating Class - June 4, 2011
A Safe Boating Class sponsored by the US Coast Guard Auxiliary Flotilla 3-5, will be held at 8 a.m. Saturday, June 4 at River Oaks Marina. Call 632-7353 or 873-1953 to register or for information.
Grand Island U10 Travel Soccer Team Champions - April 2011

Click photo for larger view
The undefeated Eagles (10-0-1), Grand Island U10 Travel soccer team took 1st place on Thursday, April 28th at the Sportsplex in No. Tonawanda against the Northtown's Fury. The final score was 1-0 in a very exciting game. Team members are Michael Barker, Anthony Ceccato, Anthony DeSimone, Danny Fabiano, Austin Hogan, Ryan Jellinik, Alex Nemeth, Rhys Mendel, Rhett Robinson, Dylan Russo, Nathan Stroh and Max Shoemaker. Coaches are Mark Mendel and Chris Hollander.



James Rayhill Honored - April 2011
Niagara Gazette 4/27/11 story . . .
James Rayhill of Grand Island, NY received the Joseph N. Abraham Memorial Training Award at Hobart College's annual Block H Awards Dinner. Rayhill fought through abdominal and leg muscle injuries in his senior season, missing full weeks of practice but not missing any games. He recorded 29 tackles and three sacks.
Carlee Conway - Tennis Champ - April 2011
Carlee Conway, daughter of Margaret and Brendan Conway, won the USTA Jr. Rochester Spring Fling tennis tournament held at the Mendon Racquet Club on April 8-9, 2011. She competed in the Girls 16U level. Winning the tournament was her second tournament win since she moved up to the 16-year-old level in December. She has been a finalist in two and a semi-finalist in another. With the win, she is positioned to be ranked inside the top 100 players who compete in the USTA Eastern section Girls 16 level.
Carlee, who is 15 yrs old, has been selected to play on the WNY 18U Elite USTA Tennis Team. The team competes May 8th at Miller Tennis Center in Williamsville against Central NY. If they advance, they work towards the Team Tennis National Tournament to be held in October in Phoenix, AZ. Other team members are Tony Miller, Alex Parker, Jonah Epstein and Taylor Cole. Other team members are Juniors or Seniors in high school. As a freshwoman at Sacred Heart Academy, Carlee has been selected to play first singles on her high school team. Matches start the week of April 25th, weather permitting.
.
UPDATE
Beaver Island Golf Course Opening Postponed - April 2011
The Beaver Island Golf Course will open on Friday, April 29, 2011 (postponed from April 21)
See
Beaver Island Golf Course
for complete information.
Eddie Weiser Wins Mixed Martial Arts - April 2011
Niagara Gazette story - April 13, 2011
Grand Island graduate Eddie Weiser improved to 4-1 in his mixed martial arts career this past weekend, beating previously unbeaten Josh Martinez by technical knockout in the second round of the Ultimate Cage Battles in Parma, Ohio.
GI AAU hoops team goes 1-2 at Buffalo State - April 2011
Niagara Gazette story - April 11, 2011
The 16-and-under Buffalo Storm Grand Island boys basketball team won once and lost twice at this past weekend's Buffalo State Challenge AAU event. In the opener, Nick Soos and Corey Adamshick each scored six points in a 49-28 loss to the Buffalo Titans. In game two, GI beat the Midlakes Eagles 55-34 as Soos had 13 points, four assists and three steals. Dylan Kelly notched 10 points and eight rebounds. Adamshick had eight points and seven boards and Dalton Pitts chipped in with eight points.
Adamshick had eight points and 10 rebounds, but it wasn't enough in the third game, a 46-31 loss to the Durham City Bulldogs. Justin Canazzi added eight points and eight boards and Ryan Miller had seven points.





NYS Free Throw State Finals - April 2011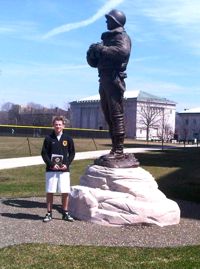 Click photo for larger view On Saturday, April 9th Justin Figler made the trip to the United States Military Academy at West Point to participate in the Knights of Columbus NYS Free Throw State Finals. Justin shot well in the final round with a score of 19 for 25, but came up two shots short of the winner and came in third. It was a great run and experience for Justin, who ended up after five rounds of shooting with a shots made percentage of 84%. Recent Grand Island High School graduate, Ben Soos who is currently attending West Point, came to cheer Justin on during the shooting competition.





Niagara Gazette - by Ryan Nagelhout
Jon Roth graduated from Tonawanda High School but it's hard not to call Grand Island his home base.
Roth is a 38-year veteran of the Grand Island school district and was recently honored by the New York State Athletic Administrators Association (NYSAAA) with the chapter's athletic administrator of the year award.
"This award is very special and I am humbled and thankful for my selection," Roth said.
The Grand Island athletic director started in 1994 after working as a physical education teacher in the district since 1973. He notched 200 wins as the Vikings' head basketball coach from 1975-1994 and also coached at Niagara County Community College.
Roth also coached tennis at Grand Island from 1986-2005 when his daughter, Julie Neville, took over for him. His son, Jeff, is the athletic director at Wilson.
Roth serves as the Section VI Boys Basketball assistant chairman and on the Section VI safety committee and the NCCC Athletic Advisory Committee.
An outstanding baseball player, he was drafted by the Washington Senators in 1969 and was once offered an AA contract by Niagara Falls pitching great Sal Maglie.
The award which is for directors who "demonstrate their influence and power in the promotion of athletics in a positive manner" was given to Roth at a banquet in Saratoga Springs earlier this month.
"I'm lucky to have worked my entire career at Grand Island," Roth said. "I had the pleasure of coaching both my kids, worked with two dedicated secretaries and work day-to-day with an outstanding group of (Niagara Frontier League athletic directors).
"Most of all, I have had a very supportive wife."


K of C Regional Free Throw Contest - March 2011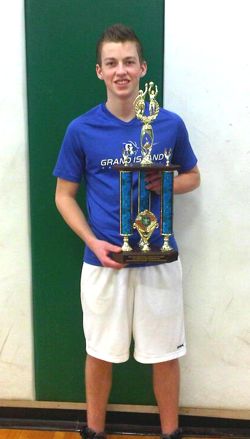 Justin Figler Islanders Justin Figler and Jacob Gleave participated in the Upstate Regional Finals of the Knights of Columbus Free Throw Contest on Saturday, March 26 at Bishop Ludden High School in Syracuse. Justin participated in the U14 boys and Jacob in the U11 boys age groups, and they once again represented Grand Island very well. Justin won his age group and will be moving on to the State finals being held on Saturday, April 9th at the United States Military Academy at West Point. Jacob placed third in a very competitive U11 boys age group.



Justin Frentzel - Winning Goal - March 2011
March 23, 2011 . . .The Regals 16U team coached by Terry Miller, Marc Miller and Scott Wisnewski beat the Long Island Royals 3-1 to capture the NYS Tier 1 16U championship on Tuesday, March 22, 2011. The team took a 3-0 lead midway thru the first period on goals by Patrick Polino, Justin Frentzel & Justin Bailey. Holding a 3-1 lead late into the final period Cooper Soto held Long Island at bay to preserve the victory.
Justin Frentzel went on to score the winning goal in the NYS U16 hockey championship. The team is headed for the National championship in Connecticut next week. They defeated the Long Island Royals coached by former Buffalo Sabre Pat LaFontaine. See Buffalo Regals for the complete story.



O'Rourke finds fun in diving - March 2011
Ian O'Rourke, Grand Island High School Class of 2007, was featured in the March 10, 2011 Niagara Gazette. See Niagara Gazette story by Nate Beutel.



Ryan Vertino - March 2011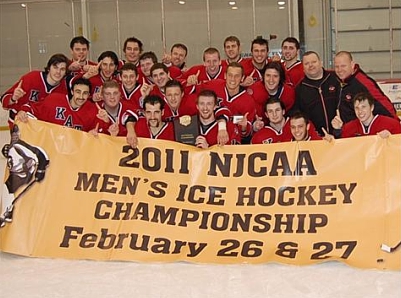 Ryan Vertino, first row right, is the assistant captain on the Erie Community College hockey team that recently won the NJCAA National Championship played this past weekend (Feb. 26-27, 2011) in Rochester, NY. The ECC Kats beat Hudson Valley 9-1 in the semi game on Saturday to advance to Sunday's Championship Game where they beat Monroe CC 4-2 to capture the school's first National Title. Ryan finished the season 3rd in points on the team and 9th overall in the NJCAA. Ryan is a 2009 graduate of Grand Island High School.



Head Coach Bill Schultz presented Hall of Fame Plaque - March 2011
Hamburg, NY - On February 24, 2011 Bill Schultz, head men's volleyball coach at Hilbert College, was presented with his Class of 2010 North East Collegiate Volleyball Association's (NECVA) Hall of Fame plaque. Making the presentation to Schultz on behalf of the NECVA was John Hutton, who coached Schultz during his undergraduate years at D'Youville College. See http://www.hilbert.edu.
Bill is the son of Bill and Tracy Schultz.





Binghamton University sophomore and Grand Island native Adam Helman took first place for the Pole Vault at the America East Indoor Conference Championships at the February 18, 2011 event held at Boston University. Adam captured his first conference championship with a huge vault of 16' 2 3/4". Adam is the son of Kenneth and the late Pamela Helman of Stony Point. For the full story visit the Binghamton website: See http://www.bubearcats.com/sports/mtrack/aei11-1.html




Brett Kern - March 2011
The Tennessee Titans signed Grand Island punter Brett Kern to a four-year contract extension. See Niagara Gazette.






Islanders Win WNY Regional Free Throw Contest- Feb. 2011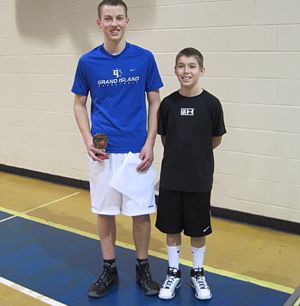 (left) Justin Figler and Jacob Gleave
Grand Island was well represented at the 3rd round of the WNY Regional Free Throw contest held Saturday, February 25, 2011 at the Knights of Columbus on Kenmore Avenue in Buffalo. Jacob Gleave, U11 Boys and Justin Figler, U14 Boys both won their respective age groups. They both move on to compete in the Upstate Regional Finals, where they will compete against the finalists from the Central, Adirondacks, Southern and Finger Lakes Regions on Saturday, March 26th in Syracuse. If they win, they will move on to the State Finals being held at the West Point Military Academy.
Congratulations also go out to Tommy Gagola for his 2nd place finish in the U13 Boys age group, and Teresa West for her 2nd place finish in the U10 Girls age group. Both Tommy and Teresa are alternates and will be also in Syracuse in the event that the 1st place finishers are unable to attend the finals in March. All four competitors attend St. Stephen School and play for the school's boys and girls basketball teams.

Among those to be honored when the Niagara Police Athletic League holds its 29th annual Sports Awards Dinner on Sunday, February 27, 2011 are Jude Kuehne of Grand Island. Jude will receive the Mark "Chief" Williams Award. The Grand Island High School graduate has assisted the school's boys and girls soccer teams sin e 1987 by keeping stataistics, working the game clock, and traveling as a chapaerone on the girls team away game bus when needed. Jude has organized the soccer banquets for more then 20 years for the boys and girls, varsity and JV teams.


The 2011 Grand Island Youth lacrosse League for grades 2 through 6 will begin on May 10th. The program will be on Sundays and Tuesdays from 6:00-7:30 p.m. No experience is necessary. Flyers with registration forms were distributed to the students at the Kaegebein and Huth Rd Schools. Registration forms may be downloaded at k12.ginet.org (link the Com. Ed. Dept.). For additional information, contact Steve Steck at stevensteck@yahoo.com or call the Community Ed. Dpt. at 773-8864.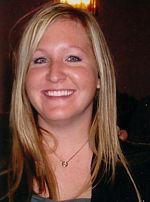 Casey Coram, manager of the Grand Island Central Federal Credit Union, bowled an astonishing 815 series in the Chris Tolfa Memorial League at Rapids Bowling Center in Niagara Falls on Tuesday, January 18, 2011. Her games were 269, 268 and 278. It was her first 800 series and tied a Niagara Falls women's record. Casey is the daughter of Isle residents Mary and Brand Coram and the great grandaughter of the late Myrtle Killian. who moved to Grand Island in 1914 at the age of eight and lived to be 101 years old.


Boating Safety Classes have been schedule for the following dates and locations:
Feb. 26 - Gander Mountain - start 9 a.m.
Mar. 12 - Starpoint Central - start 8 a.m.
May 10 - May 11 - Clarence High School - start6 p.m. each night
May 21 - Swormsville Fire Hall - start 8 a.m.
June 4 - River Oaks (Holiday Inn) - start 8 a.m.
Buffalo Launch Club - to be announced
For information and registration call 632-7353 or 877-6923. The classes are being sponsored by Flotilla 3-5, C9 Auxiliary.





GIHS Hockey Alumni Play 3rd Annual Game - Jan. 2010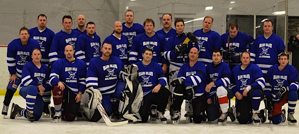 Left: 70's/00's, Right: 80's/90's - Click for larger photo
All photos by JT Tomkins
Grand Island Alumni Hockey played its third annual game on Saturday, January 22, 2011 at Hyde Park Ice Pavilion. This game celebrated the 41th year since the start of Grand Island High School Hockey program. The 70's and 00's players along with coaches John Goodfellow and Jim Szafran squared off against the 80's vs 90's Alumni with bench coach Serge Normandin. The game was won by the 80's 90's squad with a score of 10-7. Former players may contact Gene Kozek at 773-5391 or email gialumnihockey@verizon.net to get on the list for next year's game. All photos from the game may be viewed by clicking on the following link: GI Viking Photos.




Sports Complex Kicks Off Fundraising Drive - Jan. 2010
Meng-Ko Development, LLC is offering the opportunity for the community to invest in Grand Island's future. The multi-sport complex will consist of an indoor soccer field, NHL size ice rink, studio rink, party rooms, pro shop and snack bar with room for future expansion. It will create jobs, bring business to other island businesses, offer educational programs, public skating as well as a place for all to go and have fun new modern facility.
The personalized bricks and tiles sold will be used on the front side walk and in the foyer to show your support for this project. With each brick and tile that is ordered, you have the opportunity to represent your family, dedicate it to a loved one, promote your business and place your mark on Grand Island history.
For more information on how you can purchase a brick or tile, visit www.islandsportscomplex.com





Grand Island Hockey Alumni to Faceoff - Jan. 2010
The third annual Grand Island High School Hockey Alumni event will take place Saturday, January 22nd, from 7:00 pm to 10:00 pm at the Hyde Park Ice Pavilion in Niagara Falls. This year, the alumni from the 70s and 80s will take the ice at 7:00 pm, and the 90s and 00s alums will follow, squaring off at 8:30 pm. There will be plenty of food and refreshments after each game as well as door prizes and raffles. Proceeds from this fund-raising event will go to the Grand Island Hockey program. In an interview this week, Director of Hockey Alumni Operations Gene Kozek said: "it's great to see all the faces from many years ago come out and renew acquaintance, and in some cases, rivalries. We have guys that will just kill themselves traveling to get to this one event. Why, some guys come all the way from North Carolina just to play." Gene added: "It's also great to get a sense of how much these guys are dedicated to the game. Especially when you get to the older guys, the smell of Ben-Gay usually covers the smell of their old equipment. Also, this year, from a strategic standpoint, we are putting the older guys on in the initial game. First, they don't cut up the ice much, so we probably won't have to resurface the ice after their game, second, we wouldn't get as much participation from that age group if we put them on later, since it's past their bedtime, and, lastly, it gives the younger guys an opportunity to watch them, be inspired, and say to themselves if I work hard, I can play at that level some day."
The game will showcase talent and coaching from the dawn of the Grand Island High School hockey program under Coach John Goodfellow's stewardship back in the early 70s, all the way up to the 21st century. We hope to see you out there. Tickets are available at the door. Admission is Adults $10 and Students $5 . Please come out and watch some great hockey history in action at the Hyde Park Ice Pavilion.