Grand Island Town &
School News Web Page
2020
Previous News Page
Chris Jacobs Schedules "Senator on Your Street" - January 2020
My philosophy of public service has always been guided by the principle that the government closest to the people best serves the people. That is why I am always trying to find creative and cost-effective ways to make my office, my staff and the services we provide more accessible to the people we serve.
For busy families and individuals who need the constituent services provided by my district office, coming downtown is not always easy or convenient. That is why I initiated the "Senator on Your Street" program. Each week we will be holding community office hours at locations throughout the 60th Senate District. Office hours for all dates and locations are from 9:30 a.m. – 11:30 a.m. Wednesday, January 29th – Grand Island Town Hall, 2255 Baseline Road, Grand Island.
New York State Senator Chris Jacobs (60th SD) has announced that effective Monday, January 6, 2020, the new address of his district office will be 60 Lakefront Boulevard, Suite 125, Buffalo, New York 14202. The office phone number will remain the same - (716) 854-8705, as will the Senator's email - jacobs@nysenate.gov.
Free Rabies Clinic - January 2020
The Erie County Department of Health has scheduled a free rabies vaccination clinic for dogs, indoor and outdoor cats, and ferrets on: Wednesday, January 29, 3-7 p.m. at the North Buffalo Community Center, 203 Sanders Road, Buffalo, 14216. QUESTIONS: visit http://www.erie.gov/health/rabies or call (716) 961-6800. Bring pets on a secure collar/harness and leash, or in a carrier. Avoid using retractable, extended dog leashes. If you are using one, be sure it is no longer than 4 feet and in the locked position. Bring a copy of your pet's vaccination record, if possible. Please contact your veterinarian for vaccination information and for any questions you have regarding your pets.
Senior Wishes Seeking Wish Applicants - January 2020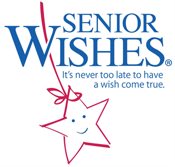 Founded by the United Church Home Society, Senior Wishes strives to bring special moments to seniors across WNY by granting numerous wishes each year for individuals 65+ with qualifying incomes or who permanently reside in a care facility.
Senior Wishes wants to enrich the lives of deserving seniors by providing an experience to be cherished and remembered. Over 260 wishes have been granted since 2014, including traveling to visit long-missed family, attending a sports or cultural event, or even providing supplies or lessons to continue an abandoned hobby.
Qualifying seniors may submit an application which is reviewed bi-monthly by a volunteer wish granting committee. After approval, a Senior Wishes representative will work together with the senior to plan the details of their wish experience. Community members are encouraged to reach out to deserving seniors, talk to them about their unfulfilled dreams, and help them fill out the paperwork.
According to Wendy Miller Backman, Executive Director, "Senior Wishes was created to recognize many of our seniors have activities they want to participate in or people they'd like to see again, and they are unable to make this happen on their own. It is so rewarding to see a senior light up with joy at a wish granting, especially when it's been something they've wanted to do or someone they've wanted to see for years. We remind seniors they are not forgotten."
Wish recipients must be 65+ and a resident of Western New York with an annual income under $38,000 for a household of one or under $44,000 for a household of two. Permanent residents of care facilities are exempt from the income qualification. Vacations, medical items, furniture, household repairs, bill payments and travel outside of the continental U.S. are excluded. Full details can be found at www.SeniorWishes.org or by calling Wendy at 716-508-2121.
Team Luke Benefit - January 2020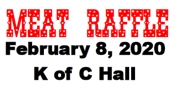 Team Luke is holding its annual fundraiser on Saturday, February 8th at the Knight's of Columbus Hall, 1841 Whitehaven Road. The event is to raise funds for the 25th annual Ride for Roswell and for the 6th Empire State Ride, which is a 546 mile cycling event from NYC to Niagara Falls. This will be the third time Bill Gworek Jr. will take participate in the Empire Ride, starting July 25th. Team Luke was formed when Bill and wife Danielle's son Luke was diagnosed with cancer. Come help raise funds for research and patient care programs!
Flyer
.
Flurry Fest at WNY Welcome Center - January 2020
Grand Island, NY
The Taste NY Market at the Western New York Welcome Center is prepared to embrace the snow and winter activities this season with a brand new event, the Flurry Fest. It will be held at the center, 1999 Alvin Road on Saturday, January 25th from 1:00 p.m. - 5:00 p.m.
Join us for a day of fun winter activities, including a snow sculpture competition, snow-shoe demos by Path, Peaks and Paddles, and more. Light up the evening by creating your own luminaries and enjoy chili throughout the day from The Village Inn. A hot cocoa bar will be inside for those that like to stay warm.
The Market showcases a wide variety of dairy products, craft beer and other specialty beverages, New York sauces, snacks, syrups, preserved and pickled products, locally made ice cream, sandwiches, baked goods, coffee, tea and artisan gifts.
Participating vendors include: Every Good Herb, Thompson Farms, Coop Bakery, Everything Grand Island, The Village Inn and Jim's Metal Kettle. All events will take place snow or shine! The Taste NY Market is actively seeking new vendors for the store and special events. For more information email erietasteny@cornell.edu. -
Flyer
Save the Michaels Presentation Video - January 2020
The Grand Island Wellness Committee is excited to share that the Family Support Center has reestablished a relationship with Save the Michaels of the World, Inc., an organization that provides assistance and support in many forms to families who are battling the disease of addiction. The following presentation is brought to you by GICSD and Save the Michaels from Tuesday, January 7th in the Grand Viking Theater of Grand Island High School. Hear stories from people in recovery, and learn more about Save the Michaels offering a monthly support group right on Grand Island for any individuals with a loved one in active addiction or early recovery. See
Video
.
2020 Town/County Tax Bills Mailed - January 2020
Town Clerk Patricia Frentzel announced that the 2020 Town/County Tax Bills have been mailed. If you have changed banks, have paid off your mortgage or do not have an escrow account and did not receive a tax bill, please contact the Town Clerk's office at 773-9600 ext. 620 or 600. The office will be open extras hours on Friday, February 14 - 8:30am - 6:00pm, Saturday February 15 - 9:00am - 12:00pm and Tuesday, February 18 - 8:30am - 6:00pm. The office is closed Monday, February 17. Checks should be made payable to Town Clerk. The last day to pay without penalty is February 18. Envelopes must show a legible postmark of February 18 to be accepted on time. Taxpayers should call the office for correct amounts for payments made February 19 and later. Payments can be made until June 30, 2020. After this date, payments must be sent to the County. ONLINE TAX RECEIPTS AND PAYMENTS - SERVICE FEES APPLY - www.grandislandny.us. DEBIT AND CREDIT CARDS ACCEPTED AT COUNTER - SERVICE FEES APPLY.
Flyer
.
Town of Grand Island Advisory Board Vacancies - January 2020
The Town of Grand Island is looking for residents to fill the following board vacancies: Architectural Review Advisory Board, Conservation Advisory Board, Economic Development Advisory Board, Historic Preservation Advisory Board, Parks & Recreation Advisory Board, Planning Board, Technology Advisory Board & Traffic Safety Advisory Board.
Please send your resume and or qualifications to the Town Supervisor John C. Whitney, P.E. by February 15, 2020. Email: rdiehl@grand-island.ny.us. Or mail or drop off to: Town Hall at 2255 Baseline Rd., Grand Island, NY 14072.
Grand Island Town Prosecutor Vacancy - January 2020
The position of Grand Island Town Prosecutor is vacant. Please send resume and cover letter to the Town Supervisor, John C. Whitney, P.E. by January 31, 2020. Email: rdiehl@grand-island.ny.us, or mail or drop off to: Town Hall at 2255 Baseline Rd., Grand Island, NY 14072.
Reflecting on a New Year In Local Government - January 2020
By Kevin R. Hardwick, 4th District County Legislator
A new year provides us an opportunity to pause and reflect on the events of the old year and look forward to the prospects of the new one. A series of recent swearing-in ceremonies for local officials has afforded me the opportunity to do the same for local government.
On December 28th I chose to be sworn in for my new term on the County Legislature with the City of Tonawanda's newly elected officials. I did so because the City of Tonawanda has been my home since my wife, Debbie, and I moved into our starter home on Frederick Road 30 years ago. We're still there and along the way I was lucky enough to represent my neighbors in the City's First Ward on the Common Council from 1996-2001. I had many good memories of my time on the City Council, several involving Treasurer Joe Hogenkamp. Joe served admirably for decades and kept the city's finances in order. He was in government for the right reasons and served as an excellent example of a true public servant. Joe did not take the oath of office this year, as he decided to retire at the end of last year. He will be missed. Fortunately, though, his successor is Bill Reece. Bill has been active in the community for years and is well-qualified for the position. He has a tough act to follow in Joe Hogenkamp. But Bill is more than capable of getting the job done.
A couple days later, on December 30th, I attended the ceremony for the newly elected Town of Tonawanda officials. Long time Council Member Dan Crangle was not among them due to term limits. Like Joe Hogenkamp in the City of Tonawanda, Dan was an institution in the Town. He had a passion for good government and his work with the town's parks and recreation programs are legendary. All residents of the Town of Tonawanda benefited from his years of service on the Town board. Former Council Member Lisa Chimera was also not sworn in because she joined me in representing the Town of Tonawanda in the County Legislature where she is already making an impact. Fortunately for the Town, Carl Szarek and Shannon Patch stepped forward and were sworn in to replace Dan and Lisa. They are now working in behalf of the citizens of the Town together with newly reelected Supervisor Joe Emminger and Council Members John Bargnesi and Bill Conrad.
On New Year's Day I was honored to attend the inauguration ceremony for Grand Island's new officials. Chief among them was newly elected Supervisor John Whitney. I worked with John for several years when he was the Town Engineer and I know that he will use his years of experience and knowledge of the town to the benefit the Citizens of Grand Island.
Sandwiched in between the other ceremonies, I witnessed County Executive Mark Poloncarz take his oath for the third time. Afterwards, he spoke of his many accomplishments and goals for the next four years. This, however, is story for another day. For the time being, let us all be grateful for the dedication of our local officials, both past and present. If you have thoughts you would like to share, I would love to hear from you. I can be contacted by phone at 858-8672 or via email at kevin.hardwick@erie.gov.
GAC Volunteers Stuff Tax Bills - January 2020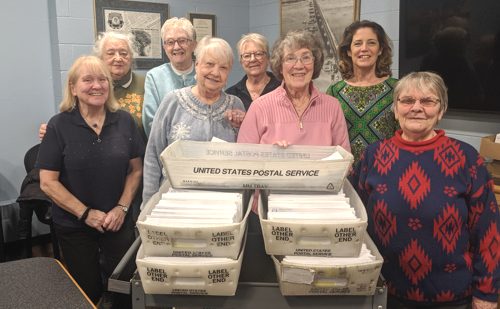 Front, from left: Linda Clark, Brenda Cassoni, Martha Muller, Jean Schlegal.
Back: Lorraine Wilcox, Kathy Lechner, Pat Ehinger, Pattie Frentzel.
This is the 17th year a group has volunteered from the Golden Age Center to stuff tax envelopes. For their efforts, the Town of Grand Island provides lunch!
Seasonal Dock Permits for West River Shoreline - January 2020
The New York State Office of Parks, Recreation and Historic Preservation has announced that they will be issuing temporary seasonal dock permits for up to 50 docks along the West River Shoreline Trail on a first come first serve basis for the 2020 season. Permit applications will be accepted beginning at 8:00 a.m. on February 1, 2020 until 50 permits have been issued. If all 50 permits are not issued on February 1, the office will reopen at 8:00 a.m. on February 3rd.
Interested parties must submit their application in person at the Beaver Island State Park Office at 2136 West Oakfield Road, Grand Island, NY 14072 It is advised that you call the office before heading there. Permit applications and further information are available at the Beaver Island State Park Office or on line at www.parks.ny.gov/parks/56/details.aspx beginning on January 9, 2020. For more information on this program, please contact the Beaver Island State Park Office at 716-773-3271.
New Law for Safer Boating - January 2020
Brianna's Law is in effect as of January 1, 2020, which requires all operators of motorized boats and personal watercraft to take a safe boating course and get a boating safety certificate by 2025. This new law is named after Brianna Lieneck, an 11-year-old Long Island girl who was killed in a boating accident. Governor Cuomo Signs Brianna's Law to Strengthen Boater Safety.
Boaters can obtain a boating safety certificate by taking either a classroom or approved online course - both free and paid options are available, visit: parks.ny.gov for more information. Students 18 years of age and older will be required to pay $10 for their permanent certificate. There is no charge for students under the age of 18.
Who needs a boating safety certificate?
Motorboats: Under a new law, known as Brianna's Law, all motor boat operators: Born on or after Jan. 1, 1993 will need a boating safety certificate beginning in 2020. Born on or after Jan. 1, 1988 will need a boating safety certificate beginning in 2022. Born on or after Jan. 1, 1983 will need a boating safety certificate beginning in 2023. Born on or after Jan. 1, 1978 will need a boating safety certificate beginning in 2024. All motor boat operators regardless of age will need a boating safety certificate beginning in 2025.
Personal Watercraft: Anyone operating a Personal Watercraft (JetSki™, Wave Runner™, etc.) must have a boating safety certificate, and be at least 14 years of age or older.
Boating Safety certificates issued in other states; If you are a New York resident, you will need to have a NYS boating safety certificate; if you are from out-of-state, New York recognizes the boating safety certificate issued by your home state.
Renting a boat: Persons may rent and operate a motor boat from a livery without first obtaining a boating safety certificate. Operators of sailboats, kayaks, standup paddleboards, rowboats, canoes and any other watercraft without a motor are not required to have a boating safety certificate to be on the water.
E-ZPass Outreach Continues - January 2020
The Western New York Welcome Center on Alvin Road will continue to hold cashless tolling customer assistance on the first Tuesday of each month. The first date is January 7th, with hours of 3:00 p.m. - 6:00 p.m.
Since the original outreach event in May of 2019, the Thruway Authority has held more than two dozen sessions and helped more then 760 customers. Representatives will be able to address cashless tolling questions and offer personalized assistance for E-ZPass and Tolls By Mail customers. Customers can: Resolve violations, Pay toll bills, Dispute toll bills, Update E-ZPass account information, Receive personalized E-Zpass Customer Service.
Low Income Senior Announcement - January 2020
Attention all Enhanced STAR recipients. Please review your 2018 income tax and/or your year end statements to ensure your total income (including all non-taxable and Social Security income) is over $35,400. If your total income for 2018 is less than $35,400 you may qualify for the Low Income Senior program. Call or email the Assessor's office for further information. 716-773-9600 ext 648 and 651. jtafelski@grand-island.ny.us jmcginty@grand-island.ny.us .
Morinello Staff Mobile Office Hours - January 2020
The staff of Assemblyman Angelo J. Morinello (R,C,I,Ref-Niagara Falls) will hold mobile office hours on Tuesday, January 7th & January 21st, from 10:00 a.m. - 12 noon at the Grand Island Town Hall, 2255 Baseline Road.
Town of Grand Island 2020 Inauguration of Elected Officials - January 2020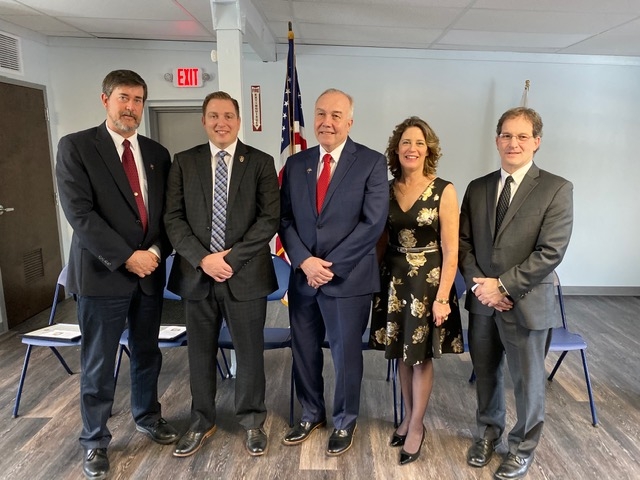 Councilman Mike Madigan, Councilman Tom Digati, Supervisor John Whitney, Town Clerk Pattie Frentzel, Town Justice Mark Nemeth.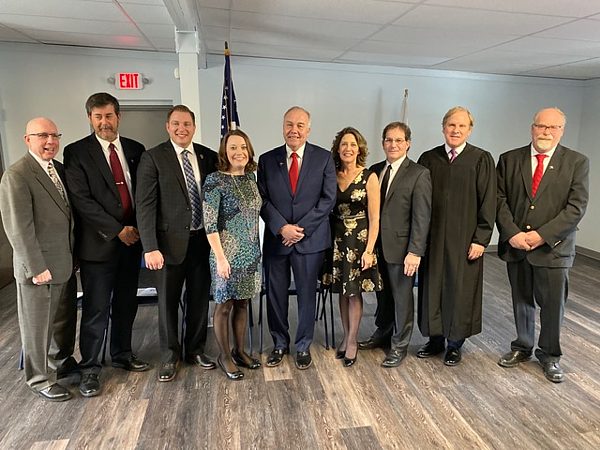 Highway Superintendent Dick Crawford, Councilman Mike Madigan, Councilman Tom Digati, Councilwoman Jennifer Baney, Supervisor John Whitney, Town Clerk Pattie Frentzel, Town Justice Mark Nemeth, Town Justice Mark Frentzel and Councilman Peter Marston.
Jude Kuehne photos.
The 2020 Inauguration of Grand Island Elected Officials took place on Wednesday, January 1st at the newly renovated Grand Island Community Center at the Nike Base Park. The ceremony started with the presentation of colors by the U.S. Naval Sea Cadet Corp. - Sullivan's Division. The National Anthem was sung by Samantha Garcia and the Invocation & Benediction by Pastor Calvin VanderMey of Bible Fellowship Center. The Master of Ceremonies was Karen Conboy and Installing Officer was Grand Island Town Justice Mark Frentzel.
The Installation of Elected Officials were comprised of Town Clerk Patricia A. Frentzel, Town Justice Mark S. Nemeth, Town Councilmen Michael H, Madigan and Thomas A. Digati and Town Supervisor John C. Whitney. The inductees were then presented with certificates of election. Following the inauguration was a reception.