Grand Island Town &
School News Web Page
2019
Previous News Page
Lost Wedding Band - March 2019
A men's wedding band was found in the Grand Island Town Hall parking lot and has yet to be claimed. It was found on March 7th and is being kept in the Town Clerk's office. Call 773-6700 for more information.
Brazilian Charged with Attempted Smuggling - March 2019
A Brazilian national from Toronto is charged with the attempted smuggling of two into the United States from Canada. A personal watercraft was used and spotted at Beaver Island State Park on Wednesday, March 13th. See
Buffalo News article
by Harold McNeil.
Businesses Give Back to the Community - March 2019
By Kevin R. Hardwick, 4th District County Legislator
Given the current political climate where everyone seems to be mad at everyone all the time, we might do well to pause and count our blessings. If we do, we will find that there are many people who are doing their part to make our community an even nicer place to live. There are many businesses, too.
I was reminded of this recently when I attended a press conference at Colvin Cleaners on Elmwood Avenue in the Town of Tonawanda. The purpose of the event was to promote their "Gowns for Prom" program. This is the 14th year for the program founded by Colvin Cleaners' President and CEO Paul Billoni and his wife, Cyndee. Other businesses sponsoring this year's gown drive are Allstate, Reed's-Jenss, Shea's Performing Arts Center and Townsquare Media.
The aim of the program is to provide dresses to young ladies who might not otherwise be able to afford them. It can only work, though, if people are willing to part with their old prom dresses. Please consider helping to make this year's program a success by donating slightly used gowns, shoes or purses at Colvin Cleaners, 2375 Elmwood Avenue in Kenmore, DMV offices in Erie County or a number of other sites. For a complete list, go to colvincleaners.com or gownsforprom.com. If you, or someone you know, are in need of a gown, they will be available by appointment April 16-18 from 3-8 pm at Shea's Performing Arts Center stage. Young ladies wishing to make an appointment to pick out a gown can do so by visiting gownsforprom.com. Once selected, gowns will be altered, dry cleaned and delivered to the school prior to prom. All of this will be free of charge. What a great program!
The free gown program is just one more instance of Colvin Cleaners giving back to the community. Eight years ago, I visited the same building in which the press conference was held to make a donation to another program supported by the Billoni family. The program was called Jammies for GIs and was the brainchild of Cheryl Lepsch of the City of Tonawanda. Cheryl became aware of the dire need for clothes and other items in military hospitals for wounded soldiers returning from Iraq and Afghanistan. The Billoni family was quick to offer Cheryl space at Colvin Cleaners to operate the program.
Colvin Cleaners, of course, is not the only business that regularly gives back to our community, nor is Gowns for Prom the only example of businesses helping to make prom a special occasion for our young men and women. Every year a number of businesses make donations to post-prom parties at several of our local schools. These drug and alcohol free events go a long way toward ensuring that prom season is both fun and safe.
So as I was sitting, waiting for my turn to speak at the press conference, I could not help but think how blessed our community is to have so many fine corporate citizens. If you have thoughts you would like to share, I would love to hear from you. I can be contacted by phone at 858-8672 or via email at kevin.hardwick@erie.gov.
Job Fair Hosted by Senator Chris Jacobs/ Roswell Park - March 2019
Saturday, March 9, 2018 from 10:30 a.m. – 12:30 p.m., New York State Senator Chris Jacobs (60th SD), and Roswell Park Comprehensive Cancer Center will be sponsoring a Job Fair at the North Park Branch Library, 975 Hertel Avenue, Buffalo, New York 14216. Staff from Roswell Park will be on hand to help attendees build a better resume and discuss open positions for administrative assistants, clinical laboratory technologists, clinical center associates, hospital clinical assistants, pharmacy tech trainees, medical billing clerks, and more. Anyone wishing to RSVP or get more information can contact Senator Jacobs' office at 854-8705, or jacobs@nysenate.gov.
Technology Satisfaction Survey- February 2019
The Technology Advisory Board of the Town of Grand Island is collecting anonymous information from residents in order to better understand current issues in regards to Internet/Television service providers with Grand Island.
Survey
.
Beaver Island Park Closed - February 2019
**ALERT** As of Monday, Feb. 25th Beaver Island State Park is currently CLOSED due to winter weather and high winds.
Retired Golden Age Center Employee Pleads Guilty - February 2019
Former Golden Age Center supervisor Barbara Gannon, 71, pled guilty in Erie County Court on Tuesday, February 19th, for stealing $116,000 over a six-year period. See
Buffalo News article
by Stephen T. Watson.
Improve Your Health, Choose Healthy WNY - February 2019
Program: March 9 - April 13, 2019
Choose Healthy WNY is hosting a free six-week community workshop series for adults who are ready to make the choice to improve their health today. Each Saturday, March 9 - April 13, 2019, the workshop will take place at Marigold Senior Living Apartments, 3026 Grand Island Blvd., from 1:00 p.m. - 3:30 p.m. Everyone is welcome. To register call 716.773.0907.
Flyer
.
Town of Grand Island Agriculture & Farming Plan - February 2019
Public Meeting - Tuesday, February 26th, Grand Island Senior High School, 6:00 p.m. - 8:00 p.m.
The Town of Grand Island is in the process of preparing A Resource Guide for the Protection and Promotion of Agriculture and Farming. This project is being funded through a grant from the New York State Department of Agriculture and Markets. The purpose of this project is to develop a plan that will further the recommendations of the Town's newly adopted Comprehensive Plan; build a consensus among the Town's farmers, agricultural business representatives, residents and Town officials; provide a framework to preserve the Town's agricultural heritage and existing farming activities in the community; and to promote and enhance opportunities for new or expanded agricultural activity of any size or scale on Grand Island.
An essential part of this effort is public participation. Therefore, the Town is inviting residents and other interested parties to attend a Public Information Meeting for the Agricultural and Farmland Protection Plan on Tuesday, February 26, 2019. This meeting is being held at the Grand Island Senior High School from 6:00 – 8:00 PM. The meeting will include a brief presentation about the project, followed by interactive participation at breakout sessions to gather public input on farming on Grand Island and farming related issues and opportunities that may exist in the Town.
The intent of this meeting is to allow participants to provide comments and hold an open dialogue on agricultural and farming activities in the Town. Are residents aware of the farming activity that exists? Do they support it? Are there other farming enthusiasts in the community who would like to be involved? The Town's Agriculture and Farmland Planning committee is strongly encouraging residents to attend this meeting to learn about this project, discuss their thoughts on the extent of agriculture in the community, and identify the needs and concerns of farmers and residents alike to help the Town prepare an effective plan for the future of agriculture and farming on Grand Island. Without input and support from the community, this plan cannot be a success.
For further information on this meeting or the project, contact Wendy Salvati, WWS Planning, (716) 870-2724 (wsalvati@wwsplanning.com) or Sheila Daminski, chairperson of the Farmland and Agriculture Planning Committee at (716) 514-6544 (sdaminski@gmail.com).
Weathering the Storm - February 2019
By Kevin R. Hardwick, 4th District County Legislator
In January we dealt with two storms. One was a figurative storm. The other was a literal one. We managed to make it through both. In the process, many of us came away with a deeper appreciation for the role of government in our daily lives.
The first storm, the figurative one, actually began in December with the shutdown of significant portions of the federal government. At first, it did not seem to impact our lives much, if at all. As it dragged on, however, many of us came to realize how wrong this initial assessment was. It hit home for me when I attended a presentation by the University at Buffalo scientists studying the impact of pollution from the Tonawanda Coke plant. One of the researchers commented that he was unable to reach anyone at the Environmental Protection Agency due to the fact that his contacts had all been furloughed.
I also was not happy that federal meat inspectors experienced the same fate during the shutdown. Although I did not fly during the shutdown, I was concerned about the fact that air traffic controllers and TSA agents were working without pay and many failed to show for work. This put more pressure on those who were working, which increased the prospects for a catastrophe. Fortunately, the government was reopened before this could occur. Hopefully, congress and the president will do their jobs and keep the government running.
The second storm, the literal one, was the Blizzard of 2019. As blizzards go, I think most of us would say that we have seen worse. Still, the storm represented a major event and presented significant danger to all members of our community. From my vantage point, I think that we can be proud of our response to what Mother Nature threw at us, as everyone did their job.
For starters, nobody was surprised by the storm. The weather forecasters at the National Weather Service, who worked without pay during the aforementioned government shutdown, gave us plenty of warning. The local print and broadcast media did an excellent job of conveying this information to us and updating us on the effects of the storm. Area school superintendents did us all a favor by canceling school for a couple days and doing so in a timely matter that allowed parents adequate time to make childcare arrangements.
Thousands of state, county, city, town and village employees protected us from the storm. Departments of Public Works did their best to keep our roads clean, although this was nearly impossible at the height of the storm. Police, fire and other emergency personnel came to the aid of many of our neighbors who had trouble dealing with the storm's fury. They all deserve our thanks and praise.
Although I did touch base with local officials throughout the event to make sure they were getting what they needed from the county, for the most part I tried to stay out of the way of the professionals. That is because I view the role of a legislator as making sure that adequate resources are available and then letting the experts do their jobs. It seems to have worked. If you have thoughts you would like to share, I would love to hear from you. I can be contacted by phone at 858-8672 or via email at kevin.hardwick@erie.gov.
Suicide Prevention Program - February 2019
A suicide prevention program will take place on Sunday, February 17, 2019 from 4:00 p.m. - 6:00 p.m. (+potluck) at Riverside-Salem UCC Cottage, 3449 West River Rd., Grand Island. Dr. Celia Spacone, "Talk Saves Lives," presentation on suicide prevention, covering risk factors, warning signs, protective factors and how to help someone. See
flyer
for more details.
State Parks Seeking Lifeguards - February 2019
It's never too early to start thinking about summer. The New York State Office of Parks, Recreation and Historic Preservation has announced that four lifeguard qualifying procedures are scheduled in the Niagara Region for the 2019 season.
Lifeguard positions in the Niagara Region will be available at Beaver Island, Evangola, Fort Niagara and Wilson-Tuscarora State Parks. However, lifeguards are needed state wide and qualifiers taken locally can be used for employment elsewhere in New York State. Lifeguards in New York State Parks start at $13.27 an hour. Successful completion of this qualifying procedure is required for anyone wishing to work as a lifeguard at any New York State Park. The qualifier includes demonstrated experience in CPR and swimming skills. Tests will take place at Niagara University and Hamburg High school on the following dates: Niagara University; March 9, April 6 and June 1. Hamburg High School:May 11. Tests at both locations begin at 8:30 a.m. and are free of cost.
Prior to employment, successful candidates must be at least 16 years of age and must furnish proof of completion of CPR for the Professional and completion of the American Red Cross 1994 Revised Lifeguard Training, which includes First-Aid, with a certificate for the Waterfront Module or equivalent courses. Successful candidates will also need a physician's certification of adequate physical fitness including a minimum of 20/40 uncorrected vision after receiving a conditional job offer. For more information or to register for a test, please contact Melissa Emhardt at (716)278-1761 or by text at (716)319-8100. For specific information regarding the test, please visit www.nysparks.com/employment/lifeguards/default.aspx.
Direct Line to EZ Pass - February 2019
Supervisor Nathan McMurray has announced a direct line for EZ Pass issues, 1-518-471-5300.
Statement: "Cash less tolling is a proven technology. But it's a new technology here and the system has had some problems leading to overcharges. You can be assured that I take this issue as seriously as I have since my first day in office. After a productive an informative discussion with the Director of the NYS Thruway Authority this week, I can report that they are aware of and working diligently on software upgrades to resolve the anomalies regarding misclassifications and the overcharges that those lead to. And in the interim, I am pleased that Islanders can now call a direct line to that office to resolve any tolling issue, rather than deal with EZ Pass Customer Service. That number is 1-518-471-5300.
I will continue to work with the New York State Thruway Authority, state officials and our Town Board to do everything in my power to help our residents."
Thruway Authority recommends calling E-Z Pass Customer Service at 1-800-333-8655.
McMurray Won't Seek Re-Election - February 2019
Supervisor Nathan McMurray recently announced he will not be running for re-election. Read statement
here
.
Buffalo News story by Stephen T. Watson
.
Town Building Inventory Assessment - February 2019
A contract has been drawn up with CGR of Rochester to assess the Town of Grand Island's municipal building inventory, and to find out if the CannonDesign building on Whitehaven Road could become the new town hall. It could take as little time as a few weeks.
The Center for Governmental Research, Inc. (CGR) is a non-profit corporation delivering data support, management consulting and implementation assistance to governments, educational institutions, foundations and non-profit organizations. Headquartered in Rochester, New York, it was founded by George Eastman in 1915 as the Rochester Bureau of Municipal Research to provide research and guidance to its home city's government and community institutions.
$25M Welcome Center - February 2019
WGRZ TV journalist Michael Wooten has been investigating the Western New York Welcome Center, located on Grand Island, since it opened late last summer. At a cost of $25 Million, most of the numbers are astonishing. See
pdf file
or link to the story on WGRZ-TV
here
.
Town of Grand Island Advisory Board Vacancies - February 2019
The Town of Grand island is looking for residents to fill the following board vacancies: Conservation Advisory Board (one alternate); Economic Development Advisory Board (two alternates); Human Rights Commission (one active member); Technology Advisory Board (one alternate); Traffic Safety Advisory Board (two alternates).
Please send your resume and or qualifications to Town Supervisor Nathan D. McMurray by February 22, 2019. Email: nmcmurray@grand-island.ny.us or mail/drop off to:Town Hall, 2255 Baseline Road, Grand Island, NY 14072.
"Hoopin for Julie" Honors Athlete, Mom, Teacher - February 2019
"Hoopin for Julie" was held at the Grand Island High School gym on Friday, February 1st. The event was in honor of Grand Island native, resident and Huth Road Elementary teacher Julie Roth Neville, 40, who died last October after a battle with breast cancer.The fundraiser was to benefit the Neville Boys Education Fund, for sons Jonathan, 10; Jayden, 8; James, 6; and Jaxson, 4. Julie's "24" Vikings jersey was also retired at the event. She was a 1996 graduate and the first girls basketball player to score 1,000 points. See Buffalo News story by Jonah Bronstein
here
.
Morinello Staff Mobile Office Hours - February 2019
The staff of Assemblyman Angelo J. Morinello (R,C,I,Ref-Niagara Falls) will hold mobile office hours on Tuesday, February 5 and Tuesday, February 19, from 10 a.m. to 12 p.m. at the Grand Island Town Hall. Residents and elected officials are welcome and encouraged to stop by to address any ideas or concerns they may have.
Free Education Classes - February 2019
Free basic education classes will be offered for adults seeking to obtain their high school equivalency diploma or improve their math and writing skills to enroll in college. This class, provided by a cerified teacher, will be held at the Grand Island Memorial Library. Call 874-8411, ext. 35316, for urther information and to register for the class.
Winter Weather Advisory - January 2019
(January 31, 2019)
...Message from Superintendent of Highways Richard W. Crawford.
The winter blast hitting our town and region has brought heavy snowfall, heavy wind and bone chilling wind chill. The Grand Island Highway Department employees have been working around the clock and successfully kept the main roads and subdivisions open for travel. We continue to ask that you adhere to the no parking law from 2am to 7am. To help us clear your street we also ask that you do not put your garbage or recycling in the street. Due to the current conditions we also caution you on any unnecessary travel, if travel is required drive with extreme caution.
NYS Parks Announces Beaver/Big Six Concessionaire - January 2019
(January 29, 2019)
... The New York State Office of Parks, Recreation and Historic Preservation (State Parks) announced today that Montana International, LLC has been selected through the New York State procurement process to operate concessions at Beaver Island State Park and the Big Six Marina, all located on Grand Island.
Owned by Grand Island resident Cyndy Montana, the company will oversee operation of the golf course, pro shop, course bar and grill as well as catering and event management at the current park casino. In addition, the marinas at Beaver Island and Big Six will be included in the license. The contract, once complete, is subject to the approval of the New York State Attorney General and the New York State Office of the Comptroller. State Parks and Montana International are working on details of the partnership with hopes that plans are in place for this summer season.
Grass Island Information - January 2019
A notice on Facebook mentioned someone spoke with David Spiering of NYS Parks regarding the closure of Grass Island to boaters. See the following: "I just spoke to David Spiering in NY Parks today, he stated they have tried to reach out to boaters regarding the Grass Island project but have received very little response. He encouraged me to give his information out and for people to email him with concerns or suggestions regarding Grass Island. I will be sending him a email today along with the petition that was started a few weeks ago. I encourage everyone to send a email . He even was on board with his email being posted on Grass Island Facebook. So if someone would do that it would be great. The response doesn't have to be that sophisticated. Once you send an email, future meetings and stuff is supposed to be communicated to us by the parks dept. his email is David.spiering@park.ny.gov.
Niagara Footprint Festival Photos - January 2019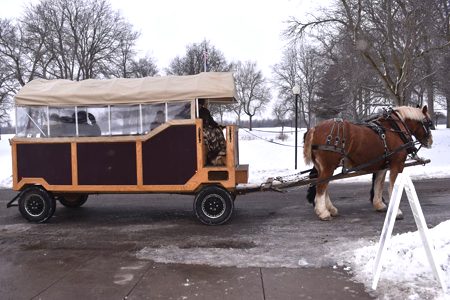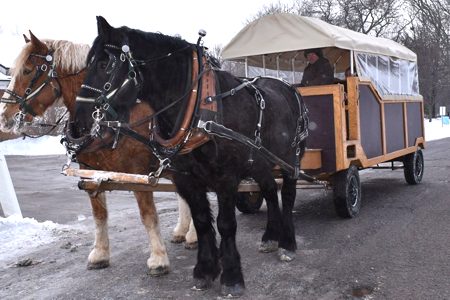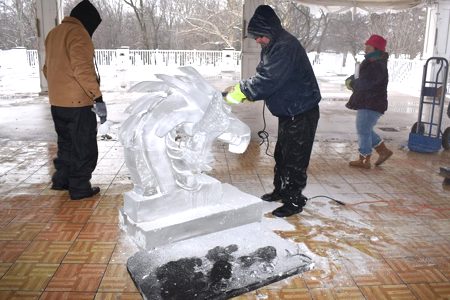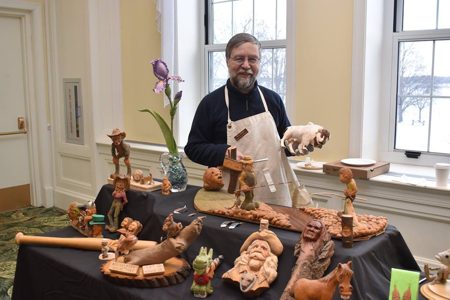 Paul Yeager, Niagara Frontier Wood Carvers.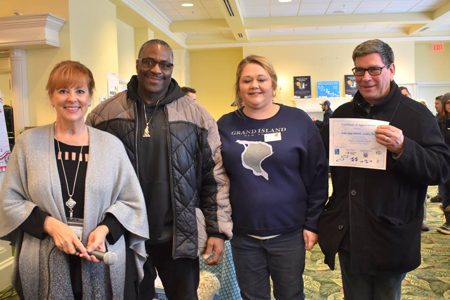 From left: Councilwoman & festival organizer Bev Kinney, Parks Manager Greg Brown, festival organizer Jenn Pusatier and Historical Society President Curt Nestark.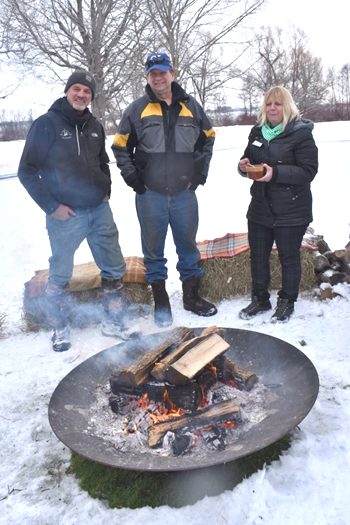 River Lea bonfire.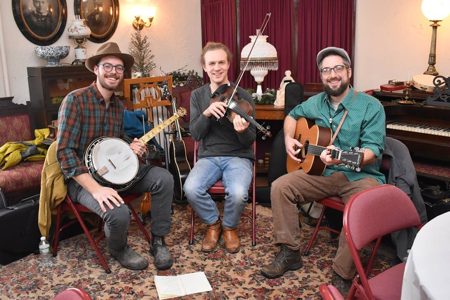 From left: Cap Cooke, Sam Schmidt and Ben Haravitch.
Mary Stewart photos.
The Gone Homes Blue Grass trio entertained visitors to River Lea during the Niagara Footprint Festival on Saturday, January 26th at Beaver Island State Park. Cap Cooke is an Island native who now makes his home in Ithaca, NY. Sam Schmidt is from Ithaca and Ben Haravitch is from Warsaw, NY. The GI Historical Society sold chilli and cornbread, had tours of River Lea, a bonfire and blacksmith display.
The festival included horse drawn wagon rides, ice carving by the Niagara Falls Culinary Institute, a Disc Golf Tournament in the snow, sled dog demonstration, fat bike and snowshoe opportunities and the casino building with food, craft and organization vendors. It was very well attended and everyone is hoping there will be a second annual!
Adrian's Custard & Beef Making A Move - January 2019
It's Official! Adrian's Custard & Beef is moving across the street, to the Town Cafe site. The Town Cafe closed on December 29th, after the death of owner Louise Alessi. Adrian's plans on getting a beer & wine license and to be open by early April. See Buffalo News
article
by Stephen T. Watson.
Grand Island Town Court Cancelled - January 2019
Grand Island Town Court is cancelled on Wednesday, January 30th. The Town Court office will be open as usual that day, 8:30 a.m. - 5:00 p.m.
Tree & Shrub Seedlings Available - January 2019
Erie County, NY - Order forms for the 2019 Conservation Tree and Shrub Seedling Sale are now available from Erie County Soil and Water Conservation District.
The District is offering many varieties of conservation trees and shrubs, wildflower seed mixes, and seedling packs which have combinations of trees and shrubs chosen to attract, feed and shelter birds, butterflies and other wildlife. Landowners can practice conservation by planting seedlings and wildflowers to provide wildlife food and habitat, shelter crops and landscape, reduce heating/cooling expenses, protect water quality, reduce air pollution, and stabilize erodible land. Seedlings are also an inexpensive alternative for replacing trees that have been damaged or lost.
Thirty-seven species of trees and shrubs are available this year. The one-to-three-year-old bare root seedlings, which range in size from 6 to 24 inches, are available in lots of 10 to 500. The District is offering an expanded selection of four-year-old evergreen transplants which are more mature trees with thicker stems, more branching and more developed roots.
The District also stocks marking flags, fertilizer tablets, and tree shelters to help promote the success of your plantings. Bluebird nest boxes can be ordered through the program or be purchased at the District office. Order forms may be obtained by: stopping at the District office at 50 Commerce Way in East Aurora (behind Post Office), or by calling (716) 652-8480 ext. 5, or by printing the order form from the District website at www.ecswcd.org . Orders are due by March 15, 2019 and pick-up will be on Saturday April 27, 2019 at the Fairgrounds in Hamburg.
Hardwick Wants Federal Funds for Clean Up - January 2019
Thursday, January 17, 2019
... Erie County Legislature Calls on the EPA to Designate Tonawanda Coke as a Federal Superfund Site. A resolution introduced by Legislator Kevin Hardwick urges the NYS DEC to request federal funds for Tonawanda Coke clean up. Concerned by the negative legacy and known and potential contaminants on the Tonawanda Coke property in the Town of Tonawanda, today, the Erie County Legislature approved a resolution requesting that the US Environmental Protection Agency (EPA) add the property to the federal Superfund list.
If supported by the New York State Department of Environmental Conservation (DEC), a federal Superfund designation would place the Tonawanda Coke site on the National Priorities List and recognize it as being contaminated by hazardous material(s) that pose a known risk to human health. The State of New York has already designated Tonawanda Coke as a state superfund site. The federal Superfund status would provide financial and other federal resources for clean-up efforts.
Airborne contaminants like benzene and methane have decreased considerably since the plant ceased operations in October 2018. However, soil studies completed in part by the University at Buffalo have indicated that other dangerous chemicals such as arsenic and cyanide exist underground and there are concerns about other hazards on-site in standing water and pools.
The resolution's prime sponsor is Legislator Kevin Hardwick who represents the 4th Legislative District which includes the Tonawanda Coke site. Legislator Hardwick said: "Given the past and current monitoring and clean-up work being undertaken by the DEC and EPA at the property, it makes sense that the EPA take the lead through the federal Superfund program to provide resources and financial assistance to remediate the known and likely unknown hazards at Tonawanda Coke." Hardwick added: "" am pleased that my Legislature colleagues understood the urgency of asking for the federal designation and I hope that the DEC will expeditiously act to support such a federal status at Tonawanda Coke."
DA Investigating Theft of $116,000 - January 2019
A Buffalo News article by Stephen T. Watson states that the Erie County District Attorney's Office is investigating the theft of $116,000 in town funds from the Grand Island Senior Center. Town officials believe a former employee is involved. See
article
.
Resolution regarding theft
.
River Lea Looks Awful! - January 2019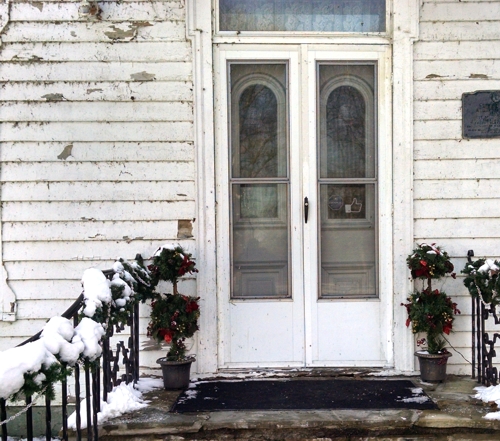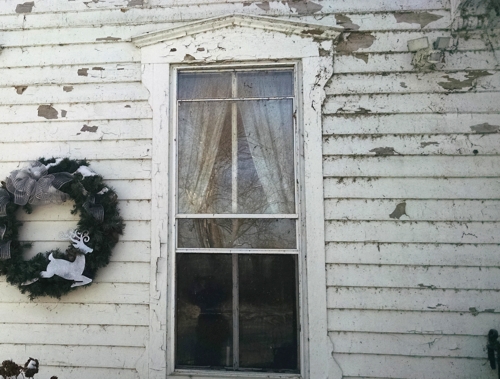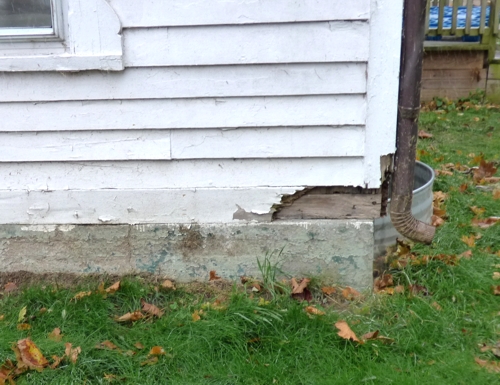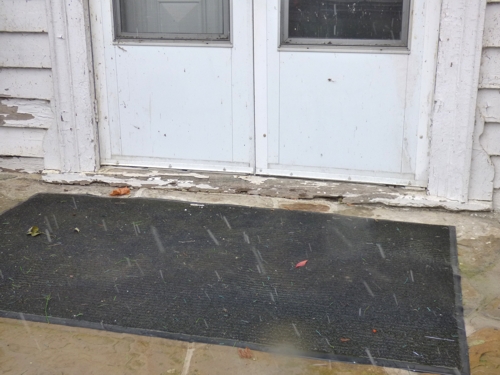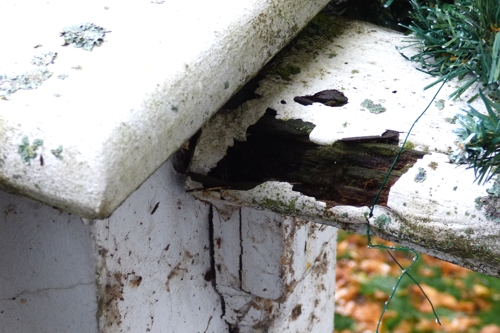 The decrepit state of the Grand Island Historical Society's museum and headquarters at River Lea, can be seen in the above photos. Rotting wood and peeling paint is the norm. These photos were taken over the last couple months to document how run down the property really is. NYS Parks is responsible for the upkeep of the outside of the building. It is located in Beaver Island State Park on the East River.
A fundraising effort is being started to add an ADA compliant restroom to the first floor, and to add a front porch, which was original to the structure. Both projects were okayed by the state, but with no funding towards it. An archaeological survey must be completed before the addition of the restroom, also on the historical society's dime. The society is going to be selling chilli at the Footprint Festival on Saturday, January 26th from 3:00 p.m. - 5:00 p.m. There will also be tours, live music and a bonfire. Come down and see Grand Island history and help out River Lea.
Tonawanda Coke Update - January 2019
With the closing of Tonawanda Coke last fall, many people wondered why smoke still appeared coming from the stack. The boiler was shut down on December 26th after the treatment and disposal of on-site ammonia. For more information, click on the following links:
Buffalo News article by T.J. Pignataro
Tainted soil found near Tonawanda Coke as on-site threat lessens
Tonawanda Coke Soil Study Phase 1 Map
Letter from Superintendent Brian Graham regarding Tonawanda Coke and school property.
DeGlopper Statue Moves Ahead - January 2019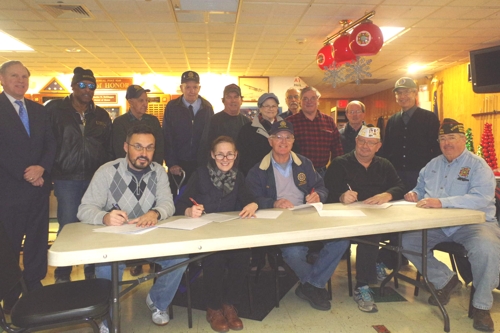 Seated from left: Eric Anderson, Sculptor Susan Geissler, Ray DeGlopper, Alan Lee and Dan McMahon.
The DeGlopper Memorial Fund Committee met on Monday, January 7th at the VFW to sign paperwork with Sculptor Susan Geissler for the Charles N. DeGlopper statue. Geissler, of Youngstown, NY will be making a larger than life statue that will be the centerpiece of the DeGlopper Memorial Park expansion. You can see how a statue takes shape at the artist's
website
.
The irrigation system has been installed at DeGlopper Park and sod will be laid in the spring. Most of the memorial plaques have been completed by Grand Island High School students. Donations are still being accepted and you can purchase a paver on the
Website
.
Town Flower Discovered - January 2019
Interesting information found by Town Clerk Pattie Frentzel. The Town of Grand Island named the "Niagara Rose" as its official flower at a meeting on December 3, 1962. It originated and was developed by a West River Road resident named Clarence Davis. I've searched the internet for the flower and found the following description: Hybrid Tea. Red. Strong, fruity fragrance. Double (17-25 petals), high-centered bloom form. Blooms in flushes throughout the season. USDA zone 6b through 9b (default). Davis (1952).
This was located on the site: http://www.helpmefind.com/rose/plants.php, but did not include a photo. Perhaps a relative has this in their garden? If you know anything about Mr. Davis or the flower, please contact me at jodi@giecom.net or 773-6789.
Resolutions for the New Year - January 2019
By Kevin R. Hardwick, 4th District County Legislator
It is customary to make and subsequently break New Year's resolutions. This has certainly been my experience, especially with ones involving eating less and exercising more. The intent is there. But the persistence is not. I am, however, much more serious about my resolutions for Erie County Government in 2019.
In general, the theme of my resolutions is to maintain the momentum we have built in recent years, while at the same time remain aware of external developments that threaten our continued progress. Some of this progress is specific to my district. Grand Island and the Tonawandas are impacted more than any other area of Erie County by heavy industry. Residents know all too well the health dangers posed by polluters such as Tonawanda Coke. With the closure of their plant in the Town of Tonawanda benzene levels in the air plummeted according to the New York State Department of Environmental Conservation. Benzene is a known carcinogen. So this comes as welcome news to all of us who live downwind of the plant. There has also been progress in the quest to find a new purpose for NRG's Huntley Plant in the Town of Tonawanda. This has been a result of the cooperation of officials at all levels of government and community groups such as the Clean Air Coalition. I was pleased, therefore, to be able to secure funding for the Clean Air Coalition in the 2019 Erie County Budget, as well as the Citizens Science Community Resources which is investigating the deleterious health effects of Tonawanda Coke.
Much more of the progress I am resolved to continue impacts the county as a whole. This has been the case with our progress against the opioid epidemic. This scourge has affected the entire nation and has been particularly acute in our community. Although our efforts have been vast and have resulted in far fewer opioid related deaths, it is still a huge problem and will continue to be a major priority in 2019.
Another problem facing the county is the condition of our road system. Although we have been making progress in recent years, we have still not recovered from the disastrous Red and Green Budget of more than a decade ago. In 2019 this has to change. The additional money for roads to which County Executive Mark Poloncarz is committed should make a big difference. It will not fix all the roads in one year. But it should change the trajectory of the road system's recovery.
While we can look forward to continued improvements in a number of areas, we also need to be cognizant of factors that could slow our progress. Chief among these is the state of the economy. Since the "Great Recession" we have enjoyed a strong economy evidenced by consistent job growth. We certainly hope that this will continue. But there are signs that the economy may be slowing. If this is the case, we need to be prepared for a drop in sales tax revenue and increased expenditures in a variety of social programs. Our ability to address these challenges effectively will enable us to keep our other resolutions.
If you have thoughts you would like to share, I would love to hear from you. I can be be contacted by phone at 858-8672 or via email at kevin.hardwick@erie.gov.
Morinello Staff to Hold January Mobile Office Hours - January 2019
The staff of Assemblyman Angelo J. Morinello (R,C,I,Ref-Niagara Falls) will hold mobile office hours on Tuesday, January 15th from 10:00 a.m. to 12:00 p.m. at the Grand Island Town Hall, 2255 Baseline Road. Residents and elected officials are welcome and encouraged to stop by to address any ideas or concerns they may have.
2019 Town/County Tax Bills - January 2019
Town Clerk Patricia Frentzel announced that the 2019 Town/County Tax Bills have been mailed. If you have changed banks, have paid off your mortgage or do not have an escrow account and did not receive a tax bill, please contact the Town Clerk's office at 773-9600 ext. 620 or 600.
The office will be open extras hours on Saturday February 9 - 9:00am -12:00pm and Thursday, February 14 - 8:30am - 6:00pm and Friday, February 15 - 8:30am - 6:00pm. Checks should be made payable to Town Clerk. The last day to pay without penalty is February 15th. Envelopes must show a legible postmark of February 15th to be accepted on time. Taxpayers should call the office for correct amounts for payments made February 16th and later. Payments can be made until July 1, 2019. After this date, payments must be sent to the County. See
Flyer
. Online tax receipts and payments, (service fees apply), www.grandislandny.us/, Debit and credit cards accepted at counter, (service fees apply).
Republic Services Tote Collection - January 2019
Republic Services will be on the Island Monday, Tuesday & Wednesday, January 7th - 9th, picking up any of their empty recycle totes that were missed last week.
County Budget Includes Funds for GAC - January 2019
Legislator Hardwick Announces Funding in 2019 Erie County Budget for Legislative District 4. Youth and senior organizations to receive additional funding for this coming year.
Erie County Legislator Kevin Hardwick is pleased to announce additional funding in the 2019 Erie County Budget which was signed into law on December 10th by County Executive Mark C. Poloncarz. The budget contains the largest decrease in the county's tax rate in over a decade, funds for public health programs and infrastructure improvements, as well as increased funding for community and cultural organizations.
Grand Island will receive part of $3,000 for additional senior services across Grand Island and Tonawanda. Legislator Hardwick noted that, "This budget was a compromise, and I am happy we were able to support the services residents value while granting them much-needed relief on their taxes. I thank the County Executive and my legislature colleagues for coming to the table with open minds."
GICSD Capital Project - January 2019
UPDATE: The Capital Project was passed on January 8th with a 68% approval rating. Yes-540, No-257, Abstain-1.
.
There will be a community vote on Tuesday, January 8th in the Viking Mall at Grand Island High School for a new capital project, from 10:00 a.m. - 9:00 p.m. The Project Cost is $24,149,626. State Building Aid is Approximately 74%. Current projections estimate an increase of $15-$16 a year for a home assessed at $180,000 provided they fund the capital reserve. A capital reserve fund allows the district to set aside money for future construction projects and major purchases, much like a savings account. The fund cannot be established without voter approval AND reserve funds cannot be spent without voter approval. See Narrated Overview
here
.
Decorations from Erie County Correctional Facility Program - January 2019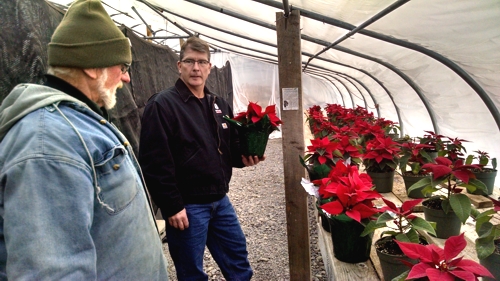 From left: Horticultural Director John Fisher and Town Hall Caretaker Jim Linenfelser.

GAC attendent Liz Wilbert.

Highway Department entrance.
Again this holiday season, the Town of Grand Island benefited from the Erie County Correctional Facility's Horticulture Program. The wreaths and poinsettias you see on Town Buildings and in offices were grown/made by the inmates at the Correctional Facility and donated to the Town for use on Town Property. Town Hall Caretaker Jim Linenfelser is shown with program Director John Fisher selecting poinsettias. One of the four flowers brought to the Island was placed at the window of the Golden Age Center. One of the dozen wreaths graced the door at the Highway Garage Office.
Senior Volunteers Stuff Town/County Tax Bills - January 2019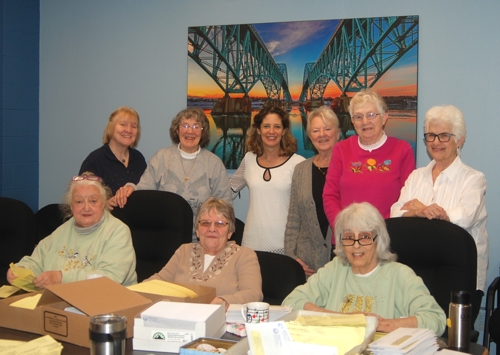 Sitting from left: Lorraine Wilcox, Jean Schleger, and Jerrie Benzing.
Standing: Linda Clark, Martha Muller, Town Clerk Pattie Frentzel, Pat Ehinger, Kathy Leuchner & Jenny Petz.
This is the 15th year a group of seniors from the Golden Age Center have stuffed tax bills for Town Clerk Pattie Frentzel. The seniors spend the day stuffing envelopes for the Town/County taxes and get treated for lunch in return. They also come back in the fall to take care of the school tax bills.