Grand Island Town &
School News Web Page
2019
Previous News Page
DeGlopper Statue Moves Ahead - January 2019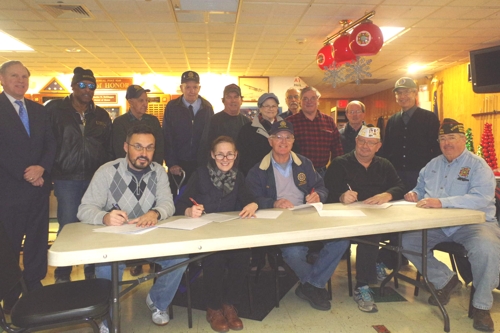 Seated from left: Eric Anderson, Sculptor Susan Geissler, Ray DeGlopper, Alan Lee and Dan McMahon.
The DeGlopper Memorial Fund Committee met on Monday, January 7th at the VFW to sign paperwork with Sculptor Susan Geissler for the Charles N. DeGlopper statue. Geissler, of Youngstown, NY will be making a larger than life statue that will be the centerpiece of the DeGlopper Memorial Park expansion. You can see how a statue takes shape at the artist's
website
.
The irrigation system has been installed at DeGlopper Park and sod will be laid in the spring. Most of the memorial plaques have been completed by Grand Island High School students. Donations are still being accepted and you can purchase a paver on the
Website
.
Town Flower Discovered - January 2019
Interesting information found by Town Clerk Pattie Frentzel. The Town of Grand Island named the "Niagara Rose" as its official flower at a meeting on December 3, 1962. It originated and was developed by a West River Road resident named Clarence Davis. I've searched the internet for the flower and found the following description: Hybrid Tea. Red. Strong, fruity fragrance. Double (17-25 petals), high-centered bloom form. Blooms in flushes throughout the season. USDA zone 6b through 9b (default). Davis (1952).
This was located on the site: http://www.helpmefind.com/rose/plants.php, but did not include a photo. Perhaps a relative has this in their garden? If you know anything about Mr. Davis or the flower, please contact me at jodi@giecom.net or 773-6789.
Resolutions for the New Year - January 2019
By Kevin R. Hardwick, 4th District County Legislator
It is customary to make and subsequently break New Year's resolutions. This has certainly been my experience, especially with ones involving eating less and exercising more. The intent is there. But the persistence is not. I am, however, much more serious about my resolutions for Erie County Government in 2019.
In general, the theme of my resolutions is to maintain the momentum we have built in recent years, while at the same time remain aware of external developments that threaten our continued progress. Some of this progress is specific to my district. Grand Island and the Tonawandas are impacted more than any other area of Erie County by heavy industry. Residents know all too well the health dangers posed by polluters such as Tonawanda Coke. With the closure of their plant in the Town of Tonawanda benzene levels in the air plummeted according to the New York State Department of Environmental Conservation. Benzene is a known carcinogen. So this comes as welcome news to all of us who live downwind of the plant. There has also been progress in the quest to find a new purpose for NRG's Huntley Plant in the Town of Tonawanda. This has been a result of the cooperation of officials at all levels of government and community groups such as the Clean Air Coalition. I was pleased, therefore, to be able to secure funding for the Clean Air Coalition in the 2019 Erie County Budget, as well as the Citizens Science Community Resources which is investigating the deleterious health effects of Tonawanda Coke.
Much more of the progress I am resolved to continue impacts the county as a whole. This has been the case with our progress against the opioid epidemic. This scourge has affected the entire nation and has been particularly acute in our community. Although our efforts have been vast and have resulted in far fewer opioid related deaths, it is still a huge problem and will continue to be a major priority in 2019.
Another problem facing the county is the condition of our road system. Although we have been making progress in recent years, we have still not recovered from the disastrous Red and Green Budget of more than a decade ago. In 2019 this has to change. The additional money for roads to which County Executive Mark Poloncarz is committed should make a big difference. It will not fix all the roads in one year. But it should change the trajectory of the road system's recovery.
While we can look forward to continued improvements in a number of areas, we also need to be cognizant of factors that could slow our progress. Chief among these is the state of the economy. Since the "Great Recession" we have enjoyed a strong economy evidenced by consistent job growth. We certainly hope that this will continue. But there are signs that the economy may be slowing. If this is the case, we need to be prepared for a drop in sales tax revenue and increased expenditures in a variety of social programs. Our ability to address these challenges effectively will enable us to keep our other resolutions.
If you have thoughts you would like to share, I would love to hear from you. I can be be contacted by phone at 858-8672 or via email at kevin.hardwick@erie.gov.
Morinello Staff to Hold January Mobile Office Hours - January 2019
The staff of Assemblyman Angelo J. Morinello (R,C,I,Ref-Niagara Falls) will hold mobile office hours on Tuesday, January 15th from 10:00 a.m. to 12:00 p.m. at the Grand Island Town Hall, 2255 Baseline Road. Residents and elected officials are welcome and encouraged to stop by to address any ideas or concerns they may have.
2019 Town/County Tax Bills - January 2019
Town Clerk Patricia Frentzel announced that the 2019 Town/County Tax Bills have been mailed. If you have changed banks, have paid off your mortgage or do not have an escrow account and did not receive a tax bill, please contact the Town Clerk's office at 773-9600 ext. 620 or 600.
The office will be open extras hours on Saturday February 9 - 9:00am -12:00pm and Thursday, February 14 - 8:30am - 6:00pm and Friday, February 15 - 8:30am - 6:00pm. Checks should be made payable to Town Clerk. The last day to pay without penalty is February 15th. Envelopes must show a legible postmark of February 15th to be accepted on time. Taxpayers should call the office for correct amounts for payments made February 16th and later. Payments can be made until July 1, 2019. After this date, payments must be sent to the County. See
Flyer
. Online tax receipts and payments, (service fees apply), www.grandislandny.us/, Debit and credit cards accepted at counter, (service fees apply).
Republic Services Tote Collection - January 2019
Republic Services will be on the Island Monday, Tuesday & Wednesday, January 7th - 9th, picking up any of their empty recycle totes that were missed last week.
County Budget Includes Funds for GAC - January 2019
Legislator Hardwick Announces Funding in 2019 Erie County Budget for Legislative District 4. Youth and senior organizations to receive additional funding for this coming year.
Erie County Legislator Kevin Hardwick is pleased to announce additional funding in the 2019 Erie County Budget which was signed into law on December 10th by County Executive Mark C. Poloncarz. The budget contains the largest decrease in the county's tax rate in over a decade, funds for public health programs and infrastructure improvements, as well as increased funding for community and cultural organizations.
Grand Island will receive part of $3,000 for additional senior services across Grand Island and Tonawanda. Legislator Hardwick noted that, "This budget was a compromise, and I am happy we were able to support the services residents value while granting them much-needed relief on their taxes. I thank the County Executive and my legislature colleagues for coming to the table with open minds."
GICSD Capital Project - January 2019
UPDATE: The Capital Project was passed on January 8th with a 68% approval rating. Yes-540, No-257, Abstain-1.
.
There will be a community vote on Tuesday, January 8th in the Viking Mall at Grand Island High School for a new capital project, from 10:00 a.m. - 9:00 p.m. The Project Cost is $24,149,626. State Building Aid is Approximately 74%. Current projections estimate an increase of $15-$16 a year for a home assessed at $180,000 provided they fund the capital reserve. A capital reserve fund allows the district to set aside money for future construction projects and major purchases, much like a savings account. The fund cannot be established without voter approval AND reserve funds cannot be spent without voter approval. See Narrated Overview
here
.
Decorations from Erie County Correctional Facility Program - January 2019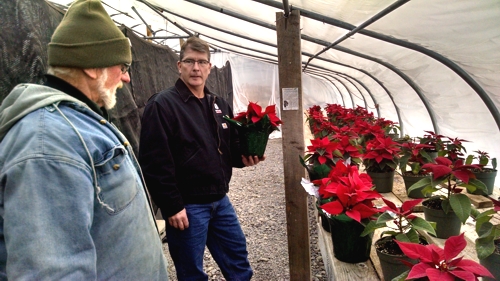 From left: Horticultural Director John Fisher and Town Hall Caretaker Jim Linenfelser.

GAC attendent Liz Wilbert.

Highway Department entrance.
Again this holiday season, the Town of Grand Island benefited from the Erie County Correctional Facility's Horticulture Program. The wreaths and poinsettias you see on Town Buildings and in offices were grown/made by the inmates at the Correctional Facility and donated to the Town for use on Town Property. Town Hall Caretaker Jim Linenfelser is shown with program Director John Fisher selecting poinsettias. One of the four flowers brought to the Island was placed at the window of the Golden Age Center. One of the dozen wreaths graced the door at the Highway Garage Office.
Senior Volunteers Stuff Town/County Tax Bills - January 2019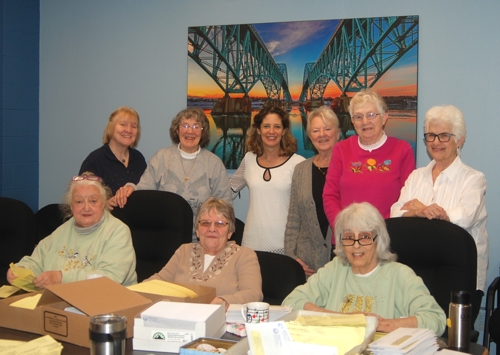 Sitting from left: Lorraine Wilcox, Jean Schleger, and Jerrie Benzing.
Standing: Linda Clark, Martha Muller, Town Clerk Pattie Frentzel, Pat Ehinger, Kathy Leuchner & Jenny Petz.
This is the 15th year a group of seniors from the Golden Age Center have stuffed tax bills for Town Clerk Pattie Frentzel. The seniors spend the day stuffing envelopes for the Town/County taxes and get treated for lunch in return. They also come back in the fall to take care of the school tax bills.