Golden Age Center Webpage

3278 Whitehaven Road
773-9683

Previous Golden Age Center News


Please call (716) 773-9682 from 8am – 4pm Monday – Friday, to answer your questions and provide assistance during the COVID-19 crisis. We look forward to the reopening in the near future.
Mask Distribution Info.

Other resource numbers to call: 211 for assistance and questions, 858-8526 for Erie County Senior Services. Erie County Senior Services wants you to stay safe and healthy! We know it can be tough to stay home but here's some things that can keep you busy and stimulated. Combat Social Isolation.


Town of Grand Island Website
To E-mail the Golden Age Center
Membership Application
Meals on Wheels Application
Donation Opportunities
AARP

---
November Lunch Menu - Yellow Zone
November 2020 Zoom Activities
University Express Fall 2020 Semester
- Update 11/18/20
Recalled Sanitizer List
-
Mask Distribution Info.
November Newsletter
-
Virtual Seminars
Golden Guide
Transportation Information Revised
Dementia Support Group
Alzheimer's Assoc. Services
Community Respite Programs
.
Yellow Dot Program
Golden Age Center Closed For Two Weeks - November 2020
ATTENTION: The YELLOW ZONE MANDATE on Friday, 11/13 changed for us and only allowed us few people in our building, at 10 people or less. With that being said:
The Golden Age Center CLOSED to the PUBLIC for the NEXT TWO WEEKS, to weigh out the mandates, with hopes that the virus numbers will get better.
Transportation to continue on as normal at this time. Please call us to book your transportation needs!
Meals on Wheels to continue as normally scheduled.
If you need help setting up ZOOM, please call us for more information.
Congregate dining is CLOSED but we will be having cold meals available for $4.
We will do a General Mask Distribution ANYTIME between 8am – 3pm Monday – Friday.
Golden Age Center will CLOSE at 3pm daily during this time. Doors are locked to the public.
We hope to have in-person programs start again on Monday, November 30, 2020, after mandates are re-evaluated.
University Express in-person presentations have ENDED; all presentations will be AT HOME AND ON-LINE.
Halloween Fun at Golden Age Center - November 2020
Mary Stewart photos.
The Golden Age Center celebrated Halloween on Friday, October 30th. The day began with Halloween trivia, a virtual scavenger hunt, a costume contest and ended with pumpkin carving & decorating.
Closed Friday, November 13th - November 2020
The Golden Age Center will be CLOSED on Friday, November 13, 2020 for staff training. We are sorry for any inconvenience this may cause. Thank you, Golden Age Staff
Farmer's Market Coupon Distribution at GAC - August 2020
The Erie County Department of Senior Services' Stay Fit Dining Program will be distributing $20 coupon books for farmer's markets. There will be a drive-thru pick-up on Thursday, August 27, 2020 from 10:45 - 11:45 a.m. at the Golden Age Center. See
Flyer
.
There will also be a mask distribution at the same time.
Mask Distribution Info.
Golden Age Center Back in Business - August 2020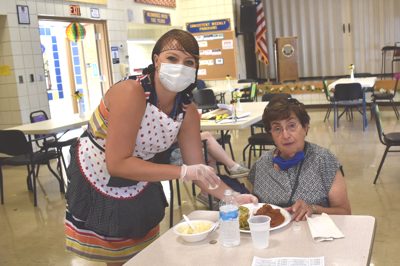 Supervisor Jen Menter serves lunch.

Social Distance sinks in ladies room.

To use computers or sewing machines, must check with GAC staff first.

Gym equipment socially distanced.

Lunch tables.
Mary Stewart photos & story.
To many of the golden agers on Grand Island, the senior center is there "second home", where they can enjoy delicious meals with their friends, play card games, and many other activities. Many depend on the center for their main meal so opening up Monday, August 17th for lunch was a long awaited happening. At this time, the lunches are limited to 30 people, and complying to the 6 foot rule. The tables and chairs are set up for this. Tthere are also signs on the floors and on the chairs reminding people. Instead of going up to the window to pick up your lunch, it is being taken to your table by the staff. Every precaution is being taken by the staff to insure they can stay open. There has been a lot of sprucing up during the last few months while the center was closed. The changes may not be big but it took a lot of time and effort giving our center a fresh new look.
Virtual Recreation Opportunities at Golden Age Center - July 2020
The Golden Age Center will be offering Virtual Recreation Opportunities online? All they have to do is just register by calling us at 773-9682 or 773-9683 with their name, telephone number and e-mail address to register for the opportunity. The Zoom invite will be e-mailed out the day before the opportunity. See
flyer
.
Senior Paint Night at the Golden Age Center - March 2020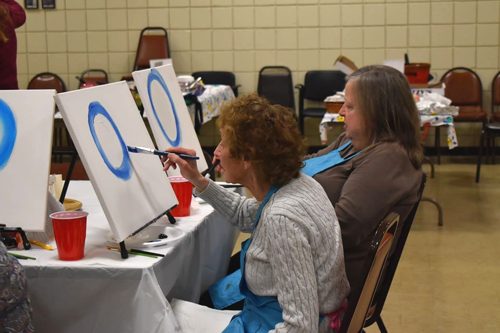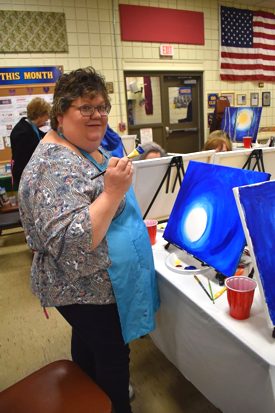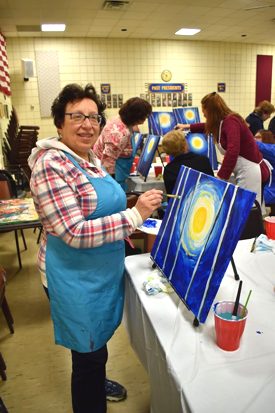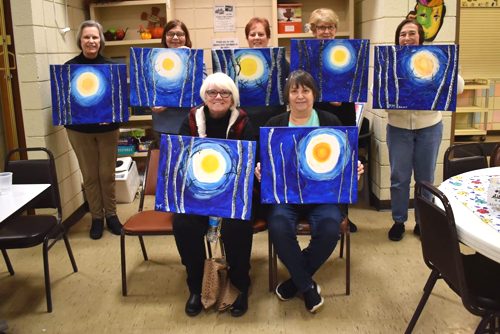 Mary Stewart Photos.
The Golden Age Center sponsored a senior paint night in late February, led by Tara Hudson of Paint Creatively. Each participant was given a 16x20 canvas and necessary materials. They enjoyed a two hour session and got to take home a masterpiece!
Most Hugs Wins at GAC - February 2020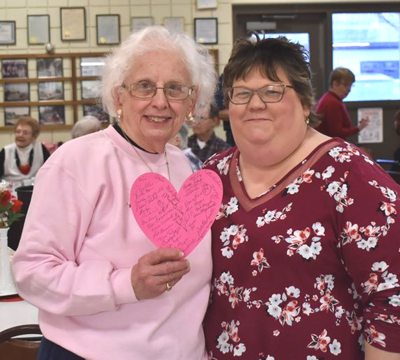 From left: Contest winner Mary Stewart and Recreation Attendant Carrie Mesmer.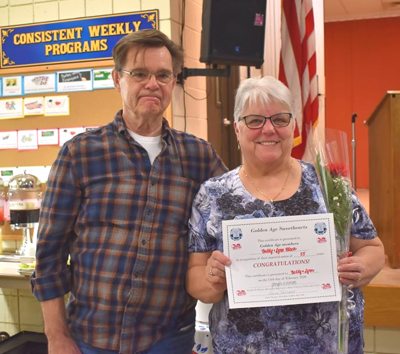 Bud and Linda Black - 55 years.

Dick and Barbara Brzyski - 57 years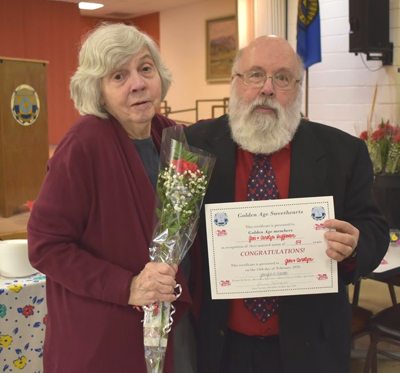 Jim and Carolyn Huffman - 54 years

Don and Evelyn Lewis - 57 years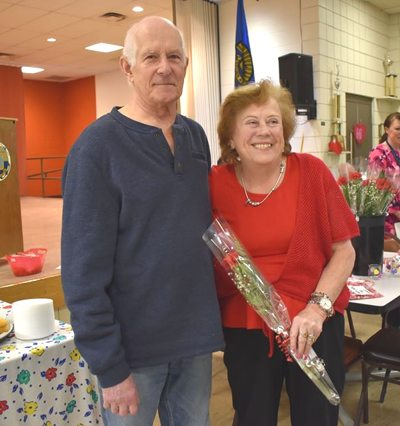 Chuck and Nancy Tobe - 53 years.

Ray and Sue Whitbeck - 67 years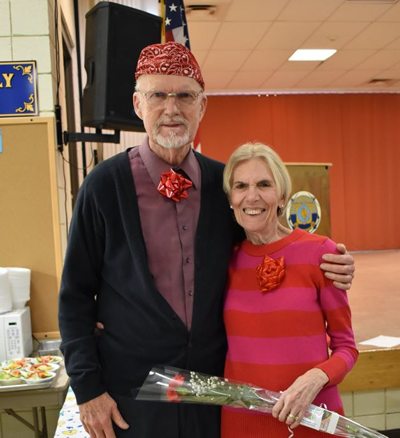 Dave and Annie Rogers - 54 years.
The Golden Age Center celebrated Valentine's Day on Thursday, February 13th with Valentine's bingo, entertainment by Mari McNeil, contests and a special sweethearts' luncheon. Most visible hearts ensemble went to Martha Mueller. Most hugs contest went to Mary Stewart with 87! She won a special candlelight dinner for two. Married couples with over 50 years of marriage were celebrated and given free lunch, see photos above.
Angelo Morinello Delivers Valentine's Day Cards - February 2020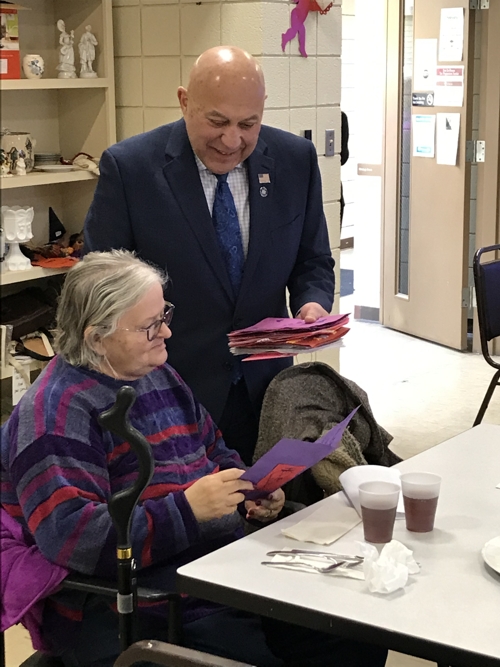 NYS Assemblyman Angelo Morinello with GAC member Joann Greico.
This Valentine's Day, Assemblyman Angelo Morinello (R,C,I,Ref-Niagara Falls) visited the Grand Island Golden Age Center and delivered Valentine's Day cards, created by local elementary school students, to seniors. Eighteen local schools participated this year in creating over 1,200 valentines for his program. Cards have also been sent around the assemblyman's district to assisted living facilities, meals on wheels sites and other senior centers. The deliveries mark the conclusion of Morinello's annual "Valentines for Seniors" program. Many seniors are widowed or living alone and finding a special way to show some extra love on Valentine's Day makes a big difference.
"I am proud of these caring and loving students who joined me this year in making Valentine's Day special for so many people across the district," said Morinello. "It's fundamental we look out for one another, and spread love to those who are lonely on this holiday. Both the students and seniors get tremendous joy from these cards and I look forward to continuing this program for years to come."
GAC Mitten Recognition Luncheon - February 2020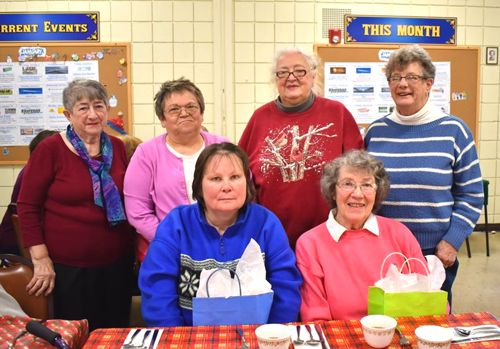 From left: seated - Suzanne Muller and Martha Muller, standing - Charlotte Posch, Sandy Ackerman, Lorraine Willcox and Ann Dlugokinski.
From left: seated - Evelyn Lewis, Iris Galeza, Diane Darmofalski, Jeri Benzing, standing - Cathy Mancuso, Sue Bognar, Linda Lechner, Jan Yardley and Jackie Kazmierczak
Mary Stewart photos. For many years members of Grand Island's Golden Age Center have given their time and talents in crocheting and knitting hats, gloves, scarves and headbands. They were recently honored at the Center's "mitten recognition luncheon". Over 1900 items were donated in 2019 to the Grand Island Neighbors Foundation and to groups in all of Western New York.




Golden Age Center Board of Directors - January 2020 From left: Jennifer Menter, GAC Recreation Supervisor, Anna Vacarro – President, Michele Chasse – Vice President, Brenda Cassoni – Treasurer, Beverly Kinney – former Councilwoman and liaison to Golden Age Center, Barbara Nowakowski – Sunshine Lady, Cathy Mancuso – Chaplin
Mary Stewart photo. The Golden Age Center Board of Directors posed for a photo at the December Christmas party.