Golden Age Center Webpage

3278 Whitehaven Road
773-9683

Previous Golden Age Center News
Town of Grand Island Website
To E-mail the Golden Age Center
Membership Application
Meals on Wheels Application
Donation Opportunities
AARP

---
FREE Tax Preparation
February Newsletter
February Menu
January Newsletter
January Menu
Wednesday Night Activities
Healthy Living Workshops
- Tuesday Afternoons
Golden Guide
Sunday Swim
Fall Winter Program
Tax Volunteers Needed
Transportation Information
Alzheimer's Education Program
- Wednesday, February 5th
Calling All Chess Players!
Social Group Respite Program
Dementia Support Group
Alzheimer's Assoc. Services
Community Respite Programs
.
Yellow Dot Program
Golden Age Center Board of Directors - January 2020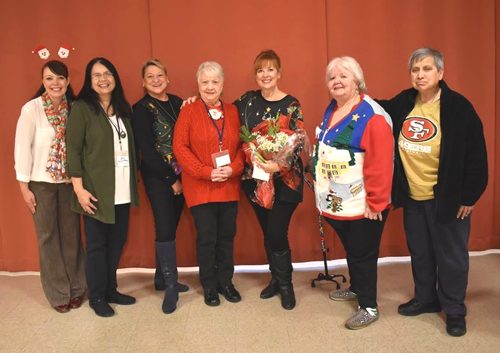 From left: Jennifer Menter, GAC Recreation Supervisor, Anna Vacarro – President, Michele Chasse – Vice President, Brenda Cassoni – Treasurer, Beverly Kinney – former Councilwoman and liaison to Golden Age Center, Barbara Nowakowski – Sunshine Lady, Cathy Mancuso – Chaplin
Mary Stewart photo.
The Golden Age Center Board of Directors posed for a photo at the December Christmas party.