Grand Island Historical Society Since 1962

News Page 2019
PO Box 135
Grand Island, NY 14072

E-Mail

Previous Historical Society News Page

---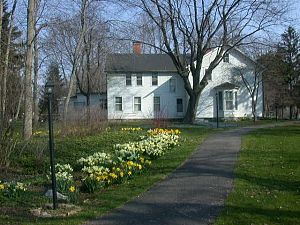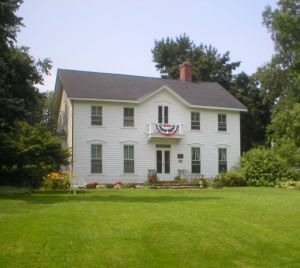 River Lea - The Grand Island Historical Society restored and maintains the farm house known as River Lea and located in Beaver Island State Park. It was built on Lewis F. Allen's property, Allenton Farms, by his son, W. Cleveland Allen. Today it is owned by New York State.


Membership Form - Please Join
Directions To River Lea
Mission Statement
Society Officers
Grand Island Historical Society & River Lea History
Grand Island History - Published 1898 By Truman C. White
Jim Fisher's Avocational Archaeology & Lithic Technology Web Site
Grand Island History and Photos (Update 9/20/09)
River Lea Artists - Photos - Paintings
- Artists James Edward Montanari - Eugene Matthew Dyczkowski ("Dick")
Historical Society Yard Sale Success - September 2020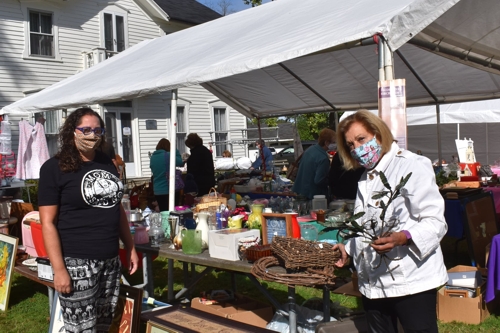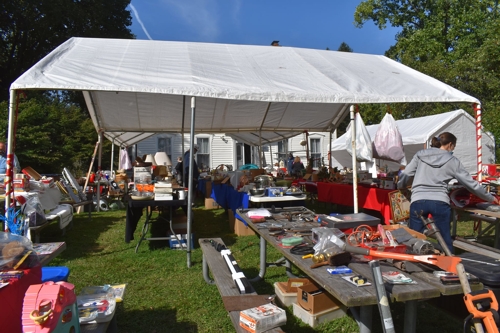 Mary Stewart Photos.
The GI Historical Society is unable to hold their annual fundraising Holiday luncheons this year and instead had a yard sale on September 11 & 12th at River Lea. The weather co-operated and the sale raised more than expected, with many shoppers visiting the historic site.
Historical Society News - August 2020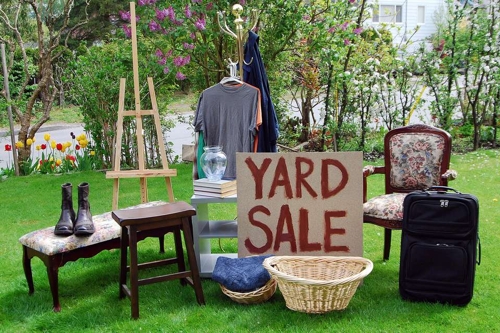 UPDATE: If you have items to donate, please drop off at River Lea on Thursday, September 10th after 9:00 a.m.
The Fall Yard Sale Fundraiser will be held on Friday & Saturday, September 11 & 12, from 8:00 a.m. - 2:00 p.m. at River Lea in Beaver Island State Park. Tons of items to choose from. No early birds, wear your mask! This is the only fundraiser that the Historical Society will have this year and we will appreciate your participation!
Historical Society News - May 2020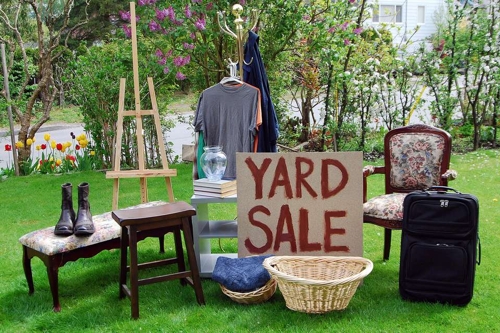 Just like everything else, the Grand Island Historical Society Programs and Events have been canceled until further notice. The 4th grade tours scheduled for May will not happen this year and there will be no Installation Dinner on June 4 when the group was planning to learn about Niagara Daredevils. But just as soon as gatherings are allowed, the Society will be back in action!
With extra time at home, many have been cleaning and re-organizing. Did you find anything that would make a great Yard Sale item? The Society is planning a Fall Yard Sale event and would really appreciate donations of any kind. Please set aside items and watch for an announcement regarding drop-off of items, and people to contact if you'd like someone to pick up your donations.
Perhaps you discovered some photos or other historical memorabilia that you no longer want. Before you toss them, please consider donating them to the Historical Society. Accurate historical preservation depends on having everyday items, documents and photos showing the way things were in the past. The item or photo you no longer care about may provide a missing link to a location, organization or business from the Island's long and interesting history.
If you have any photos in your collection showing Grand Island landmarks or scenes from years ago, please consider letting the Historical Society scan them. You can make an appointment with Town Historian Jodi Robinson by calling 773-6789 to have them scanned....mask required.
The GI Historical Society began in 1962 when a group of Islanders decided that local history was important and needed to be preserved. In 1965, the group appealed to the State of New York to save River Lea. The building was scheduled for demolition to make room for an expansion of Beaver Island State Park that included an 18-hole golf course. In the end, the golf course was reconfigured and the building escaped the wrecker's ball. River Lea was not only saved, it became the home of the Museum for the Grand Island Historical Society!
55 years later, much has been accomplished and there is much more to do. Please consider joining and helping preserve Island history and educating others about it. There is a need and a job for everyone! Annual membership is only $20 and new members are welcome at any time. The Society's fiscal year runs from September 1 – August 31 with September being designated as Membership Month. Find a membership form
here
, or get one from any Society member.
GI Historical Society Events Cancelled - March 2020
The Grand Island Historical Society has received a directive from NYS Parks that all programs and events in Beaver Island Park are canceled until further notice.
GI Historical Society Open House - March 2020
The Grand Island Historical Society will host an Open House at River Lea in Beaver Island State Park on Sunday, March 15th from 2:00 p.m. - 4:00 p.m. Come out and tour the GIHS museum.
GI Historical Society General Meeting - March 2020
The Grand Island Historical Society general meeting and program will take place on Thursday, March 5th at River Lea in Beaver Island State Park at 7:00 p.m. Guest speaker is Chuck LaChiusa with a power point program on "Buffalo's Outstanding Murals." Suggested donation for non-members and guests is $5.00. Refreshments will be served.
Historical Society GI History Class - February 2020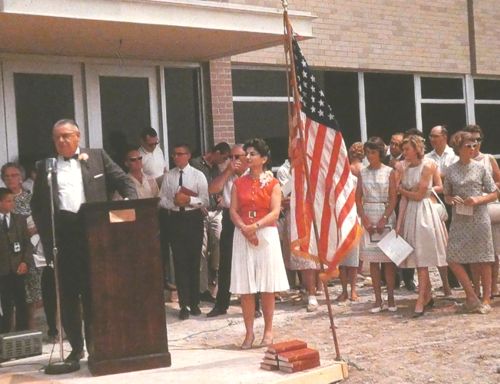 Click photo for larger view.
The Grand Island Historical Society (GIHS) is having its winter community education program starting Wednesday, March 4th at 7:00 p.m., at the Grand Island High School. It is a five week program with four classes at the high school and the final class at the GIHS museum in historic River Lea, in Beaver Island Park. This year's program is Schools & Churches of Grand Island. Above shows the dedication of Grand Island High School in 1963. At center is Mrs. Lee Tetkowski, an early booster of the project and long-time school district art teacher. You can sign up for the program on the Grand Island Central School District
website
. Click on Community Ed Brochure and scroll to page 4 for description of class.