Grand Island Town &
School News Web Page
2017
Previous News Page
You're Invited! The Grand Island community has met the $25,000 challenge to "Complete a Room with Care" at the John R. Oishei Children's Hospital. A Grand Celebration will take place on Thursday, August 31st at 1:00 - 2:00 p.m. at the Grand Island High School Viking Auditorium. Everyone is welcome to come see Stacey Schroeder Watts, MD, present hospital officials with the donation.
Kaegebein Principal Mary Haggerty organized the Grand Island School District in fundraising and in doing so became the biggest contributor. Almost $10,000 was raised during a reading fundraiser held April 7th. Other major Grand Island contributors include the GI Neighbors Foundation, the Golden Age Center, Island Kids Child Care Center and Women's Club of Grand Island.
Grand Island Comprehensive Plan, an introduction and overview of the progress made by the Long Range Planning Committee. Comprehensive planning is a process that determines community goals and aspirations in terms of community development. The Comprehensive Plan dictates public policy in terms of transportation, utilities, land use, recreation and housing. Presentation at the Comprehensive Plan kickoff meeting held at the Grand Island High School on Wednesday, August 9th. See
presentation
.
The Saturday Outdoor Movie Series featuring "Batman Lego Movie" takes place on Saturday, August 19th at Elderwood Grand Island, 2850 Grand Island Blvd. Showtimes are 9:00 p.m. and 11:00 p.m. Popcorn, candy, soda and snacks will be available for sale.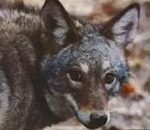 Supervisor Nate McMurray's office has put together a fact sheet with information on coyotes; recognizing, safety and encounter tips. See
flyer
.
The Grand Island Comprehensive Plan Kickoff meeting was held on Wednesday, August 9th at the High School. Over 130 people attended the workshop. After a short introduction, the group broke off into four separate areas and discussed the past, present and future likes, wants and needs. After an hour discussion, each group voiced their top priorities for the future. They included a "charming town center", think Lewiston or Williamsville, with locally owned shops, restaurants and farmers market. More walkability/bike access, to get to that area and other bike paths and parks. Upgrading Island roads, so walking and biking is not so dangerous and water access. Clark, Patterson, Lea will be publishing a survey on the Town website and paper copies at Town Hall in the near future. The next meeting will be held in October. Most of the people attending were "older", say 60+. All ages are encouraged to attend.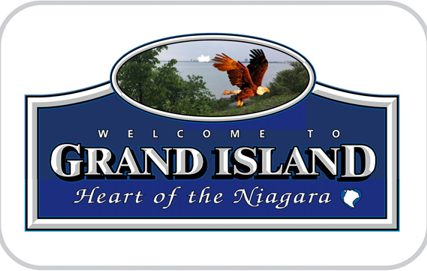 Designed by Tom Proctor
A welcome sign, designed by Island resident Tom Proctor, has been approved by the Town Board. The sign will be located on the left side hill (overpass), as you come off the south bridge to the roundabout. The funding has not yet been approved. Councilman Mike Madigan would like to see the funds included in the 2018 budget.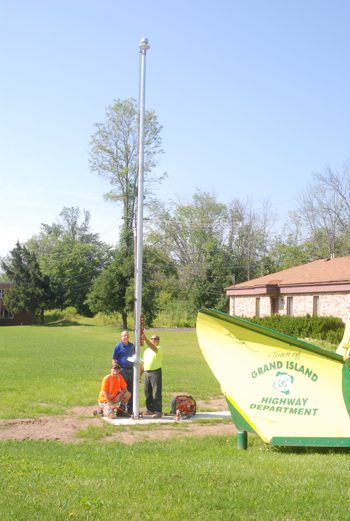 From left: Highway employees, Griffin Atkinson, Dick Crawford and Joe Zito.
You may notice a new look in front of the Highway Garage on Whitehaven. Numerous Ash trees were taken down last summer in front of the Grand Island Highway Department. The empty space will now feature two 25' flagpoles. The Town flag and the American flag will be dedicated with the assistance of the American Legion Honor Guard in the future.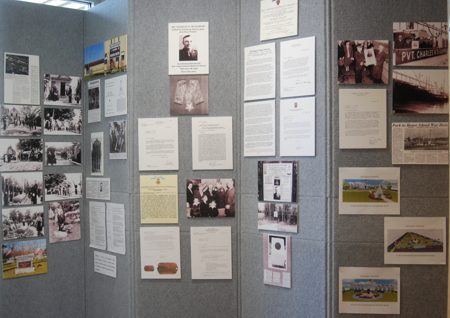 Display at GI Memorial Library
Pfc Charles N. DeGlopper was killed in action on June 9, 1944 at la Fiere, France. The Historic Preservation Advisory Board put up a display of photos and correspondence telling the DeGlopper story last week at the Grand Island Memorial Library. There are copies of letters from the War Department and White House, photos of the funeral caisson that took place on July 7, 1948, and photos of the many buildings, park and ship dedicated in his honor. See
timeline
.
The Queen of Peace ferry will run from the City of Tonawanda to River Oaks Marina, started service on Sunday, August 5th. The ferry will run three times per day, Sundays only, until September 10th. See
Buffalo News story
by Deidre Williams.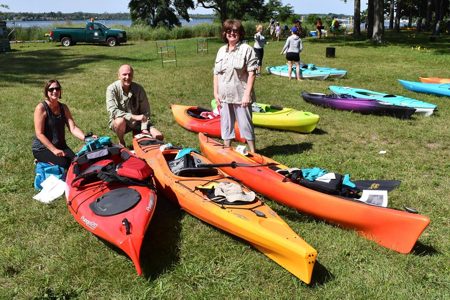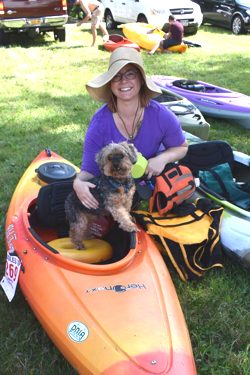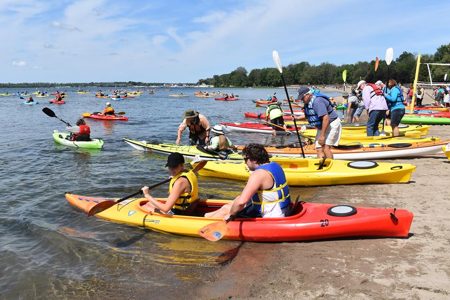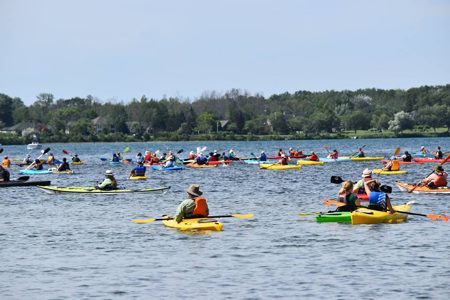 Above, Mary Stewart Photos.
The 12th Annual Paddles Up!, held at Beaver Island State Park, was Saturday, July 29th. With the addition of an online registration site, this year had over 300 participants. Previous years averaged around 200-220 participants. The Grand Island Historical Society was in attendence with a display of Grand Island history and a breakfast tent. Home-made muffins were available, along with Egg Casserole and omelettes made to order by Phillip Nestark. There were food trucks and a beer tent at the 11:00 a.m. paddle.
Below, K and D Action Photos

Joe Mentor and Recreation Department staff.

Curt Nestark, president of GI Historical Society with display.

Overhead view of morning paddle.
By Kevin R. Hardwick, 4th District County Legislator
Most children are taught at early age to share. Their natural tendency, of course, is to say "that's mine" about everything. But good parents will teach them the virtue of sharing with others. The result is good for everyone when they learn to "share and share alike." It's a lesson that should not be lost on governments. Too often municipalities will try to build their own fiefdoms and fight over what belongs to whom. The resulting turf wars are not beneficial to anyone.
My recent visit to Canal Fest in the City of Tonawanda got me to thinking about the good that can come from inter-municipal cooperation. I was walking through the crowd when I came upon one of the City of Tonawanda's finest, Police Captain Fred Foels. I struck up a conversation with him in which he mentioned how helpful the City of Buffalo had been this year by loaning Tonawanda its "eye in the sky," the mobile raised observation platform. It had, he said, been a tremendous help in monitoring the crowds and preventing problems.
This is a great example of governments helping one another out. It would not make sense for the City of Tonawanda to spend hundreds of thousands of dollars to buy its own eye in the sky for one week out of the year. But Buffalo's willingness to help made this unnecessary and taxpayers are the beneficiaries. I have seen many other examples of this type of cooperation in my role as county legislator. I have attempted to promote it by scheduling regular meetings between the highway departments in my district and the county's highway officials. The Town of Tonawanda under Highway Superintendent Tom Jones and his predecessor Bill Swanson have been super about loaning the county equipment in return for storage space at our facility on Military Road. Grand Island's Highway Superintendent JT Tomkins has also been more than generous with his resources. In the end, this cooperation has allowed us to repair more miles of county road than we would have been able to on our own and everyone wins.
Now the state is getting in on the act. The current state budget requires counties to oversee a shared services initiative designed to save property taxpayers money through coordinated inter-municipal cooperation. In response to this state mandate, a panel chaired by County Executive Mark Poloncarz consisting of every City or Town Mayor and Town Supervisor in Erie County has proposed a savings plan. The proposal includes a wide range of items designed to cut duplication and save taxpayer dollars. One element would have the county provide additional tax processing and collection services to other municipalities. Another would see the county offering short term loans to municipalities to save them the expense of going to the bond market. Some of the proposals are quite creative. Others are rather mundane. All of them are available for public inspection on the panel's website which can be accessed at www.erie.gov/sharedservices. The panel's final plan must be adopted by September 15.
If you have thoughts you would like to share, I would love to hear from you. I can be contacted by phone at 858-8672 or via email at kevin.hardwick@erie.gov.
A Buffalo News article by Nancy Fischer, published August 4, 2017, shows a rendering of the proposed West River Parkway Bike Path and quotes Western District Parks Director Mark Thomas as saying, "In no way are we canceling this project". The article did note that the Parkway will not close until next year, when originally it was said to close at the end of this summer. See
article
.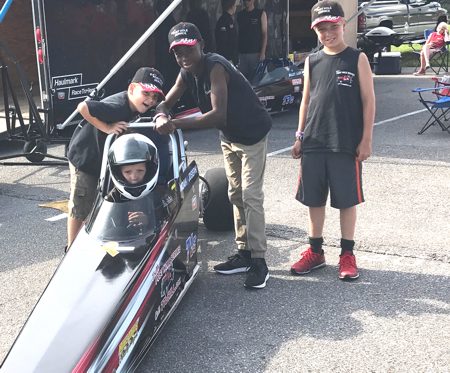 From left: Bill Click's grandsons: Joey, Noah, unidentified & JP.

Pete & Sue Marston with "little Pete".
All summer there is a Junior Dragster Series at Lancaster Speedway/Dragway on Tuesday evenings. This past Tuesday was special as it was the Bill Click Memorial Race. Bill recently passed away and not only was he a big supporter of the sport, four grandsons participate. It was also a big night for young Pete Marston and his junior dragster. Nine year-old Pete made it into the winners circle for the first time!
Town of Grand Island Comprehensive Plan Update "Bridging the Future", public kickoff meeting, Wednesday, August 9, 2017, from 6:00 p.m. to 8:00 p.m. at the Grand Island High School Auditorium.
The Town of Grand Island has begun the process of updating their 1998 Comprehensive Plan and invites town residents, business-owners, and other interested individuals to attend the public kickoff meeting to learn about the process and plan.
The Comprehensive Plan is a community-driven document that provides guidance on future policies, projects and actions for various aspects of the Town including, but not limited to, neighborhoods and housing, recreation, infrastructure, economic development, municipal relations, Grand Island Boulevard/town center, and zoning. The planning process involves community outreach, data collection and analysis of the current state of the Town, development of a Town-wide vision, goals and strategies to attain them, and regular meetings and discussion with the Long Range Planning Committee.
This is your chance to be a part of the process to shape the future of the Town of Grand Island; there will be many other opportunites for public outreach and to express your thoughts as the plan moves forward. For more information on the project, check the Town website as information becomes available.
Notice
.
The Grand Island Conservation Advisory Board & Citizens Coalition for Wildlife and Environment is hosting an informational meeting on insects and their conservation on Wednesday, August 16th at 6:30 p.m. at the Nike Base. See
flyer
.
Grand Island Central School District will hold a substitute recruitment job fair on Tuesday, Aug. 15th, from 8:30 a.m. to Noon. The job fair will be in the Grand Island High School library, 1100 Ransom Road. Plenty of parking is available.
All applicants for substitute positions must complete the WNY Schools Standard Application online prior to Aug. 15. There are no scheduled interview appointments; candidates can arrive at the fair anytime between 8:30 a.m. and noon.
Substitutes are needed in all areas at the district office, high school, middle school and three elementary schools, as well as transportation and building and grounds. Candidates for the teaching and nurse substitutes will use the 'View Open Certified Positions' and search for the substitute postings with jobs titled Recruitment Day.
Candidates for the school monitor, food service helpers, bus attendant, teacher aides, cleaner, clerical and bus driver substitute positions will use the 'View Open Classified Positions' and search for the substitute postings with jobs titled Recruitment Day. Apply at http://www.grandislandschools.org/substitutes. A Quick Link is also on the district homepage.
The mission of the Grand Island School District is to foster academic excellence, personal growth, and social responsibility. Substitutes are critical to the staffing of our buildings and may lead to permanent employment.
In response to the letter (
see here
) sent by Councilman Mike Madigan to Mark Thomas of NYS Parks, regarding the closing of the West River Parkway. Mr. Thomas replied in an email:
Town Councilman Madigan and Supervisor McMurray,
I am in receipt of the attached letter from July 19, 2017 sent to me by Councilman Madigan. My response is as follows:
Councilman, you speak of a Town Board vote on "01-August 2017" rejecting our plans as shared with you. I imagine that is referencing your vote taken in 2016.
The prime purpose of Councilman Madigan's letter appears to ask us to clarify the status of our project on West River Parkway. I can tell you that we in no way are cancelling this project and are continuing to pursue it as we have publicly presented at a Town Board meeting and I confirmed in my email of May 24, 2017. It remains our plan to bid the project this Fall with construction commencing in the Spring of 2018.
Our public process regarding this project is complete. Throughout the project planning we have exceeded the required public input sessions and continue to take into account the community concerns expressed as we advance final design. Safety concerns are being addressed in the final design work being conducted by C & S Engineers.
Councilman, you continue to reference a "legal contract" as the basis of much of your criticism of our actions. No such signed document exists of which we are aware.
As we progress with final design our consulting firm as well as park staff will likely be in communication with the Town as matters of our mutual concern may arise.
The Erie County Department of Environment & Planning, in cooperation with Erie Community College and the Northwest and Northeast Southtowns ("NEST") Solid Waste Management Boards, has announced "Household Hazardous Waste Drop-off Day" will be held on Saturday, August 5, 2017 at the ECC North Campus in Williamsville (enter from Wehrle Drive) .
The event is open to all Erie County residents between 9:00 a.m. and 2:00 p.m., will allow for the safe disposal of hazardous items that cannot be thrown out in the regular garbage, helping to reduce pollution and the potential contamination of groundwater. Past drop-off events have been very well-attended, and residents taking part this year should plan on arriving later in the event to avoid potentially lengthy wait times when waste collection begins at 9:00 a.m.
"Everyone wants to do their part in establishing a cleaner, greener Erie County and proper disposal of household hazardous wastes is a good way for residents to play a role in that," said Erie County Executive Mark C. Poloncarz. "These free collection events are very popular and I am pleased we will again provide two opportunities this year for county residents to take advantage of this vital service. Thanks are in order for the staff of our Department of Environment & Planning, our community partners at ECC, the Northwest and NEST Boards, and other event supporters for their work in making these events possible."
Items For Disposal include:
Pesticides, Fertilizers, Pool and Household Chemicals/Cleaners (limit 2 gallons or 20 pounds)

Oil-based paints, Spray cans (limit 10 gallons)

Paint Thinner, Stripper and Solvents (limit 2 gallons)

Batteries (lead acid & rechargeable)

Oil, Gasoline, Kerosene, Antifreeze (limit 10 gallons)

Mercury (thermometers, thermostats, metal)

ITEMS WHICH WILL NOT BE ACCEPTED INCLUDE:

Latex paint: latex paint does not need to be disposed of as household hazardous waste and should not be brought to these events.

Automobile tires

Computers and other electronics

Appliances

Pharmaceuticals

Fluorescent bulbs

Commercial/industrial wastes


Elderwood at Grand Island, 2850 Grand Island Blvd., is hosting Louisiana Cookery Food Truck from 10:30 a.m. - 1:00 p.m. on Friday, August 4th.


Erie County Legislator Kevin Hardwick reminds residents that the Sheriff's Office maintains a Drug & Syringe Drop Box at Grand Island Town Hall, located at 2255 Baseline Road, Grand Island. The box is located in the front entrance and is accessible Monday - Friday during business hours. "There are dozens of these Drug & Syringe Drop Box located throughout the county and they are having a positive impact on our community. Since 2013, the Sheriff's Office has collected and properly disposed of 14.5 tons of medications and 4.5 tons of syringes. That is in addition to the other agencies, including Tonawanda Police, who participate in this program. By properly disposing of materials, they are kept out of the wrong hands and out of our waterways," said Legislator Hardwick. "Please use the drop boxes provided. They are making a difference in our towns and cities."
For a list of additional locations, please visit the County Health Department website at www.erie.gov/health and choose the "Medication & Needle Disposal" link at the bottom of the page. All medications - prescription and over-the-counter - are accepted, no questions asked. Residents can drop off pills, liquids, ointments, patches, etc. All materials are properly disposed of through incineration. For information or assistance, please contact Legislator Hardwick's Legislative Office at (716) 858-8672 or email kevin.hardwick@erie.gov.


The New York State Park Police remind boaters and jet ski operators that operating in the federally restricted exclusionary zone above Niagara Falls is prohibited. Violators will face charges for entering this restricted area by either State or Federal authorities. This year, between May 29th and July16th, there have been nine incidents involving boats or jet ski's that have ignored the warning buoys and signage located in the Upper Niagara River, near the New York State Power Authority water intakes. Boat and jet ski operators are responsible for knowing the area that they are operating in, being aware of natural and man-made hazards, and reviewing navigation charts prior to entering an area that they are unfamiliar. For more information on this topic, please contact the New York State Park Police at (716) 278-1777.


A letter to Mark Thomas, Western District Director of NYS Office of Parks, Recreation & Historic Preservation, was sent on July 19, 2017 by Councilman Mike Madigan, outlining his opinion that the closing of West River Parkway has been cancelled. In the letter he cites lack of quarterly meetings and no traffic calming plan as contributors to this conclusion. You can see a copy of the letter here.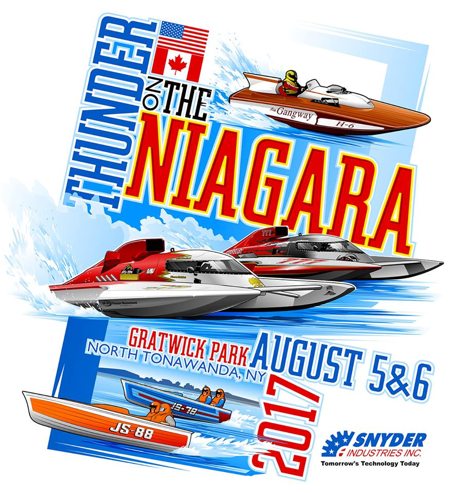 The Niagara Frontier Boat Racing Association is partnering with the Hydroplane Racing League to host the "Thunder On The Niagara" boat races on Saturday & Sunday, August 5 & 6 at Gratwick Park, North Tonawanda. Gates open each day at 8:00 a.m. and the first race will start at 9:00 a.m. There is on site parking for a $10 donation, which will include a race program. A portion of the parking fee will benefit Twin City Meals on Wheels, the Clothes Closet and the Interchurch Food Pantry. There will be many food and craft vendors, a beer tent, a car show on Saturday and skydivers Sunday at noon.


A public meeting was held on Tuesday, July 18th at the Grand Island High School to discuss a proposed community center. See story by Buffalo News reporter Nancy Fischer.


Wednesday, July 19, 2017... Today, Assemblyman Angelo J. Morinello (R,C,I,Ref-Niagara Falls) announced the kickoff of Project Green-Light. Project Green-Light is a campaign created to address the issue of traffic congestion and pollution surrounding the Grand Island tolls. "It is time that our state advances in transportation technology as other states across the country have done," said Morinello. "There are various solutions to solving the congestion and pollution problem that exists, and it is important we educate the residents of Grand Island on the options currently available to them."
The New York State Thruway Authority currently offers a discounted E-Z Pass plan for the residents of Grand Island. The offer would reduce the cost of tolls for the Grand Island bridges from $1 per use to $0.09, saving residents $0.91 per trip. "While some of the residents of Grand Island utilize this plan, this discount is still unknown to many individuals who reside on the Island," said Morinello. "Becoming an E-Z Pass holder helps reduce the cost of travel on and off the Island by a minimum of $27 per month if used once a day, with savings increasing depending upon increased usage. It will also alleviate some of the wait times associated with congestion at the tolls."
In June, Morinello joined forces with Assemblyman Mickey Kearns (D-West Seneca) and Sens. Chris Jacobs (R,C,I-Buffalo) and Robert Ortt (R,C,I-North Tonawanda) to introduce legislation creating a community impact fund. This fund would ensure that 10 percent of the revenue generated by the tolls collected would be placed into a community impact fund to offset the environmental and economic impacts of the bridges. Of the 10 percent, 50 percent would go to Grand Island, 25 percent to Tonawanda and 25 percent to Niagara Falls.
"Project Green-Light is a perfect complement to our joint efforts to reduce the traffic congestion and pollution caused by the Grand Island tolls," said Jacobs. "I strongly encourage all residents of the 60th Senate District to participate by signing up for E-Z Pass and helping to reduce the financial and environmental burdens associated with the tolls." "While we continue to push for statewide electronic toll readers like the ones currently used on the Tappan Zee Bridge, we must compensate the residents of Grand Island and the areas surrounding the bridges for the extreme traffic present," said Morinello. "I am proud to join forces with my fellow legislators from Western New York to provide a feasible solution to the prevalent problem."
Those interested in obtaining an E-Z Pass may do so through the Grand Island Clerk's Office. For a discounted E-Z Pass plan, contact the New York State Thruway Authority at 1-800-333-8655 or contact Assemblyman Morinello's office at 716-282-6062 for details on how to become an E-Z Pass tag holder.


An armed robbery occurred at the Mobile station at 1837 Love Road about 10:15 p.m. on Friday, July 14th. Click here to see a story by Buffalo News reporter Barbara O'Brien, for photo and reward information.


Clark Patterson Lee is hosting a public meeting on Tuesday, July 18th to get public input regarding a proposed community center. The meeting will take place at the Grand Island Senior High School Auditorium from 6:00 - 8:00 p.m.

Elderwood at Grand Island, 2850 Grand Island Blvd., is hosting Hawaiian BBQ from 10:30 a.m. - 1:00 p.m. on Friday, July 21st.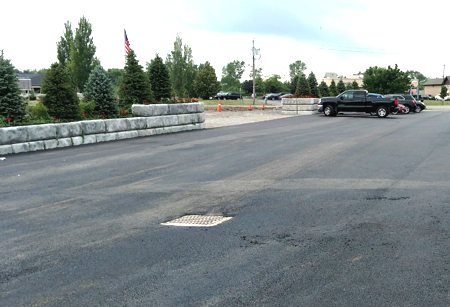 Parking lot looking west.

Honorary personalized pavers will be located in the gravel area.
Alan Lee photos.
Message from Chris Taylor.
WOW! Again we are blown away by the awesome generosity of some of the businesses here in WNY! We cannot say thank you enough to Ed Colan owner of Quarry Products for delivering the stone which was donated by Lafarge North America and used as the base for our awesome new blacktop parking area donated by Dave Roetzer, owner of Amherst Paving. These guys did an amazing job leaving us with a beautiful new parking area and sacrificed a ton of time during their peak season to get this done.
Many people do not realize the cost of a parking lot this size but I can tell you that it is substantial and the unfortunate fact is we did not have the money to come anywhere near paying for this. Even with these guys donating all of their time and most of the materials there were still significant costs to getting this parking lot paved. If it were not for the generosity of a couple of Islanders willing to loan us the money interest free we still would not have been able to move forward with the parking lot.
I mention this because we are facing some major expenses in the near future and we desperately need more donations to keep this awesome project moving forward. If you would like to know how to help or would like to make a donation please take the time to check us out at degloppermemorial.org/donations. If you have any other questions or would like to know more about how you can help please do not hesitate to call 716-725-5750 - Chris Taylor.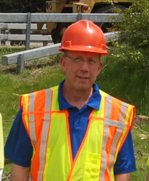 A campaign kickoff fundraising reception will be held for Dick Crawford, running for Highway Superintendent, on Saturday, July 22nd at the Rod & Gun Club, 1083 Whitehaven Rd. Tickets are $15 and include dinner, beer & wine. Event time: 4:00 p.m. - 8:00 p.m., dinner 5:00 p.m. - 7:00 p.m. See flyer.


If you are interested in finding out more about Cashless Tolling, the New York State E-ZPass website directs customers to vist mta.info.cashless. There they will tell you that if you don't have E-ZPass, "be sure to pay any Tolls By Mail promptly, because people who don't pay will be subject to fees of up to $100, registration suspension and more."



By Kevin R. Hardwick, 4th District County Legislator
It's known as Dillon's Rule and is named after John Forrest Dillon, who was appointed a Federal Circuit Court of Appeals Judge by President Ulysses S. Grant in 1869. Prior to this appointment, Dillon served as the Chief Justice of the Iowa State Supreme Court. It was in this capacity that Dillon's Rule was born in an 1868 decision. This 150-year-old decision has direct bearing today on Erie County and local governments throughout the nation.
Dillon's Rule basically states that "local governments are creatures of the state." This means that unlike the state and federal governments, local governments have no powers except those granted them by their state governments. Many states, including New York, grant their local governments a considerable amount of "home rule." This allows Erie County government and other local governments to conduct our own affairs without running to Albany every 10 minutes to ask "mother may I?" Even so, these powers are subject to a variety of limitations set forth in the New York State Constitution and a slew of state laws. Every few years, for instance, Erie County must ask the state's permission to raise additional sales tax beyond the 'ermanent' 3 percent. If they did not grant this request, the total sales tax would drop to 7 percent, composed of the state's 4 percent and the county's 3 percent. While this might seem appealing, it would be disastrous for the county's property taxpayers. This is because we would have to raise property taxes to cover the lost revenue to meet our expenses. The lion's share of these expenses, of course, is to fund state mandates, another remnant of Dillon's Rule.
All of this came to a head earlier this month in Albany's end of legislative session annual madness. Requests by Erie and many other counties to continue their "temporary" higher sales tax rates were somehow tied in with an issue involving New York City's schools. In effect, upstate interests were being held hostage by downstate ones. If our state legislators did not give the New York City politicians exactly what they wanted then chaos would ensue as property taxes would skyrocket to make up for the absence of the additional sales tax. In the end, the sales tax extension was approved. Even so, this is no way to run a railroad, let alone a state.
Now our eyes are on Washington, as the federal government wrestles with reform of health care. One proposal championed by former Erie County Executive and now Congressman Chris Collins, would grant relief to New York State Counties from the state mandate that we pick up roughly half of the non-federal share of Medicaid costs. At first glance this would seem great for county officials, as we could eliminate almost all of our county property taxes. Upon further review, however, the state could then impose other expensive mandates or constrain our ability to raise sales tax. After a century and a half, for better or worse, Dillon's Rule is alive and well. If you have thoughts you would like to share, I would love to hear from you. I can be contacted by phone at 858-8672 or via email at kevin.hardwick@erie.gov.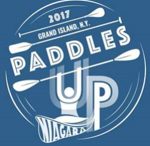 The 12th Annual Paddles Up Niagara is on Saturday, July 29, 2017 at Beaver Island State Park. There are two Eco Tours available in the early morning session. Kayak rentals are available from Buffalo Niagara Riverkeeper. Online registration is new this year. Register online at www.bnriverkeeper.org/paddlesup. See flyer.
Paddling Schedule
7:00 & 7:30 am Eco Tour or Early Bird Paddle: Join us for a guided Eco Tour lead by Paddles Up Founder Paul Leuchner and DEC Niagara River Ecologist Tim DePriest starting at 7:00 and 7:30 or paddle at your own pace during our Early Bird Paddle starting at 7:00 am. On both courses you will see the Niagara River Restoration projects near Strawberry and Motor Island, a Bald Eagle nesting area, Heron Rookery and more. Please note, both morning paddles will cross the river channel, requiring moderate paddling abilities.
11:00 am Fun Paddle: Enjoy the waters and shoreline of Grand Island and Beaver Island State Park. This paddle stays close to shore and is suitable for paddlers of all abilities.

Paddle Fair
8:30 am - 2:00 pm
NYS Parks: Try a Kayak - Thinking about getting a kayak? This is a great opportunity to try one out. (please note, kayaks are to try out only and cannot be used to paddle in the event).
WEKANU: Instructors from WEKANU will provide paddling skills and rescue demos.
Food: Grand Island Historical Society will provide hot and cold breakfast food and drinks starting at 6:15 am; Food Trucks will serve from 8:30 am - 2:00 pm.
Flying Bison: Beer tent provided by Flying Bison will open at 11:30 am.
Vendors and Demos: Check out paddling merchandise and other goods from vendors including NYS Parks Marine Division, WEKANU, Buffalo Niagara River Keeper, U.S. Coast Guard Auxiliary, Buffalo Geological Society and more.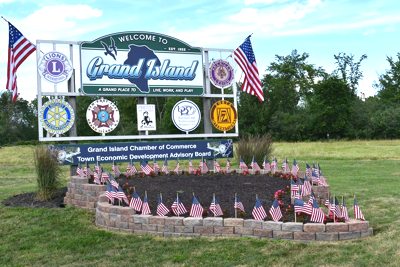 Festive entrance to GI.

These people weren't kidding around!

Cornerstone Church Band.

Little twirler.

Miniature donkey and pony from Lakeside Horses.

Festive parade watcher.

American Legion.

Fire Company Rookies.
Thanks to Mary Stewart for taking photos at the parade. Almost 80 different entries made this parade one of the longest that anyone can remember.


The Grand Island Garden Walk will take place on Sunday, July 9th from 10:00 a.m. - 4:00 p.m. This is a free event. Pick up your map of participating gardens on July 9 at the Town Commons Gazebo, 2255 Baseline Road, Grand Island 14072. www.grandislandgardenwalk.com


GRAND ISLAND, NY, June 26, 2017 - Fantasy Island will be celebrating the Fourth Of July in a bigger-than-ever way this year, as the "Declaration Celebration Presented by Wendy's Restaurants" was announced over the weekend. This year's event starts on Canada Day, Saturday, July 1, runs through July 4, and includes fireworks every night, live music, and hot dog eating contests.
"The July 4th fireworks have been a long-standing tradition at Fantasy Island, and we wanted to extend the fun over a full long weekend, starting on Canada Day", Park General Manager Chris Kearsing said while announcing the Park's plans.
The fun starts Saturday, July 1 with a hot dog eating contest in Western Town before the 3:30 shootout. The contest is open to the first 15 registrants 18 and over. The winner receives a 2017 season pass, or if they are already a season pass holder, a 2018 season pass. The contest will be repeated each day through the 4th before the 3:30 shootout. The rides will run until the fireworks start each night, around 9:45 p.m; the water park will still close at 7 each night.
There will also be live music at the Midway Theater leading up to each night's fireworks display. The music starts at 6 and goes until about 8, and features some of WNY's best live acts. Saturday's headliner is Seismic Urge, followed by Knight Crew on Sunday, Midnight Kings on Monday, and Lower Town Trio on the 4th.
The Celebration culminates on the 4th of July. The Fantasy Island cowboys will accompany the restored Princess Carriage during the Grand Island Independence Day Parade. Veterans, active military and first responders may purchase a half-price ticket with every paid full-priced Adult admission ticket with a valid ID at the gate! Grand Island residents may purchase a ticket for $9.99 starting at 6pm on July 4th with a valid ID.


An article in the Buffalo News on Tuesday, June 27th by Nancy Fischer details progress made in Supervisor Nathan McMurray's quest to eliminate tolls or install a high-speed cashless toll system. See article here.


The truck that struck Dana Papaj on East River Road on June 13th, is believed to be registered to state correction officer Edward J. Kuebler III, of the Town of Tonawanda. See Buffalo News story by Maki Becker. The truck was siezed and no arrests have been made.


The grassroots Citizen Science Community Resources is collecting soil samples in communities around Tonawanda Coke and has invited high school students to take part in a summerlong "Students Become Scientists" program. Students will collaborate with research scientists, gain community service hours and participate in data collection. The program runs through the end of August. Students living in the affected areas in Tonawanda and eastern Grand Island are especially encouraged to participate. Citizen Science Community Resources is collaborating with the University at Buffalo and the SUNY Fredonia. The project is funded by the courts that found Tonawanda Coke guilty of violating the Clean Air Act and directed it to spend $5.5 million to study how it potentially affected the surrounding communities, including a $711,000 soil study. Interested students should call the CSCR office at 873-6191 or email at info@csresources.org.


On Saturday, June 24 from 7:00am to 10:00am, 56 members of C Troop, 2-101 CAV RSTA will conduct training from Beaver Island along West River Road to Whitehaven. Soldiers will be completing a 12-mile ruck march (carrying 35lbs and required to maintain a 15 minute per mile standard) in preparation for their mobilization to Australia in support of Operation Talisman Sabre. Residents are encouraged by the troop to come out and show support along the route, and asked to limit vehicular traffic if possible.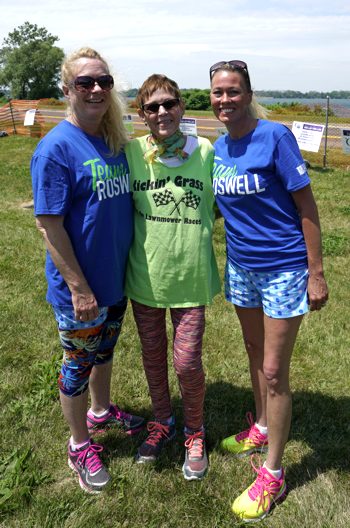 Mary Dunbar Daluisio, center with Roswell nurses/celebrity drivers Jeanne McNamara on left and Pam Miller on right.

Lions Club Rummage Sale.

Fuse Band.

Jim Mazza always has the best decorated machine.

Gary Roesch and Pete Marston ready to race.
The Father's Day Lawnmower Race was a great success. The weather held off and 22 registered machines got to race. Pete Marston ran his snowmobile against the super mods. PJ, Pete Marston's 9 year old son, ran his Junior Dragster at 46 mph. The celebrity drivers this year were RN's from Roswell Park, Jeanne McNamara and Pam Miller. All proceeds from the event will go to the Grand Island Relay for Life. Thanks to Dawn and Kevin Cobello of K & D Action Photo and Aerial Imaging for supplying the photos of the Lawnmower Race.
Race Results:
Vintage: Mike Yensen
Stock: Gary Roesch
Modified: Dennis Hagerman
Pro Stock: Scott Endres
Super Modified : Robbie Schooping


A new event taking place this year is "Wednesday Night Live Music Series". Each week entertainment will be paired with a local restaurant at the Town Commons from 7:00 p.m. - 9:00 p.m. The first week is June 28th and will feature Bryan Nerhalter and Brick Oven restaurant. Spend $15 or more during any of the events, save your reciepts, and turn them in at the Taste of Grand Island and receive $10 in tickets. See flyer.


The Village Inn Golf Classic plaque has a new addition. With a low score of 46, senior player Lester Dumas will be added soon. Lester beat Don Sparrow (47) and Scott Kalman (48) for the honor. Winner of the high score was host Mike Carr with a 64, edging out John Blake (63) and son Forrest Carr (63). Due to the popularity of the event, a Fall Village Inn Classic is planned for Tuesday, September 19th, starting at 11:30 a.m. Nine holes will be played, with room for 28 golfers. A $13 payment must be paid at time of reservation. Green fees and cart fee to be paid to Beaver Island starter, the day of the event. Contact either Gary Roesch (groesch@gtsupplies.com, cell-583-7969) or Mike Carr at the Village Inn.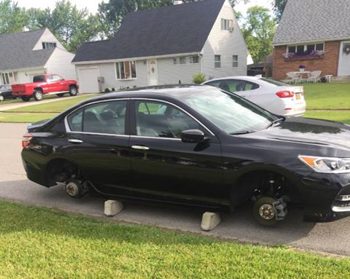 A resident had his Honda tires stolen from the vehicle on Tuesday, June 20th. The car was parked on the road on Woodlee, in the Broadway, Kaegebein School area. Apparently it has been happening all over Western New York with Honda cars.



State Senator Chris Jacobs (60th SD)
JACOBS CALLS FOR THRUWAY AUTHORITY TO PAY FOR NEGATIVE COMMUNITY IMPACT OF GRAND ISLAND TOLLS
"Community Impact Fund" would pay to offset environmental and economic impacts of tolls.
(Albany, NY) - New York State Senator Chris Jacobs (60th SD) has introduced legislation requiring the New York State Thruway Authority to pay an annual "impact fee" to the communities detrimentally harmed from the tolls on the Grand Island Bridges. "The congestion caused by these tolls has done significant environmental and economic damage to these communities", said Senator Jacobs. "The least the Thruway Authority can do is share some of the massive proceeds they make from these unnecessary tolls," Jacobs added.
Jacobs offered legislation last week that would mandate the Thruway Authority allocate 10% of the annual revenue from the Grand Island Tolls to the three ""impact communities" of Grand Island, Tonawanda and Niagara Falls. The tolls generate nearly $20 million dollars per year, thus the fund would provide approximately $2 million to these "impact communities." Grand Island would receive 50% of the impact proceeds as the bridges land twice on the Island, while Tonawanda and Niagara Falls would receive 25% respectively.
"The Thruway Authority has kept the tolls on these bridges long past the stage of paying off the costs of building the bridges and the tolls generate far more than maintenance costs, if they refuse to do something about the congestion caused by the tolls then they should at least share in the proceeds they generate," said Jacobs. "Traffic congestion at the Grand Island Bridges has always presented a problem for Tonawanda residents and businesses located in proximity to the Grand Island tolls," said Tonawanda Supervisor Joseph Emminger. "A dedicated annual revenue source from the Thruway Authority would greatly assist our efforts to improve the quality of life in the communities around the bridges," said Emminger.
A recent State Department of Environmental Conservation report showed elevated levels of five airborne pollutants in the Grand Island/Tonawanda/Niagara Falls area associated with tailpipe emissions. Jacobs, along with other leaders and activists have called for removal of the Grand Island tolls or installation of "cashless tolling," either of these would decrease traffic congestion and pollution on the bridges. To date, the Thruway Authority has taken no action on the Grand Island toll issue.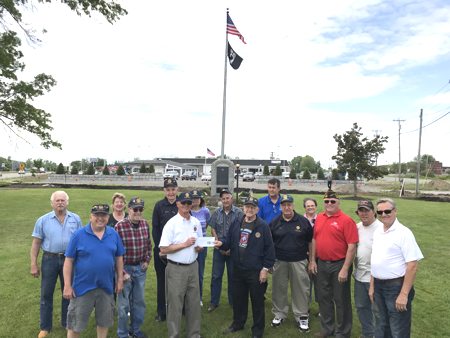 At center: Ray DeGlopper and Joe Synakowski accept donation.
Members of the VFW and American Legion came together at the DeGlopper Memorial along with Dan Drexillious (project coordinator), Councilman Mike Madigan and Deputy Supervisor Jim Sharpe on Saturday, June 10th to accept a generous donation of $3,000. This donation was made possible by another match challenge sparked by town councilman Mike Madigan. The Sabres Alumni Association was a big contributor to the match with Certified AutoBrokers helping as well!
Dan Drexillious stated "these sorts of community fundraising efforts help a lot to keep us moving forward. This wonderful project is being funded by 100% donations and will not cost the taxpayers anything, But to keep it moving we are going to need more fundraising efforts like this". For more details on the DeGlopper Expansion project and how you can help please visit degloppermemorial.org or check it out on Facebook and keep up to date on the projects progression at https://www.facebook.com/degloppermemorial/.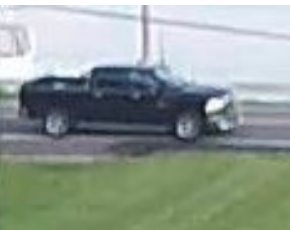 State Police photo of truck.
A woman is in critical condition after being struck in a hit-and-run accident on Tuesday, June 13th on East River Road between Whitehaven and Riverwood Drive. See Buffalo News story by Harold McNeal.
State Police Press Release - Public Assistance for Hit and Run of a pedestrian.
On June 13, 2017 at 8:06 PM, Troopers responded to a pedestrian struck by a vehicle on East River Road, Grand Island, NY. Investigation reveals that newer black four-door Dodge pick-up truck with passenger side mirror damage struck an adult female on the west shoulder of the roadway and left the scene. The female has been transported to Erie County Medical Center and is in critical condition. NYSP Collision Reconstruction Unit and the Bureau of Criminal Investigation is on scene. East River Rd between Whitehaven Road and Riverwoods Drive will be closed for an estimated 2 hours. If you have any information contact State Police at: 585-344-6200



By Kevin R. Hardwick, 4th District County Legislator
We have all heard of 'Christmas in July.' While not as dramatic, I recently witnessed April in June. Allow me to explain.
Several years ago the then Chairwoman of the Erie County Legislature, Betty Jean Grant, initiated the practice of allowing legislators to designate one of their constituents as Erie County Citizen of the Month. Since I represent the 4th District, my month was April. A couple months ago I chose Brian Joseph Fose as my designee and we passed a resolution honoring him at our April 27th meeting. Normally we would have Brian in at the beginning of the meeting to receive our congratulations and permit him to say a few words. We could not do this in April, however, as Brian was recovering from heart surgery at the Cleveland Clinic.
It took a couple months, but we finally were able to honor him properly at our first meeting in June. Hence, April in June. In my introductory remarks I explained that Brian's open heart surgery in April was his fourth such procedure. I also noted that this was ironic because Brian has one of the best hearts in Tonawanda and perhaps all of Erie County.
Since moving to the City of Tonawanda in 2006, Brian has worked tirelessly to improve the community. In 2014 he utilized a Facebook page to create "Team Up to Clean Up," a volunteer group dedicated to beautifying the City of Tonawanda. Many weekend cleanup projects later, he is accomplishing this objective. Brian also was instrumental in the creation of "Memory Walk Lane," which was designed to celebrate the lives of young people such as Jed Woomer who died at an early age.
More recently, Brian worked with Mandy Sampson to convert a rundown playground on Luksin Drive in the City of Tonawanda into the Millstream Education Community Gardens. This wonderful community asset with its bird and butterfly garden, and its frog pond provides a place for children to interact with nature. I have fond memories of watching my granddaughter last year as she participated in the Community Gardens' lady bug release.
By becoming the county's April Citizen of the Month, Brian Joseph Fose joins a number of 4th Legislative District citizens who were honored in past years. The first ones were Don and Nancy Holler who were the driving force behind the Gregory Hayes Holler Memorial Skatepark at Ives Pond in the City of Tonawanda. The founder of Grand Island's Miracle League, Teresa Hooper, was the next of my citizens of the month. Her dedication has helped hundreds of physically and mentally challenged children enjoy the sport of baseball. Likewise, Ron Hoeltke was honored for his work with similar youth sports programs for the disabled in the Tonawandas. Last year, Ray Pauley was honored as a long serving member of the Grand Island Fire Company. So Brian Joseph Fose is in excellent company. It has been my observation, though, that Grand Island and the Tonawandas are full of civic minded people, any of whom could be future citizens of the month. If you have thoughts you would like to share, I would love to hear from you. I can be contacted by phone at 858-8672 or via email at kevin.hardwick@erie.gov.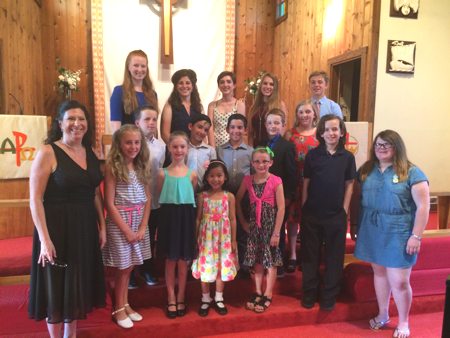 Recital participants.
Debbie Bastian held her Spring Piano Recital on Monday, June 12th at St. Timothy's Lutheran Church. Students of all ages performed and then enjoyed punch and desserts. See program for student list and selections.


The northbound north Grand Island Bridge will be under construction for the forseeable future. It will be closed nightly until approximately mid-November, for deck repairs, new bridge joints and a new overlay. The work schedule will be Monday - Wednesday: 9 p.m. - 6 a.m., Thursday: 10 p.m. - 6 a.m. and Friday: 11 p.m. - 8 a.m.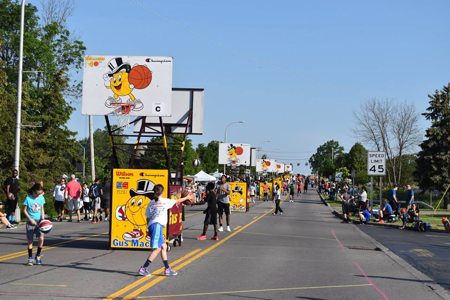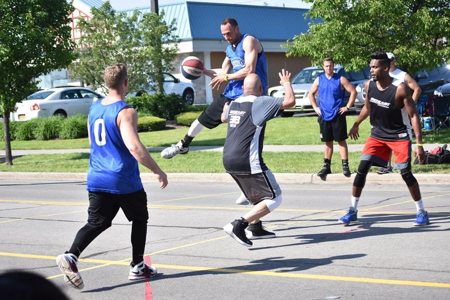 Street view

School Superintendent Brian Graham takes a shot.
Mary Stewart photos.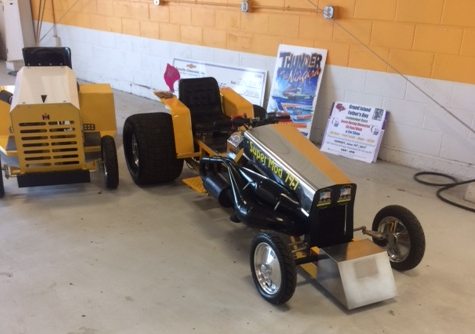 Souped up mowers displayed at a recent $500 check presentation at Fuccillo Chevrolet.
The Father's Day Lawnmower Race and Kevin Doring Memorial 5K Run/Walk is taking place on Father's Day, Sunday, June 18, 2017, from 9:00 a.m. to 4:00 p.m. at 3957 West River Road (at Long Road), Grand Island, New York. In addition to the 5K Run/Walk, there will be a Classic Car Show, Lion's Club Garage Sale, Kid Zone, and Food Trucks.
This is a family-friendly event for all ages, and all proceeds benefit the American Cancer Society Relay for Life. Live Music will be provided by the Rick Hoover Band and the West River Group from noon - 3:00 p.m. Registration for the Kevin Doring Memorial 5K Run/Walk ($10) will begin at 9:00 a.m., with the start of the race at 10:00 a.m. Registration for the Lawnmower Races will begin at 10:00 a.m. and ends at noon, with the races taking place beginning at 2:00 p.m. The Classic Car Show is from noon to 4:00 p.m., registration at 10:00 a.m. There is also a kid zone, sponsored by the Grand Island Moose Lodge, from noon - 3:00 p.m. with face painting, junbo tic tac toe, jump rope, bean bag toss, bocce, KanJam and more.
Event Sponsors are: Fuccillo Auto Group, Eric Berger Insurance, Island Deli & Meat Market, Lipsitz & Ponterio, Dowd Battery, Rhino Tees, Marston Power Equipment, Coffee Pause, R.B. U'Ren Equipment, Sam Long's Landscaping, Isledegrande, CJ Midnight Auto, Joe Dentz, Island Prescription, Kelly's Country Store, BAD Racing, NFP, K&D Action Photo & Aerial Imaging, Say Cheese, ReMax, Certified Auto Brokers, Empire Development, Northtown Volvo, Porsche & Landrover of Buffalo.


(Albany, NY) - New York State Senator Chris Jacobs (60th SD) announced today the passage of his bill (S. 2134A) designed to increase the number of high school students pursuing job opportunities in the manufacturing sector. This bill would assist high school guidance counselors to inform their students about apprenticeship, pre-apprenticeship and career and technical education opportunities in the manufacturing and skilled trades. See complete press release.


The 12th Annual Paddles Up Niagara is on Saturday, July 29, 2017 at Beaver Island State Park. There are two Eco Tours available in the early morning session. Kayak rentals are available from Buffalo Niagara Riverkeeper. Online registration is new this year. See flyer.


Food Truck Fridays at Town Hall start Friday, June 16th. The hours are 11:30 a.m. - 2:30 p.m. and there will be live music. The first food truck is Great Aussie Bite & music by AJ Tezla. See flyer for full line-up.


The Rotary Club of Grand Island is hosting a document destruction event at the Key Bank Parking Lot in Top's Plaza on Saturday, June 17th from 10:00 a.m. - noon. The cost is $10 per box (12x16x10), and drop off service is available. For more information: 465-3424.


Citizen Science Community Resources (website), and the University at Buffalo will be doing soil samples from sites on Grand Island in the coming months. A community information meeting will be held at Grand Island Town Hall on Thursday, June 15th, 2255 Baseline Road, from 6:00 p.m. - 7:30 p.m.


Gus Macker Basketball will take place this weekend, June 10 & 11th, at the center of Town. Grand Island Blvd. between Whitehaven and Baseline Roads will be closed for this event. This will be the third straight year on Grand Island and the 26th year in Western New York for the event.
Schedule of events:
Saturday: Opening Ceremonies are from 8:00 a.m. - 8:30 a.m.; games begin at 8:30 a.m.; Special Events Contests will take place from 11:00 a.m. - 5:00 p.m.; Live Music at Gazebo 12:00 p.m. - 3:00 p.m.; Woman's 3-pt Shootout (players only) 5:00 p.m.; Men's Slam Dunk Contest (players only) 5:30 p.m.
Sunday: Games begin 8:30 a.m.; Awards Given as Brackets Close starting at 10:00 a.m.; Special Events 11:00 a.m. - 4:00 p.m.


. A Spectrum News story by Alex Haight on Saturday, June 3rd, reports that Clark Patterson Lee will do a feasibility study for a community center, along with developing a Master Plan for the Town. A referendum could possibly be on the November election ballot. See story or view video.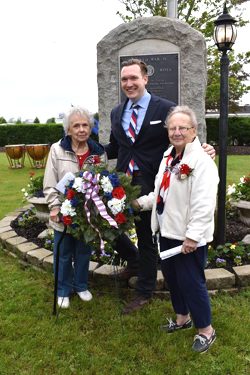 American Gold Star Mothers Shirley Luther and Mary Ann Crowe with GI Supervisor Nate McMurray.
VFW Honor Guard.

American Legion 1st Vice Commander Ray DeGlopper and VFW Commander Christian Eshelman.
Grand Island School District Band Conductor Mary Allen conducting the Memorial Day Ceremonies for the 25th year.

Guest Speakers from left: 2nd Lt. Nicholas Soos and 1st Lt. Benjamin Soos, U.S. Army

Grand Island Boy Scouts participate.
Mary Stewart photos.
The Town of Grand Island held a Memorial Day Ceremony on Monday, May 29th at 10:00 a.m,. at Charles N. DeGlopper Memorial Park. The Grand Island High School Wind Ensemble directed by Marty Allen, played a selection of pieces. Guest Speakers were brothers, First Lt. Benjamin J. Soos, U.S. Army and Second Lt. Nicholas A. Soos, U.S. Army. See program.


Elderwood at Grand Island, 2850 Grand Island Blvd., is hosting Anderson's Food Truck from 10:30 a.m. - 1:00 p.m. on Friday, June 9th.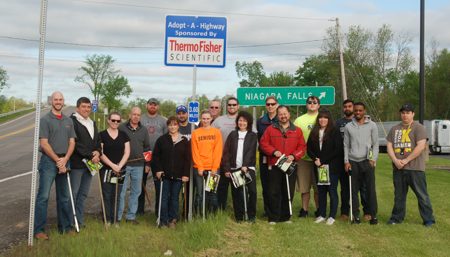 Click for larger view.
ThermoFisher Scientific officially became sponsors of the Adopt -A- Highway program for Staley Road, west of Grand Island Blvd. For many years they did a once a year clean-up in the spring. The official program requires a group to do a clean-up twice a year. On May 19th, 20 something employee volunteers started out before eight am, armed with safety vests, grabbers and litter sticks. Forty bags of garbage were picked up over the course of the day.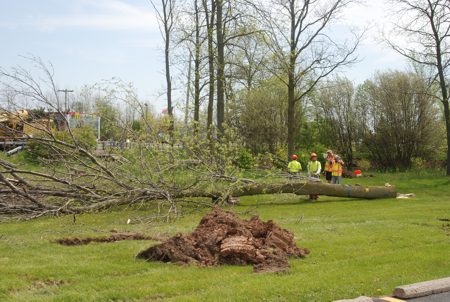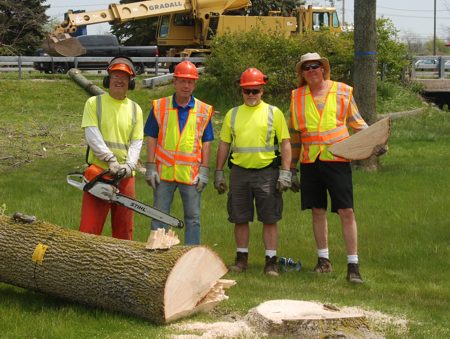 From left Kevin Hagen, Assistant Highway Superintendent Dick Crawford, Chuck Berlinger and Steve Dickinson.
The GI Highway Department took down 21 ash trees last week at the Town Hall. A $1000 grant paid for five replacement trees to be planted immediately. More trees will be removed after the July 4th holiday.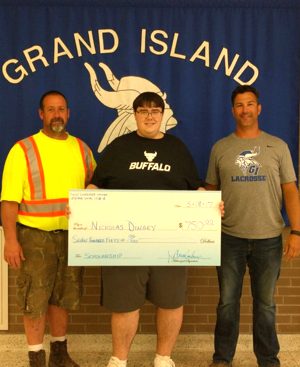 From left: Bill Stanley union Vice President, Nicholas Dingey, and Justin Bridenbaker union President.
Nicholas Dingey was awarded the AFSCME local 1738-A town employees union scholarship of $750. He plans on attending UB in the fall, majoring in engineering.


Grand Island, NY - Registration for the Gus Macker 3 on 3 Basketball Tournament has been extended to Monday, May 29th at midnight! This year marks the 26th year for the 3 on 3 tournament in Western New York and the third year on Grand Island. Players may go to www.macker.com to register. For more information,please contact Corey McGowan at (716) 341-1040 or corey.mcgowan89@gmail.com.


Grand Island has the most reported domestic violence cases in Erie County, according to local and county police reports. A community meeting will be held Wednesday, May 24th with Mary Travers Murphy, Executive Director of the Family Justice Center, will speak. The meeting takes place at the Buffalo Launch Club, 503 East River Road at 7:00 p.m. See flyer.


The Father's Day Lawnmower Race and Kevin Doring Memorial 5K Run/Walk is taking place on Father's Day, Sunday, June 18, 2017, from 9:00 a.m. to 4:00 p.m. at 3957 West River Road (at Long Road), Grand Island, New York. In addition to the 5K Run/Walk, there will be a Classic Car Show, Lion's Club Garage Sale, Kid Zone, and Food Trucks.
This is a family-friendly event for all ages, and all proceeds benefit the American Cancer Society Relay for Life. Live Music will be provided by the Rick Hoover Band and the Max Yasgur Project. Registration for the Kevin Doring Memorial 5K Run/Walk will begin at 9:00 a.m., with the start of the race at 10:00 a.m. Registration for the Lawnmower Races will begin at 10:00 a.m. and ends at noon, with the races taking place beginning at 2:00 p.m. The Classic Car Show is from noon to 4:00 p.m.


An educational forum on the Grand Island toll's environmental and health impact on the greater Buffalo Niagara region is planned for Thursday, May 25th at 6:00 p.m. at 3354 Delaware Avenue, Buffalo, NY 14217. There will be presentations on local air pollution levels, toxicity effects on your health, cancer rate impact and carbon footprint. For more information go to www.GIBarrier.com.


Veterans, family members, and friends are cordially invited to attend the GI Memorial Day program on Monday, May 29, 2017 at 10:00 a.m. at Charles N. DeGlopper Memorial Park. The park is located at the interesection of Grand Island Blvd. and Baseline Road. If raining, service will be moved to the VFW Post, 2121 Grand Island Blvd., under the pavilion. Signs will be posted if needed.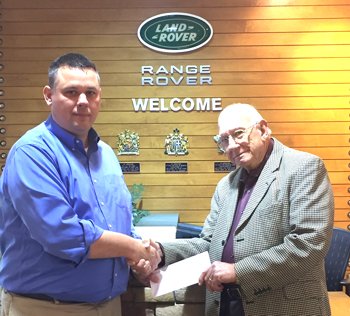 From left: Brian Runions and Floyd Doring.
The Father's Day Lawnmower Race, Kevin Doring Walk and Car Show is scheduled for Sunday, June 18th at the West River Parkway, near Long Road. Recently, Floyd Doring accepted a gold sponsor check for $500 from his nephew Brian Runions, manager of Northtown Land Rover. Other early sponsors are the men and women of the Moose and John Pedlow Flooring. This year food trucks will be available for refreshment purchases and there will be live music.



By Kevin R. Hardwick, 4th District County Legislator
The historic rain of April has finally given way to the seemingly endless rain of May. Since this has made it virtually impossible to mow my lawn, let me instead take time to put some of my thoughts down on paper regarding the spring of 2017.
The large amount of rain in recent weeks has hampered more than just my lawn mowing efforts. It has made patching this spring's crop of potholes a real challenge for the county's DPW, as throwing blacktop in a pothole filled with water would be counterproductive and a waste of both time and money. Another impediment for the proper patching of many of our roads is that the county crews that service Grand Island and the Town of Tonawanda come from our facility on Harlem Road in West Seneca. These crews are spending an inordinate amount of their time patching county roads on the route of next month's Ride for Roswell, which runs through their district.
Although we are all supportive of this event, we still need to give proper attention to the rest of the county road system. That is why in a recent meeting I arranged on Grand Island, the Town of Grand Island's Highway Department agreed to work with us to insure that county roads on the island receive adequate patching in a timely fashion. We have enjoyed this sort of cooperation in the past from Grand Island, as well as from the Town of Tonawanda. When governments work together in this manner, everyone wins.
As I reported last month, the opioid epidemic is an increasing concern for Erie County and the nation. County legislators and other officials continue to meet with service providers and other experts in an attempt to do what we can to combat addiction and its effects. Some of these conversations can be very disturbing. Recently, for instance, we were warned by a member of a criminal justice task force that the problem may get significantly worse in the not too distant future as more powerful drugs, including animal tranquilizers, make their way into Western New York.
The County Legislature is currently considering a proposal to spend another million dollars in our fight. Like most of my colleagues, I have no qualms about spending this money to save the lives of our citizens. We want to be sure, however, that we spend the money where it will do the most good. Individuals can also aid in the fight against the opioid epidemic. The Erie County Department of Health has scheduled a number of trainings on recognizing and responding to opioid overdoses. This includes training in the use of Naloxone to treat overdoses. For more information you can visit www.erie.gov or contact my office at 858-8672.
Finally, the Erie County Department of Health is sponsoring a free rabies vaccination clinic on Wednesday, May 24 from 4-7 pm at the Town of Tonawanda Highway Garage, located at 450 Woodward Ave. The clinic is for dogs, cats and ferrets. You can find more information on the county's website or by contacting my office. If you have thoughts you would like to share, I would love to hear from you. I can be contacted by phone at 858-8672 or via email at kevinhardwick@erie.gov.


Erie County, the City of Buffalo and the WNY Stormwater Coalition are selling rain barrels, compost bins and accessories. Orders must be placed by May 31, 2017. See flyer for details.


The Village Inn Spring Golf Outing is on Tuesday, June 6, 2017 at Beaver Island Golf Course. It will be 9 holes starting at 11:30 a.m. The Callaway System will be used for scoring. Cost is $13 for golf, $12 for cart and buffet lunch is $10. For reservations and tee times contact Gary Roesch at groesch@gtsupplies.com or 583-7969. See flyer.


Elderwood at Grand Island, 2850 Grand Island Blvd., is hosting Polish Villa Food Truck from 10:30 a.m. - 1:00 p.m. on Friday, May 12th.





The second annual Grand Island Garden Walk will be held on Sunday, July 9, 2017 from 10am to 4pm. The planning committee is currently seeking all kinds of gardens, from large to small, shady to sunny, to participate in this year's walk. The garden walk is FREE to all applicants and visitors. If you are interested in participating this year, applications are being accepted now and are available by calling Jan at 465-7396 or Nancy at 435-9738. Applications are also available online at www.grandislandgardenwalk.com. The deadline for applications is June 1, 2017. Last year's walk was a tremendous success with over 500 visitors to 19 different gardens. We are looking forward to sharing many of Grand Island's beautiful gardens once again See flyer.


Applications are now being accepted for the Ruth and William O. Sass Scholarship to encourage excellence in the field of nursing. Named in honor of Dr. and Mrs. William O. Sass, the scholarship is awarded annually to one or more qualified applicants pursuing a course of study for a baccalaureate degree in nursing. It is funded from interest income assigned to an endowment fund in their name at the Niagara Falls Memorial Medical Center Foundation. Scholarship recipients must be graduates of high schools in Niagara Falls, Lewiston, Grand Island, North Tonawanda or Niagara-Wheatfield.
Other criteria for consideration include academic achievement, community involvement and commitment, nursing career goals, personal and professional references and the availability of other resources. Upon graduation, awardees are expected to apply for appropriate employment vacancies at Niagara Falls Memorial Medical Center and to accept a position if offered. Applications must be submitted to the Niagara Falls Memorial Medical Center Foundation no later than May 22. For information, contact the Foundation at 278-4604.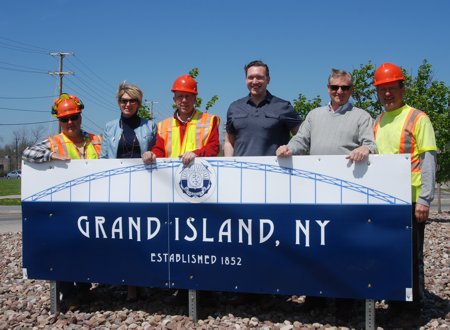 From left: Highway Department - Joe Zito, Assistant to Supervisor Cyndy Montana, Asst. Highway Superintendent Dick Crawford, Supervisor Nathan McMurray, Deputy Supervisor Jim Sharpe, Highway Department- Kevin Hagen.
A temporary sign was placed at the roundabout on Friday, April 28th by the Grand Island Highway Department. The sign was made by Grand Island firm ASI Signage Innovations, as a temporary measure until funds can be raised for a permanent likeness. Town Hall and Highway Department representatives were on hand to make it official.


The 2017 Registration for Jr. Viking Football and Cheerleading is Monday, May 22 (returning players) & Wednesday, May 24 (new players) at the Nike Base - 6pm - 8pm. See details.
Fundraiser has been cancelled.


A recent local law approved by the Town Board makes it easier for Agricultural District property owners to own farm animals. See Buffalo News story by Nancy A. Fischer. See draft of local law.


Erie County Legislator Kevin Hardwick encourages pet owners to attend the County's upcoming free rabies clinic for dogs, cats, and ferrets. Organized by the Erie County Department of Public Health, in partnership with the Niagara Frontier Veterinary Society, the SPCA, serving Erie County and Medaille Veterinary Technology, the clinic is scheduled from 4 to 7 p.m. Wednesday, May 24, 2017 at the Town of Tonawanda Highway Garage, 450 Woodward Avenue (off of Military Rd.), Tonawanda.
"Pet owners have a responsibility to protect their animals and their community against rabies. Last year we saw an increase in animals carrying the disease, which is why it is important to vaccinate. These free clinics offered by the county makes it easy for all pets to get the rabies vaccination," said Legislator Hardwick.
The following requirements must be met in order to receive the rabies vaccination:

Pets must be at least 3 months old.

Proof of previous rabies vaccination must be provided to receive a three-year certificate; otherwise a one-year certificate will be issued.

All dogs, cats and ferrets must be restrained using a leash and/or pet carrier.
An additional clinic is scheduled from 4 to 7 p.m. Wednesday, May 31, 2017 at the Broadway Market, 999 Broadway, Buffalo (parking ramp in the back). For additional information, please call Legislator Hardwick at 858-8672 or e-mail, Kevin.hardwick@erie.gov.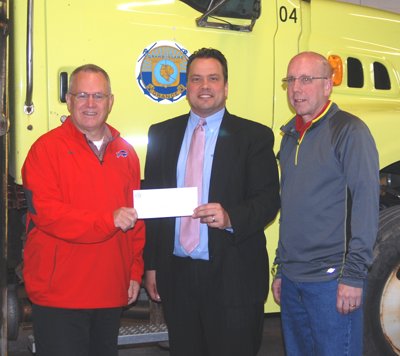 From left Highway Superintendent Jim Tomkins, Comptroller Stefan Mychajliw and Assistant Highway Superintendent Dick Crawford.
Erie County Comptroller Stefan Mychajliw stopped by the Grand Island Highway Department garage on Tuesday, May 2nd to drop off a check for the plowing of county roads. There are 71.62 miles of Erie County roads on Grand Island. The total check for the winter 2016/2017 was $273,865.34.





Operation Safe Stop - April 2017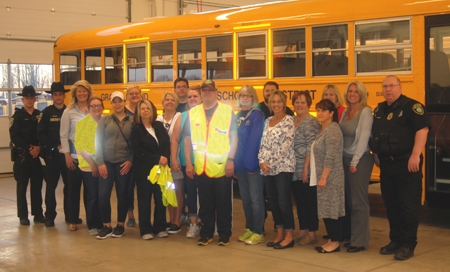 Members of law enforcement, Transportation Supervisor Theresa Alizadeh, bus drivers and mechanics.
Click for larger view.
The Grand Island Town Police & Erie County Sheriff's Dept. participated with the Grand Island Central School District in Operation Safe Stop on Thursday, April 27, 2017. Operation Safe Stop is a state-wide enforcement effort aimed at drivers who fail to stop for stopped school buses, and is part of the District's School Bus Safety Program. An estimated 50,000 motor vehicles illegally pass New York State school buses every day. The police followed school buses on their morning bus run where drivers often fail to stop for the buses.
NYS Law States:

It is illegal - and very dangerous - to pass a stopped school bus when the large red lights located on top of the bus are flashing. Flashing lights mean the bus is picking up or discharging students.

You must stop whether you are approaching the school bus from the front or overtaking it from the rear.

You must always stop for flashing red lights, even on divided and multilane highways and on school grounds.

The first-time fine for illegally passing a school bus is a $250 to $400 fine, 5 points on your license, and/or possibly 30 days in jail.

Bicycles are supposed to follow the same rules.


Erie County Legislator Kevin Hardwick announces local sites that are part of the National Drug Take Back event happening from 10 a.m. to 2 p.m. on Saturday, April 29. Collection sites include: Grand Island Town Hall, 2255 Baseline Road, Grand Island, with the Erie County Sheriff's Office, and Kenmore Mercy Hospital, 2950 Elmwood Ave., Kenmore, with the Tonawanda Police Department. Legislator Hardwick also reminds residents that the Erie County Sheriff's Office maintains prescription and needle collection boxes that are available throughout the county. For a list of locations, please visit www.erie.gov/sheriff or www.erie.gov/health.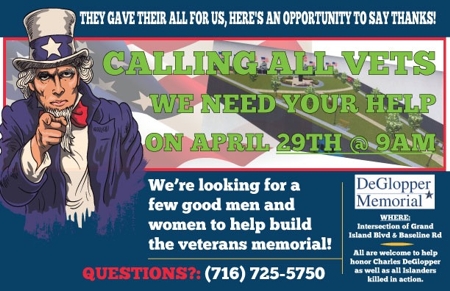 The DeGlopper Memorial Park Expansion committee is looking for help on Saturday, April 29th at 9:00 a.m. Everyone is welcome to lend a hand. The park is located at the intersection of Baseline Road and Grand Island Blvd. Call (716) 725-5750 if you have any questions.


A story in the Buffalo News on April 24, 2017 announced that state funding will cover 80% of a $1.2 million project to develop sidewalks along Grand Island Blvd. from Webb Road, north to Fantasy Island. See story by Nancy A. Fischer.


A notice from Superintendent Dr. Brian Graham was emailed on Monday morning, April 24, 2017.
"It was reported to the Grand Island Central School District at 6:45 a.m. that a Grand Island Middle School student posted on Snapchat a threat to harm the school. School officials immediately met with law enforcement and began investigating the threat. The district's threat assessment protocols were put into place and students were released from buses when the school was determined to be safe.
Superintendent Dr. Brian Graham and Middle School Principal John Fitzpatrick, along with law enforcement, went directly to the student's home this morning to begin the investigation. The student was at home and at no time was on school property. The matter is now being handled by law enforcement.
Since this was communicated on Snapchat, we ask parents to continue to reinforce with their children if they see social media postings that are of concern to them, to share that with parents, a school counselor and or teacher. Should any student need assistance or have any concerns, they can talk to their school counselors or school social worker or psychologist. If parents have questions, they can call the superintendent at 773-8800.


Danny Buckley would like to challenge all Islanders to raise funds for his good friend Whitey Dlugosz. Whitey recently had surgery for an aggressive form of cancer, removing a tumor on his neck, and is now going through chemo and radiation. Treatments and surgery are very expensive, and a gofundme page has been created. You can donate here, or you can drop off donations at the bowling alley.


iMapInvasives in an online mapping tool that supports efforts to protect New York State from invasive species. Learn about the program and become trained to contribute data by atttending a iMapInvasives training session. The Grand Island Conservation Advisory Board has scheduled a session on Saturday, May 6th at eh Grand Island Memorial Library, 1715 Bedell Road, starting at 10:30 a.m. See flyer for details.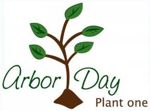 Arbor Day will be celebrated in the Town Commons on Saturday, April 29th from 10:00 a.m. - 11:30 a.m. The goal is to replace the dying ash trees with a few new tree species each year. Join the Girl Scouts of Grand Island, the EAB Task Force and the Conservation Advisory Board for the first planting. See flyer.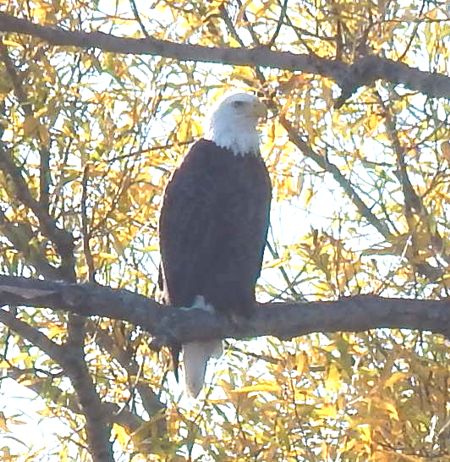 Press Release: Tuesday, April 18, 2017
Boater Cooperation Needed to Help Protect Bald Eagles and Habitat Improvements at Strawberry Island
As boating season approaches, New York State Department of Environmental Conservation (DEC) and New York State Office of Parks, Recreation and Historic Preservation (OPRHP) remind boaters to observe the signage, buoys, and various motorized boating restrictions in place around Strawberry Island in the Niagara River. The restrictions are part of an ongoing, multi-agency effort to protect critical Bald Eagle nesting habitat and to preserve recently installed habitat improvement projects at the island.
"We are extremely fortunate to have a nesting pair of Bald Eagles here in the Niagara River," said DEC Regional Natural Resources Supervisor Paul McKeown. "We need your help to ensure that their critical nesting habitat is undisturbed and the ecosystem that they depend on remains protected". Avoiding human disturbance at Bald Eagle nests is critically important to protecting the species and ensuring the success of nesting sites. Disturbance through noise or human proximity to nest sites can cause Bald Eagle nest site failure or even abandonment of nesting territory. In addition, high wakes, propellers and anchors from motorized boats can cause damage to wetland habitat planting projects and sensitive ecosystem areas.
Boaters can help minimize disruptions to the Bald Eagle nesting site by:

Observing all boating restrictions in place, including federal navigation laws that require maintaining a 5 mph speed limit while traveling within 100 feet of the shoreline.

Eliminating all motorized activity within 660 feet at the north end of the island's cove area by observing the restricted area marked with buoys.

Adhering to signage restricting any visitor access (including non-motorized vessels) within 330 feet of the north end of the islands cove area during the Bald Eagle nesting season that lasts from January to the end of September in a typical year.

Sharing this information with others who recreate in the Niagara River and Strawberry Island Area.

Reporting any observed illegal activity in the Strawberry Island area to DEC's 24 hour tip hotline at 1-844-DEC-ECOS (1-844-332-3267).
State DEC and OPRHP have collaboratively enacted a plan to protect the Bald Eagle pair nesting on Strawberry Island in the Niagara River. The plan includes a multi-year effort to restore wetland habitat at the island and to minimize the effects of motorized boating activity through the restrictions listed above. The wetland restoration project, which began last year, will be ongoing through the end of 2017.
Law enforcement divisions from OPRHP, DEC and the Erie County Sheriff Department are cooperating in the effort to enforce restricted area rules in place to protect the Bald Eagles and habitat projects at Strawberry Island. Visitors to the island are reminded that any repeated disturbance to Bald Eagles by humans is unlawful under the Bald and Golden Eagle Protection Act, the Migratory Bird Treaty Act and under the State Environmental Conservation Law.
The Bald Eagle, currently listed as a threatened species in New York, continues to make a remarkable recovery across the state. New York State was instrumental in the restoration and recovery of the Bald Eagle in the northeast United States and continues to play an important role in providing suitable habitat for our nation's symbol. More information about Bald Eagles can be found on DEC's website.


Supervisor Nathan McMurray made a motion at the Monday, April 17th Town Board meeting to have a one year moratorium on the building of any new apartment complexes on Grand Island. At least until the development of the new Master Plan is complete. See Buffalo News story by Nancy Fischer.


The Linda Basta Memorial Charity Walk to benefit the Arthritis National Research Foundation will take place at Veterans Park, 1845 Bedell Road on Saturday, May 6th. The walk is from 9am-12pm. Christina Podlucky started the walk in honor of her mom. To read her heart warming story and to sign up or donate, click here. Flyer.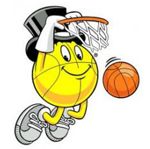 Corey McGowan Productions is hosting the 26th annual Gus Macker 3 on 3 Basketball Tournament on Saturday & Sunday, June 10 & 11, 2017 at the center of Town. Grand Island Blvd. will be closed Friday evening through Sunday night from Whitehaven to Baseline Road. Special events open to the public are a free throw contest, 3-pt shoot out and "Little Gus" shot clock. The cost is $144 and you can register here.


Maple Grove Cemetery, located on Stony Point Road, will be having their annual meeting on Monday, May 8th at 6:00 p.m. at the Grand Island Memorial Library, 1715 Bedell Road.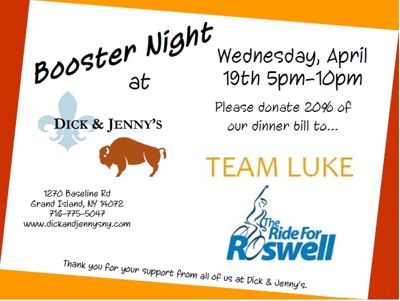 Join Team Luke at Dick & Jenny's on Wednesday, April 19th, 5pm-10pm, for the Ride For Roswell Team Luke Booster Night. 20% of every food puchase will be donated to the team, just mention Team Luke. There will be a 50/50 drawing and take out orders do count!


Lottery Form and Registration Applications for GICS Universal Pre-Kindergarten Accepted Until May 19.
The Universal Pre-Kindergarten (UPK) Program within the Grand Island School District runs two UPK sites. Half day sessions, five days per week are offered at Charlotte Sidway Elementary School (morning and afternoon) and also at Kiddo's Korner Preschool (afternoon only). To be eligible for the UPK program a child must be four years of age on or before December I, 2017 and a Grand Island resident.
Two documents must be completed to register - the registration application packet and the UPK lottery application. The documents are available online at www.grandislandschools.org or call Susan Carter at 773-8818 for information. Appointments must be made in advance to register your chiId. Please call 773-8800 extension "0" to schedule an appointment. The application deadline is Friday, May 19, 2017. The last appointment to register on this date will be 2 p.m. Families will receive a "lottery ticket" which identifies their number in the lottery system.
Grand Island Central School District will hold a lottery to determine enrollment for the 2017-2018 UPK program. Lottery results will be announced during an open meeting on Monday, May 22, 2017 at 2 p.m. in the Grand Island High School Professional Development Room, located at 1100 Ransom Road. All interested parents are welcome to attend. Notification letters and phone calls will be made to parents in the weeks following the lottery to confirm the specific location and session assignments for the incoming UPK students. Results of the UPK lottery will also be posted on our website shortly after the drawing.


White Supremacist fliers were found on Wednesday, April 5th in the Woodstream Meadows subdivision. The fliers were signed by a group called the Aryan Renaissance Society.
See Buffalo News story by Aaron Besecker published April 7, 2017.


The WNY Land Conservancy would like to purchase 140 acres of the 157-acre Assumption Cemetary located at 2950 Whitehaven Road, to create a forest preserve. The property is owned by the Catholic Cemetaries of the Diocese of Buffalo. The purchasing agency is requesting funds from the Niagara River Greenway Commission, which will consider the proposal at a Tuesday, May 16, 2017 meeting at 3:00 p.m. at DeVeaux Woods State Park office, 3160 DeVeaux Woods Drive, Niagara Falls, 14305. Public comment on this project will be accepted through May 8, 2017. The project proposal is available at www.niagaragreenway.org. Comments may be submitted to Jeanne.Leccese@parks.ny.gov or by hard copy to the Commission at 3160 DeVeaux Woods Drive, Niagara Falls, NY 14305.
See Buffalo News story by Nancy Fischer, published April 7, 2017.


An Electronic Recycling Day will be held on Saturday, April 22, 2017 at the GM Tonawanda Engine Plant #1, 2995 River Road, between Sheridan Drive and Vulcan, from 9:00 a.m. - 1:00 p.m. Computers, TVs, phones etc. See flyer for details.


Supervisor Nathan McMurray recently released a request to replace the Grand Island Bridge tolls with a high-speed tolling system. You can see an in-depth press release here, that will be sent to New York State.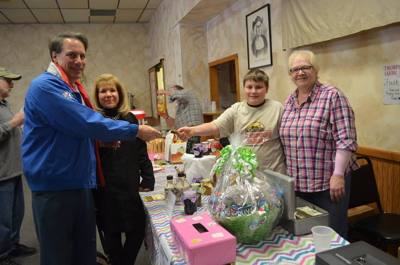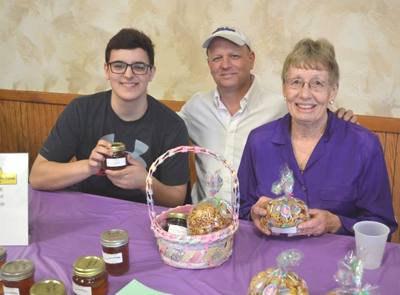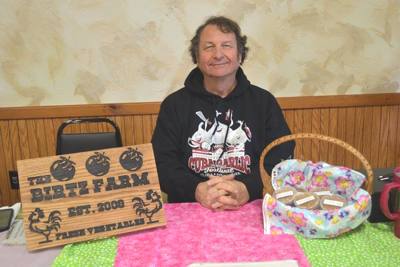 Mary Stewart Photos.
The Grand Island Farmers Market held its spring market this past Sunday, April 2nd, at the Knights of Columbus hall on Whitehaven Road. There was an array of items to purchase from home made jelly and herbal tea to baked goods and pet items. The market will also be open May 6th, from 9 am to 2 pm. The Thompson Farm Farmers Market is scheduled to start May 15th and will open on Mondays from 4 to 7 p.m. - weather permitting. It is located on Long Road near Grand Island Blvd.


(April 4, 2017) WILLIAMSVILLE, N.Y. - Now that spring is here, many homeowners, business owners, schools and communities are planning outdoor landscaping projects. National Fuel reminds individuals and professionals to Call Before You Dig.
New York state law requires residents to call 811 - a free service - prior to digging in order to prevent accidental damage to underground utility lines. Before starting any landscaping, gardening or outdoor improvement projects this year, call 811, a toll-free national phone number, or visit www.call811.com. The national 811 phone number connects callers with local One Call Centers. Operators record the excavation locations and notify National Fuel of callers' plans. National Fuel then dispatches professional locators to mark the approximate positioning of lines for free. It's a fast, easy way to be safe and protect those within the vicinity of the project.
"All excavation projects - even small or shallow digging projects like planting trees and shrubs, or installing a fence or mailbox require a call," said Emily Ciraolo, spokesperson for National Fuel. "Many of the pipeline leaks and emergencies we respond to each year occur when homeowners and businesses dig on their properties without knowing the location of underground utility lines. These types of accidents can be easily avoided by calling 811 before you dig - anywhere on your property."
The Common Ground Alliance (CGA), a national association representing the utility industry and committed to saving lives and preventing damage to underground infrastructure, states that:

There are more than 20 million miles of underground utilities in the United States.

Every six minutes an underground utility line is damaged because someone decided to dig without first calling 811.

When you make the call to 811, damage occurs less than 1 percent of the time.
New York homeowners and contractors should call 811 at least 2 and no more than 10 business days in advance of the start of their projects. As always, if you smell gas, leave fast! If a rotten-egg natural gas odor is present, leave the premises immediately without turning on or off any electrical appliances and call National Fue''s emergency line (1-800-444-3130) from a different location. If you smell an odor of gas outdoors, please call National Fuel's emergency number and provide the address nearest to the site of the odor.


Albany, NY - (April 5, 2017) ...New York State Senators Chris Jacobs and Patrick Gallivan succeeded in a last minute effort this evening to reinstate $500,000 in funding for the Facilitated Enrollment Child Care Program in Erie County. The program helps low and moderate income parents that are working attain affordable child care. As budget negotiations neared the April 1st deadline last week, it was clear that the $500,000 allocated in last year's budget was not included in the spending plan that was eventually passed this evening.
"Child care often is a huge impediment to people seeking or trying to keep full-time employment," said Senator Jacobs. "This program provides much needed assistance as they transition to becoming more economically independent," said Jacobs. "This program is a worthy public investment to assure these parents succeed in their efforts to achieve employment success," said Senator Gallivan. The Facilitated Enrollment Child Care Subsidy program is operated out of the Workforce Development Institute. The program offers subsidies to parents earning less than 275% of the federal poverty level. It is designed to support parents who earn too much to qualify for the Erie County Child Care Subsidy but cannot afford quality childcare on their own.



By Kevin R. Hardwick, 4th District County Legislator
Erie County Legislator Kevin Hardwick has sponsored two resolutions that call on members of Congress to maintain funding for the Home Energy Assistance Program (HEAP) and Meals on Wheels in the federal budget. Both resolutions were approved 11-0 by the Erie County Legislature at the March 23, 2017 session. "Heating homes during harsh Western New York winters can be difficult for the more than 92,000 families who benefit from HEAP assistance. This program offers help to those in need, including seniors and families with young children, and should not be cut," said Legislator Hardwick.
HEAP is a federally funded program to assist income eligible Erie County residents with the costs of home heating, electricity, and energy conservation. The HEAP outreach will be administered by the Erie County Departments of Social Services and Senior Services. The Legislature also approved a resolution urging Congress to restore funding for Meals on Wheels. In Erie County, more than 900,000 meals are delivered annually to clients. "I am very grateful to our Meals on Wheels volunteers, distribution site directors, and central staff at the commissary for their hard work and compassion. Meals on Wheels of WNY and independent sites are to be commended and must be funded in the federal budget to allow the continuation of service to those in need every week. We are talking about a relatively small budget item that has a significant impact," said Legislator Hardwick. For additional information, please visit www.erie.gov/legislature, or contact Legislator Hardwick at (716) 858-8672 or email kevin.hardwick@erie.gov.


On March 23, 2017, Supervisor Nathan McMurray announced the Scenic Woods project was being started on Friday, March 24th, with Phase One. See the Scenic Woods Map here. Phase One is in green. This project will eventually provide walking trails over 229 acres, in the area of Ransom Road & East River Road.
This all began in 2000, after years of research by the Environmental Conservation Commission, Grand Island acquired 209 acres in the area of Ransom Road and East River Road with mitigation funds from the Army Corp of Engineers and the Fish & Wildlife Service. In June of 2008 a Master Plan and Recommendations for Bicentennial Park/Scenic Woods was published, see here.




Niagara Region PTA Holds Annual Partnership Dinner- March 2017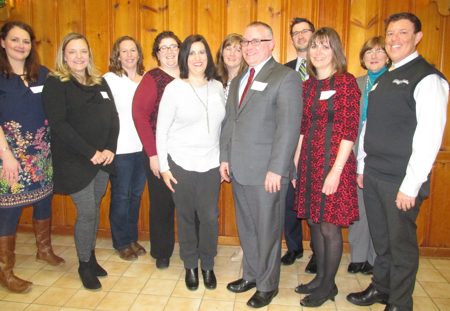 From left: Crystal Still, Connor Middle School vice president; Bonnie Nevans, Huth PTA president; Kristen Thore, Connor Middle School PTA president; Christie Lesser, Kaegebein PTA president; Jessica Mallabar, Kaegebein PTA vice president; Trish Eichel, high school PTSA president; Dr. Brian Graham, superintendent of schools; Michael Carter, high school assistant principal, Jennifer Walowitz, Huth PTA publicity chair; Mary Haggerty, Kaegebein principal; Rob Walowitz.

From left: David Steggles, Niagara Region PTA director; Jennifer Walowitz, Huth Road PTA publicity chair; Bonnie Nevans, Huth Road PTA president.
Lee Cohen story & photos.
Grand Island was well represented at Niagara Region PTA's annual Partnership Dinner, held in Lockport on Wednesday, March 22. Keynote speaker Kyle McCauley Belokopitsky, executive director of the New York State PTA, brought parents, teachers, administrators, and school trustees up-to-date on the current goals of PTA as well as the political climate in Albany as regards education issues. She stressed the importance of publicizing the good things PTAs are doing in their local communities for the betterment of young people. She urged attendees to act as advocates for public school education and to promote family engagement in issues affecting education. Finally she challenged each person to reconnect with why they support PTA. Several awards were announced, including the Jane Skryzek NYS PTA Leadership Award, presented to Huth Road PTA publicity chair Jennifer Walowitz.


Elderwood at Grand Island, 2850 Grand Island Blvd., is hosting a spring celebration on Saturday, April 1st at 2:30 p.m. There will be a kids activity station, free take home picture with the Easter Bunny, refreshments, treat bag, petting zoo, Dave Jeffers Magic and basket raffle.





Family Health Fair - March 2017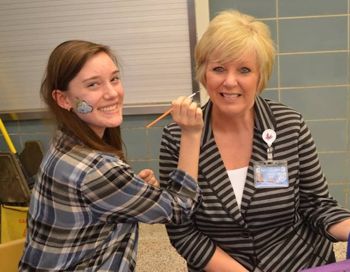 Event Chair Cindy Sharpe RN gets her face painted by Kelsey Mahoney.

Fire Captain Don Portik demonstrates CPR to Victoria Huang and mom Kathy Cheng.
Mary Stewart photos.
The Grand Island CSD Health and Wellness Council sponsored a Family Health Fair on Tuesday, March 7, 2017 from 4:00 p.m. - 6:30 p.m. at the GIHS.

Grand Island Farmers Market is hosting a Spring Farmers Market on Sunday, April 2nd from 11:00 a.m. - 3:00 p.m. at the Knights of Columbus, 1841 Whitehaven Rd. Local vendors will have meat, eggs, herbal teas, honey, maple syrup, baked goods and more! Website.




Elderwood Grand Island History Presentation - March 2017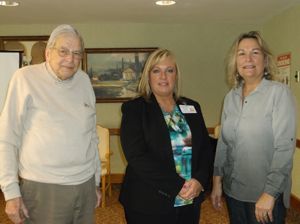 From left: Bill Koch, Elderwood Community Relations & Admissions Manager Wendy Anzalone & Jodi Robinson.
Elderwood at Grand Island started a monthly breakfast speaker series over the winter, to get people out of the house and entertain and inform the public and residents. In January a Alzheimer's Association spokesperson talked to a group. In February, the American Heart Assoc. gave 7 heart healthy tips and a Fat Tuesday celebration was held. On March 22nd, Historic Preservation Advisory Board Chairman Bill Koch and Town Historian Jodi Robinson gave a dvd presentation about Grand Island History. Watch for the "Paws for Love" coming to talk about the benefits of the pet in a nursing home next month. See if your pet qualifies as a volunteer.





Toll Removal Forum - March 2017
Dozens attend public forum held in Niagara Falls for "WNY for Grand Island Toll Barrier Removal". See Buffalo News story by Nancy Fischer.





Mixing Bowl Bakery & Cafe Coming Soon - March 2017
The Mixing Bowl Bakery & Cafe will be opening on Whitehaven Road soon, in the space previously used by the Baked Cupcakery. The dream of Ellen DeNormand will start with baked goods and breakfast items such as muffins, breads, breakfast cups, cookies, cupcakes, cheesecakes and more. Ellen will be using family recipes for her tasty treats. Monday, Tuesday, Thursday & Friday hours will be 6am-6pm. Saturday 8am-6pm and Sunday 8am-2pm. The bakery will be closed on Wednesdays. Ellen and her husband David have spent the last two months remodeling the space that will be decorated with photographs for purchase from Michael Cancilla, Barbara Lynch-Johnt and Jim Neiss. Mondays are going to be dedicated to the Grand Island/WNY Miracle League, with a percentage of sales donated each week. You can look forward to an opening in the beginning of April.





Toll Removal Public Forum - March 2017
WNY for Gramd Island Toll Barrier Removal is hosting a public forum, tonight, March 22nd at 225 Old Falls Street at Third Street, Niagara Falls, NY 14303. The starting time is 6:00 p.m. This is a formal opportunity for the public to speak. Segment 1 will present the efforts to remove the toll barriers and how the public can support it. Segment 2 is open mic: members of the public are encouraged to offer commentary with a maximum time of 3 minutes per speaker. Segment 3: Leadership open mic. Local civic leaders will be offered an opportunity to provide feedback and updates on their involvement. www.gibarrier.com



By Kevin R. Hardwick, 4th District County Legislator
February was a very loud month for the United States. Every time you turned around it seemed someone was shouting at someone else. Much of this occurred at so-called "town hall" meetings held by various congressmen, as protestors packed the gatherings. Eight years ago it was Democratic congresspersons taking the flak from opponents of President Obama's policies. This year it was Republicans who were the target of those taking exception to the direction President Trump would like to steer the country. Many Republicans who have not held town halls are being criticized for not listening to their constituents.
To be honest, I have never liked the town hall format. A meeting where a politician stands on a stage behind a podium at the front of a crowded auditorium pontificating while people wait in line behind a microphone to ask their questions is not my idea of constructive engagement. When they devolve into planned protests complete with signs and organized chants they tend to do more harm than good. It may make for compelling television, but in the end they only serve to drive us further apart at a time when we need to come together to address serious problems affecting us all.
So although I think elected officials should keep in touch with citizens, I am not a fan of town halls. I have a better idea. For several years I have been conducting a series of meetings with my constituents I call "District Discussions." It's a simple concept. I randomly invite a number of people to a Saturday morning meeting at a local library and usually get 10 to 20 to show up. We sit around a table and discuss county issues for about 90 minutes. I begin by talking about two or three issues that I am particularly interested in and then invite comments and questions on these or any other issues of interest to attendees. The discussion is free flowing. My favorite part is that I am often able to sit back and listen to people discuss issues with their neighbors. The best part is that even though people may occasionally disagree, there is no shouting or name calling. It is all quite civil. It is government like it ought to be.
I recently held a couple of these district discussions. One was at the Grand Island Library in November and the most recent was a couple weeks ago at Brighton Place in the Town of Tonawanda. We talked about a number of issues at both. But the main topic was the devastating opioid epidemic that has ravaged the nation and has impacted too many families in our community. A number of people shared information on the topic that helped form my opinion regarding the direction the county should head in our battle against opioid addiction. I consider it time well spent and am thankful for all who attended.
Now I am thinking I should open these meeting up to more of our citizens. If you were not random enough to be among those I randomly invited in the past and would like to attend a future session, please contact my office and I will see that you receive an invitation to our next, as of yet unscheduled, district discussion. If you have thoughts you would like to share, I would love to hear from you. I can be contacted by phone at 858-8672 or via email at kevin.hardwick@erie.gov.



State Senator Chris Jacobs (60th SD)
(Albany, NY) - State Senator Chris Jacobs (60th SD) called on federal representatives to resist drastic cuts being considered for the Great Lakes Restoration Initiative (GLRI). In a letter to Senators Charles Schumer and Kirsten Gillibrand and Representatives Brian Higgins and Chris Collins, Jacobs articulated the impact of the program locally. "In our Western New York community, the Great Lakes Restoration Initiative has helped fund cleanup efforts along the Buffalo and Niagara rivers, where shorelines have been improved, wildlife habitats have been restored, and over a century's worth of industrialization on our shores is being properly addressed for future generations," the Senator wrote.
Since its implementation under President George W. Bush, the Great Lakes Restoration Initiative has been historically funded at $300 million. Currently under consideration is a reduction down to $10 million, a level that Jacobs says would not only devastate the program going forward, but also roll back the tremendous progress already made. "There is so much more work to do to realize the full potential and impact originally envisioned by the GLRI," said Jacobs. "Elimination of 95% of its funding would put a halt to restoration efforts and make it virtually impossible to maintain the progress made to date."
A considerable portion of Jacobs's senate district is bordered by Lake Erie and the Niagara River. He called the effort to maintain funding levels an environmental initiative with great economic development and quality of life consequences. "From Grand Island to Brant, residents have benefitted from the GLRI funding critical restoration and preservation projects that have enhanced the greatest natural resource in our region," said Jacobs. "The environmental cleanup has spurred major private sector investment in residential and recreational development that is critical to Buffalo and Western New York's economic revival," the Senator concluded.
Jacobs Calls For Removal of Tolls at Grand Island Bridges - see press release.





Independence Party Seeks Candidates - March 2017
The Grand Island Independence Party Committee is now accepting letters and resumes from candidates interested in receiving their endorsement. Interested Candidates should send their information to:
Email address : jmclabeaux@gmail. com
Mailing Address: Jean Clabeaux, 25 Luther Lane, Grand Island, NY 14072





Coexisting with Coyotes - March 2017


Coexisting with Coyotes, a presentation and discussion with Lesley Sampson, internationally renowned coyote expert and co-founder of Coyote Watch Canada, is planned for March 22nd, 6-8:00 p.m., at Huth Road Elementary School (1773 Huth Road), Grand Island, NY. See flyer.
In conjunction with the presentation, www.citizencoalitionwe.com is asking you to submit your coyote artwork. Drawing, sketches, paintings and sculptures will be displayed at the event. Submit entry by March 10th. See flyer for details.


The Grand Island Conservative Party is putting out a call for qualified conservative candidates to fill the following positions for this fall's elections:
Town council (two positions)

Town justice

Town superintendent of highways
Individuals committed to the Conservative Party platform should send a letter requesting an interview for candidacy/endorsement to the Grand Island Conservative Party, P.O. Box 76, Grand Island, NY 14072 and email to GIConservativeParty@gmail.com. Letters must be received by March 10th, and must include a resume and contact information, including email. The Grand Island Conservative Party maintains a long history of supporting candidates who share their views. Today's Conservative political climate remains focused on reducing taxes and promoting economic growth and strong family values. Dr. Kevin Backus, chairman of the Grand Island Conservative Party, commented, "As the independent voice of conservative voters, we hope all candidates seeking this office take the time to make the case for our party's endorsement."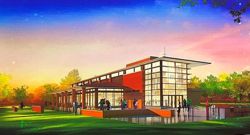 A Buffalo News story by Nancy A. Fischer titled "Grand Island is ready to welcome a new welcome center" gives details of the project. See story here.


A joint meeting with the GI Town Board and the GICSD Board of Education will take place on Thursday, March 2nd at 6:30 p.m. at the Professional Development Room in the High School.


There are four positions in Town government up for election this fall; Town Council (two), Town Justice and Town Superintendent of Highways. If you are interested in these positions contact your local political party.
Conservative Committee: Send a letter requesting an interview to GI Conservative Party, PO Box 76, Grand Island, NY and email giconservativeparty@gmail.com. Letter received by March 10, 2017

Democratic Committee: Contact Democratic Chairman Jim Sharpe at jsharpe3138@me.com or 553-1100.

Republican Committee: Send a letter of intent by March 17, 2017 to Dean Morakis, C/O GI Republican Committee, PO Box 104, Grand Island, NY, email deanmor@roadrunner.com.


The World Day of Prayer takes place on Friday, March 3rd and will be held at St. Stephen RC Church, 2100 Baseline Road at 10:00 a.m. Men and women from churches all over the Island will be participating. The women of the World Day of Prayer Committee of the Philippines call us to worship considering the words: "Am I being unfair to you?"
The worship service invites you to explore concepts of economic justice both in the Filipino context and around the world, and our response in the light of God's generosity. A free-will offering will be taken to perpetuate the work of WDP and fund grants to organizations working on issues that affect women and children.
Refreshments featuring foods of the Philippines will be served at a social, following the service, which lasts about an hour.


Kenmore Police arrested Ryan Hudson, 29, of Bedell Road on Friday, February 17th, after finding him in possession of 30 steel pipes taken from a Tonawanda steel company. The pipes were valued at $1,500. A company employee found Hudson loading the pipes into his vehicle and alerted authorities. He was found within an hour of leaving the premises and charged with a felony count of fourth-degree grand larceny.


Rus Thompson pled guilty Thursday, February 16th to a misdemeanor offense in a case from September 2015. See Buffalo News story by Melinda Miller





On Fat Tuesday, February 28th, Elderwood Grand Island, 2850 Grand Island Blvd. is celebrating! Everyone is welcome to enjoy made-to-order pancakes and traditional Polish desserts such as Paczki, Chrusciki, Platzek and King's Cake. February is Heart Month and a $2 donation is requested when ordering your dessert. There will be a gift basket raffle. Times are 10:30 a.m. - 1:00 p.m. All proceeds go to The American Heart Association. See flyer.


A public meeting will be held on Thursday, February 16th at Tonawanda City Hall, 200 Niagara Street regarding the Tonawanda Coke plant impact on Tonawanda and Grand Island residents. It will be held from 6:00 p.m. and 8:00 p.m. The 10-year, $11 million study will be done by U. of Buffalo public health researchers. See Buffalo News story here.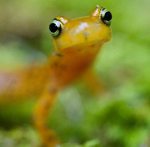 The Land Conservancy is hosting a special talk with Twan Leenders, President of the Roger Tory Peterson Institute and expert herpetologist at Grand Island Town Hall, 2255 Baseline Road, on Thursday, February 23rd at 8:00 p.m. Each spring, salamanders have a "big night" where they all - that's right, all of them at once - come out of their forest homes and migrate back to the seasonal woodland pools where they were born. They breed at these same pools. Come find out more about these quiet but amazing creatures and how we can help with their survival. Register on the website or call to register at 716-687-1225.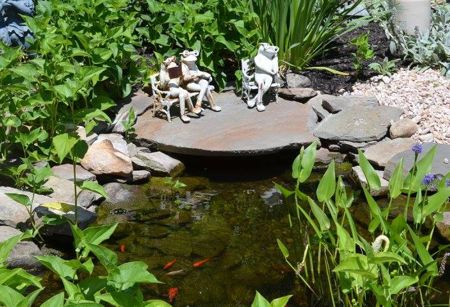 Mary Stewart photo from Garden Walk 2016.
The second annual Grand Island Garden Walk will take place this year on Sunday, July 9, 2017. After a very successful start last year, with over 500 visitors to the Garden Walk, the committee is looking forward to featuring more Island gardens as part of this year's walk. If you would like to join the 2017 Garden Walk, please contact us at grandislandgardenwalk@gmail.com or contact Jan at 465-7396. We hope to feature a wide variety of gardens and welcome anyone interested in volunteering their garden. The walk will be free to the public. Watch for further information in the spring and check our website at grandislandgardenwalk.com for information.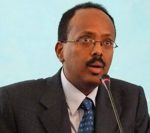 Grand Island resident Mohamed A. Mohamed was elected president of Somalia on Wednesday, February 8th, after serving as Prime Minister. See Buffalo News story by Jane Kwiatkowski Radlich here.


New York State is looking for proposals to operate the golf course, pro services, shop and concessions at Beaver Island Golf Course. The contract would be for five years, and proposals submitted by February 22, 2017 at the State Parks office. See details here.



By Kevin R. Hardwick, 4th District County Legislator
Just because February is the shortest month, does not mean there is nothing happening. This is certainly the case at Old County Hall, as the County Legislature grapples with a number of issues vital to our community's future. The Board of Trustees at Erie Community College has chosen a search consultant to help them select the college's new president. The resolution to spend taxpayer dollars to hire the firm awaits the county legislature's approval. ECC is at a critical juncture. Declining enrollments, increasing costs and competition from other community colleges have made it more and more difficult for the college to make ends meet. The new president will have to meet these challenges and move the college forward. We need to select the best person for this important position and for this reason I favor the use of a consultant to help identify the best candidate. The Chair of ECC's Board of Trustees refers to this as an investment rather than a cost. I agree.
Erie County Medical Center is also facing some tough choices. They would like to refinance some existing debt and borrow additional funds to improve their facilities. They have asked the county to help them with the borrowing, as our credit rating is better than theirs. In return, they are willing to give us a credit against money we are obligated to pay them every year to cover costs associated with uninsured patients. The issue is actually quite complex. I have confidence, however, in our ability to work with hospital officials and the County Executive to continue to meet the medical needs of our citizens.
The County Executive also recently announced that the county is filing suit against a number of doctors and pharmaceutical companies, alleging they pushed opioids despite evidence they were dangerously addictive. The opioid epidemic is real and has touched too many families in Erie County and across the nation. The county has already expended hundreds of thousands of dollars in a variety of areas to try and address the problem. If it can be proven in court that the big pharmaceutical companies were aware of the risks and hid them from both doctors and patients, then they ought to be forced to pay for their actions.
On a personal note, my father passed away two years ago. He had been diagnosed four months earlier with acute myeloid leukemia. He did a lot of living in those four months. He saw another Thanksgiving, another Christmas and one more wedding anniversary. This would not have been possible without the blood and platelet transfusions he received, gifts of life from so many selfless donors. To honor them, as well as my father, I participated in last month's blood drive sponsored by the family of Tonawanda teen Jed Woomer, a wonderful young man who left us way too soon. The family turned their grief into something wonderful by helping the Red Cross replenish its blood supply during a critical shortage. They should inspire us all to do what we can to help others, even in a short month like February. If you have thoughts you would like to share, I would love to hear from you. I can be contacted by phone at 858-8672 or via email at kevin.hardwick@erie.gov.


One Island, One Team and VCMS PTA is hosting a program on "Drugs, Addiction and our Children" on Wednesday, February 15th at 7:00 p.m. at the Grand Island High School, Room 110. Everyone is welcome. See flyer.

March 1 is the deadline for all Basic STAR (apply online at tax.ny.gov or by phone at 518-457-2036) Enhanced/Senior STAR and Veterans property tax exemptions to be added to the assessment roll for School year 2017/2018 and Town/County tax year 2018. There will be no courtesy telephone calls made. If you have not already done so, please bring your paperwork to the Assessors office at Town Hall on or before Tuesday, March 1st.





The Grand Island Central School District Lady Vikings Softball teams are asking for your support. The team is registered with Bottle Junction in the Grand Island Plaza as the "Softball Booster Club". The girls are hoping you bring your Super Bowl party cans and bottle returns and support girls softball. The modified, JV and Varsity teams, all will benefit from your donations.


ERIE COUNTY, NY - Order forms for the 2017 Conservation Tree and Shrub Seedling Sale are now available from Erie County Soil and Water Conservation District.
The District is offering many varieties of conservation trees and shrubs, wildflower seed mixes, and seedling packets which have combinations of trees and shrubs chosen to attract, feed and shelter birds, butterflies and other wildlife. Landowners can practice conservation by planting seedlings and wildflowers to provide wildlife food and habitat, shelter crops and landscape, reduce heating/cooling expenses, protect water quality, reduce air pollution, and stabilize erodible land. Seedlings are also an inexpensive alternative for replacing trees that have been damaged or lost.
Thirty-seven species of trees and shrubs are available this year. The one-to-three-year-old bare root seedlings, which range in size from 6 to 24 inches, are available in lots of 10 to 500. The District is offering an expanded selection of four-year-old evergreen transplants which are more mature trees with thicker stems, more branching and more developed roots. New seedling introductions to the 2017 program are basswood, eastern ninebark, shagbark hickory, winterberry holly, pin oak, swamp white oak, northern pecan and American larch.
Order forms may be obtained by:

stopping at the District office at 50 Commerce Way in East Aurora (behind the Post Office), or

by calling (716) 652-8480 ext. 5, or

by printing the order form here or at the District website at www.ecswcd.org .
The District also stocks marking flags, fertilizer tablets, and tree shelters to help promote the success of your plantings. Bluebird nest boxes can be ordered through the program or be purchased at the District office. Orders are due by March 17, 2017 and pick-up will be on Saturday April 22, 2017 at the Fairgrounds in Hamburg.


(ALBANY, NY) - New York State Senator Chris Jacobs (SD-60) voted in favor of Senate Bill S1411, which expands the Volunteer Firefighters' Benefits Law. Jacobs was also a co-sponsor of the bill. "Volunteer firefighters in our community deserve our support and respect," said Senator Jacobs. "Every time a volunteer firefighter leaves their family to respond to a fire they do so at great exposure and risk. The least we can do for those who volunteer to fight fires in our communities is to ensure that they receive the best health care possible for any illnesses or complications, including cancer, that they develop as a result of the work they do to keep us safe." The bill expands coverage to volunteer firefighters with at least five years of service who developed lymphoma or leukemia after their service, and coverage for volunteer firefighters with at least 10 years of service who develop stomach, skin, breast, prostate and other reproductive cancers after their service. Volunteer firefighters would have had to pass their physical upon entry into the firefighter service with no cancer diagnosis.


Help to make the Grand Island Farmers Market even better in 2017! Please take a look at our new website and complete the survey. The survey will help guide the Market committee in selecting vendors and make the market experience exciting for all. Survey and Website.


Town Clerk Patricia A. Frentzel announced that the 2017 Town/County Tax Bills have been mailed. If you have changed banks, have paid off your mortgage or do not have an escrow account and did not receive a tax bill, please contact the Town Clerk's office at 773-9600 ext. 620. The regular office hours are 8:30am - 5:00pm. The office will be open Saturday, February 11, 2017, 9:00 AM - 12:00 PM. Checks should be made payable to Town Clerk. The last day to pay without penalty is February 15. Envelopes must show a legible postmark of February 15 to be accepted on time. Taxpayers should call the office for correct amounts for payments made February 16 and later. Payments can be made until June 30, 2017. After this date, payments must be sent to the County.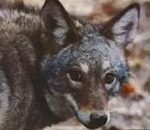 From the Citizen Coalition for Wildlife & Environment
Coyote sightings are not uncommon in Grand Island and at this time of year when foliage is bare, you may easily see coyotes more often. Coyotes are afraid of people and typically avoid interactions, but with the timing of their natural life cycle, seasonal changes, and changes in their habitats and surroundings, these factors may bring coyotes into sight and contact more often.
January and February is the mating period for coyotes. Coyotes mate for life and control reproduction rates and litter sizes when the pack structure remains stable. They are attentive parents, teaching their children natural boundaries and food sources, which is why disruption of coyote pack structure can change their biology and behaviors. During spring, coyotes will select their dens and prepare for having pups. Once the pups are born in March and April, the parents take care of them over the spring and summer and work to protect and educate them.
As coyote sightings may increase January through May, so might coyote-human interactions. Coyotes looking for mates may travel more often through neighborhoods and the coyote parents taking care of their families will be more protective when coming across people or pets that are near their homes. By understanding coyote behavior and ecology and by applying common sense and using proven coyote hazing techniques, we can minimize potential conflicts and appreciate the wildlife diversity that is within our environment.
Removing food and shelter sources to reduce coyote interactions: Coyotes are keystone predators and play a vital role in maintaining the balance of local ecosystems. They are important in controlling rodent populations, which is their primary diet source, and they also eat carrion, fruits, vegetables and other small mammals.

Remove potential food sources from your yards (unsecured trash or compost, pet/livestock food left outside or unsecured, bird seed fallen from feeders, fallen fruit) – not only are they potential coyote food sources but they also attract the wildlife, such as the rodents, that are natural prey for coyotes.

Pick up dog feces as this can attract coyotes to your yard or areas.

Do not feed coyotes - anywhere or at any time!

Check your yard, outdoor buildings and porches for openings that wildlife may want to enter to make a den or nest - repair broken boards to eliminate openings.

Never allow a coyote to linger or bed down near your home - scare it away.
How to scare away the coyotes you encounter outside: Coyotes are very curious and visual animals and they will observe you just as you observe them and if you are walking and you stop, they will also stop to see what you are doing. Applying simple, low intensity scare techniques - known as hazing - will tell the coyotes that they are not welcome near you or in your yard.

In a very firm and loud voice, yell "Go away coyote!" and wave your arms above your head. Make yourself big and loud!

To be even louder to scare away a coyote, you can also use a shaker can (coins/pebbles placed in a metal can), whistles, air horns, bang pots, and you can throw small objects towards and not at the coyote, or pop open an umbrella.

Do not turn your back or run from a coyote and do not allow your pet to chase or harass a coyote.

Pick up small pets and small children when you see a coyote near you.

To deter them from entering your yard, you can use flashlights, motion-operated lights, tape-recorded human noises, and ammonia-soaked rags.
Protecting pets: Coyotes are most active between the hours of dusk and dawn. Potential nighttime conflicts from other wildlife can also occur as owls, hawks, eagles, and fox can also prey on pets such as cats and small dogs. Coyotes may see small pets as food, especially with habitat and environmental changes, and may see them as a threat to their territory or their pups.

Keep pets under your watch and control - accompany your pets on a leash outdoors after dusk, especially in backyards (unfenced and fenced). Keep pets indoors at night or enclosed in kennels.

Obey local leash laws when walking dogs in yards, neighborhoods, and parks.

Keep cats indoors to protect them - letting cats roam can actually draw coyotes into the area.

Keep chickens, rabbits and other small animals in covered enclosures, constructed with heavy mesh wire. Coyotes, raccoons and weasels can break through chicken coop wire.

Neuter pets - although a rare occurrence, coyotes may mate with domesticated dogs.
Coyotes are generally reclusive animals who avoid human contact. The best approach, for their benefit and ours, is not to habituate them. Do not feed them - keep them wild and wary of people. Do not approach them and teach children that all wildlife should be admired from a safe distance far away and not approached. By promoting respect, compassion and education, the community can safely coexist with coyotes and all wildlife.
If you have questions or concerns about coyotes in your backyard, contact the Erie County SPCA to speak to wildlife experts at 716-629-3528 or email wildlife.spcaec@gmail.com. (After hours 716-712-0251). Coming this spring to Grand Island, a coyote educator will conduct an educational presentation all about coyotes to share information and experience on coyote ecology and conflict resolution. Look for event information coming soon! For more coyote education, visit the following web sites: Coyote Watch Canada: http://coyotewatchcanada.com/ and Project Coyote: http://www.projectcoyote.org/. Coyote educational information courtesy of Coyote Watch Canada and the Humane Society of the United States.


Father's Day Walk/Run Lawnmower Racing Series will take place on Sunday, June 18th on West River Parkway near Long Road. This year the committee is hoping for a sanctioned 5K run, car show, expanded kid zone and a food truck rodeo. Sponsors are being sought for the event. Click here for sponsor form.


The Town of Grand Island Water Billing Department announces an increase to the water rate and administrative fee. Effective 1/1/17, the water usage rate has increased $.15 from $2.85/1,000 gallons of usage to $3.00/1,000 gallons of usage. The administrative fee has increased from $2.00 per quarter to $3.00 per quarter.


"Just For Kids" February Break Camp runs February 21 - 24 from 7:30 a.m. - 5:30 p.m. at Sidway Elementary School. There will be fun-filled and mysterious activities for kids ages 5-12, includes breakfast, lunch, snack and all activities. See flyer for complete details.


A story in the Buffalo News published January 18th was written by Nancy Fischer and details the proposed 18-acre solar farm to be located on Lang Blvd., off of Grand Island Blvd. See story here.


Free Vaccination Event for Dogs, Cats, and Ferrets; ECDOH, Partners Vaccinated over 4,600 pets at 6 clinics in 2016 .
ERIE COUNTY, NY - The Erie County Department of Health ("ECDOH"), in conjunction with the SPCA Serving Erie County, the Niagara Frontier Veterinary Society, and the Veterinary Technology Program at Medaille College, has announced a free rabies vaccination clinic for dogs, cats and ferrets to be held on Wednesday, January 25, 2017 from 3:00 p.m. - 7:00 p.m. at the North Buffalo Community Center. This is the first free vaccination clinic of 2017 and builds off a tremendously successful vaccination effort in 2016, when ECDOH and its partners held six clinics across Erie County and vaccinated a total of 4,635 pets.
"Our free rabies clinics are a great way for Erie County residents to help protect families and their pets from rabies" said Erie County Executive Mark C. Poloncarz. "New York State law requires pet vaccinations, so I strongly encourage pet owners around the County to take advantage of this opportunity to keep them and their pets safe." Residents are cautioned that any pet is at risk of being exposed to a rabid wild animal and that rabies is always fatal in animals. Potential rabies-bearing animals such as bats often find their way into homes, as well as raccoons, foxes or skunks gaining entrance through "doggy doors" or garages. ECDOH identified 31 animals that tested positive for rabies in 2016, including two domestic cats that had not been vaccinated.
"These vaccinations are an effective way to minimize the spread of rabies from wildlife to pets and humans," added Erie County Health Commissioner Dr. Gale Burstein. "I want to remind county residents that if they or their pets have been exposed to a wild animal, or bitten by a dog or cat, they should contact the Erie County Department of Health at 716-961-6800." Erie County Legislator Peter Savage (3rd District) said, "The free rabies clinics are a remarkable service offered by Erie County, allowing pet owners a safe and convenient opportunity to vaccinate their pets at no charge. Ensuring and promoting safe vaccination is beneficial to pets and the greater community." "We are pleased to continue working with our rabies clinic partners in 2017, who truly help us provide this vital and popular service to our community," said ECDOH Senior Public Health Sanitarian Peter Tripi. "Our goal is to have 100% of Erie County's pets vaccinated to protect them from rabies. It is very important that both indoor and outdoor cats get vaccinated, regardless of if the pet owner lives in the city, the suburbs, or a rural location, as rabid animals can enter homes undetected." Additional rabies vaccination clinics will be held in May and September of 2017.



By Kevin R. Hardwick, 4th District County Legislator
A new semester will soon begin at Canisius College. On Day 1 I will walk into my American Political Process class and tell a group of eager freshmen about public policy. I will offer a simple definition telling them that it is a course of action to attain a goal. I will then caution them not to confuse policy with goals, because a single goal can have multiple policies associated with it. I will assert that most of the time we all agree on a goal. It is the particular course of action to attain the goal upon which we differ.
Then I'll employ a sports analogy. After a disappointing season, there is widespread disagreement among Buffalo Bills fans. Although everyone agrees on the goal of finally winning a Super Bowl, fans of the team cannot agree on how to do it. Some want to keep the nucleus of the current team, including the quarterback, and tweak the defense. Others view this as foolish and prefer trading for another quarterback or drafting one. Some people just want to blow the whole thing up and start from scratch. Remember that all of these fans want the Bills to succeed. They just disagree on how to do it. Some of us can recall 20 years ago when there were fistfights in bars over whether the Bills would be better off starting Doug Flutie or Rob Johnson at quarterback. Again, they agreed on the goal, but they disagreed on the policy.
The same thing happens in government all the time. We all share the goal of great services and low taxes. Often, though, we cannot agree on the specific policies we should pursue to attain our shared goals. As we move into 2017, I foresee a number of issues confronting us where this may be the case. Some of these issues are ones we have encountered before. Such is the case with our response to the opioid epidemic which swept the nation last year and left way too many local families struggling with the effects of a loved one's addiction. Last year after much deliberation, we opted to spend hundreds of thousands of dollars on an opioid addiction hotline. Some people feel that this is sound policy, the best use of taxpayer dollars to combat this scourge. Others feel the money can be more effectively spent on other programs to address the situation. So we have disagreement on how to best spend the money even though all agree we cannot stand by and watch more of our neighbors perish.
This is not the only example of agreement on goals and disagreement on policies in county government. Other instances involve the futures of Erie Community College and Erie County Medical Center. Most agree that both are important community assets. Not everyone concurs, however, on how to realize their full potential for the benefit of all. So 2017 will be a year of spirited debate in the Erie County Legislature. We must be careful, though, to always remember the goals we share in common as we passionately pursue our preferred policies. If you have thoughts you would like to share, I would love to hear from you. I can be contacted by phone at 858-8672 or via email at kevin.hardwick@erie.gov.


Ellderwood at Grand Island, 2850 Grand Island Blvd. is hosting a breakfast speaker series by the Alzheimer's Association on Wednesday, January 25th at 10:30 a.m. Admission is free but space is limited. Please RSVP by January 20th to 773-5900. Breakfast foods, coffee, tea, and juice will be served. You will have a chance to win a basket with $100 value.


The Grand Island School Related Professionals recently made a donation to The Ken-Ton Closet. The Ken-Ton closet provides clothing for kids in need. Donations were collected in all of the buildings with all of the departments participating. School Related Professionals are the non-instruction personnel employed by the Grand Island School District. The donation was highly appreciated. Union President Michelle Driess implemented this drive and they hope to be able to continue supporting others in need in the future.





NYS Parks Offers Fun Winter Activities - January 2017
New York State Parks is offering fun activities on Grand Island this winter. For the adventurous, the state parks will offer the opportunity to try snowshoeing from 10 a.m. to noon on Sunday, January 8 at Beaver Island State Park and Sunday, January 29 from 10 a.m. to noon at Buckhorn State Park. Participants must call 549-1050 for the two Grand Island parks to register for these free programs and information on where to meet. The state parks have several pairs of snowshoes for participants to use. "Birding on the Niagara River" will get people outside with their binoculars from 10 a.m. to 12:30 p.m., February 11th at Beaver Island. Participants will visit the lagoon overlook as well as a few other viewing areas. Call 282-5154 to register for the program. A "Cabin Fever Break-Out" is planned for 10 a.m. to noon, Saturday, March 4th at Buckhorn Park, with a brisk walk through the park's great trail system, along creeks and the Niagara River, on the agenda. Call 549-1050 to register.





2016 Year in Review - January 2017
2016 Year in Review
The most contentious issues of 2016 on Grand Island were the Trapping Law, Tourist Home Law and the closing of the West River Parkway for a multi-use trail.

After much public discussion, a resolution was adopted by the Town Board on November 28, 2016, to approve a trapping permit for Josh Shipman to trap on three Town owned parcels. They were Woods Creek/Bike Path, Town Water Tank Triangle (bordered by Stony Point and Whitehaven) and Love Road (39.09 acre parcel on north side of Love Road at Alt Blvd.). Shortly after, the Woods Creek/Bike Path was removed from the permit for allowable trapping.

At this point the Tourist Home Law voted in, Fall 2015, is the current law, meaning tourist homes are illegal. An effort to revise the law was voted down at a meeting December 6th. There are 9 properties asking the Zoning Board for a variance to allow the continuance of a non-conforming use. They are: 2012 East River, 3541 West River, 3595 West River, 80 Ward Park, 76 Ward Park, 70 Carl, 2881 Fix Road, 1900 & 2124 East River. The next meeting of the Zoning Board is January 5, 2017.

In a letter dated December 5, 2016, NYS Parks WNY Director Mark Thomas confirmed no other option but the closing of West River Parkway is under consideration for the West River multi use trail. See letter here.